Your honeymoon should be all about focusing on each other and not about how you're gonna get a passport or budget thousands of dollars for a getaway. Fortunately, there are quite a few affordable all-inclusive honeymoon packages in the USA. I've found some of the least expensive all-inclusive resorts that will make you enjoy your honeymoon more quickly and stress-free.
7 Affordable All-Inclusive Honeymoon Packages in the USA
All-inclusive resorts in the USA are few and far between. When you finally find one, they are usually over a thousand dollars a night, which is nowhere near my budget or anyone else I know. Lucky for you, I am a budget honeymoon planning queen. I have found these seven resorts with affordable all-inclusive honeymoon packages in the USA that are under $500 a night.
Something about the Teton Mountains makes you feel like you've stepped back in time to the days of the original cowboys. At Triangle X Ranch, you can live out your cowboy dreams on your honeymoon. You can enjoy cookouts, square dancing, fishing, and sightseeing when you're not out on the horse exploring the country.
If you're new to horseback riding, no worries! They divide groups depending on their skills. You'll be put in a group with a similar experience as yourself, so you won't have to worry about feeling intimidated or having to hold back to stay with the group.
Triangle X Ranch has a detailed schedule for your honeymoon, so you don't have to plan anything. From meal times to activities to entertainment. Prices are set up so that you pay for the entire week instead of nightly, giving you a package price instead of a nightly rate.
Cost: $312-$364 per person per night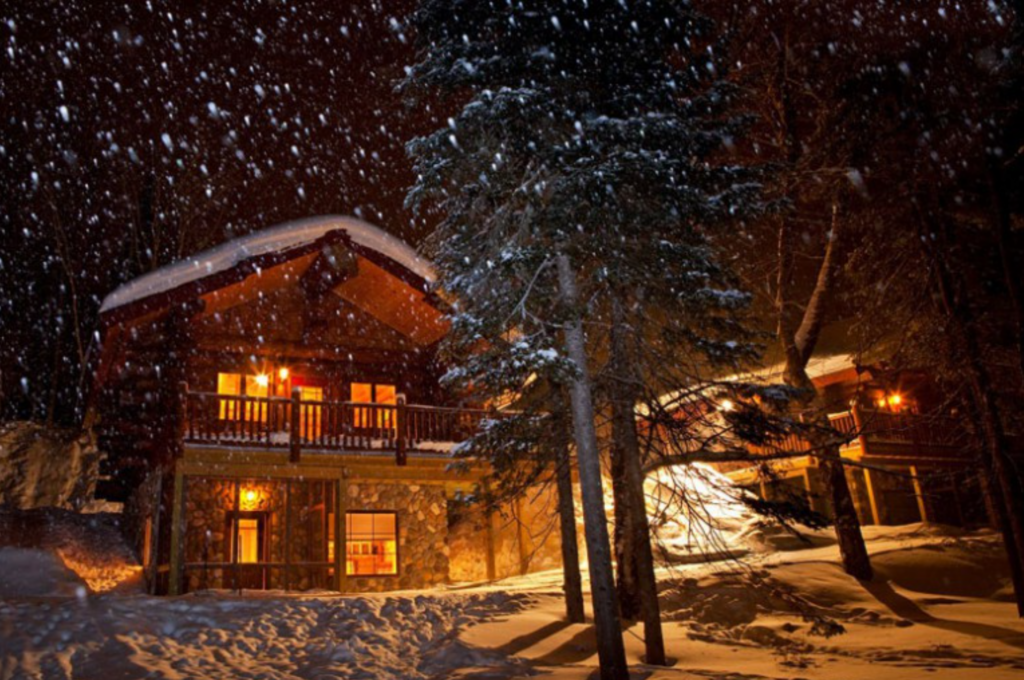 If spending your honeymoon skiing down some fresh powder sounds like an ideal honeymoon to you, then Mount bohemia is the perfect affordable all-inclusive resort for you. It's a smaller, more intimate ski resort with multiple runs and snowshoeing trails. They also get lake-effect snow, which resembles the softer, powdery snow you find in the west.
Each room includes dinner, at the least. They also have specials where you can have breakfast, dinner, and ski lift passes included in your stay. The best deal for your honeymoon is their spring break package, which includes it all for as little as $218 in a ski-up cabin on the mountain.
There are tons of other romantic things to do at Mount Bohemia than skiing. You can do a lantern-lit snowshoeing tour after hours, hang out in the Nordic spa's heated outdoor pools, or go for a snowcat ride.
Cost: $140-$654 per night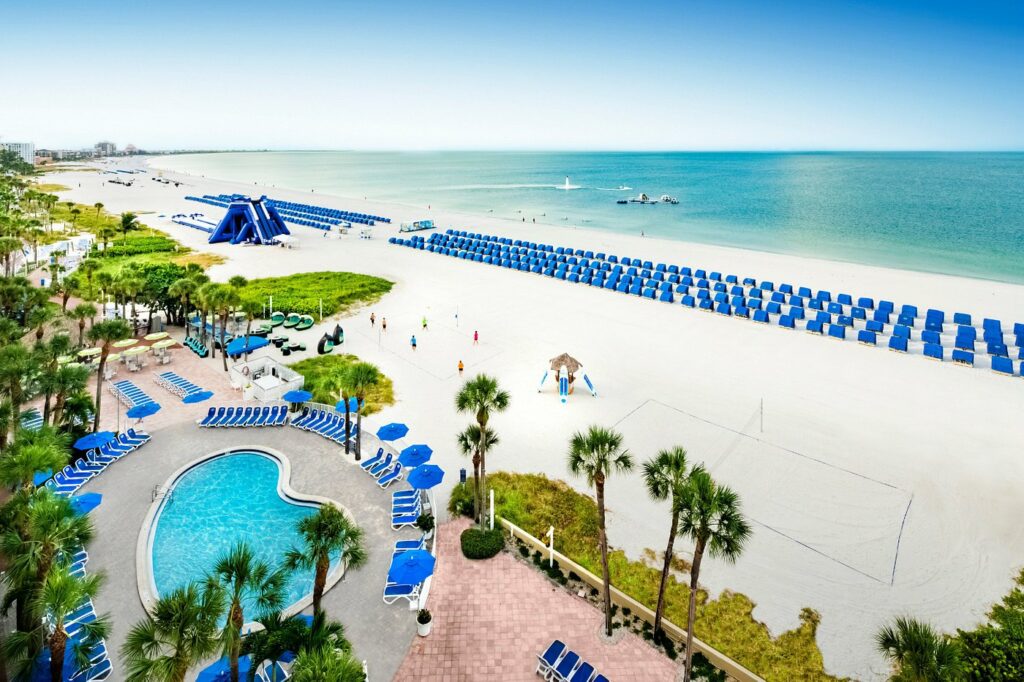 This beachfront resort is massive, with 28 acres of beachfront property. Plus, you can visit the neighboring Rum Fish resort and use its beach amenities as well. The main draw to this Florida resort is the number of activities that are included in your stay. You can do everything from sliding down a three-story water slide to lounging on a floating day bed in the ocean.
On top of having a massive amount of activities included, you can also add on a honeymoon package to make your getaway extra romantic. The turn up the heat romance package includes a hotel credit for a romantic dinner at one of two restaurants, a bottle of champagne, and chocolate-covered strawberries.
Besides that, they have ten restaurants and bars, an adults-only pool, an aquarium, paddle boats, poolside movies, and much more. You can choose between a standard room or beach-view villas with a whirlpool tub. Each room has a small kitchen area and a separate sitting area, so you can spend all day in your room if you prefer.
Cost: $325-$669 per night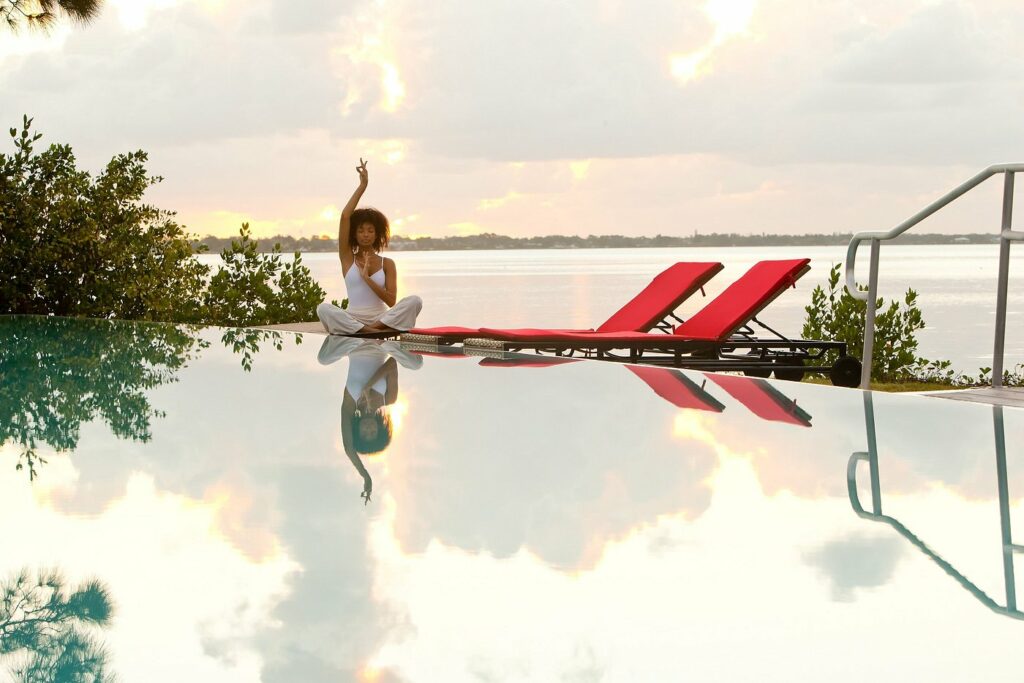 Sandpiper Bay is one of the United States only true all-inclusive resorts that includes all your meals, activities, and entertainment. You can do a wide range of things at Sandpiper Bay, but their main focus is on sports. Therefore, this resort is basically heaven for those couples that love a little competition with one another.
You can dine at four different restaurants on-site, including a buffet, a sports bar, a snack bar, and a pool bar. Whether you like to stay active on the water or land, they have a little bit of everything. You can go kayaking in the morning and hit a bucket of balls at the driving range on their golf course in the evening. It's all included.
When you're done whooping your partner in a round of tennis or beach volleyball, hit up the spa for a relaxing couples massage. You can also spend a day relaxing in the adults-only infinity pool or lounging on the beach.
Cost: $343-$995 per night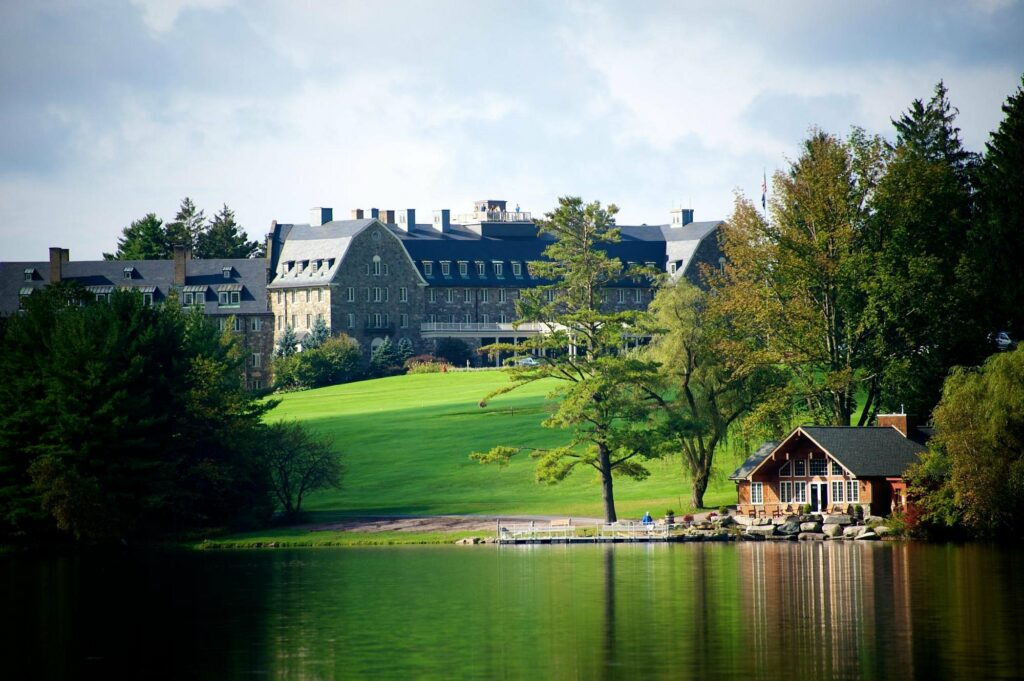 Skytop Lodge is a massive estate in North-West Pennsylvania. They have so much to do and see just at the resort that you could spend an entire week here and never get bored. Besides their standard amenities, they schedule an activity or entertainment nearly every hour of the day for you to participate in if you want.
The lodge has a large number of packages that you can choose from to make your honeymoon as inclusive as you want. For an inclusive food package that resembles what you typically see as "all-inclusive," choose the Modified American Plan. However, there are also packages that revolve around different activities, breakfast, and couples.
There are a few different types of accommodations you can choose from, and they are all elegantly designed with tons of space. I recommend the stream-side cottages for your honeymoon. These rooms make you feel like you're secluded from the rest of the resort and have fantastic views of the forest or golf course.
Cost: $386-$717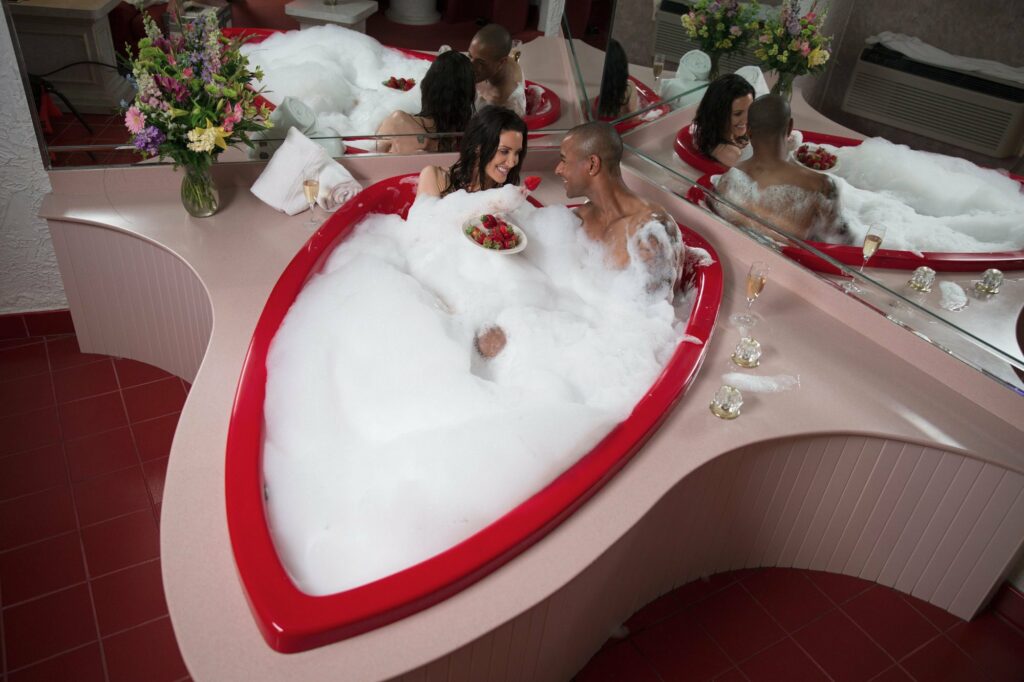 If you are looking for one of the most romantic all-inclusive resorts in the United States, then look no further. Cove Poconos is built to cater to couples looking for a romantic getaway. Every room comes with a heart-shaped hot tub, and there are even rooms with a champagne tower that you would have to see to believe.
If you're trying to save money, the breakfast and dinner package is their most valuable package. However, they have a honeymoon package that really isn't that much more expensive. It includes champagne, chocolate-covered strawberries, a romantic in-room setup, and horseback riding on top of the standard inclusions.
No matter the time of year you're planning your honeymoon, Cove Poconos has plenty for you and your partner to do when not enjoying your room. You can go bowling, bicycling, take a row boat out on the lake, relax on the lakeside beach, or go cross-country skiing. They also have unique entertainment, like stand-up comics and murder mystery parties.
Cost: $399-$877 per night
The Omni at Bedford Springs is made for those couples who want to spend their honeymoon relaxing and rejuvenating. The resort is built around seven natural mineral hot springs that the Native Americans used for their healing properties. They have an entire ritual you can do to take full advantage of the spring water.
Omni hotels are not typically considered all-inclusive. Although, this one specifically has some amazing packages that will make your stay more inclusive. Add the couple's retreat package to your booking, and you'll get a $100 resort credit to use for food, spa services, golf, or any other activities the resort has. They also have a bed and breakfast package.
Other than the hot springs, there is plenty of other romantic activities at the Omni Bedford Springs. Make some s'mores around a campfire, enjoy afternoon tea, join the chef's table for dinner, or show off your skills with archery.
Cost: $397-$1,911 per night
Tips to Save on Your All-Inclusive Honeymoon in the USA
Besides booking one of these affordable all-inclusive honeymoon packages in the USA, there are plenty of other ways to save on your honeymoon. Below are just a few of the best ways to save some money when planning your trip.
Book During Low Season
The low season is when fewer people visit due to weather or other factors. Resorts and hotels drop their prices in an attempt to draw more people in. You could save hundreds of dollars by simply booking during these times. I actually prefer booking during the low season simply because there are fewer crowds around.
Stay During the Week
Some hotels will fluctuate their rates daily, with the weekdays being slightly cheaper. People tend to book their vacations around the weekend, so they don't have to take as many days off work. However, if you can take off or don't work during the week, you could save a couple of hundred dollars.
Look for Specials and Offers
Nearly every resort will have special offers available on their website. Sometimes it's as little as 10%-20% off your stay. Other times it can be lavish packages that include spa treatments, resort credits, event tickets, and more. They may run promotions if you book during certain holidays as well.
Join the Loyalty Program
Most hotels and resorts have a loyalty program, where you build points every time you stay in one of their participating hotels. You can use these points for special perks or get free stays and upgrades. They usually cost you nothing to join and can even give you access to exclusive lounges and suites.