A honeymoon in Jamaica's Montego Bay translated into a tropical paradise complete with white beaches, blue skies, and rollicking nightlife. Montego Bay is utter enchantment.
Visiting Montego Bay is all about the perfect beach vacation. Or wander through the shops and markets to find that perfect gift for that special person. Don't forget the famed Jamaican cuisine and the local art galleries.
The Five Best All-Inclusive Resorts in Montego Bay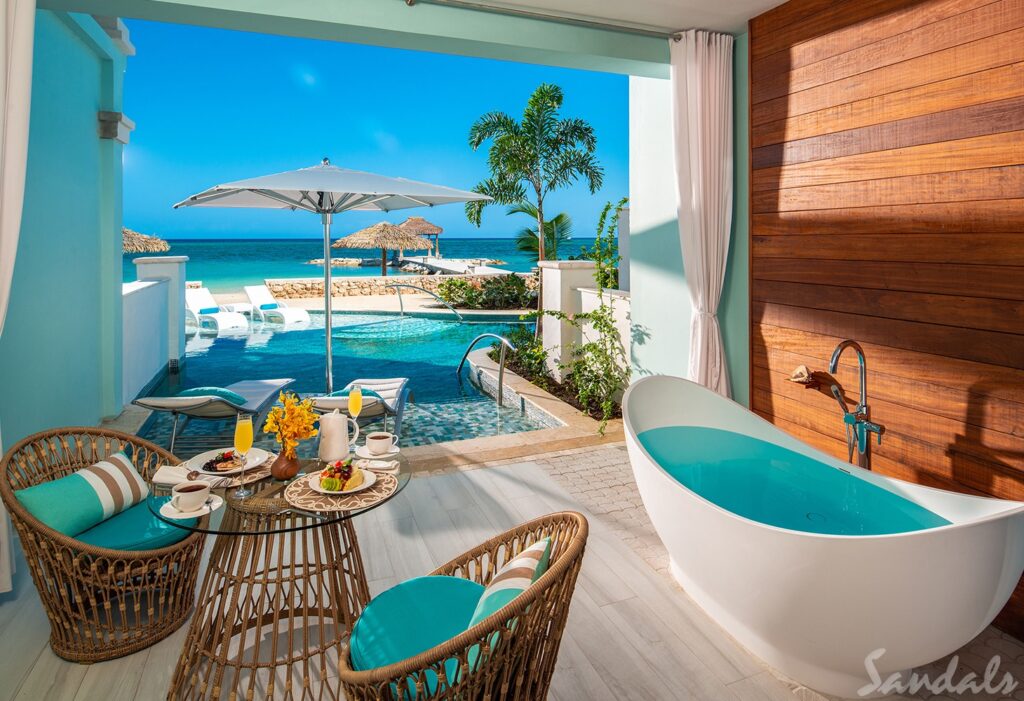 This Sandals All-Inclusive resort is adults-only and surrounded by a stunning private beach, offshore reefs, and calm, azure waters. Everything is a mere few steps from the beach, including an open-air beach bar and over-the-water wedding chapel.
Sandals Montego Bay has won the Conde Nast for Top Resort in the Caribbean Award and the 2020 World Travel Award for being Jamaica's leading resort.
The luxury suites offer every comfort. Some swim-up suites come with exclusive 24-hour private butler service, patio, and soaking tub. A stay at all-inclusive Sandals is utter luxury.
Sandals Montego Bay has 12 all-inclusive restaurants, with access to 9 restaurants at the nearby Sandals Royal Caribbean. That is a total of 21 exclusive dining experiences, including fine Robert Mondavi Twin Oaks wine and Jamaica's famed Blue Mountain coffee, the best coffee in the world, all for one price. There is roundtrip transportation between the Sandals resorts.
A private and secluded dinner for two at the beach or garden can be arranged with your waiter.
Sandals offers a certified scuba diving program at no charge because all activities are included, such as kayaking, water skiing, snorkeling, and paddleboarding. Out-of-the-water activities include croquet, tennis, volleyball, pool, and shuffleboard. Or guests can spend time taking classes in the fitness center. The spa offers relaxing treatments, yoga, and a steam room.
---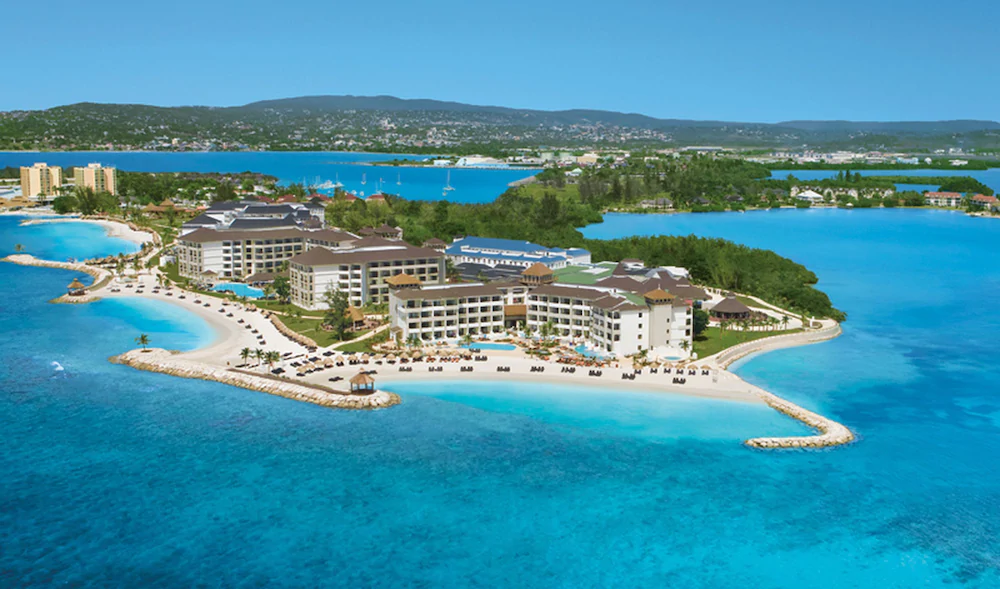 Secrets Wild Orchid Montego Bay is a AAA Four Diamond island resort that offers unlimited luxury. The all-inclusive benefits of staying at Wild Orchid are automatically extended to neighboring Secret St. James, thus giving guests even more value for their money. Double the value, double the excitement.
The resort offers 350 spacious suites with hot tubs and balconies with views of the Caribbean. For a special all-inclusive upgrade, guests opting for the Preferred Club receive more concierge services, special admittance to the Club Lounge, and other specially designated areas, including a Preferred Club pool as a room in a preferred location. Club members can enjoy hot and cold hors d'oeuvres each afternoon. A little pampering goes a long way.
The Secrets Wild Orchids resort has ten upscale restaurants, a buffet, and a casual grill and café. Special meals on the beach can be requested, or the dining facilities at Secrets St. James can be enjoyed. All meals and premium liquor are included. Guests seeking a romantic treat can update to a romantic package and enjoy a special meal served at one of the resort's special areas.
The Spa by Pevonia offers spiritual and bodily rejuvenation, a steam room, and a sauna. For some graceful relaxation, guests can join the yoga facility in the garden.
---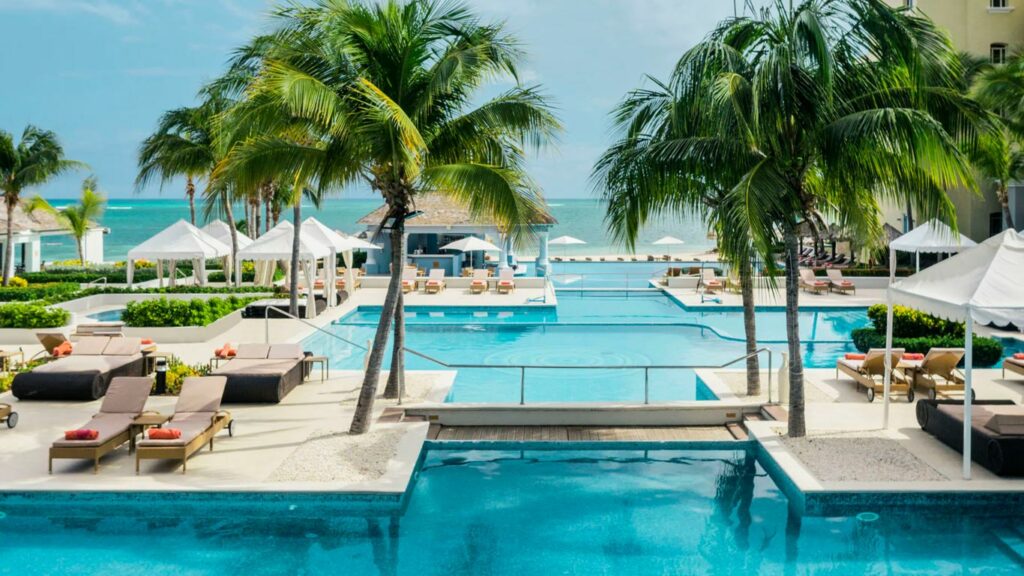 The Iberostar Grand Rose Hall is a beachfront, adults-only experience at a premium level of excellence and luxury.
The resort has won the Tripadvisor Travelers' Choice Award in 2021 for being one of the Caribbean's 20 best hotels, the 2018 Tripadvisor Certificate of Excellent for continued exceptional reviews, the 2018 Gold Greenleader award for eco-friendliness, and the 2018 Crystal Apple Aware for the best all-inclusive resort, the 2018 Delta Quality Assurance Award for best customer satisfaction, the Golden Apple award in 2018, and the AAA Four-Diamond Hotel Award.
The awards were earned by offering beyond just ordinary exceptional service. A stay at the resort begins with personal Butler service, which is available 24 hours a day. A private butler will help unpack, arrange for the proper aromatherapy for the room, and keep the minibar filled. He or she will draw a refreshing bath, and handle the laundry and shoeshines. Breakfast in bed? No problem.
Suites and rooms have a pool or spectacular ocean view. The Cinnamon Hill golf course beckons next to the resort, where players will find four miles of fabulous views of the ocean, waterfalls, and the Jamaica Blue Mountains in the distance. The onsite fitness center has personal trainers available, and the resort will also arrange for the ideal diving experience according to experience at its in-house diving center.
Enjoy unlimited dining at five restaurants and four bars with a choice of more than 70 wines.
---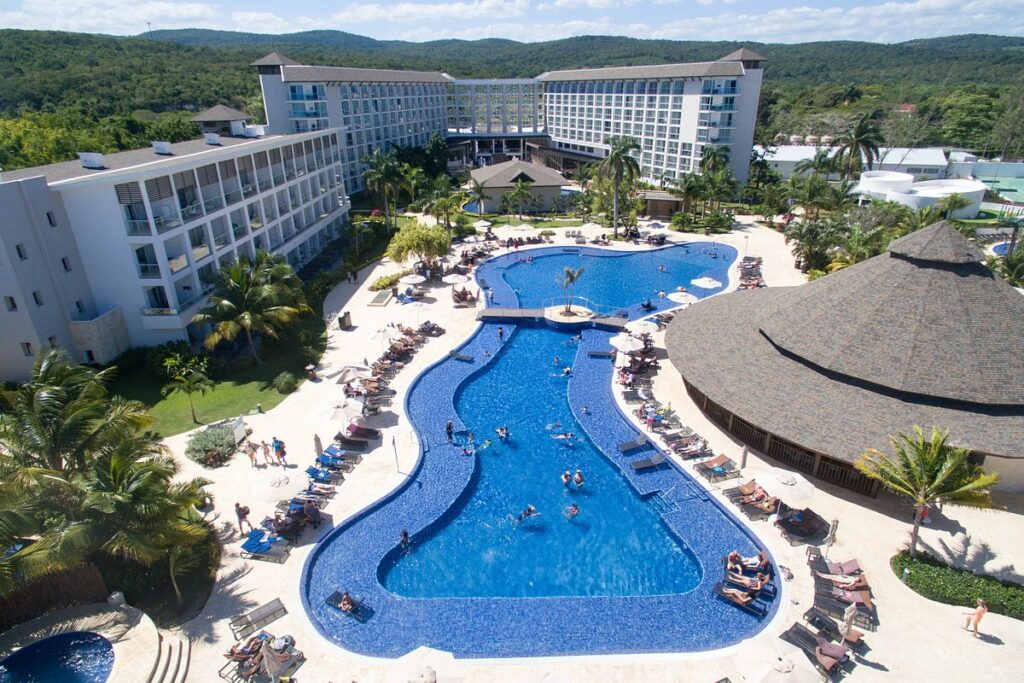 The Royalton White Sands all-inclusive resort is near all of Montego Bay's treasures, such as Dunn's Falls and the town's exciting nightlife. The family-friendly resort has 352 rooms, including a family jacuzzi suite with bunk beds, a private balcony, and a jacuzzi to be shared by the entire family. At Royalton White Sands, teens and kids have their own supervised clubs.
Guests can choose among 11 Restaurants and 5 Bars for unlimited drinking and dining. For a special occasion, a personal chef will present an unforgettable seven-course meal with cocktail pairing.
The resort has won the 2021Traveler's Choice Award, the U.S. World & News Best Loved by Guest 2022 award, and Travel and Leisure World's Best Award.
Royalton offers an upgrade to its Diamond Club level for a premium experience. This includes special seating in the restaurants and bars, a private lounge, daily breakfast, and hors oeuvres and desserts, a pool and beach area specifically designated for Club members, and personal butler service. The butler will help with packing and unpacking, ironing, shoe cleaning, and escort guests to the restaurant of their choice.
The Royalton has several packages available. The Birthday Package includes decorations, breakfast in bed, chocolate-covered strawberries, a birthday cake for dessert, and 25-minutes outdoor couples' massages
The Foodie's Treat Package includes room service brunch with champagne, a tequila or rum tasting for two at sunset, and a special pool cabana sushi selection.
---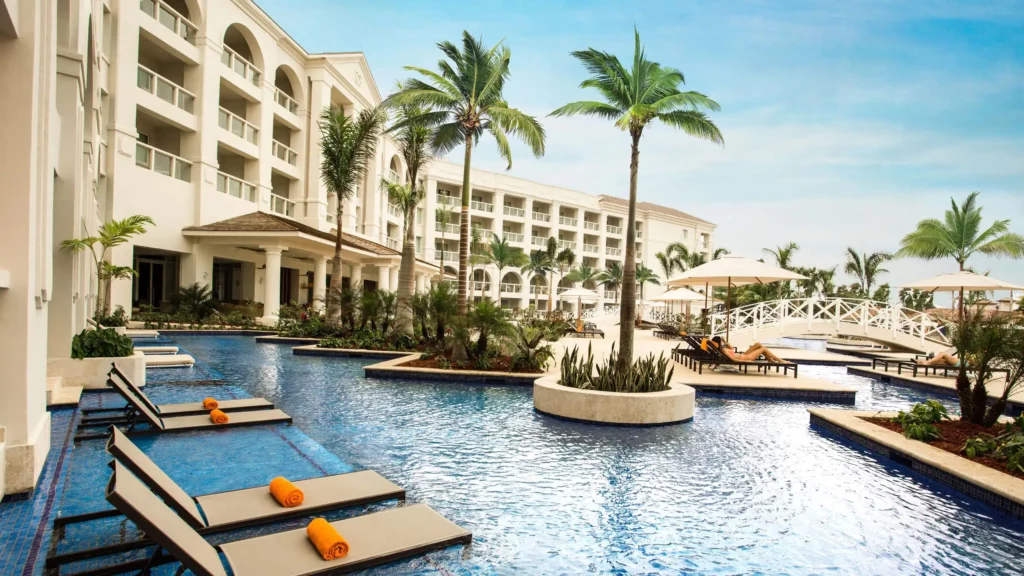 The All-Inclusive Hyatt Zilara Rose Hall is a romantic getaway for adult-only featuring the stunning beaches of Montego Bay.
Every luxurious room has a private terrace with a beautiful view of the pool, the stunning gardens, or the Caribbean Sea, including fabulous swim-up rooms with a private pool. Some rooms include 24-hour butler service – a private cell phone assures immediate access to impeccable butler service.
The Hyatt Zilara Rose Hall Resort has ten restaurants, from exquisite French dining to open-air dining on the sand by the beach while being caressed by the sea breeze. The coffee bar serves the famed Jamaican Blue Mountain coffee with delicate pastries and other desserts.
Guests can visit the swim-up bar and enjoy a tropical cocktail. For candlelit and romance, couples can celebrate with a private, secluded dinner on the property.
Hyatt Zilara offers the best of Caribbean life, with exciting watersports, such as kayaking or surfing, or arrange for a catamaran cruise to soak up the beauty of Jamaica and enjoy a game of golf.
Guest wishing to remain on land can practice beach yoga, take a cooking class, or a dance lesson. Those wishing to work up a bit of sweat can rev it up in the aqua gym.
Let the resort's romance package rekindle the flame over candlelit dinner, couples' massages, and in-room champagne.
Hyatt Zilara Rose Hall is a favored Jamaican wedding venue. A trained wedding planner can arrange every detail for a special wedding in these breathtaking surroundings. There are several wedding packages, as well as honeymoon and anniversary specials.
Why All-Inclusive
When you're in paradise, staying in an all-inclusive resort in the Caribbean simply upgrades the fairytale. It is the most stress-free vacation anyone can have. All-inclusive means one payment for everything. Meals, drinks, and snacks are unlimited and usually include high-end liquor and cocktails. Sometimes, even transportation is included, as well as tips, entertainment, and sports. The only reason for money while staying at an all-inclusive resort would be special spa treatments and an outing away from the property.
You know exactly (almost to the penny) what your vacation will cost before you even leave home. All-inclusive can include adult-only or family-friendly. Traveling doesn't get any more convenient. No cash. No credit card. Just lots of fun and total relaxation.
An all-inclusive stay saves you plenty of research time. There is no need to check the individual cost of rooms, flights, restaurants, entertainment, etc. One amount covers it all. Book it and forget it.
Conclusion
Visiting exotic Montego Bay promises the ideal vacation. This is where nature wrapped up its natural beauty in romantic beaches and clear, beautiful water.
There are countless sites to visit here. From a craft market that is the perfect place for souvenirs to the Bob Marley Experience and Theatre, a dedication to reggae and Jamaica's most famous musician. Explore Montego Bay's Rastafarian Village or the orchards at the Croydon Plantation. Stroll through the town and visit St. James Parish Church with its marvelous stained-glass windows. Or enjoy a tour through Rose Hall Mansion, a beautiful 18th-century mansion, and immerse yourself in a bit of charming colonial history.
Montego Bay's dining is a fusion of African and British cooking. Jerk, Jamaica's infamous spice, finds its way into most dishes.
Come to Montego Bay for the watersports and sights; stay for the pampering at the all-inclusive resorts.