With powdery white sandy beaches and cool turquoise waters, Aruba offers a tranquil environment that's ideal for any destination wedding.
In the nighttime, the island comes alive with lights, music, and other entertainment activities. And when it comes to culinary delights, you'll find several local flavors unique to Aruba.
There are many natural wonders here that will bring out the explorer spirit in you. Discover the magic of this enchanted land with your loved one as you come here and leave all the Aruba wedding worries to the planner or the dedicated staff of the resort you book.
About Destination Weddings in Aruba
Why get married in Aruba?
Aruba has many resorts, villas, hotels, and estates where you can go for a wedding or elopement. With customizable wedding packages, you can design your Aruba wedding just the way you want it.
Get picture-perfect backdrops to make your wedding photos even more memorable. Enjoy the sun-kissed look as you glow with love and enjoy your honeymoon in this quaint little island destination.
Let your toes play with wet sand as you say "I do." Or visit a charming hilltop chapel to read your vows. Or stand under the swaying palms as you two become one. There are so many dreamy locations when you're in Aruba.
Average Cost of a Destination Wedding in Aruba
You can have an Aruba wedding with up to 25 guests for under $5,000. This is even cheaper than weddings back home.
For $5,000, you can get basic music and décor services for up to 25 guests. This is just an average estimate. Different wedding planners will offer different rates.
You can get a decent room in Aruba for about $200, which isn't too expensive. There are some all-inclusive resorts here as well. With an all-inclusive deal, you have to spend just once and then relax throughout the stay.
The Best Aruba Wedding Venues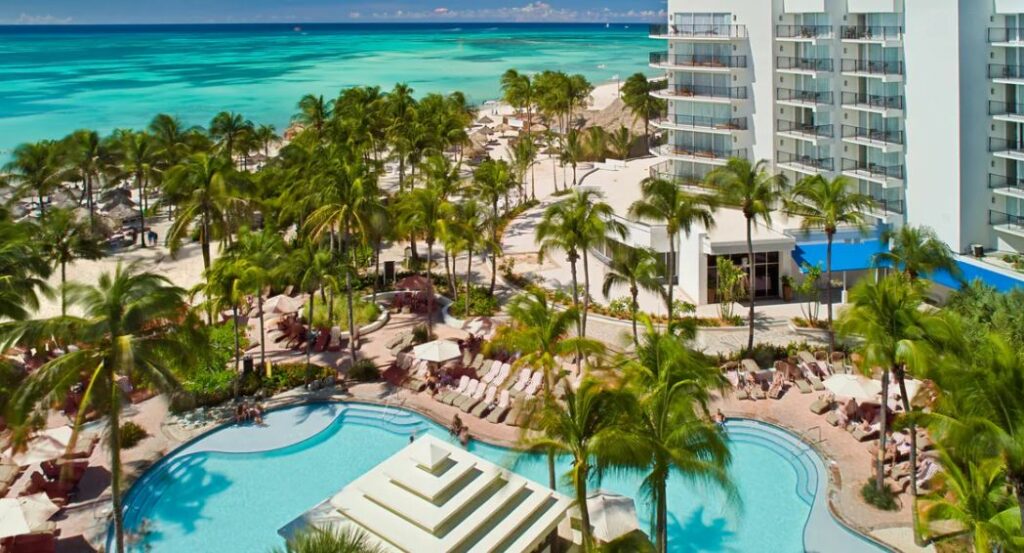 Aruba Marriott stands on Palm Beach and offers captivating sceneries of the tropical paradise. This beautiful hotel has spacious accommodations and exceptional amenities.
Take a swim in the calm waters of the ocean and sip on handmade cocktails in your private cabana at the adults-only pool.
Feeling lucky? Play and win at the 24-hour casino and later relax your muscles with a soothing couple's massage in the spa. Visit the whirlpool or soak away your worries in the sauna.
There are seven event rooms and over 10,000 square feet of event space in this hotel. The capacity of the largest space is 880 people, which means you can host a grand Aruba wedding here.
The wedding planners of the hotel will arrange the celebrations so you don't have to worry about anything. Just relax at the beach and enjoy the feeling of true love as the hotel manages your wedding reception, cocktail, and other events.
There are versatile venues for all types of weddings. Want an al fresco cocktail party? Try their H2Oasis poolside, South Beach venue, or La Vista Terrace. There are practically endless possibilities when you're at Aruba Marriott Resort.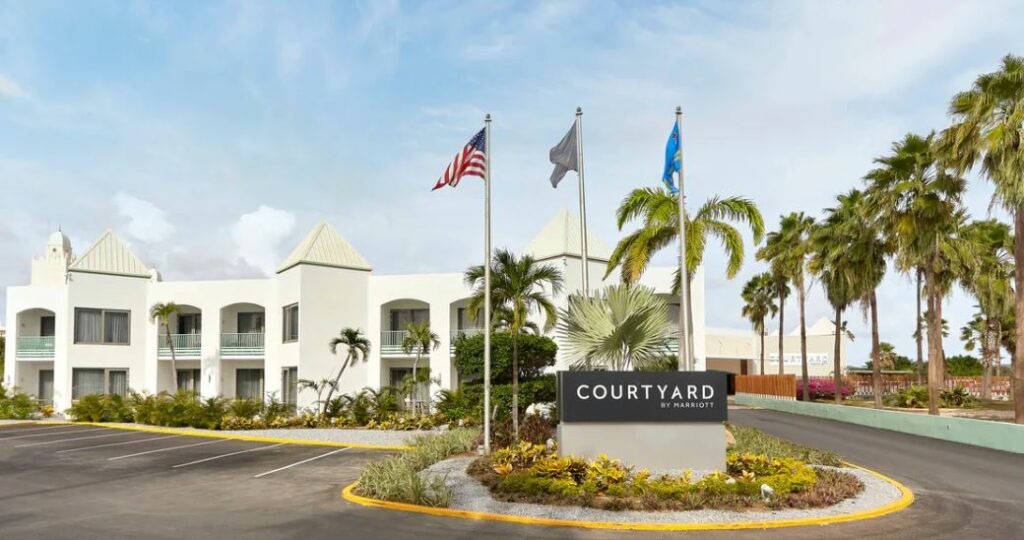 Courtyard in Aruba offers a comfortable stay that will make your Aruba wedding even more memorable. It is in the heart of Palm Beach, just a few steps away from the beautiful coastline.
After a long stroll on the beach, visit the Bubali Bird Sanctuary and California Lighthouse. The rooms of the hotel carry a contemporary and minimalist theme. Revel in the relaxing atmosphere of the hotel as you sip on a fruity cocktail from their swim-up bar.
Continue your workout sessions at their fitness center and work up an appetite. Grab a bite at any of the restaurants in the hotel and enjoy the unique flavors of the place. Aruba is famous for fresh seafood so if you're a seafood lover, you'll absolutely love this place.
It's a pet-friendly hotel, which means you can bring your furry friend to the wedding. There are two event rooms and a total event space of almost 1,000 square feet. The capacity of the largest space is 90 guests, so you can hold a mid-sized wedding here.
Discuss your needs with the wedding planning staff of the hotel and they will make sure your wedding goes exactly as planned.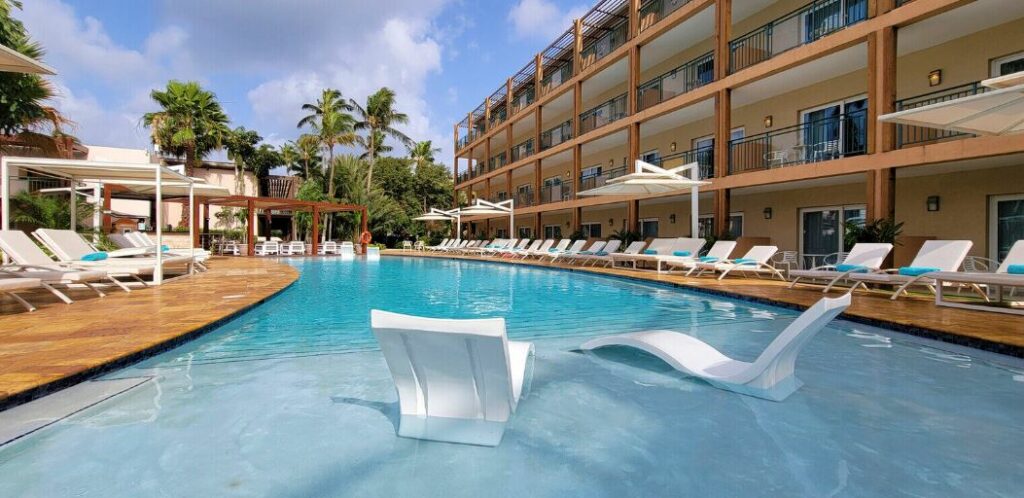 Divi & Tamarijn is an all-inclusive resort in Aruba. It's ideal for families, couples, singles, and groups. Enjoy the true Caribbean experience with beach accommodation that offers breathtaking views from your balcony or patio.
All rooms and suites have modern furnishings and help you relax and unwind. Whether you're here with your loved one for an elopement or with your friends and family for a large-sized wedding, this resort can handle it all.
It offers 10 dining options and many bars to quench your thirst. Grab a drink poolside or by the beach for a relaxing moment. The resort takes care of all wedding events and helps you achieve the kind of celebrations you're looking for.
Go for a round of golf on their 9-hole golf course and later stop by the pro shop to buy memorabilia. Stop by the golf café for a quick bite and a drink before you come back to your room.
Wedding couples and guests get special discounted rates depending on the number of rooms you book and how long you stay.
Divi & Tamarijn offers multiple venues to select from. Whether you're looking for golden sunsets with ocean views, romantic beach settings, or lush green sceneries, your wedding will be exactly according to your preferences.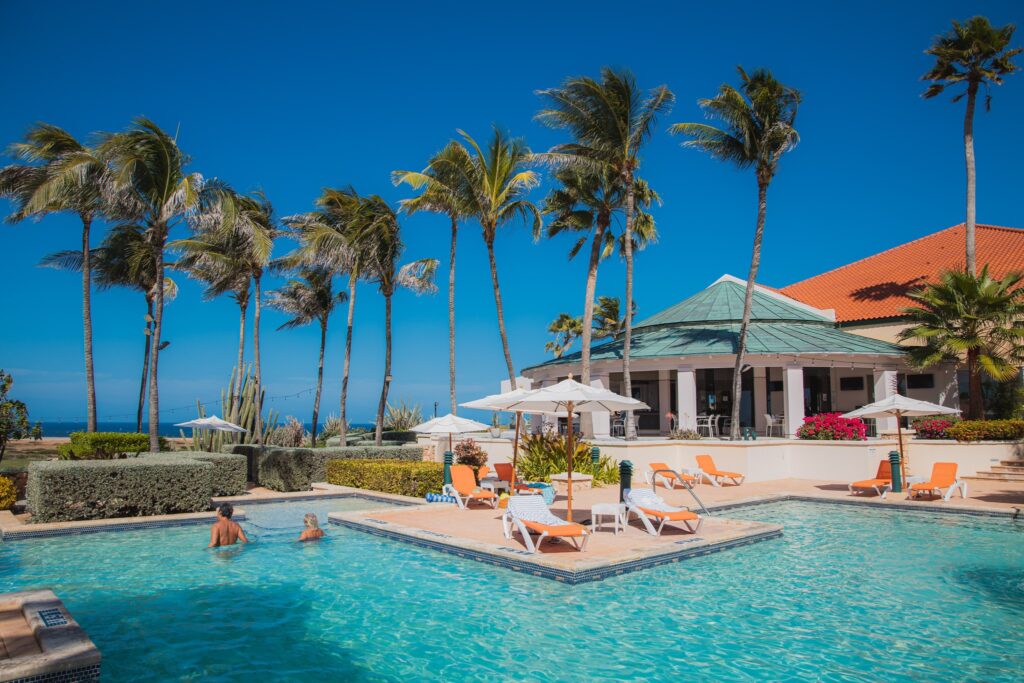 Relax, unwind, and have a fun Aruba wedding at Tierra del Sol. It's on Palm Beach and just a few minutes walk from the shopping and dining hub of the island.
The resort has a premium 18-hole golf course that lets you have a leisurely game. They also have a tennis court where you can play with your soulmate.
Spread over 600 acres of land, this resort offers panoramic views of the entire island. This spectacular property has villa rentals so if you want complete privacy for your guests, this is the best place for you.
Visit the activity hub of the island and shop until you're tired. Head over to the in-house spa to relax your muscles with a couple's massage. Or you can get a more holistic treatment to rejuvenate your body and mind.
Have a refreshing swim in the pool and then enjoy a casual lunch on the terrace. Enjoy a bowl of fruit ice cream or sip on delicious tropical coffee. Enjoy your time with each other, away from the crowds.
And leave the wedding worries to them as the dedicated wedding planning team at Tierra del Sol will plan a customized wedding for you and bring your dreams to life.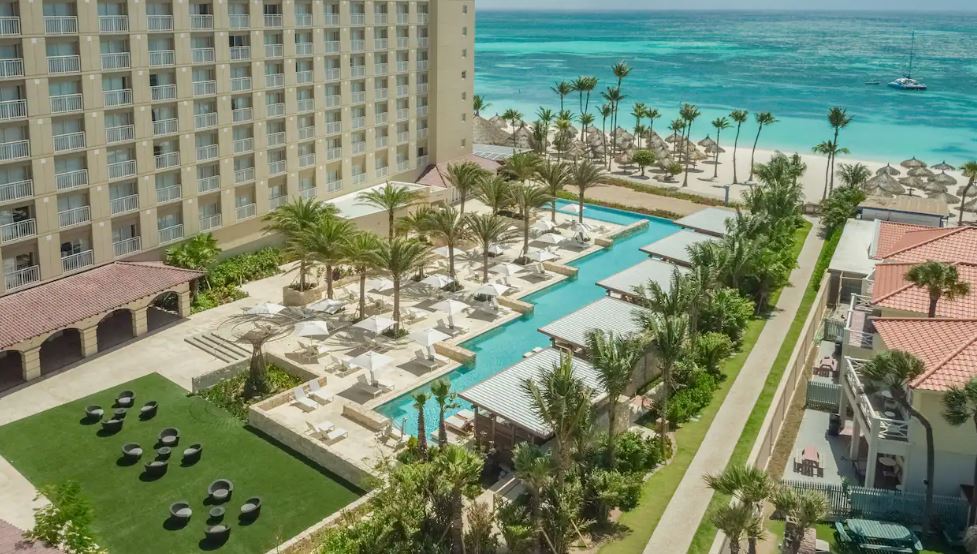 This beachfront resort offers stunning ocean views. There are boutique shops on the property so you can collect wedding memorabilia. You'll also find local shops near the hotel.
Come back from your shopping excursion and relax your body with a deep Aloe Vera treatment at the resort spa.
Play a few games at the in-house casino. Win classic reels or progressive jackpots. Try your luck at roulette, blackjack, and poker. Visit the VIP desk for additional points and redemption values.
Spend your afternoon at the beach and head to the Kadushi juice bar which creates yummy smoothies and acai bowls.
The resort has 359 rooms so you can host a large wedding here. It has a total of 29,196 square feet of event space, including indoor and outdoor spaces.
It's a pet-friendly place so you can bring along your furry friend to attend your Aruba wedding.
Create a magical destination wedding at the locations of your choice. Whether you want a beachfront wedding, a ballroom setup, or green scenery, Hyatt Regency Aruba will create the perfect wedding backdrop for you.
Their wedding specialists will take care of all aspects of your wedding so you can sit back and relax.
Aruba Wedding Legal Requirements
Can you legally marry in Aruba
Civil unions are possible in Aruba in the Civil Town Hall. You'll need specific documents to get legally married here.
If you want to hold a symbolic wedding, you can marry in your home country and then arrive here for the ceremony. Since a symbolic wedding doesn't have a legal holding, you don't have to arrange any documents for that.
Can you elope in Aruba
Aruba has many beautiful places for elopers and honeymooners. If you're planning for an Aruba wedding on a budget, an elopement can be a great choice. It's easier to plan and manage. It's more romantic. Also, it's more economical.
If you want to spend some intimate moments with your loved one, you might prefer an adults-only resort. However, if you're planning to celebrate your wedding with some friends and family, it's best to find a family-friendly resort that can accommodate kids.
If you're eloping to Aruba, discuss your needs with your hotel and they can help you out with wedding documents and other legal requirements.
Required Legal Documents & Fees
Here are the documents you need for your Aruba wedding:
Passports of the bride and the groom
Birth certificates of the bride and groom. It should contain the names of both parents and a raised seal.
No impediment certificate (a certificate that states both parties are single and eligible to marry)
Divorce or death certificates of previous partners (if applicable)
Declaration of marriage intent
You'll also need the signatures and ID proofs of two witnesses. Your wedding planner or hotel can handle that. Keep in mind that you need formal or semi-formal clothes at the civil ceremony. Casual wear isn't allowed inside the Civil Town Hall.
Aruba Wedding Planning Tips
How to get there
By air
Queen Beatrix International Airport of Aruba gets nonstop direct flights from major cities in the US, UK, Europe, and Latin America.
Before you come to Aruba, you'll need an ED Card (Official Embarkation-Disembarkation card). People coming from the US, Canada, the Caribbean, Europe, and most South American countries don't need a visa to enter Aruba. However, they will need a valid passport.
By water
You can also reach Aruba via boat. The dock is in the center of the town and taxis are available right outside. You may also find some Caribbean cruise ships that make a stop at Aruba.
Aruba Weather
Aruba has tropical semi-arid weather that stays hot all through the year. The daytime temperature might reach about 30oC to 33oC.
The warmest months are February to August when the island experiences southeast trade winds. From October to January, the place gets northeast trade winds that bring rain.
The island doesn't get too many rains and it stays largely dry throughout the year. November and December are the months with the maximum rainfall.
It's always sunny here and the sea stays warm, even in the winter months. The average water temperature stays at about 25oC and it's always comfortable for a dip.
Best Time of the Year to Get Married in Aruba
Since Aruba doesn't lie in the Caribbean hurricane belt, there is no wrong season to visit the island. January to March is the peak season here and many weddings happen here in these months.
However, since this is the busy season, you might want to avoid it. If you want to dodge the touristy season, April can be a good month as it doesn't get too many rain showers and the tourist influx also slows down in this month.
And if you have a special date on your mind (maybe the date you first met), Aruba is one of the few Caribbean destinations that are wedding-ready all through the year.
Want to look at some other destinations before making up your mind? Check out these beautiful Costa Rica wedding venues.