There really cannot be a better choice than Bali for a luxurious plus romantic honeymoon destination. Along with being exotic, beautiful and fun, it is also very economical as compared to a trip to Europe. There's also no limit to activities you find here to feed your adventurous soul.
Bali, an island province of Indonesia, steps directly out of a fairytale romance. Ideal weather, breathtaking beaches, and blue waters as far as the eye can see make Bali the ideal honeymoon destination.
In Bali, you will find a combination of luxury and spiritualism that is virtually non-existent anywhere else. Its temples were a major part of the island's culture long before there were tourists. One of the most important temples is Uluwatu Temple, high up on a cliff above the Indian Ocean and possibly Bali's most spectacular temple. It is the place to contemplate and relax and just gape at the astonishing view. While you are amid all this beauty, watch out for the roaming macaques, who are more interested in what is in your bag than your spiritual life.
Another temple to visit is the Batukaru Temple in west Bali. Instead of being perched high above a cliff, it is surrounded by a lush forest and Mount Batukaru. The stunning Jatiluwih Rice terraces are nearby and should be visited while you at the Temple.
Your Bali honeymoon can be luxurious, budgeted, or a combination of the two. Bali is not inexpensive, and their luxury resorts can cost, although they are cheaper than some other islands. A compromise might be to split your stay between a resort, a private villa, or an Airbnb accommodation. Be sure to explore similar and more affordable destinations compared to Bali if you're worried about cost.
A lot depends on whether you are staying at a beach, in the jungle, or in one of Bali's cities. Denpasar is the capital of Bali, where you will find a rich culture of both Hindu and Islamic history, museums, and the incomparable Bali Sharks project in South Denpasar, where you can swim in a shark nursery. In Bali, even the sharks have peaceful karma.
This post may contain links from which we earn a commission. You can read our full affiliate disclosure here.
About Bali
Bali is the best known of the Indonesian island archipelago (there are 17,000 islands). It is a cherished travel destination as seven million visitors flock to this paradise each year. The beautiful beaches and the volcanos in Bali's interior create a diverse and one-of-a-kind landscape.
And then there are the temples. They are everywhere – tens of thousands of them. The Balinese are serious about their worship. They offer tributes to the gods each day, everything from flowers, cookies, to cigarettes (who knew god smoked). The spiritual life permeates every part of Bali's culture and is the reason Balinese are filled with such peace. These daily offerings keep the bad spirits away.
Balinese are more than happy to share their spirituality. Visitors are always welcome in the temples, but they need to be properly dressed in a sarong and a sash around the waist. Both can be borrowed at any temple. Incidentally, menstruating women are not permitted inside holy houses. 
Balinese also appreciate proper manners. When meeting someone, there is no shaking of hands. Instead, place the palms of your hands together at chest level and make a slight bow. This greeting is especially important within a temple. 
Denpasar has plenty of spirituality to offer, but you should also visit the city of Ubud, an hour's taxi ride from Bali's capital. While in Ubud, visit the heart of the city, the Ubud Art Market. Half the market is dedicated to art, while the other half is a standard market filled with unexpected goods that make marvelous souvenirs. Bartering about price is expected.
Not far from the marketplace, you will find the Ubud Royal Palace. It's a small palace filled with Ubud history. It might be worth your while to hire a local guide to learn as much as you can about the Palace. The back rooms are still inhabited by the heirs of Ubud's last reigning king, but that area is off-limits. There are nightly dance performances, complete with a full orchestra. Anyone in Ubud will tell you where to get tickets. 
One of the unique features of the Palace is that you can spend the night in one of the bungalows within the courtyards and stroll through the gardens like royalty. That is romance fit for a king.
If you need a break from Bali's spirituality, there is the town of Kuta, a former fishing village near Denpasar's airport. This is where they worship alcoholic and wild parties more than temples. It's a totally different side of Bali and, if you are so inclined, may be worth a visit for a day or so. Its vibes are deliberately very touristy.
Kuta does have a lovely beach where watersports rule. There are also accommodations, including luxury resorts, and restaurants – billboards featuring KFC and McDonald – may be a bit of an initial shock. But this is also the place for excellent traditional Bali cuisine. There are several shopping malls for some retail therapy. Wild parties fill the nights. 
From an overnight stay at a palace to an abundance of temples and impeccable beaches, with a bit of debauched nightlife thrown in, Bali has everything you might ask for on your Bali honeymoon.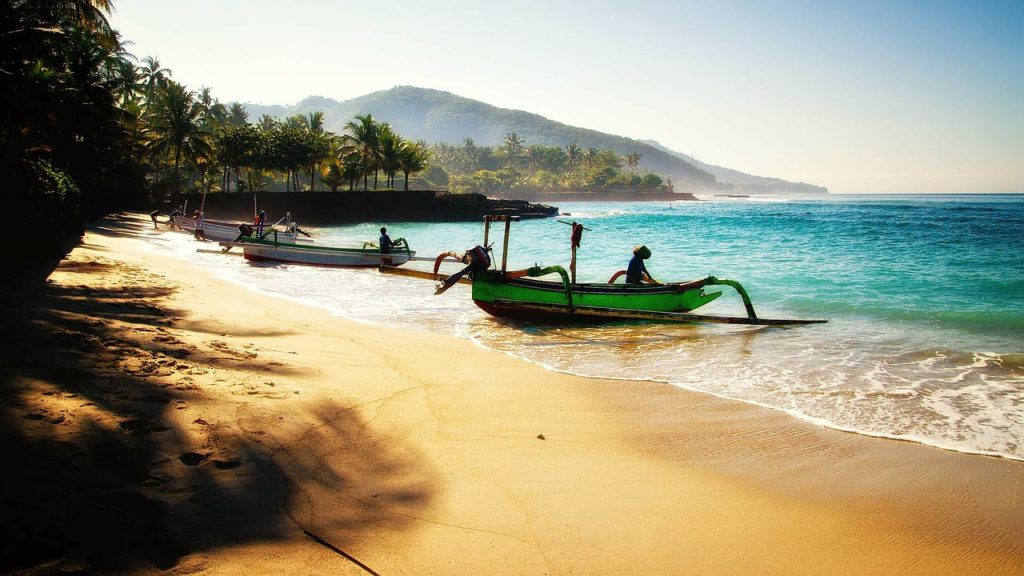 Best Time to Visit Bali
Bali is a paradise regardless of when you visit. However, you may wish to take some of the island's festivals into account before setting a final date. Kite festival, anyone?
Ubud welcomes spring in March for five days with music, yoga, dance, and wellness workshops. It is all about refocusing the spirit for the new year.
The Bali Kite Festival begins in August and continues for several weeks and is one of Bali's most popular festivals. It is the time for the Balinese to offer thanks to the gods for another successful harvest. And what god wouldn't love hundreds of vibrant kites soaring through the sky? There are competitive kite flying teams, with a prize for the winners. These festivals occur throughout the island, including Mertasari Beach, Denpasar, Ubud, and Kuta. 
In June and July, the Bali Art Festival celebrates the dance and music of Bali to keep its culture alive. The largest celebration takes place at the Taman Werdhi Budaya Arts Center in Denpasar, which provides a stunning opening ceremony.
The Kuta Karnival takes place on Kuta Beach in October, with sand sculpture competitions, kite flying, great food, surfing, a sea turtle release, and parades. There are also cartoon exhibits and movie screenings. This being Kuta, the purpose of the Karnival is simply to have as much fun as possible. 
Top Things to do in Bali
Canggu
This hidden gem on the southwest coast of Bali is a mere half-hour drive from the Denpasar airport. It could have all the things you are looking for in a Bali honeymoon in one place. Enjoy dinner at the beach at sunset. Visit the local market for food, crafts, and clothing. Canggu is being discovered, and there are many accommodations available. Visit the picturesque Tanah Lot Temple, which sits on its own island in the ocean. The sunset over the Temple is the perfect honeymoon Instagram moment.  
Get in touch with your spiritual side at the Serenity Eco Lodge, which offers yoga classes, couple's massages, accommodations, and restaurants. 
Cocktail Safari
We mentioned Kuta could lean a bit toward decadence. The Kuta Cocktail Safari is an example. This safari does not involve wild animals. It's all about nine hours of touring in search of the best cocktail. You can enjoy drinks prepared by Bali's top mixologists while being guided to some of the island's best sights. There will be a stop for food. 
Potato Head Beach Club
Enjoy a romantic dinner at the Potato Head Beach Club in Seminyak. It is reputed to have the best sunset in all of Bali. Come for a seaside dinner by the Indian Ocean, all with local DJs and musicians, all eager to provide a romantic dinner.
Batur Volcano
Take a tour of Batur Volcano in Bali's Kintamani's Village in east Bali. Climb to the top of this still active volcano and take in the incredible vista as the sun sets in the distance. Stop by the coffee plantation and exquisite Tegalalang rice terrace. The trek up the volcano is, of course, part of Bali's natural fitness program. On the way down, take your honey and sink into one of the hot springs. Sheer Bali honeymoon bliss.
Gates Of Heaven
The Gates of Heaven is located at the Mt. Agung volcano, another active Bali volcano. The area includes the unbelievably picturesque Tirta Gangga Water Garden, a magnificent garden filled with ponds, rivers, and fountains. Move on to the Water Palace, a palace surrounded by pools, waterways, a tropical garden, and historic Balinese statues. The entire Gates of Heaven is such a photogenic marvel, it has been suggested that hiring a private guide and photographer for the best pictures would be well worth it. If there is a heaven of earth, this might well be it. Can there be a better place to enjoy your Bali honeymoon?
The Sacred Monkey Forest in Ubud is in the village of Padangtegal. In keeping with Bali's principle of peace and tranquility, one of the purposes of the Monkey Forest is to achieve harmony between man and the environment. The forest itself is lovely, with a refreshing stream flowing through it. There are also three Hindu temples. 
Most visitors come for macaques. These monkeys are used to humans and will approach visitors without fear, especially if there is food involved. They are extremely curious and will examine the bags of visitors and reach into pockets.
Weather in Bali
It's always warm in Bali, where the seasons are divided between wet and dry. May through September are the dry months, with average daily temperatures of 88 degrees. There will be downpours during October through April, which are also the hottest months. There is a delightful breezy wind in June through August, which is the time the Balinese love flying their kites. 
While the temperature does not vary a great deal, May through August has the lowest humidity and is the most comfortable time to visit and roam through Bali's gorgeous countryside and beaches.
Getting to Bali
To reach Bali by flight, you can land at Denpasar International Airport located at Kuta district, just 13 kms away from Denpasar the capital of Bali.
You may also land at the Ngurah Rai International Airport.