Whether you have a late-autumn wedding or you had it earlier in the summer and you postponed the honeymoon, there are plenty of beautiful places with good weather to go to in November.
Whether you go to an exotic island, an overwater bungalow, a safari in Africa, or some sightseeing in Europe, there are plenty of amazing places that you can see. Now let's have a look at some of the best honeymoon destinations to visit in November:
---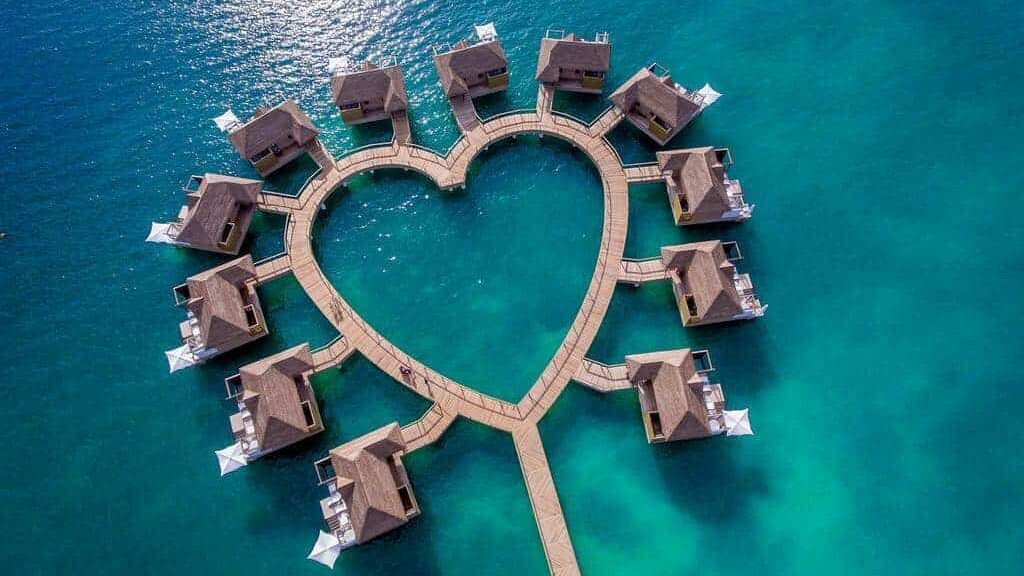 This is an island country in the Caribbean Sea, and it's been made popular by Bob Marley and reggae music. One of many amazing honeymoon destinations in the Caribbean, Jamaica offers a special destination for a honeymoon in November. It's also a great touristic destination thanks to its warm weather, sandy beaches, beautiful clear waters and luxurious resorts.
Jamaica is also home to six amazing Sandals resorts, which make for perfect honeymoon getaways in November.
It includes plenty of romantic places for couples and fun activities to try. November is right after the hurricane season, so the weather will be warm and sunny. Another advantage during this time of the year is that the crowds have not arrived yet, and the trade winds keep the evenings cool and pleasant.
---
If you want more adventure and an exotic island seems boring to you, then you can head on to South Africa. Here you can go on an incredible safari experience and witness the wild live of the savanna as you can only see it on TV.
But you can also head to the gorgeous Cape Town and witness some of the attractions here. Among them you will find the Table Mountain, the Tree Canopy Walkway, plenty of interesting museums, the Boulders Beach with penguins, the Robben Islands and lots of great bars, restaurants and cafes.
It's will be summer for your honeymoon in November here, so the weather will be warm and dry, just great for exploring the savanna or the city. If you also make it to Johannesburg, you will be able to see the beautiful jacaranda trees in bloom.
This country offers a complete honeymoon experience, with great weather, beautiful beaches, luxurious resorts and an incredible culture to be discovered. There are also mountain sceneries to explore, and a must-try experience is to spend the night in a Bedouin camp, under a sky full of stars.
It's winter in Oman in November, but don't worry because it will definitely not be cold; these are the most comfortable temperatures of the year. It's right after the October harvest, so the markets in Muscat will be full of fresh products such as olives, walnuts or pomegranates, but also things that you can only find around here.
---
4. Philippines
This beautiful country offers incredible experiences for all tastes and for all budgets. It includes plenty of islands with exotic beaches and clear waters, but also forests and mountains to explore. The landscapes are simply amazing. Not to mention the underwater world as well, which is worth discovering through scuba diving or snorkeling.
It's the dry season here in November, so the weather will be warm and dry, with pleasant temperatures for exploring or laying on the beach. Since it's early in the dry season and close to the wet one, the nature will be at its most lush and green, and you will be able to take some amazing photos. Plus there will be less crowds and better prices compared to peak season.
---
5. Reunion
This is a beautiful island located in the Indian Ocean and part of the French Republic. It has a population close to 900,000 and a total area of 2,511 square km. The landscapes are amazing, and you have both the ocean with pristine beaches and mountains with lush forests to explore.
It's the beginning of the summer on Reunion in November, so the temperatures will be just right for hikes and outdoor experiences, but also for laying on the beach (around 20 degrees Celsius). There will also be less crowds compared to peak season, giving you and your spouse more relaxation and privacy.
---
This is an island country located in South Asia, and also quite a heavy populated one with over 21 million residents and a density of 327 per square km. But don't worry, because there are plenty of touristic destinations and luxurious resorts that are not so crowded.
Here you will find exotic beaches to lay on, but also incredible ancient crumbling cities and ruins to visit. Here you can go on one of the most beautiful train rides in the world, from Kandy to Ella, or see leopards in the Yala National Park.
Most regions of the country have the dry season in November, allowing you to lay on the beach or explore the nature, while the parts of the country that are rainy have the most lush and green landscapes. And least but not last, it's also the start of the spotting season for blue whales and dolphins on the coast of Mirissa.
---
This incredible country allows for plenty of hiking and exploration activities, whether through mountains and valleys, lakes, glaciers or forests. This is the perfect place for adventurous couples that love the nature.
You can also go sky-diving, cycling or visit some of the beautiful cities of this country. It's the spring here in November, and the temperatures will be mild. The flowers and trees burst into life, so you will be able to admire some incredible landscapes.
---
What should you do if you want to explore the wild life of the savanna, while your spouse wants to just lay on the beach and sip on a cocktail? Then you can simply go to Mozambique, as it has both. The beaches are perfect, while the nearby regions offer plenty of safari experiences.
The weather in November is warm and sunny (it's the dry season), allowing for both laying in the sun and getting a tan, but also exploring the wilderness.
Here were some of the best honeymoon destinations to visit in November. If you decide to try one of them, make sure to tell us everything about your experience in the comments area below.