The wedding is over, and you can finally take a deep breath. But how do you top such an incredible day? With a romantic and extraordinary honeymoon in Botswana, that's how. For the adventurous couple, Botswana offers the ultimate in luxury and thrills. Here, they will find roaming wildlife, a lush, beautiful landscape, one-of-a-kind sunsets, and a major safari destination. The thrill of a safari combined with the romance of a luxury camp with some champagne thrown in creates the perfect honeymoon recipe.
About a Botswana Honeymoon
Botswana safaris provide extraordinary accommodations found in few other African destinations for a honeymoon experience that will stay with the couple forever, from staying at exotic safari camps with lodges, luxurious tents, and even tree houses – most with pools, gourmet dining, and endless pampering. Of course, there are amazing resorts, as well.
The service will be first-rate regardless of where a couple stays, and accommodations provide the ultimate in chic and privacy. This is where to escape worldly distractions and relax and play on an entirely new level. Romance blooms here, whether it is while following a herd of elephants across Chobe National Park or the Okavango Delta, which rank among having the best game viewing anywhere, or while enjoying a three-course meal with champagne under the stars. Of course, few experiences can rival a night safari with a lion roaring nearby. Time for a very close cuddle.
Many lodges are close to waterways such as the Okavango Delta. This allows guests to take part in exciting canoe safaris while the local animals are drinking at the water's edges of the Okavango River.
Botswana is the world's last true wilderness. Experience it all on your honeymoon and keep the memories forever.
Best Hotels and Resorts for a Botswana Honeymoon
Kadizora Camp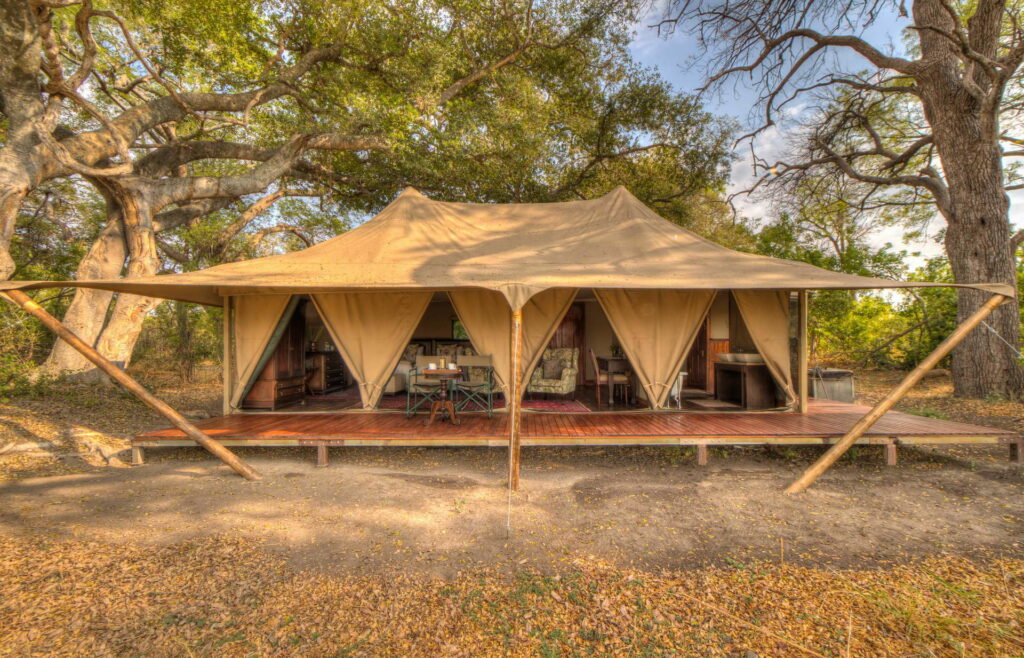 Kadizora Camp is within the Okavango Delta. Guests will find 13 luxurious tents that are exquisitely furnished with en-suite bathrooms and an outside shower. The camp has a bar for meeting and greeting over cocktails and a dining area beneath the stars. Or guests can take a dip in the swimming pool. Franklin, the camp's resident elephant, is usually hanging around since he enjoys the camp as much as the guests do.
Kadizora Camp not only has driving, walking, and boating safaris, it is the only Okavango Delta camp with romantic pre-dawn balloon safaris that float over the delta from April through September. What an unforgettable way to watch the sunrise together.
---
Pangolin Chobe Hotel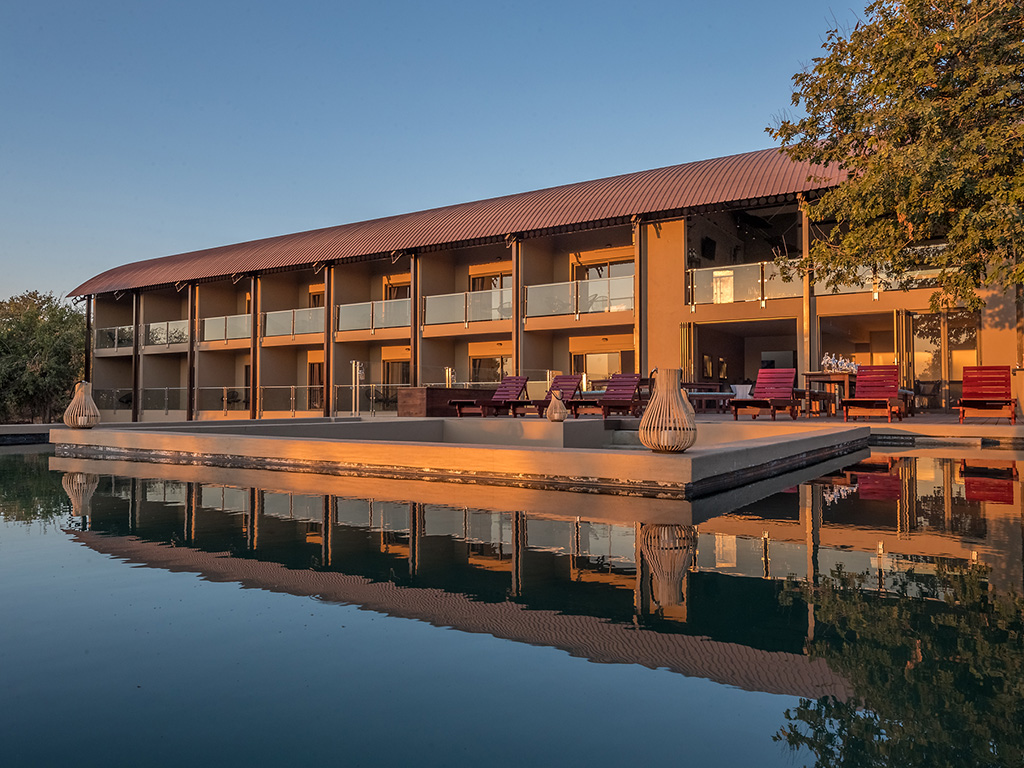 Pangolin Chobe Hotel overlooks the Chobe River in Chobe National Park, and visitors are welcomed by the sight of the moored boat which will take them on a river safari. There are 14 en-suite rooms with private balconies to take in the view.
This hotel is all about wilderness photography. Following breakfast, guides take guests onto boat or vehicle cruises to create photographic memories. Daily outings will include an 8-seater boat or vehicle. All camera equipment is supplied by the hotel. Following a return for lunch, it's back out on the river. Guests can enjoy a high tea, dinner, or a drink at the Pangolin Bar in the evening. Weather permitting, dinner is served on the patio beneath the stars.
---
Ghoha Hills Savuti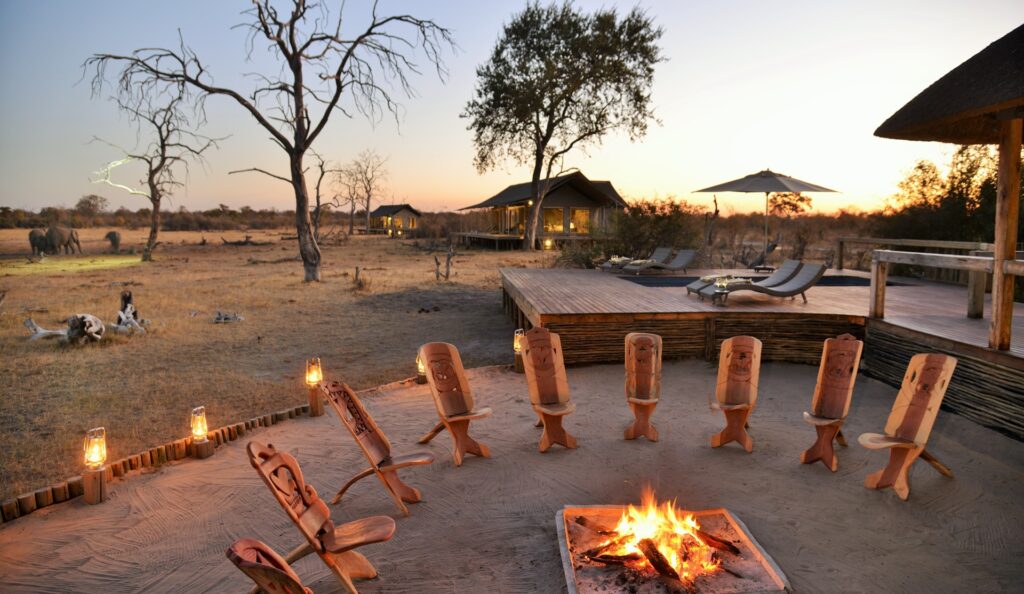 Ghoha Hills Savuti is in Chobe National Park overlooking the Savuti Plains and is specifically designed to blend into the natural environment, with its location on a hill guaranteeing marvelous views. The resort has 11 tents, a pool, bar, spa, and a main dining and bar area that overlook the nearby waterhole just a few feet away.
Each tent has a private deck and a view of the waterhole which attracts thirsty herds, especially elephants. The resort offers both free group game drives and private game drives at an additional charge. Afternoon drives begin with high tea serving home-baked goodies before moving on to a romantic sundowner excursion. There are scenic helicopter trips, as well.
---
Chobe Game Lodge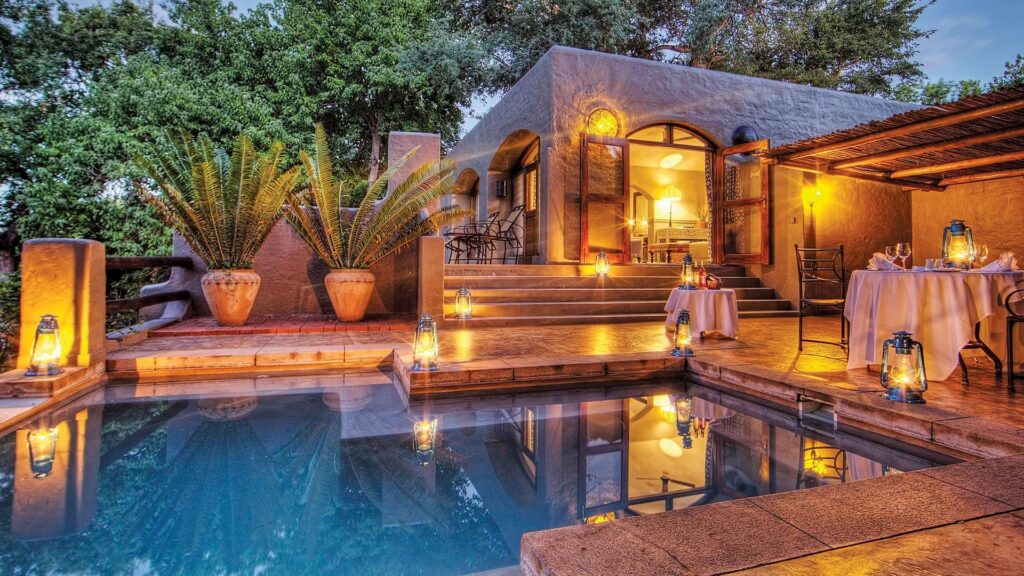 Chobe Game Lodge is situated on the banks of the Chobe River and offers land and air safaris. Its 44 rooms and suites have their terrace for an exalted view, four with an infinity plunge pool. The lodge is one of the few African lodges with handicapped facilities. The honeymoon suite is in a private location and was used on Elizabeth Taylor's and Richard Burton's honeymoon in 1975. It has a terrace, plunge pool, and a sun-lounger to take in the remarkable view. Meals can be enjoyed on the outside patio.
---
Xugana Island Lodge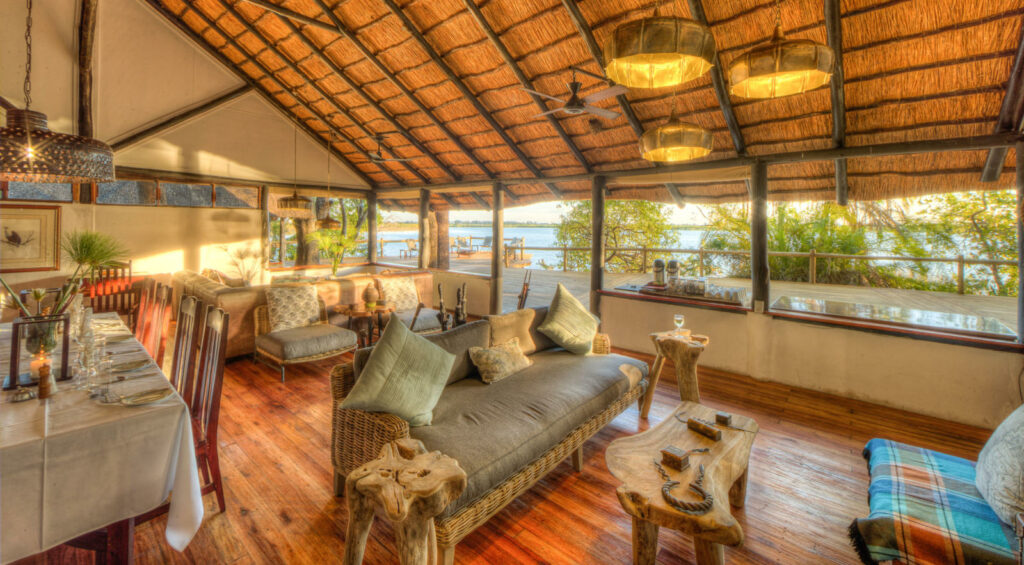 Xugana Island Lodge is on a private island and in one of the most stunning locations in the Okavango Delta. The property includes nine secluded chalets, each with a private deck. Service is top-rate – down to a hot water bottle during a chilly evening. The lounge, restaurants, and bar are situated in open-air structures.
Lodge guides lead water excursions that include visits to neighboring islands. Fishing is an important part of the island, as is birding, for which the lodge provides guided walks.
---
Culture in Botswana
Botswana has been populated for 100,000 years, with the San tribe being one of the original inhabitants. While under a British protectorate, Botswana was a struggling country. Since it gained its freedom in 1966, it has blossomed into a thriving region of South Africa, and its huge diamond industry has contributed much to its comfortable standard of living. Botswana is responsible for producing over 728 million carats of diamonds since the early 70s – that includes the incredible 1,109-carat Lesedi La Rona diamond. The total GDP from the diamond industry – 35 percent of its national income – has allowed for improved living conditions and schools for all of Botswana. Diamonds can, indeed, be someone's best friend.
The country has been remarkably receptive to Western influences, especially Western goods and technology. The country almost seamlessly blends its traditional tribal music with modern hip-hop, which can be heard in most malls and bars.
Dancing is a huge part of Botswana culture, and the young are taught to dance in primary schools, which hold periodic dance competitions. These are happy sounds that seem to infiltrate Botswana with glee and energy. Turning traditional music and dance into a unique modern hybrid has made the country's music culture appealing to everyone – it is pop music rooted in thousands of years of African soil.
Top Things to Do in Botswana
Tsodilo Hills is famed for its mostly red aboriginal art dating back thousands of years. All four hills have been painted.
For the Tsodilo residents, these hills are sacred. The landscape has some great trails to explore, and anyone wishing to stay overnight can check with the Xaro Lodge.
Makgadikgadi Salt Pans
The Makgadikgadi Salt Pans, located between Maun and Francistown, are the largest such salt pans in the world as they roll out into an infinite sea of white – much like snow. Rain transforms the pans into wetlands as shorebirds such as flamingos and pelicans and herds of zebra gather for some drink during the wet season. Available accommodations are at Jacks Camp and San Camp.
Meerkats at Makgadikgadi
Meet the meerkats in the Makgadikgadi Pans.
These adorable creatures keep poking their heads out of their underground habits. They are friendly to anyone they do not perceive as a threat and are known to happily interact with people and crawl all over them to gain a better lookout. Jacks Camp and San Camp are near meerkat burrows.
Visit the San Bushmen
The San Bushmen are the direct descendants of Africa's original people, among the oldest known humans on the planet. The original San people separated into the San and the Khoi, and they are keeping thousands of years of civilization alive, including their red-art cave paintings. These days, their number may be less than 100,000. Visiting them is an amazing, unforgettable experience – if not for the San, there would be no us.
Tour operators such as Gateway have tours to San territory and will introduce visitors to this ancient and authentic lifestyle.
The Cost of a One-Week Honeymoon in Botswana
Fortunately, exotic Botswana is a reasonably affordable honeymoon getaway. Each person should count on $120 per day for incidentally, $43 for food, and $80 for quality accommodations. Including transportation, a one-week stay in Botswana would be $3,583 for a couple.
A more budget-oriented stay for two would run approximately $2,000, while a high-end visit to Botswana for two would cost up to $10,000. Keep in mind that February is the least expensive month to travel regardless of your budget.
Best Time to Visit Botswana
The best time to see the wildlife is between June and October. The campsites fill up quickly between June and July with people looking to go on safaris. When it is dry, the wildlife congregates around reliable waterholes like the Chobe River and the Okavango Delta area because their other drinking sources are dry.
Botswana's dry season run from April to October, when the sky is blue, the days warm, and the nights get cold. It is the optimum time to gaze at the stars in the Makgadikgadi Pan. It begins to get warmer in September, and the heat reaches its height in October, when the temperature runs into the three digits.
It gets rainy from December to March, with the heaviest downfall in January and February. This season sees the least visitors to Botswana and can bring fantastic bargains. The problem is that the gorgeous camps are likely to get muddy.
Weather In Botswana
During the dry season, the temperature in May can be a chilly 50 degrees in the morning and rise to only 82 degrees by the afternoon. From June through August, the morning temperature lags around the 40s and doesn't get much warmer than the mid-70s during the day. Warm clothing will be needed. The temperature rises in September and October, from 93 to 100 degrees.
The wet season begins in November with clouds and showers. The temperature during an average day will range from 68 to 91 degrees. January and February see the heaviest rain and high humidity, with the temperature hovering around 90 degrees. The downpours ease in March, when the weather during the day is around 86 degrees.
Getting To Botswana
United Airlines has flights from Newark and Philadelphia to Botswana's capital, Gaborone, and Maun. Mostly, the schedule includes one flight per day that can last from 16 to almost 40 hours with layovers at Heathrow and Johannesburg.
Qatar Airways has much the same schedules out of Philadelphia. The price can range a great deal, from $700 to close to $4,000. February is the least expensive time for travel to Botswana.