The British Virgin Islands are the perfect escape for your honeymoon. Take this opportunity to explore a beautiful place with the love of your life in the beautiful Caribbean. A British Virgin Islands honeymoon can be anything you want it to be! 
With beautiful oceans and stunning views, this is a perfect destination for beach lovers and outdoorsy couples. With so many beaches, you and your newlywed can take a romantic walk on a different beach daily.
The resorts on the British Virgin Islands are some of the most romantic and beautiful ones that you can find. You can enjoy romantic dinners and amazing adventures that will bring you and your newlywed closer than ever.
This post may contain links from which we earn a commission. You can read our full affiliate disclosure here.
About BVI
The British Virgin Islands are a beautiful archipelago of volcanic islands, located in the pristine and stunning Caribbean Sea. Though far from Europe, these islands are called the British Virgin Islands (BVI for short) because they are a territory of Britain. Though far away, the British Virgin Islands remain under Britain's control. BVI is composed of four main, large islands along with 32 smaller ones.
The four large islands are Tortola, Anegada, Virgin Gorda, and Jost Van Dyke. These beautiful islands are known for their coral reef-lined beaches that are a perfect destination for any honeymooning couple. 
The British Virgin Islands are the perfect destination for a honeymoon. You will find beautiful, remote beaches that allow you and your newly wed to drift off on a romantic experience. You can enjoy the stunning beaches by day and enjoy a romantic dinner under the stars by night. 
The British Virgin Islands have a very tropical climate, full of lush trees and other beautiful blooms. Included in the native vegetation you will find fresh mango and soursop, a small tropical tree with a large fruit, coconut plants, and more! The islands are full with a wide array of beautiful trees and flowers and beautiful, rolling hills of fresh, green grass. 
You will not find many land animals here on the British Islands besides some native bird species, but the real beauty is found in the all-surrounding ocean. While exploring the stunning coral reefs you may run across a variety of fish such as sailfish, tarpons, marlins, kingfish, and wahoo around the reef and the surrounding islands. 
Best Time to Visit BVI
The best weather in the British Virgin Islands is in December, with average daily temperatures in the 70s and the 80s and a steady, pleasant breeze with very little rain. Unfortunately, this is the most popular time to travel to the Islands so it of course, is the most expensive time to visit the area. This is a great time weather wise, but you will be met with an overwhelming crowd, many of which include families celebrating their winter holidays. 
The best time to visit the British Virgin Islands is from September to November, before the overwhelming crowds come in. Though this does fall within the end of Hurricane season (June to November), this is an excellent time to save some money and experience a less crowded British Virgin Islands. You may be met with the occasional rain shower but you should not let that deter you. Temperatures are still very pleasant and you will enjoy a more romantic and remote experience.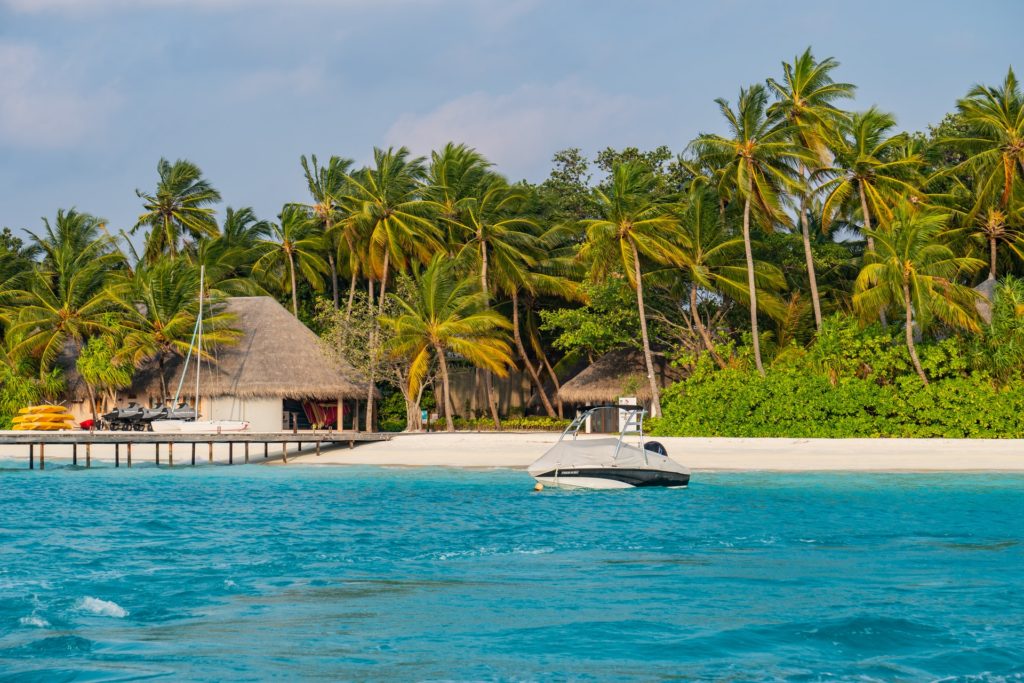 Top Things to do in BVI
Since the British Virgin Islands are, of course, islands, many of the best activities utilize the ocean. One amazing thing to do on your British Virgin Islands honeymoon is to charter a boat with your other half. This way, you'll be able to enjoy the beautiful views surrounding the islands and beauty that the ocean has to offer. Private charters give you the freedom to explore the stunning blue waters and the coral reefs off the shores of the beautiful islands. Getting a private boat allows you to have romantic alone time, away from the other tourists and people around the island. 
One must see at the British Virgin Islands are the Baths on Virgin Gorda. This is something you and your newly wed absolutely cannot miss on your British Virgin Islands honeymoon. The Baths are a geological wonder, looking like a beautiful frozen wonder. If you explore enough, you will come to Devil's Bay, a small and serene beach adjacent to the Baths. 
A must see in the British Virgin Islands, no matter what island you are staying at, Tortola is a must see. Tortola is the busiest of the four main islands of BVI and it has a lot to offer! This is a great way to experience the culture and history of BVI. One thing that you must try on your British Virgin Islands honeymoon is the amazing and creative street food. Here, you will find different street food options on every corner. Try something new and be adventurous on your BVI honeymoon! 
One of the most iconic spots in the British Virgin Islands is the Willy T. The Willy T is a floating restaurant only accessible by boat. If you are looking for some fun with your newly wed, this is definitely the place. Famous for their water-ski shots and pirate decor, this bar is an excellent place to party. Enjoy a delicious drink and great music, surrounded by the beautiful, clear and pristine Caribbean water.
If you and your spouse are looking for an adventure on your British Virgin Islands honeymoon, you should try to learn Kitesurfing! There are plenty of places to take lessons. With the clear, turquoise waters and flat, vast ocean, there is no better place to learn how to do this. 
Weather in BVI
The British Virgin Islands are located in the Caribbean and have tropical weather as a result. The best part about the Caribbean is that the weather is always pleasant! No matter what time of the year you travel to BVI, you will be able to enjoy the beautiful beaches and warm waters, no matter the time of year. 
June to November is hurricane season, so you should be prepared to experience a small amount of rainfall if you are traveling within these months. Not to worry, it will not put too much of a damper on your trip!