The word "Caribbean" reminds us of romance and intimacy. This is probably why several couples plan a destination wedding here. And there are oh-so-many Caribbean destination wedding resorts!
Pristine beaches, blue waters, sunny weather, and resort people to handle all aspects of the wedding – what else can a bride ask for?
The Caribbean offers excitement and mystery to add more spice to your honeymoon. Whether you love relaxing on the beach for hours or want to go for adventurous water sports, there is something here for everyone. The waters here are so clear, it's unbelievable.
So if your heart desires an impeccable beach wedding, pack your bags and come to the Caribbean.
Where Can You Find the Best Caribbean Destination Wedding Resorts?
The Caribbean consists of islands in the Caribbean Sea. There are 12 Caribbean states and all of them have pleasant climates and beautiful beaches.
However, suppose you're looking for the best Caribbean destination wedding resorts. In that case, we have a list of places that offer the best hotels with all-inclusive deals so you can have a budget-friendly yet luxurious ceremony.
Bahamas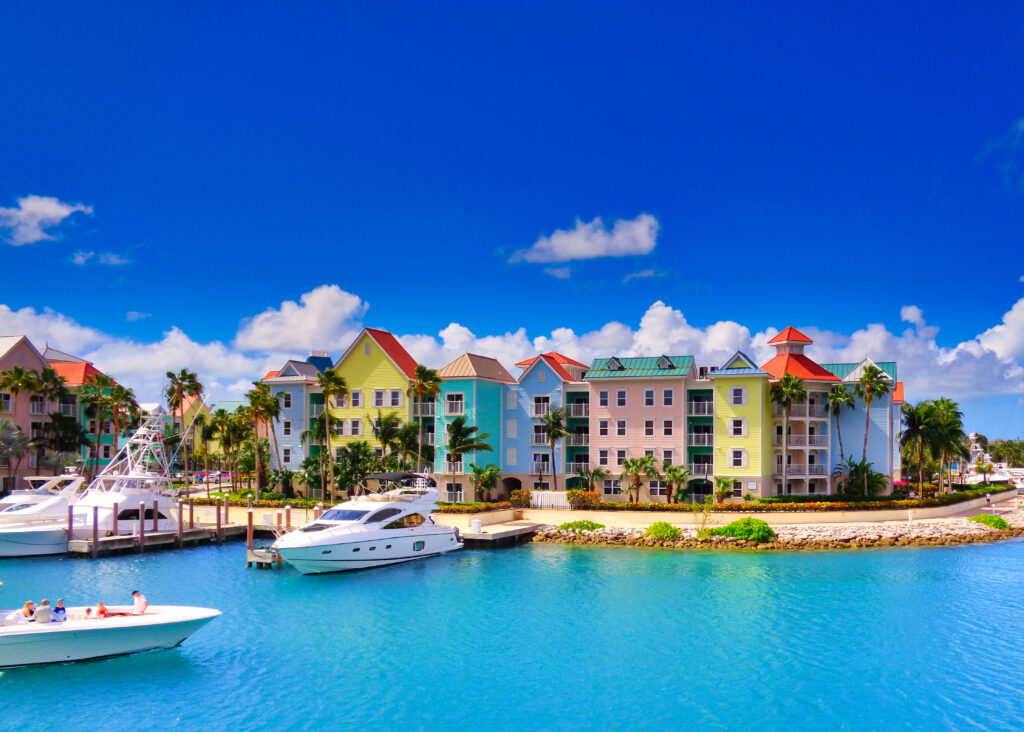 The Bahamas offers an irresistible landscape and picturesque shoreline. If you want the perfect romantic setting for your wedding, the Bahamas is the place to be. And you'll find many Caribbean destination wedding resorts here.
Let the place steal your heart with its award-winning beaches and ever-popular swimming pigs. And when you book the right resort, you can read your vows under a beautiful arbor standing in the ocean.
While there are several resorts here, the two most popular ones are Sandals Royal Bahamian and Sandals Emerald Bay.
The Royal Bahamian has two sky-sized swimming pools and a stunning coconut grove lounge. It also offers award-winning spa services. Get the all-inclusive royal treatment at this glamorous resort that features crystal lagoon swim-up rooms.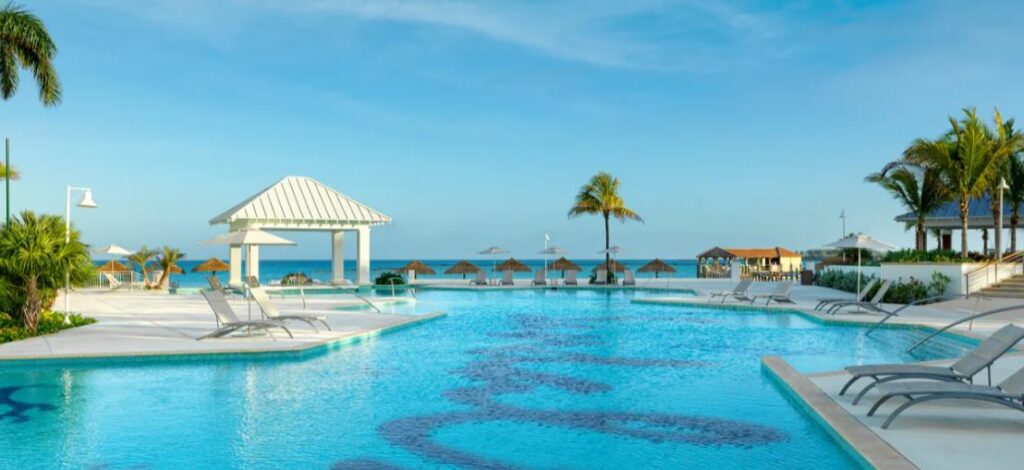 They have special butler suites with VIP airport transfers on Mercedes or Rolls Royce. The resort also has an exotic island where you can have an intimate time with your loved one.
The second resort worth mentioning here is Sandals Emerald Bay. It features a mile-long beachfront that allows you to go on a long intimate walk with your soulmate. It is famous for its authentic tropical flavors along with international cuisines.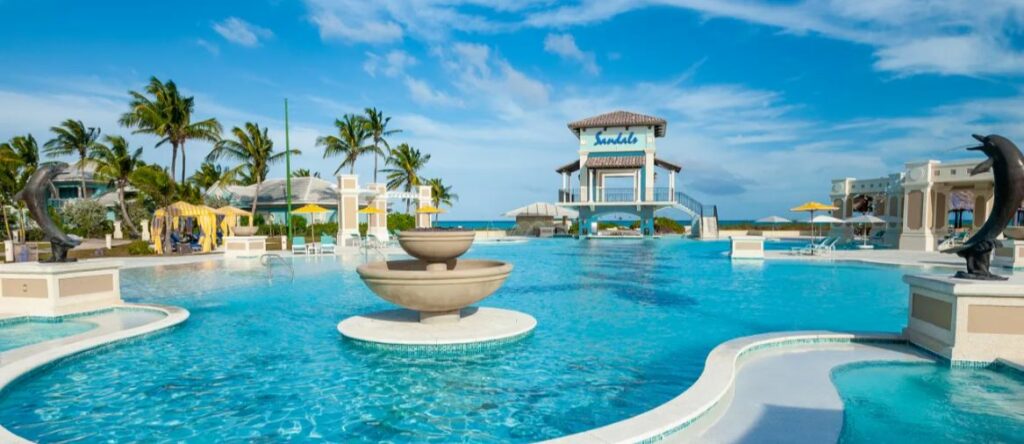 The resort also has a zero-entry pool that covers a half-acre of the resort. It offers beachfront villas with butler services.
All Sandals resorts are adults-only, which makes them ideal destinations for elopements and honeymoons.
Jamaica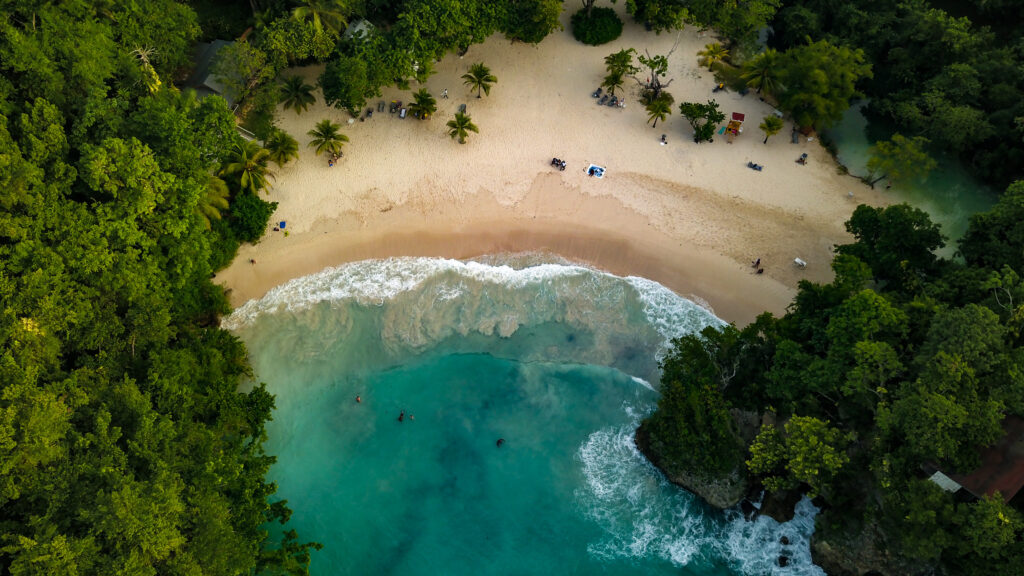 If you want your destination wedding to have something more than beaches and sun, maybe Jamaica will suit you just right. Here you'll experience live reggae music, carnival, street dances, and more.
Jamaica is the island of fun and parties. From the awe-inspiring sunsets of Negril to the amazing waterfalls of Dunn's river, it's the land of magic. And if you want to add color and life to this magic, make sure you experience the native culture here.
Looking for all-inclusive and adults-only resorts? There's only one resort chain that will fulfill all your desires – Sandals.
Sandals offers seven resorts in Jamaica and all of them are beautiful in their own ways. If you want over-the-water bungalows, you'll find them at Sandals Royal Caribbean and Sandals South Coast.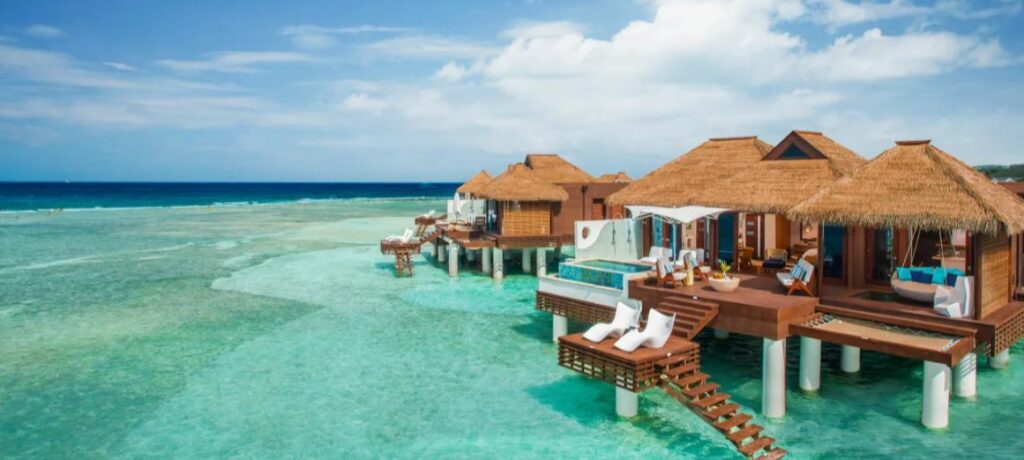 These bungalows are built on clear water lagoons and have a glass floor so you can have the feeling of walking on water.
When you book accommodation at these villas, you get butler services. And of course, your food and drinks are all-inclusive so you don't have to think about money each time you step out of the room.
If you want the best party scene in Jamaica, it's best to book Sandals Ochi.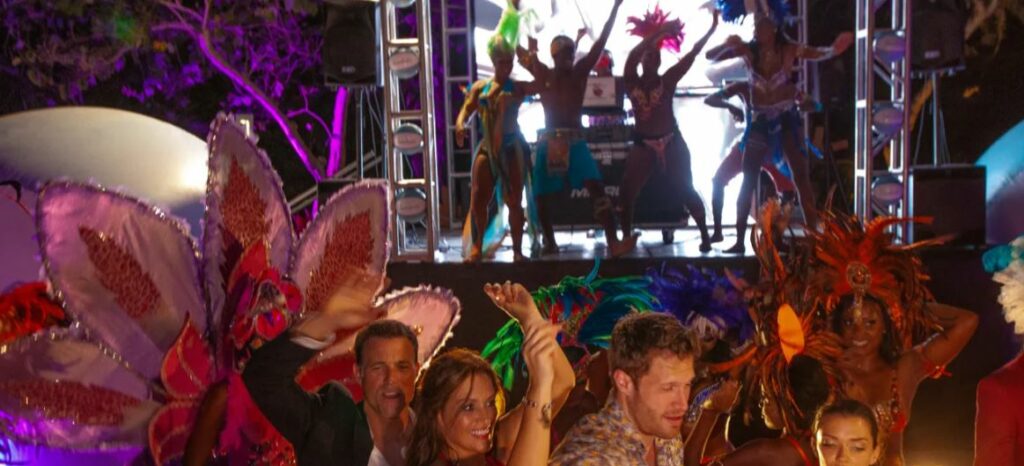 This resort has the Ochi beach club that has a party going on 24×7. Whether you feel like dancing or riding a mechanical bull, just step into the club and have fun.
St. Lucia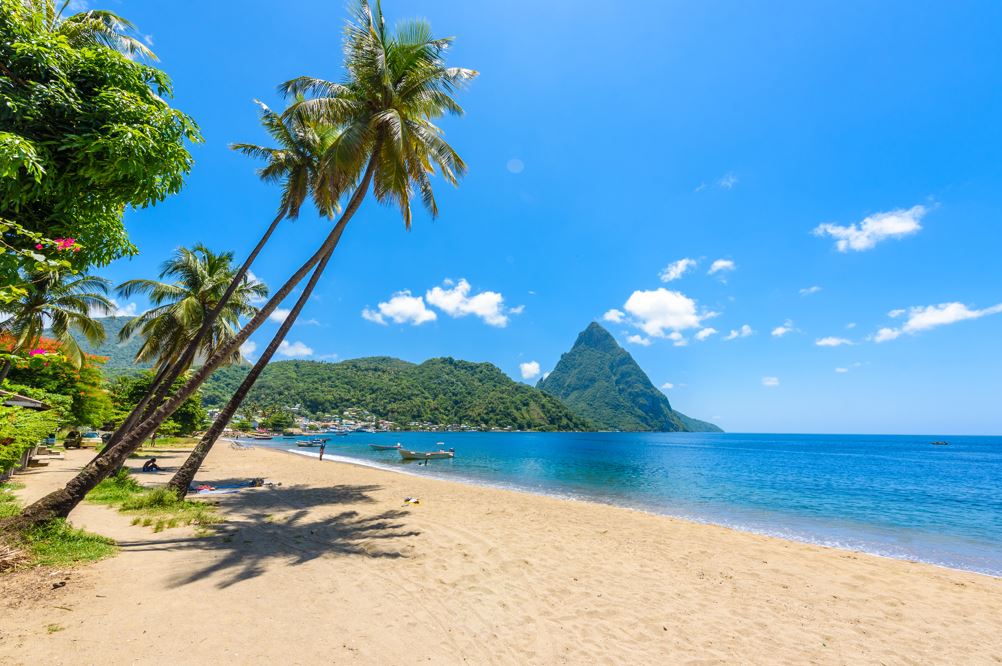 St. Lucia is a small island that provides the authentic Caribbean experience with its stunning natural landscape. You'll find an amalgamation of African, French, English, and East Indian cultures here. This gives it a distinct cultural flavor that's hard to miss.
There are several Caribbean destination wedding resorts here and many of them are excellent. However, when it comes to a luxurious wedding, nothing quite beats Sandals. This resort chain offers all-inclusive adults-only deals.
There are three Sandals resorts in St. Lucia. Of the three, Grande St. Lucian is the most popular among guests. If you're looking for romantic over-the-water bungalows, Grande St. Lucian is the place to be.
These beautiful bungalows stand on top of a lagoon and offer butler services. This is one place that will make your wedding even more wonderful. The Grande also offers swim-up rooms as does Sandals Halcyon Beach. You don't have to walk to the pool to take a swim, the pool is right outside your room.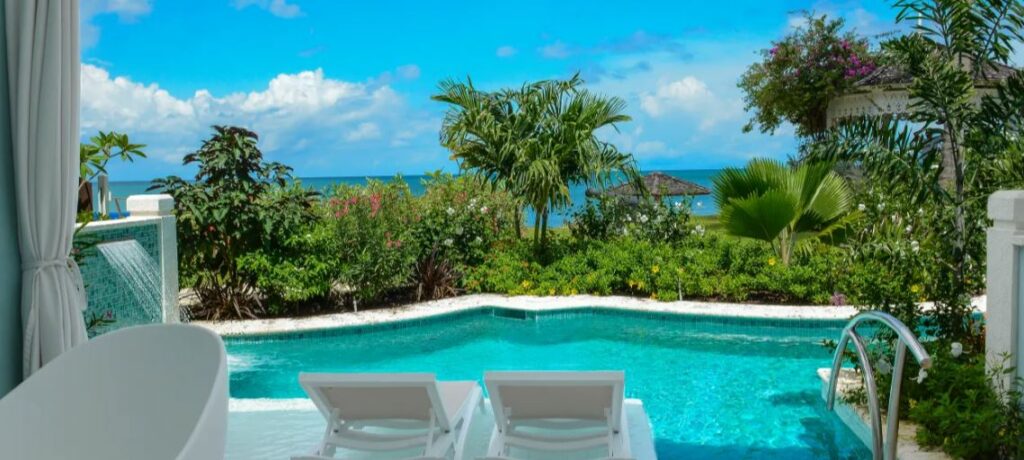 When you book Sandals for your destination wedding, the resort people take care of all details. They have special event planners and wedding specialists to take care of every little thing. Discuss your wedding details with them so they can keep everything ready for you.
Curacao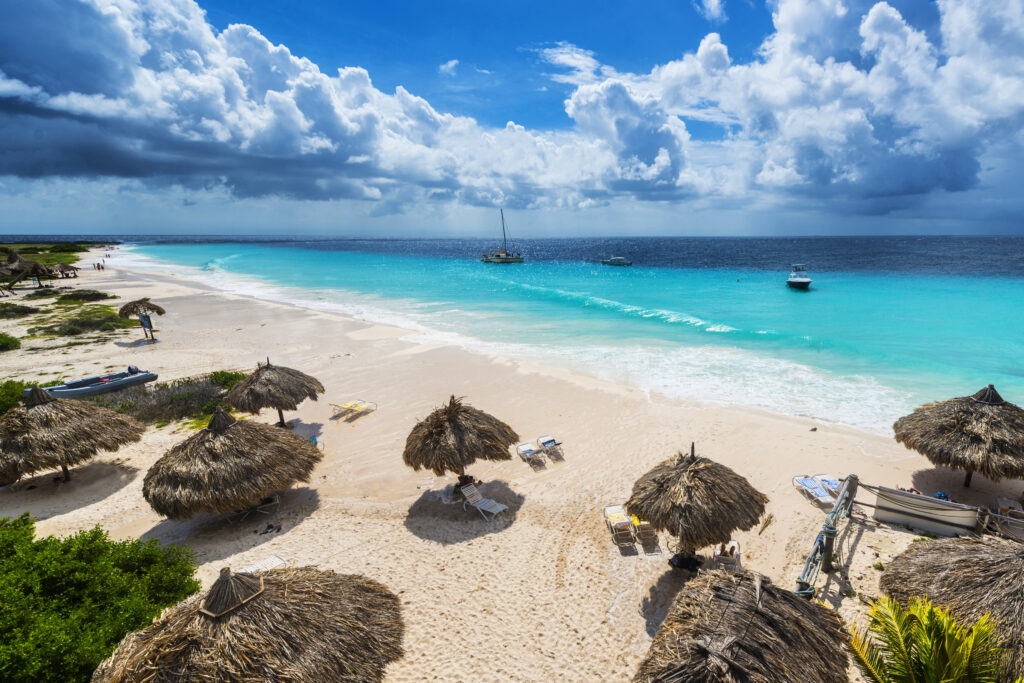 Curacao was highly underrated for years. As it is gaining popularity, we can see more and more couples arriving here for destination weddings and honeymoons. It has a diverse culture, breathtaking beaches, and amazing water activities.
Curacao is not like other Caribbean islands. It's outside the hurricane belt, which means you can read the vows here during any season. The place also has an artsy side. There are colorful murals on the buildings of Willemstad.
There are over 35 beaches on the island and they all have individual personalities – from sands to waters. And of course, the place has a hopping island nightlife. You can indulge in live music from pop to jazz to soca – there's so much to experience.
If you're looking for the best Caribbean destination wedding resorts, check out Sandals Royal Curacao.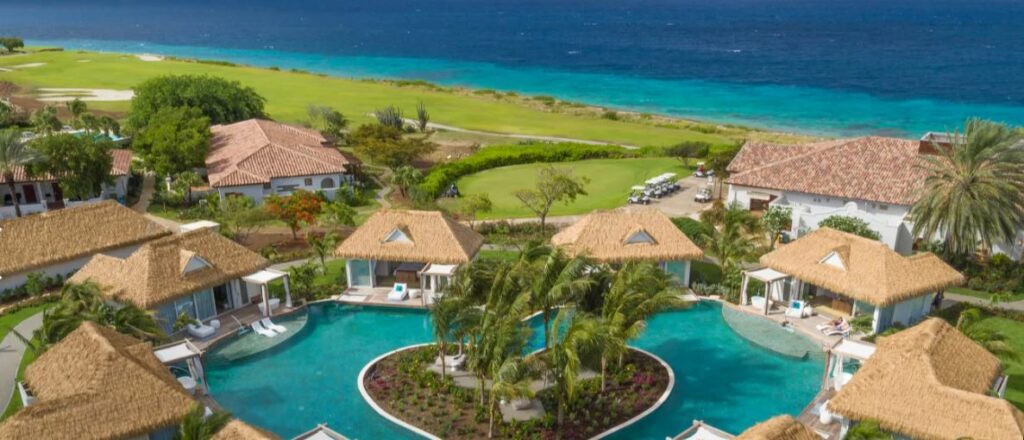 Stay at its island suites that are arranged in the form of a heart on a secluded lagoon. Or you can have a seaside bungalow for complete privacy. The bungalow comes with exclusive butler services.
The resort also offers a complimentary Mini Cooper to its guests so they can explore the island. There's a swim-up bar and you can get unlimited drinks here. Enjoy a fruity cocktail on the beach as you relax with the love of your life.
Barbados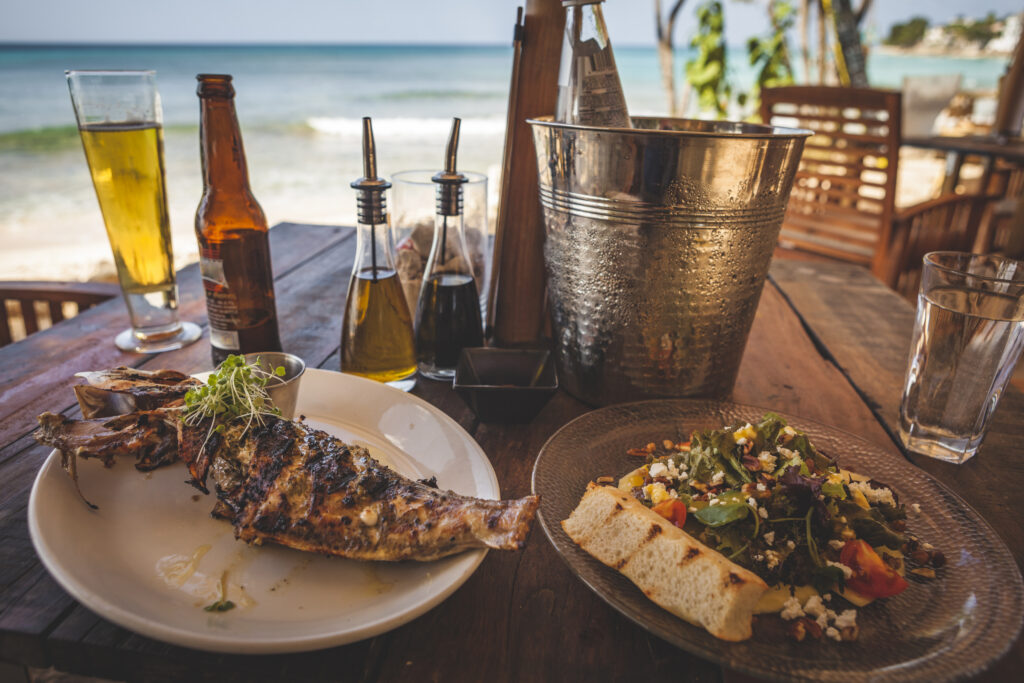 While all islands in the Caribbean have to offer beautiful scenes and lovely weather, Barbados goes a step ahead and provides top-notch cuisines as well. Enjoy fresh seafood and the best local flavors here. And of course, the locally produced rum – it's a flavor you'll never forget.
When you tie the knot in Barbados, you get the chance to feel the sand between your toes as you read your vows and soak up the golden aura of the sunset. Allow the Caribbean destination wedding resorts of Barbados to pamper you with utmost luxury.
Whether you want an elopement or a large ceremony with your friends and family, you can have just the perfect wedding with the right resort partner. Some hotels and resorts are very accommodating and will plan everything for you.
Two such resorts are Sandals Barbados and Sandals Royal Barbados. Both the resorts run an exclusive exchange program, which means you can stay at one resort and use the facilities of both of them.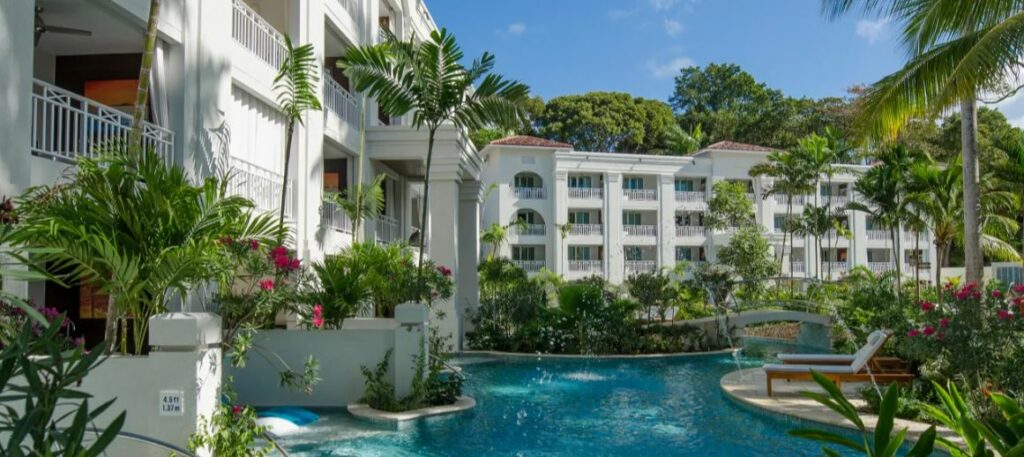 These resorts are located right next to each other so you can walk into either one of them.
This means you get to access 11 pools, 6 whirlpools, 20 restaurants, and 11 bars in all. And all of them offer unlimited services, thanks to their all-inclusive deals.
Savor fresh food at a gourmet dining restaurant, play at the 4-lane bowling alley, sip on fresh beer at the craft beer bar, and take a swim at the rooftop pool at Sandals at Barbados.
Why Sandals Offers the Best Caribbean Destination Wedding Resorts
Sandals offers amazing wedding packages. And the best part is that their packages are customizable. They make sure your wedding is distinct and just the way you've always dreamed of it. You'll get many extras with each package so you can choose exactly how the wedding would be.
If you have a specific wedding plan, you can discuss your needs with the wedding team at Sandals. All plans are all-inclusive so you have to pay just once and they take care of everything.
The best part of a Sandals wedding
Free weddings
Sandals weddings are absolutely free! If you stay at the resort for three days or more, the wedding charges will be waived.
This means you don't have to pay for the wedding planning team, bouquet and boutonniere, cocktail reception, photography, wedding cake, sparkling wine, and hors d'oeuvres.
And they'll take care of the marriage documents and keep everything ready before you arrive. You also get a customizable website for your wedding.
Apart from that, when you book a room at Sandals, you don't have to pay for food and drinks. Everything is already paid for.
And that's not all – when you stay for over five days, you get other premium perks. There are even more perks when you book for seven or more days.
Still want to save more money? Check for their promotions. They keep launching new deals and discounts so if you stay connected with them through the website, you can save some extra dollars.
Preview the wedding
Your wedding is a once-in-a-lifetime event. You want to make sure everything goes exactly as planned. If you want to preview the wedding, you can visit the resort and stay there for up to 3 nights. You'll get discounted accommodation rates for the preview visit.
In those three days, you can check the resort, test the facilities, taste the cake options, discuss things with the wedding planner, and decide on the menus.
Once you've seen everything and decide that you want to have your wedding there, you can book 5 or more rooms and get a discount of up to $1050.
There are many reasons that make Sandals the best Caribbean destination wedding resorts.
You might be looking for Caribbean destination wedding resorts for a beach wedding. While a beach wedding is possible at many resorts in the Caribbean, Sandals offers you a lot more.
You can get special locations where you can read your vows. Let's discuss some of the most beautiful Sandals wedding venues.
Over-the-water Wedding Chapel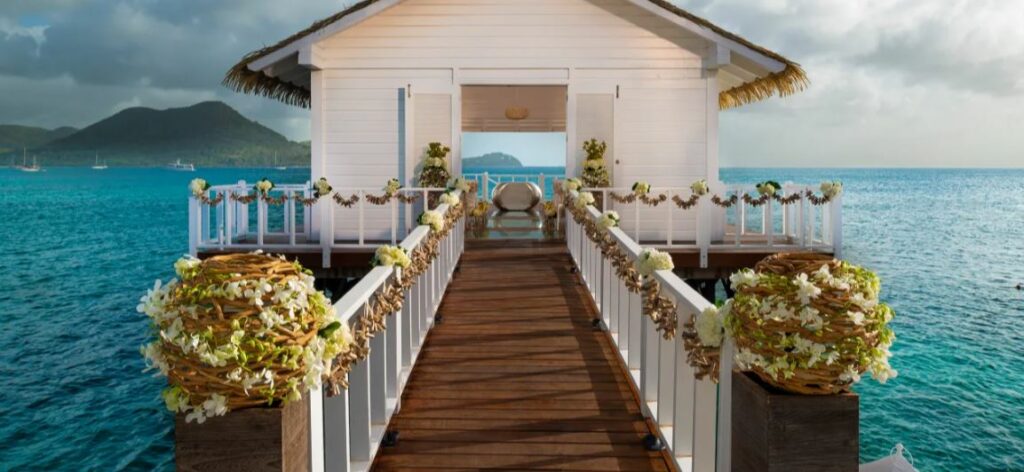 This chapel is located on the water so you can get panoramic views of the ocean as you tie the knot. It has a glass floor and it looks like you and your soulmate are walking on water as you walk toward a holy union.
Beach weddings are special but over-the-water chapels are rare. If you want to read your vows in one of these chapels, try Sandals Grande St. Lucian, South Coast, Ochi, or Montego Bay.
Intimate Chapel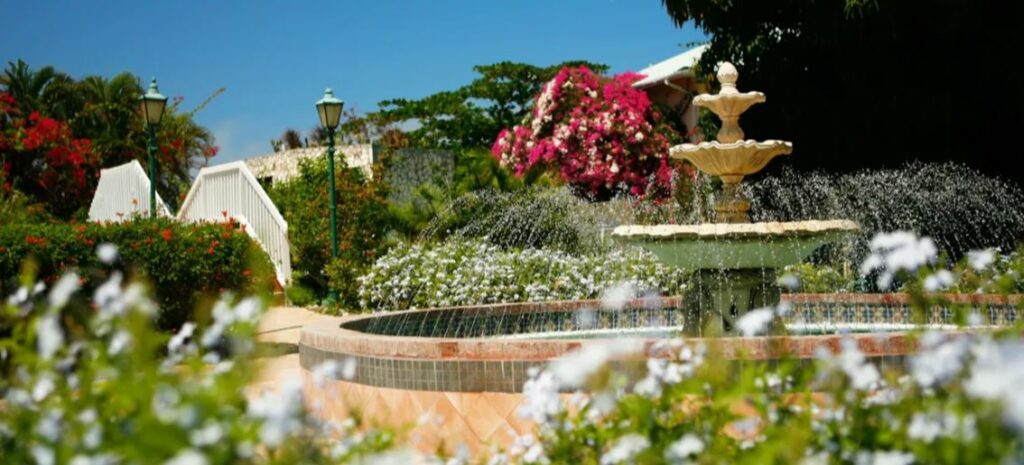 If you want a more private event, try the secluded chapel that sits in the middle of a lush green garden and beautiful fountains. The chapel has conventional interiors and wooden décor. It's available at Sandals Montego Bay.
Over-the-water Gazebo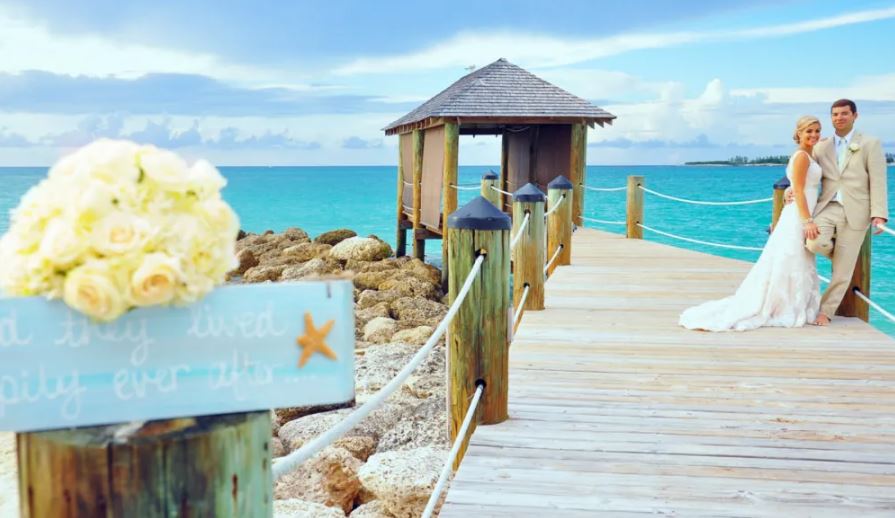 Just like the over-the-water chapel, the gazebo offers a 360o view of the ocean. You stand atop the water and read the vows. It's among the most beautiful and romantic wedding locations in the Caribbean. There's enough space for the guests to sit and witness as you two tie the knot.
You'll find these gazebos in Sandals Royal Bahamian, Royal Caribbean, and Grande St. Lucian.
European Wedding Garden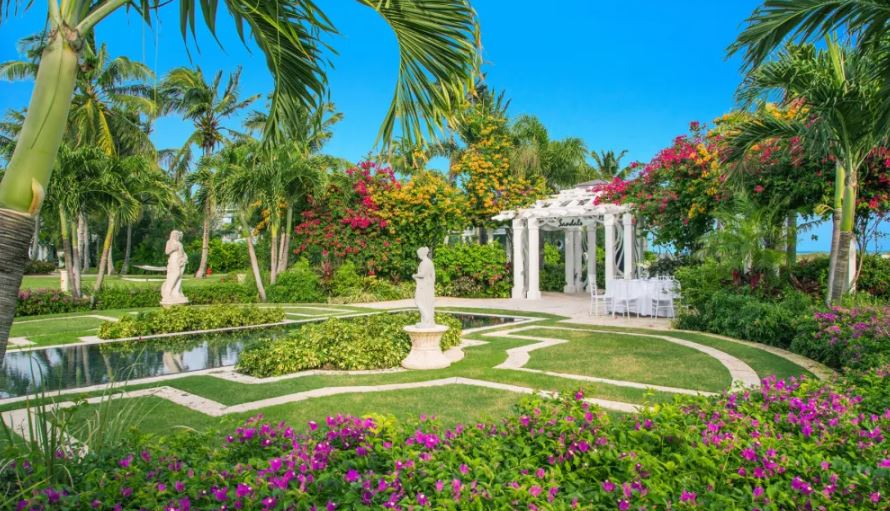 Looking for a sophisticated backdrop for your wedding? Sandals offers European-style gardens that have blue pools and manicured lawns. These gardens have a traditional British look and add charm to any wedding. They are available at Sandals Emerald Bay, Ochi, and Grande Antigua.
Looking for the perfect place for your honeymoon? Read all about the perfect honeymoon destinations.