The Caribbean – the name makes you think about rejuvenation, relaxation, and tranquility. There are so many couples who want to celebrate their wedding or honeymoon at the Caribbean but they don't know where to get started. Let's discuss some Caribbean honeymoon tips to help you have the most romantic Caribbean vacation.
There are so many places around the world, why choose the Caribbean? Simply put, the Caribbean has an unmatched unique charm that's hard to miss.
Let's discuss some reasons that make the Caribbean the best place for a wedding or a honeymoon.
Things to do – Caribbean Honeymoon Tips
Whether you're looking for a relaxed vacation or an adventurous one, there are so many things you can do in the Caribbean. Let's look at some of them.
1. Relax on the beach
That's the number one thing – enjoy at a spotlessly pristine beach with a frozen cocktail. Caribbean beaches are popular for their soft sands and turquoise blue waters. Also, since the Caribbean has a sunny climate all year around, these beaches are always in demand.
2. Enjoy the resort experience
There are many beautiful resorts here that offer such a dreamy vacation that you'll never want to go back. For example, Sandals offers all-inclusive deals so you have to spend just once and all your expenses will be covered by them. This includes food, drinks, accommodation, and some water sports and activities.
3. Go for an underwater adventure
While swimming in the Caribbean waters is an entirely different experience, you can add more adventure to your honeymoon by going snorkeling or scuba diving.
Since the waters here are crystal clear, there are chances you might see dolphins, coral reefs, turtles, and tropical fishes.
4. Enjoy the festive colors
Different Caribbean islands have their own different cultures. Accordingly, they have their own festivals and events. These festivals and events are typically colorful and musical. Whether there's a carnival or any other event, it's impossible not to enjoy it.
5. Relish the food
Caribbean cuisine has exciting recipes that feature seafood. You might also find many unfamiliar ingredients. Caribbean foods are a rich blend of European, African, American, Chinese, and East Asian flavors.
The food here is popular for its spices and if you like hot spicy dishes, you'll love the Caribbean flavors.
6. Indulge in the culture and history
Many Caribbean islands have historical sites you can visit. If you're a history buff, you'll love the Caribbean. Tour through colonial-era forts and preserved mansions to add cultural richness to your honeymoon.
7. Enjoy the climate
The Caribbean has a pleasant climate all year around. It largely stays sunny and there are always tourists here. However, there are fewer tourists in the rainy season. Depending on the island you choose, you can have the perfect honeymoon any time of the year.
8. Experience the golden sunsets
While beach sunsets are always beautiful, Caribbean sunsets are something else. You can sit back and relax in the golden glow of the sunset or take Instagram-worthy pics – there are so many ways you can enjoy the sunsets here.
9. Soak yourself in the spa experience
The Caribbean is all about relaxing and rejuvenating. You'll find many spas here. In fact, most resorts offer their in-house spas. They will pamper you and help you let go of your worries and stresses with deep and calming massages.
Many honeymooning couples come here for couple's massages, which help them relax and bond together in a deeply holistic experience.
10. Boat all you want
Whether you want to go on a yacht or a kayak, or maybe even a fishing expedition, you can do it here. There are motorboats and sailboats you can take to the waters and have fun. Depending on your mood, you can go for an adventurous or relaxing boat ride.
Where Should You Go?
The Caribbean includes many islands. When you plan to go on a honeymoon in the Caribbean, which island should you choose? Let's look at some of the most popular islands in the Caribbean – the islands that have beautiful waters, clear beaches, and plenty of modern resorts.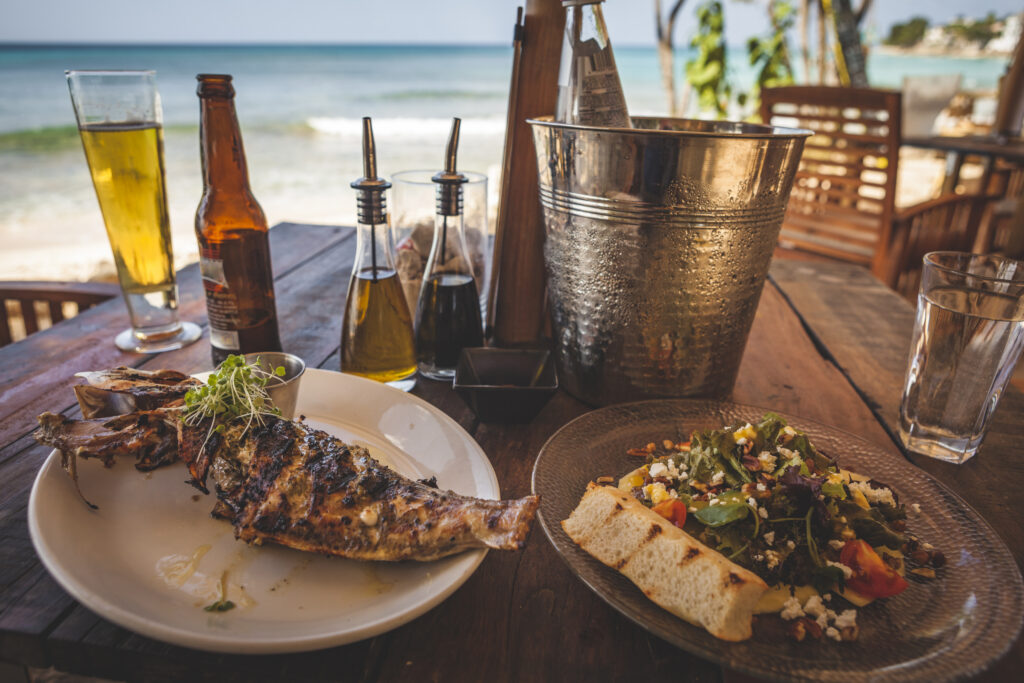 This is the kind of island that has something for everyone. Whether you both are explorers, foodies, historians, or adventurers – you'll find something here.
The cuisine here has yummy delights, not to mention its original rum. The place is famous for its rum and you'll find almost 1500 rum shops on the island.
It's a coral island featuring over 80 beaches where you can relax and unwind and just soak in the sun. The beautiful beaches of the island are lined with swaying palms and the waters have amazing marine life including translucent frogs and flying fish.
Sandals Barbados and Sandals Royal Barbados are right next to each other and offer amazing amenities. You can even stay at one and use the facilities of both resorts.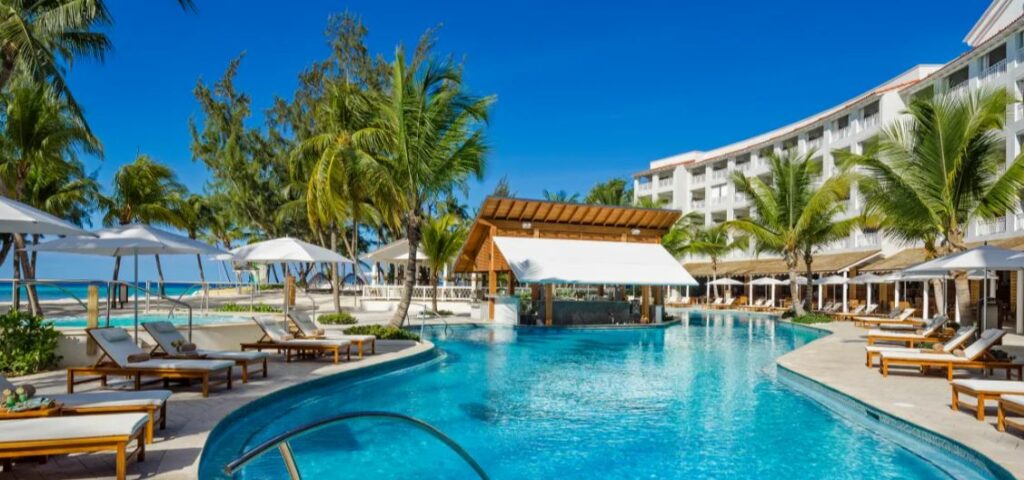 It's a republic within the English Commonwealth and you'll notice colonial architecture on the island. Make sure you indulge in some afternoon tea and cricket when you're here.
To get a view of coral floors and sea anemones, you can visit Animal Flower Cave. And for eco-adventure fun, make sure you visit Harrison's Cave. When you're here, there is so much to see that you'll need to stay here for at least a week to soak in the goodness of the beaches, sun, and all the extras.
These Caribbean honeymoon tips will make you enjoy your honeymoon to the fullest.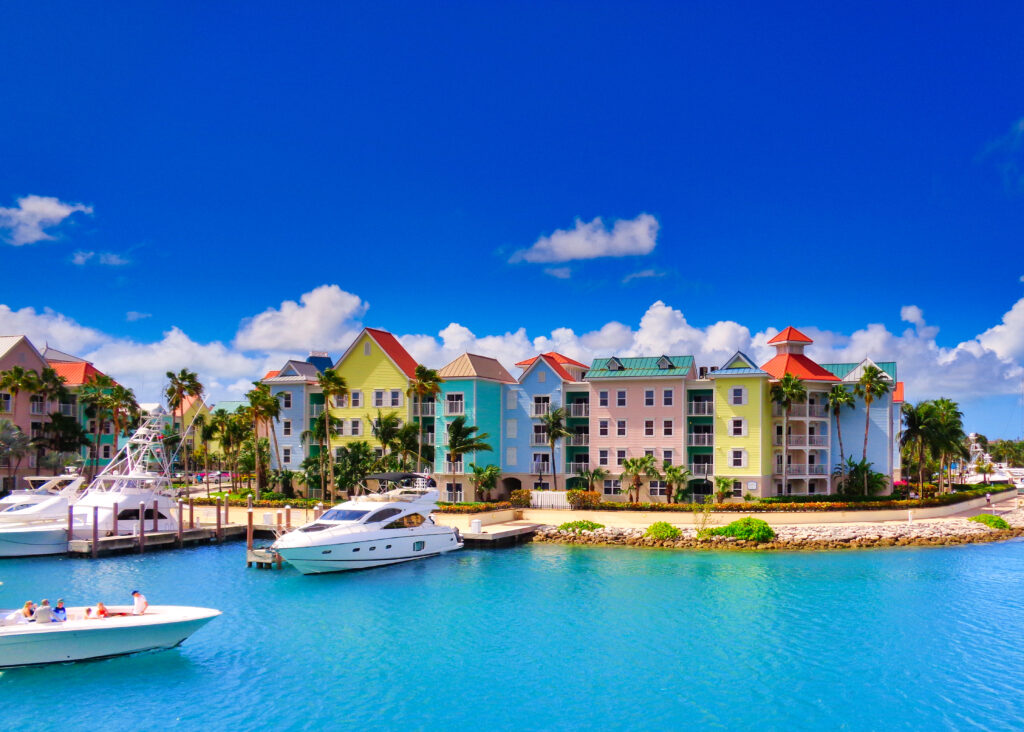 This group of islands gets millions of tourists every year, and there are good reasons for that. The Bahamas consist of 700 big and small islands, presenting practically infinite beaches. This means you can go beach hopping all day and all night and still not run out of new beaches.
And of course, if you want to swim with the pigs, you can do it in the Bahamas. There are cute pigs on the islands and you can go swimming with them. Apart from that, you can also swim with the sharks here and visit native iguanas. It's an animal lover's paradise.
The Bahamas has secluded sandbars that offer dreamy photos as you and your loved one stand in the middle of the ocean.
The most popular island in the Bahamas is Nassau, which is a beach paradise and a bustling metropolitan. It has lavish accommodation options and places you can go shopping.
You'll find Sandals Royal Bahamian and Sandals Emerald Bay here. Both of them are all-inclusive adults-only resorts that are specifically designed for honeymooners and couples in love.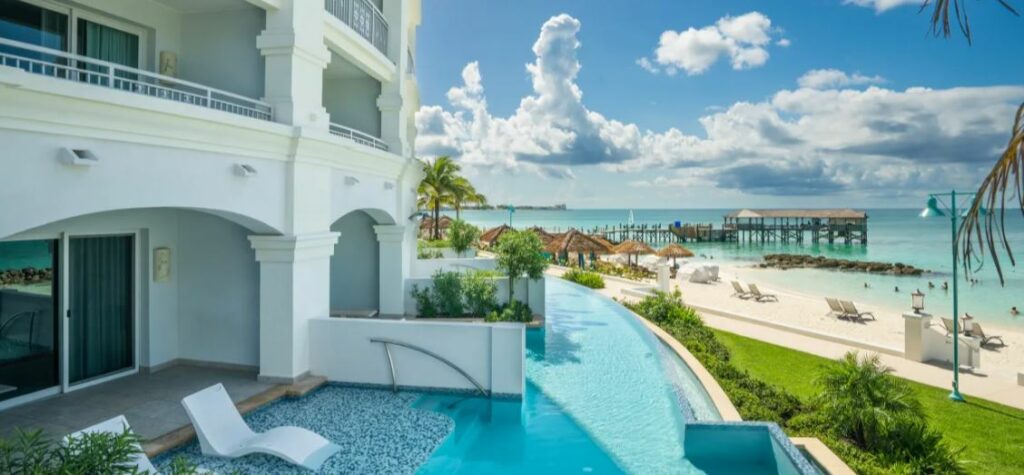 These resorts also have special packages for weddings so if you want to hold a symbolic wedding in the Bahamas, you can do that as well.
You cannot have a list of Caribbean honeymoon tips without mentioning Jamaica. This exclusive Caribbean destination is a romantic paradise, thanks to its diverse locations from Montego Bay to South Coast.
If you love hill climbing, you'll love Jamaica as it has Blue Mountain Peak, which is the biggest mountain in the Caribbean region. Whether you like climbing, hiking, or mountaineering, you can do it here.
The best time to hike up these mountains is early in the morning so you can see the sunrise from the summit. The mount offers incredible views of the place from the top. They say that on a clear day, you can even see Cuba from up there.
When you're here, enjoy the rich music of the place. Jamaica is the birthplace of reggae and Bob Marley. Also, learn about the Rastafarian lifestyle that has elements of pan-African consciousness.
Just as Jamaica is popular for its Blue Mountain, it's also popular for the Blue Mountain coffee, which is one of the trendiest coffees in the world. This coffee is handpicked and roasted in Jamaica before it goes all over the world.
And if you're a foodie, don't miss out on their jerk sauce. This spicy hot sauce will add a Jamaican touch to any food you put it on.
Jamaica is home to some amazing resorts such as Sandals Montego Bay and Sandals Royal Caribbean.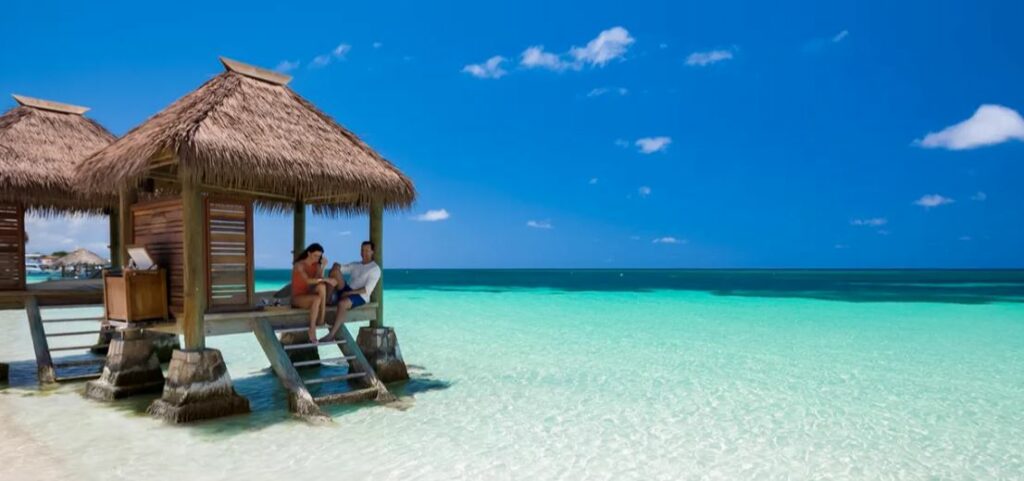 These resorts have unlimited and all-inclusive foods and drinks and offer an intimate experience to honeymooners.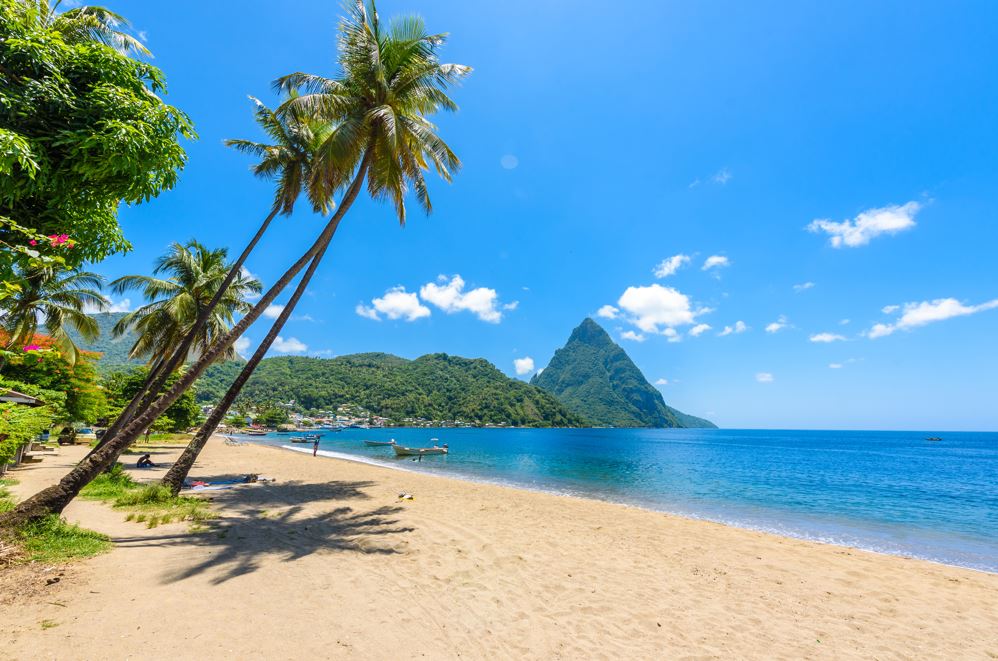 This is another beautiful island in the Caribbean. Visit the beaches or spend your day in mineral and mud baths in this natural paradise.
Visit the Toraille Waterfall to view the Sulphur springs. Experience the natural spa session in mud baths and sulfuric black pools. Enrich your skin and senses with the mineral-rich water of the place.
Then visit the Diamond Falls botanical garden that offers the perfect serene experience to honeymooners looking for some relaxed and laid back time with each other.
And if you're the adventurous kind, you'll love the aerial tram that offers close views of the wildlife. Or glide through a zipline course that will give you an amazing adrenaline rush. After that, hike on the natural trails of the place as you spot different species of plants and animals.
When you're in Saint Lucia, you can't miss Gros Piton and Petit Piton, the twin volcanoes that are visible from miles. Explore their magnificence as they soar in the sky while the waves crash at their bases.
For the best nightlife and music, visit the Gros Islet Street Party which is a great place to mix with the locals.
Once you're done, retire to your resort. You'll find Sandals Grande St. Lucian, Regency La Toc, and Halcyon Beach here.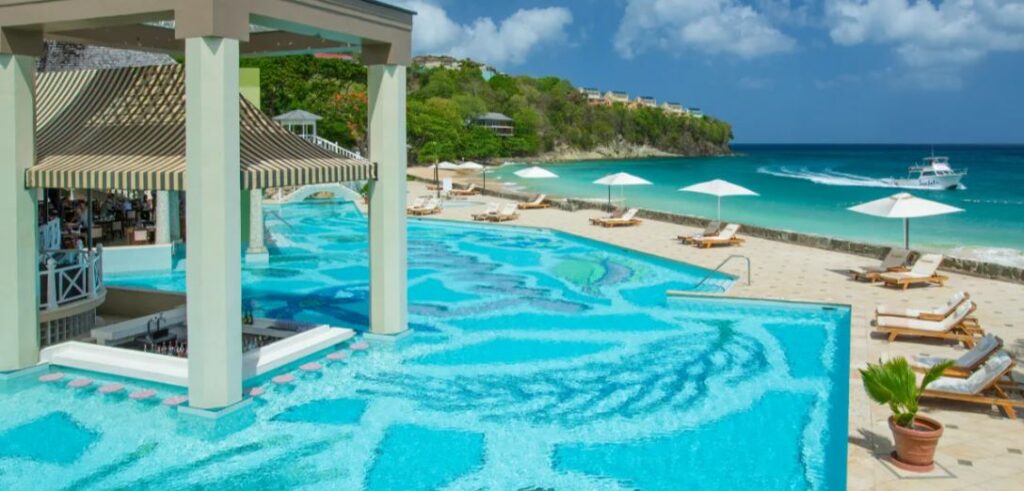 All three resorts offer classic all-inclusive Sandals deals and modern amenities with pure luxury.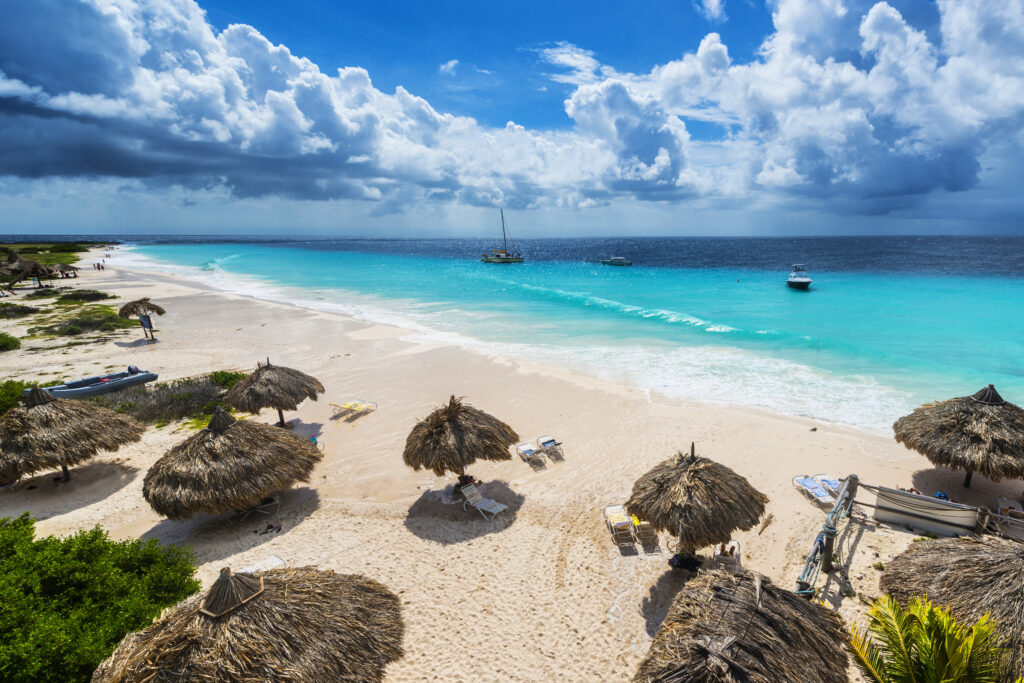 This is a Caribbean island that wasn't very popular a few years ago. But as more and more honeymooners come here and discover its raw natural beauty, the island is becoming all the rage.
It's a Dutch island that carries diverse history and culture. You can explore the colonial architecture here and witness the Dutch influence on the old buildings. Several walls of the place carry beautiful and colorful murals made by local artists.
If you like history and culture, make sure you visit the UNESCO world heritage site, Fort Amsterdam Willemstad. It carries a blended vibe of Dutch and European architectures.
One amazing thing about this island is that it lies outside the hurricane belt so you can visit it anytime without the risk of a possible storm or hurricane.
If you like adventure, go for the underwater walking tour in Curacao that will take you on the sea floor as you trek under the water. It's a 100m trek that features beautiful corals and other marine life.
Experience the local colorful architecture at the Queen Emma Pontoon Bridge that swings wide several times a day. And if you're looking for a small and quiet beach, hit Kleine Knip on the island.
Curacao has Sandals Royal Curacao that offers the perfect hideaway for honeymooners and new couples.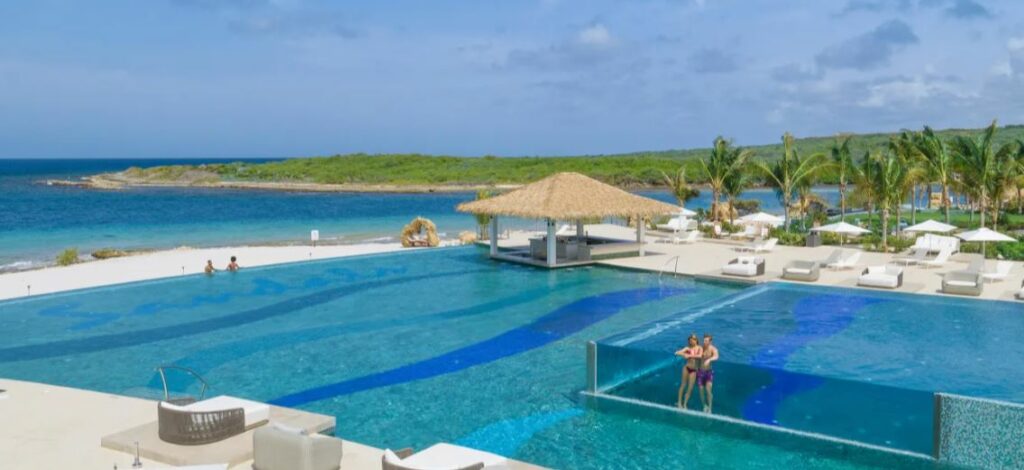 What to Pack
Once you decide on the right island and book the tickets, it's time to start packing. What should you take with you when visiting a Caribbean island?
To begin with, pack light. When you pack light, you don't have to spend a lot of time at the airport waiting for your suitcase. You can start your honeymoon right away.
Here are the things you need to pack. Keep these Caribbean honeymoon tips in mind:
Light and breathable clothing: The Caribbean stays warm all year round. Don't pack sweaters, jackets, or bulky jeans. Instead, pack casual t-shirts, shorts, and skirts.
Waterproof phone case: If you want to take a lot of photos (of course you do!), you'll need a waterproof phone case because your phone might get wet at the beach.
Sunscreen: Caribbean is all about soaking in the sun. Make sure you carry your favorite sunscreen. You might also want to carry Aloe Vera gel just in case you get a mild sunburn.
Travel towel: There will be a lot of water activities, especially if you both are adventurous kind. Make sure you pack a travel towel.
Accessories: You might want to carry caps/hats, sunglasses, and flip-flops.
Want to find the best venues to read your vows? Here are the best Caribbean wedding resorts.