At 5,000 years old, Egypt is the Grande Dame of civilization. This north African nation is where it began and where history lives on. As will your marriage. Egypt has vast deserts, ancient temples, mysterious pyramids, and Red Sea beaches to create an unforgettable honeymoon destination. And then there is the mighty and tantalizing Nile, the river on which the country depends, and which is conveniently surrounded by luxury resorts. It's the perfect river for a honeymoon cruise and experiencing all of Egypt's ancient wonders. 
Cairo is Egypt's capital and is referred to by its 9 million residents as the "Mother of the World." There is truth in that statement. Over a thousand years old, this metropolis holds treasures from the past, modern buildings such as the Cairo Tower, markets everywhere, and awe-inspiring mosques.
Of course, its proximity to the pyramids of Giza, the last of the Wonders of the Ancient World, makes Cairo a strategic place for any Egyptian honeymoon. 
Best Hotels and Resorts for an Egyptian Honeymoon
---
Renaissance Sharm El Sheikh Golden View Beach Resort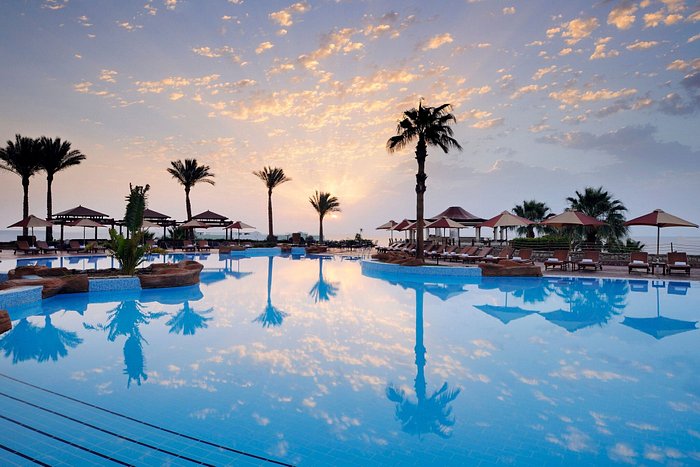 Renaissance Sharm El Sheikh Golden View Beach Resort has rooms, suites, and split-level villas lining their private beach, a spot considered an outstanding diving and snorkeling site. The accommodation, all with a balcony or terrace, have either a garden or a beach view.
There are many dining options, from an international buffet to a beachfront seafood restaurant. The cocktail bar serves drinks with a view and has nightly entertainment. Guests can also enjoy the beach bar and a swim-up pool bar.
A masseuse will do in-suite couples massages. Why leave the room when you don't have to? The spa itself has a steam room and therapeutic bath.
Couples may wish to begin their Egyptian honeymoon with a wedding at the Renaissance Sharm El Sheikh with the help of a Marriott-trained wedding planner who will coordinate the event from beginning to end and will accommodate all budgets. The happy couple merely needs to show up and stay for the honeymoon.
---
Tropitel Sahl Hasheesh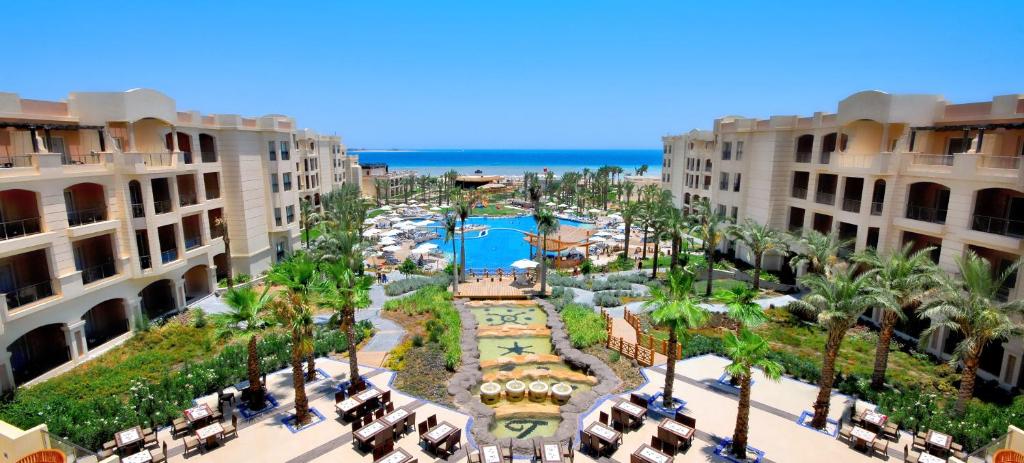 Tropitel Sahl Hasheesh in the resort area of Hurghada by the Red Sea has 543 five-star rooms and suites. The special Club Rooms offer honeymooners private balconies overlooking the Red Sea and welcomes them with a basket of fruit, a plate of cookies, and a bottle of wine. The sophisticated Mermaid bar promises cocktails for connoisseurs, or couples can enjoy a drink at the pool or beach bars. The Tropitel has several restaurants with an international menu.
The property has four pools, an outdoor Jacuzzi, and a striking private beach. Families with children have their own areas, leaving more tranquility for couples.
Honeymooners can enjoy the Premium Package which includes butler service at the cabanas and special cocktails on the terrace. 
---
Movenpick Aswan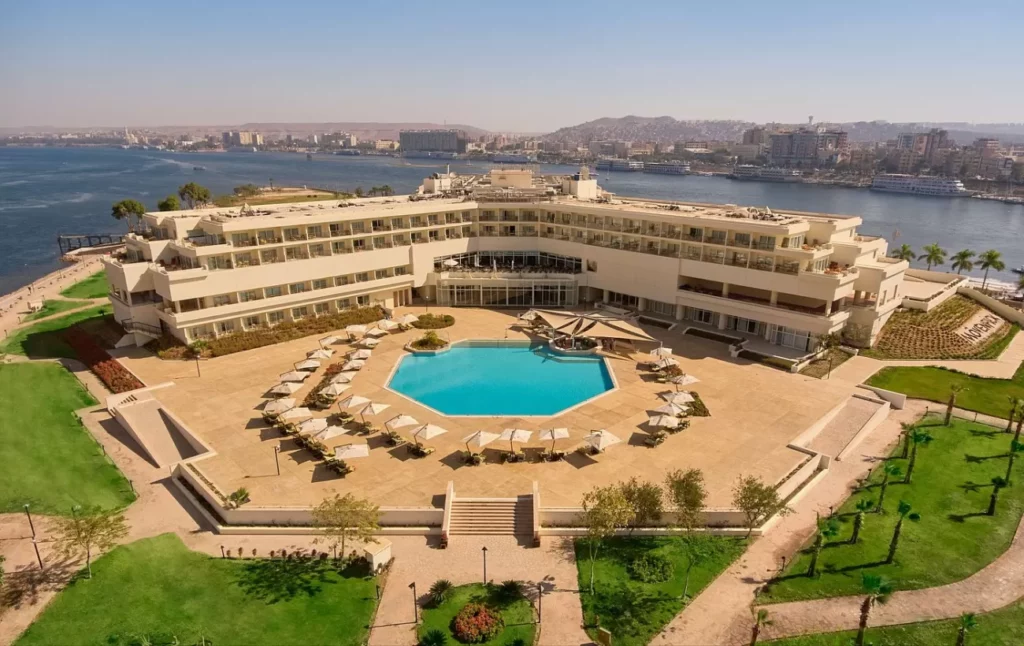 Movenpick Aswan is a luxury resort on Elephantine Island in the middle of the Nile in Aswan. This private oasis is surrounded by the river and lavish tropical gardens. All 404 rooms have a balcony with a grand view. 
The Orangerie Restaurant and the Elephantine Restaurant serve meals with either a garden or a pool view, while the Lounge Bar offers piano music, cocktails, and refreshments. Each afternoon, the resort has a mouth-watering chocolate hour with all the chocolate you can eat.
The Movenpick offers 4 to 12-day cruises down the Nile for an unforgettable honeymoon experience.
---
Kempinski Nile Hotel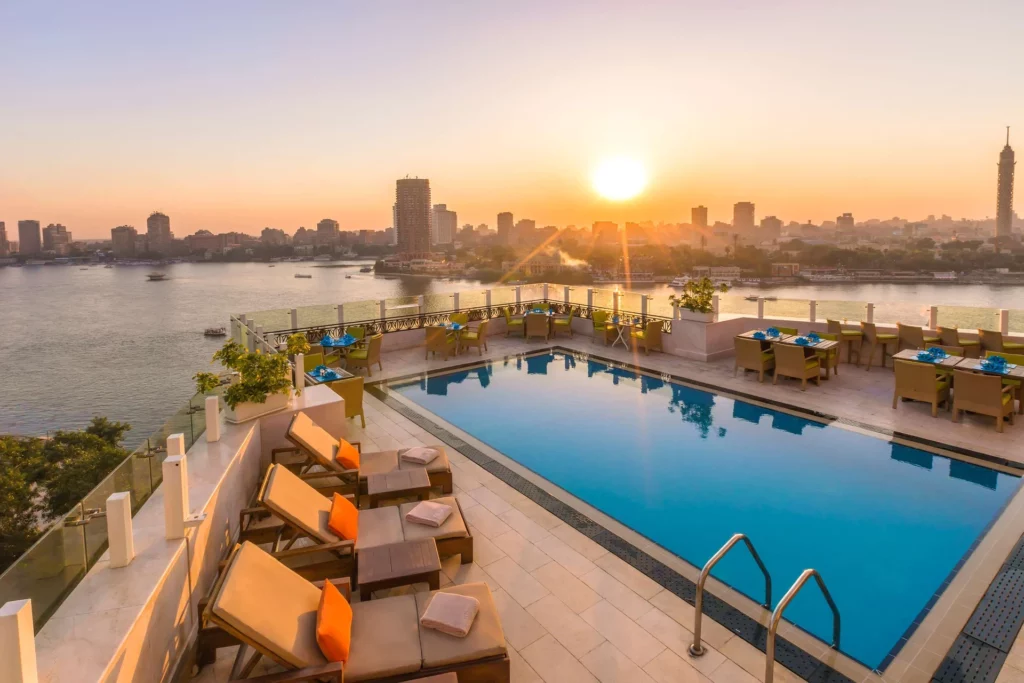 Kempinski Nile Hotel is surrounded by the sophistication of Cairo and the beauty of the Nile River. It is also close to the Pyramids of Giza. Kempinski has 137 rooms and over 50 suites with a private balcony for admiring the magical Cairo skyline. Each room has 24-hour white-gloved butler service. 
Turkish and international dining is available at the hotel's restaurants, and the Jazz Bar is regarded as one of Cairo's exclusive's hotspots. The Chocolate Lounge is the place for honeymooners to share a little bit of sweetness. Or a lot of sweetness.
The Kempinski's Lover's Escape turns Valentine's Day into a real occasion with scented candles, a couples massage, 30 minutes to snuggle in the sauna, Jacuzzi, and steam bath, followed by a private body scrub.
---
Rixos Premium Seagate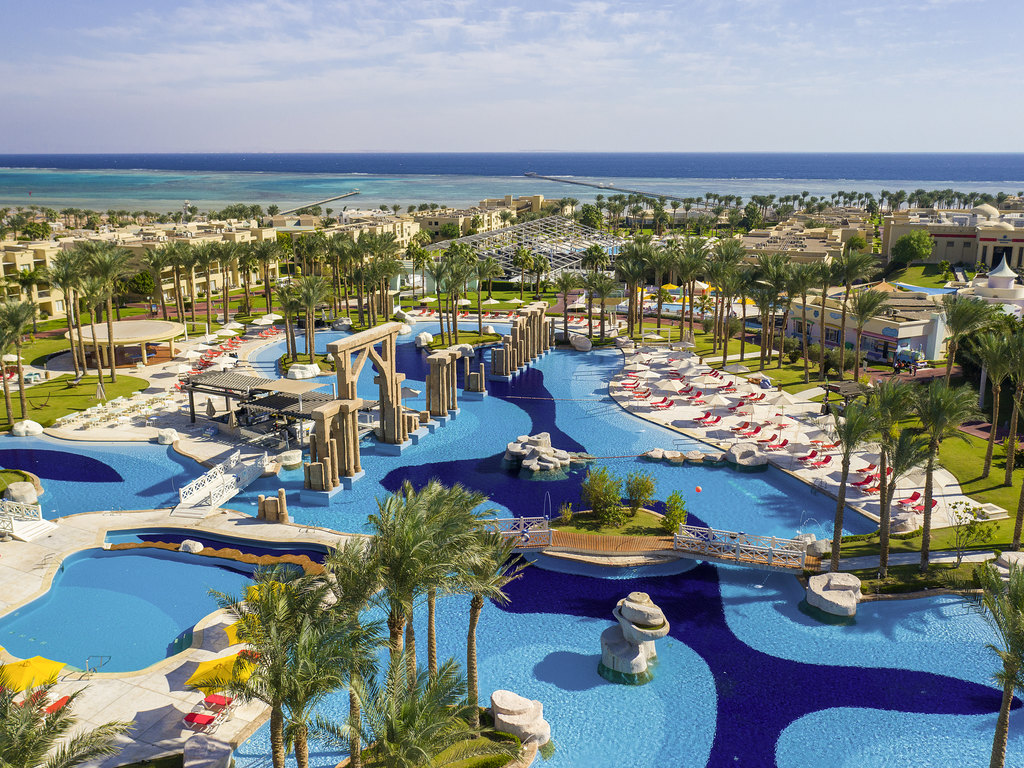 The 1,058-room Rixos Premium Seagate is a magical all-inclusive deluxe honeymoon retreat in Sharm El Sheikh by the Red Sea with rooms and suites with terraces, and villas with pampering butler service. Minibars are filled daily with wine and chocolates. The large resort has 8 pools, 7 restaurants, and several bars. A private butler will service and tend to the cabanas by the beach.
A restaurant and the food court provide meals throughout the entire day.
The resort's spa, the largest resort spa in Egypt, pampers with Turkish and steam baths, Jacuzzis, and couples massages. Rixos provides nightly live entertainment.
---
The Culture of Egypt
Egypt has raised its appreciation of beauty to a lifestyle and art form, which is why its culture can add so much to a couple's honeymoon. One of the first things anyone notices is the importance of aesthetics in Egyptian life. How did everything get to be so grand and majestic, with temples and pyramids as far as the eye can see? It is an intricate part of their culture.
For the ancient Egyptians, art, aesthetics, life, and religion were almost interchangeable. Huge pyramids and temples were decorated with the finest artwork to honor the gods. At the same time, Egyptians emphasized their own aesthetic, or godlike, qualities. Makeup to enhance appearance was worn by both men and women. Both used kohl around the eyes and wore wigs. And the use of perfume among the rich was traditional. Even mummies, to honor the gods they were about to meet, were made up. Beauty did not only matter in life; it was relevant in death, as well.
Amazingly, the Egyptian elite very much respected women as rulers, including the gorgeous Cleopatra. Excellent cultural concepts on which to build a marriage.
Top Things to Do in Egypt
Temple of Karnak
Construction on the Temple of Karnak began around 4,000 years ago. It is the largest religious site ever built and inspires pure awe. As a gift to the gods and the Pharaoh, everything was done on a grand scale.
The temple is a part of 200 acres of sacredness and is an ideal place for honeymooners to stroll and get to know one another. There is also a sacred lake for some rest. 
Pyramids of Giza
The Great Pyramids of Giza are one of the original Seven Wonders of the ancient world and the last one still standing. Like love, their vastness is almost inexplicable. They are the result of many attempts by ancient Egyptians to create three perfect tombs for three separate male rulers.
These structures are huge mortuaries complete with temples. Smaller pyramids, meant for queens, are close by. Couples can go inside the Pyramid of Khufu for an extra charge. Steps lead to narrow passages through a tunnel to the King's Chamber.
There are hotels and resorts close to the Pyramids.
Tomb of King Tut
The Tomb of King Tut is located in Luxor and is best enjoyed on a guided tour. Young Tut's greatest claim to fame is having been discovered in one of the most famous archaeological digs of the twentieth century.
This tomb is stunning and a must-visit with its magnificent walls and all the luxuries and treasures Tut could want in the afterlife. His mummified body is on display, and visitors actually snap selfies with the boy king.
Museum of Egyptian Antiquities
The Museum of Egyptian Antiquities in Cairo will provide honeymooners with the most extensive display of Egyptian artifacts, antiquities, ancient coins, coffins, and statues in existence. It is an entire ancient civilization condensed into one building and should not be missed.
Date Night in Cairo
For the most romantic, Instagram-famed dining spot in Cairo, honeymooners should not miss the 139 Pavilion at the Marriott Mena House. The food here is certainly outstanding, but it's the view that makes for extraordinary cuisine as the Giza Pyramids rise in the background as you enjoy a relaxing cocktail. Former diners here are Agatha Christie, Richard Nixon, Frank Sinatra, and other luminaries.
Average Cost of a One-Week Honeymoon Trip to Egypt
The average cost of a week-long honeymoon in Egypt is around $1,349.00. This includes a hotel room ranging from $36.00 (budget) to $150, $31.00 to $62 on meals, and sightseeing from $63 to $124 per day. Economy flights will range from $929 to $1,396. 
For that dream luxury Egyptian honeymoon, the price can range between $3,981.00 to $12,409.00. Count of paying $127.00 to $249.00 on daily food, cabs, and sightseeing. A luxury hotel room can be rented for $96.00 to $160.00 per night. A first-class flight will set a couple back $2,516.00 to $5,980.00.
Best Time to Visit Egypt
The Land of the Pharaohs is a desert country, and it is best visited from October through April when the weather is warm instead of hot, and conducive to exploring all those marvelous Pyramids and ruins.
The temperature rises from May to September, and there are fewer tourists and lower prices. This is the ideal time for an air-conditioned cruise down the Nile.
Weather in Egypt 
During the summer, the weather in Egypt's coastal areas can vary between a low of 57 degrees to a high of 99 degrees. In the desert regions, the nights can go down to 42 degrees and rise to 114 degrees during the day. Good cotton clothing with a cotton sunhat is the best clothing option.
In the wintertime, the temperature in the Egyptian desert can drop to 32 degrees and rise to 69 degrees during the day. A jacket will come in handy.
Egypt can be somewhat conservative. Unless specifically heading for the beach or a Nile cruise, It is best to omit shorts and tank tops from your packing list.
Getting to Egypt
There are six daily flights from the US to Cairo and/or Luxor leaving from JFK, Boston, Philadelphia, and Newark. One flight leaves JFK to Borg El Arab. These flights take from 17 to 19 hours and cost between $800 to $2,000. The airlines that fly this route are United Airlines, Turkish Airlines, British Airways, and Lufthansa.
There are no known direct flights from the US into Cairo.