Excellence Punta Cana is located on the dazzling Caribbean coast of the Dominican Republic. The resort is just a 40-minute drive northwest of the Punta Cana International Airport and features golden sand beaches, lagoon-shaped pools, and luxurious suites for the ultimate honeymoon experience.
There are a number of activities available including everything from snorkeling to yoga so whether you are looking for an active vacation, a more sedate experience, or a little bit of both, Excellence Punta Cana has something for everyone.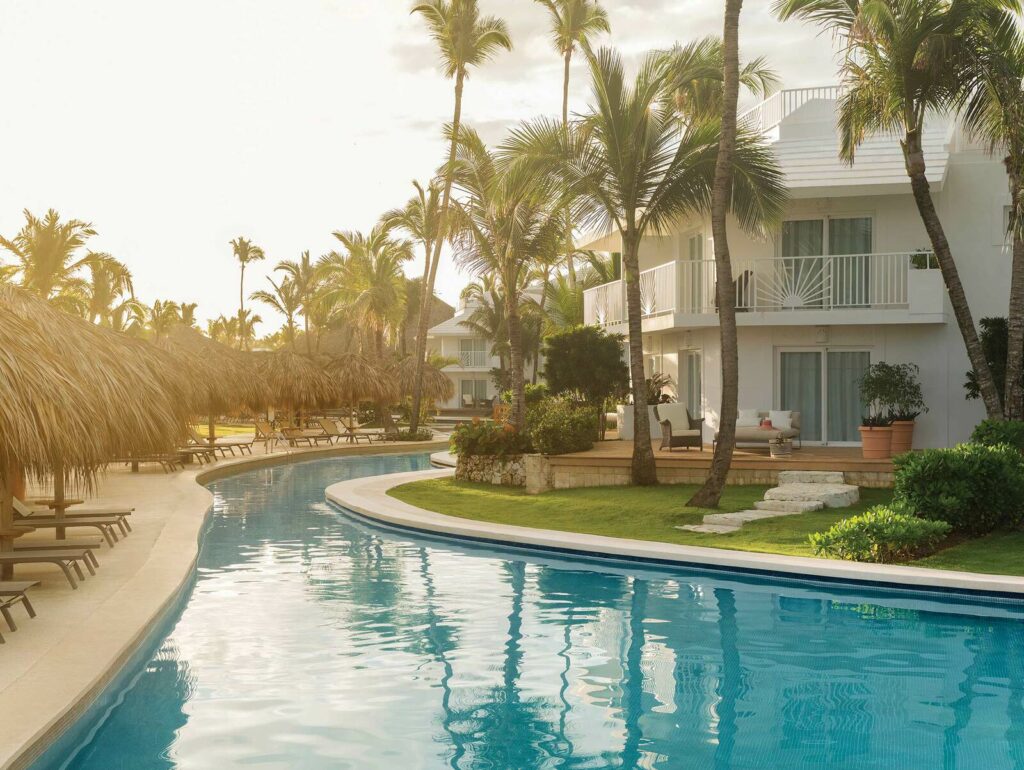 About
The resort offers a variety of suites featuring swim-up suites, plunge pools, private pools, and rooftop terraces offering sweeping sea views, as well as the Excellence Club which gives members access to exclusive facilities and upgraded amenities during their stay.
During your stay, you can indulge in delicious cuisine at any of Excellence Punta Cana's nine all-inclusive dining options, the onsite buffet restaurant or beach snack grill, and 12 bars and lounges. They can also take a dip at any of the four swimming pools or four jacuzzis or even take advantage of the all-inclusive water sports available. Active travelers will love the endless workout opportunities including aerobics, fitness classes, yoga, jogging, dancing lessons, beach volleyball, tennis clinics, grass mini-golf, and much, much more!
Excellence Punta Cana is consistently rated as one of the best resorts in the Dominican Republic thanks to the high-quality facilities and amenities and, even more importantly, the hotel staff. While you are there, you feel like no request is too big and they really focus on putting hospitality above all else.
There is no better vacation than one when you are greeted every morning by a big smile.
What's Included at Excellence Punta Cana
Excellence Punta Cana goes above and beyond to provide their guests the ultimate in relaxation, privacy, and indulgence. To make your honeymoon as stress-free as possible, all facilities and amenities are included in your room rate (with the exception of a few motorized water sports) giving you the chance to fully immerse yourself in your vacation without having to pull out your wallet.
Resort Facilities & Activities
Excellence Punta Cana features four swimming pools as well as four jacuzzis (two of which are included in the Excellence Club). There is pool and beach waiter service throughout the day. Guests can also take advantage of the endless array of activities on offer including bocce, aerobics & water aerobics, fat bikes, fitness, yoga, jogging, Spanish lessons, dancing lessons, cooking lessons, theme nights, beach volleyball and football, tennis, basketball, bicycles, table tennis, darts, board games, archery, billiards, and grass mini golf.
At the end of the day, you can unwind with a cocktail made of premium spirits or take part in the nightly entertainment including outdoor theme night dinners, "silent" discos, and Vegas-style shows featuring everything from cabaret singers to outdoor fire shows.
There is free wifi throughout the resort as well as free calls to the United States and Canada included which makes checking in at home a breeze.
Dining & Drink Options
Excellence Punta Cana offers guests nine a la carte restaurant options, one buffet restaurant, and 12 bars to choose from in addition to fully-stocked mini bars and room service. There is also in-suite daily fruit and petit fours provided daily.
Dining Options at Excellence Punta Cana
Excellence Punta Cana provides guests with a plethora of dining options ranging from beach side snack bars to gourmet French cuisine. There are vegetarian options available at all restaurants so whether you are in the mood for something laid back and relaxed or something upscale and fancy, the resort has some great options for you!
The Kitchen Table
This casual buffet restaurant focuses on healthy food from around the world made with the freshest ingredients. Serving breakfast and lunch, this is the perfect option if you are looking for a quick, healthy meal.
Agave
Serving authentic Mexican food in Punta Cana, Agave successfully combines traditional Mexican cuisine with a contemporary flare. With your first bite, your mouth will explode in a sea of tastes and flavours and you will instantly be transported from Punta Cana to Mexico.
The Grill
If you are in search of a filling meal bursting with flavor, The Grill is the perfect option. The restaurant serves perfectly cooked steak, chicken, and seafood options as well as salads, vegetables, soups, and pasta. You can enjoy the meal with a bottle of high-quality wine.
Spice
While Agave may transport you to Mexico, Spice whisks you away to Asia. Here, you can enjoy mouthwatering dishes from Japan, China, Vietnam, and Thailand as well as teppanyaki-style dinners.
Chez Isabelle
Serving gourmet French cuisine, Chez Isabelle combines the elegance of a Parisian restaurant with the allure of a Caribbean getaway. This is the perfect place for a romantic dinner in a classic setting.
Flavor Market
Offering Spanish inspired cuisine, Flavor Market brings tapas and montaditos to Punta Cana in a bright and airy atmosphere. There is a wide range of wine and beer available ensuring that you have the perfect drink to match with your meal.
Oregano
Oregano offers delicious Italian cuisine in a beachside restaurant with sweeping views of the Caribbean Sea. The atmosphere is laid back and casual and the food tastes like it is straight out of Italy.
Las Olas
You really can't beat the view from this open-air palapa located right on the beach. Meal options include grilled favorites, gas oven pizzas, and tropical-themed snacks. With a relaxed vibe, Las Olas combines exquisite food with Caribbean charm.
Sports Bar
While the name may not be super creative, this is THE place to go when you are looking for a little taste of home. Sports Bar shows American sports while offering a wide range of bar food including wings, fries, salads, sandwiches, and burgers.
The Lobster House
A trip to Punta Cana isn't complete without trying some freshly caught lobster. The Lobster House offers an amazing view of the golden sand beach and the sparkling blue Caribbean Sea while serving delectable cuisine full of rich flavors. The restaurant is open for breakfast and dinner and honestly, what better way is there to start your morning than with breakfast with a view of the water?
Activities Near Punta Cana
Located on the eastern tip of the Dominican Republic, Punta Cana has long been a tourist hotspot and it is not hard to see why! In Punta Cana, you have easy access to ecological parks, scuba diving, zip lining, sailing, and more. It is the perfect spot for people wanting to get out and explore the untouched nature around them.
This protected island on the Dominican Republic's south coast is the perfect spot for a day trip. Isla Saona is reached by catamaran and there are an array of tour options available (booze cruises, small-group tours, etc). Although it may be hard to pull yourself away from the resort, Isla Saona is simply breathtaking and worth the effort of getting to.
This small mountain is about a one-hour drive away from Punta Cana plus a 30-45 minute hike up to the top. It is well worth the climb to the top as you get 360-degree views of the coastline's pristine beaches and the surrounding rolling green hills. What makes it even better is that there are swings, hammocks, and brooms at the top which allow you to get fabulous photos where you look like you are flying over the emerald hills far below.
Whale Watching
From January to March, whale watching is one of the most popular activities in Punta Cana. These gentle giants can be spotted as they make their way to the Bay of Samana. If you have never done a whale-watching excursion before, this is a great place to do it as sightings are generally guaranteed and there is nothing quite like watching whales frolic and play around you.
As the highest waterfall in the Caribbean, Salta de la Jalda is a great place to spend a day exploring. The hike to the waterfall is approximately eight miles on moderate terrain. During the rainy season the path can get muddy and the rivers along the way may be a bit too high to cross so it is a good idea to book a tour or check at the hotel before heading out on this hiking adventure.
Los Haitises has been called one of the crown jewels of the Dominican Republic's national park system. Visitors flock to see the park's 30-meter high rock formations soaring out of the water and the mangroves that can be found throughout the bay. You can visit the park by boat from Samana, hike in the rainforest, or explore the area by kayak. The park is roughly a 2.5-hour drive from Excellence Punta Cana so it is possible to do as a day trip or you can stay overnight at one of the nearby eco-lodges.