When most people think of a traditional honeymoon, it involves two people, the two people who just tired the knot. It just so happens that not everyone is traditional!
Now a days it is extremely common and acceptable for couples to get married after they have had children, or perhaps are bringing two families together. When there are more people involved than just the two newlyweds, planning a dream honeymoon can be more complicated.
When you have to plan to have someone watch your children or take them to school when you plan your vacation, it can be much harder to plan the perfect escape. Rather than going through this trouble of finding someone to take care of the children and planning a week to be away from them, consider taking a family-moon!
Bringing your whole family on your honeymoon is a great way to celebrate a great new thing while giving an enjoyable experience to everyone. Especially when you are bringing two families together, a family moon is a great way to start this wonderful journey for everyone. A familymoon is a trip that you and your new family will remember as the first time you're traveling together as a family.
By the way, a familymoon does not just have to mean bringing kids along. Most of the time, couples decide to expand their honeymoon to include their children, but it does not stop there. Many couples will bring their parents (free childcare), their siblings, or other people close to them in the family. This turns the whole experience into one, big and fun adventure.
When you are all together with more of your close family, it will turn into something that you will always remember forever. You will also be able to arrange it so that you and your newlywed can sneak away for a night or two of romance.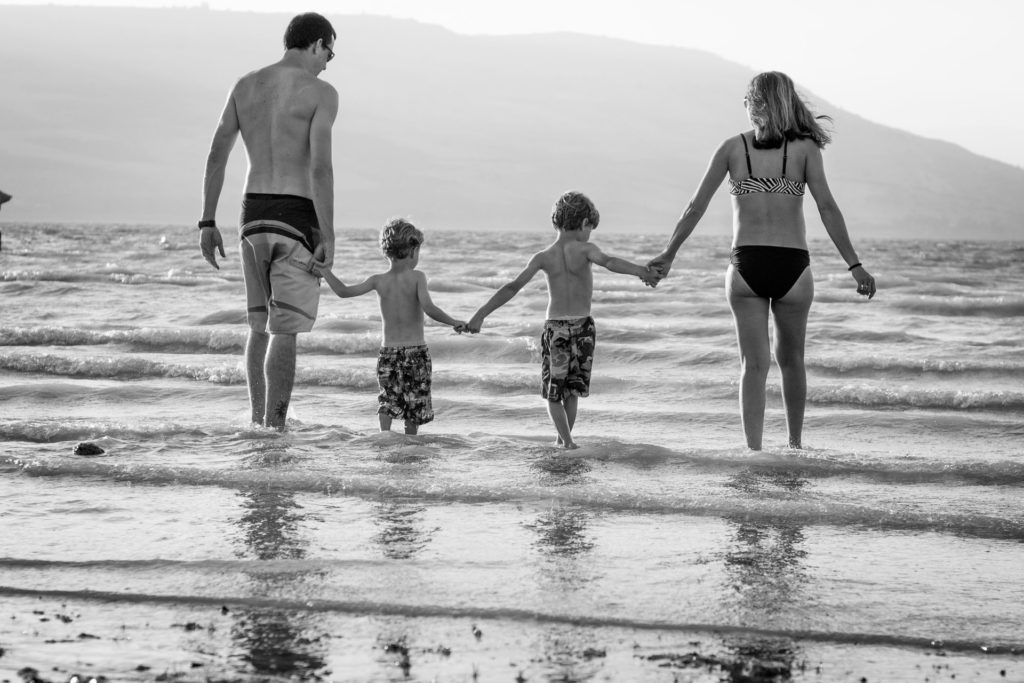 Unique Experience
Since it is not the traditional route to take your children on your honeymoon and turn it into a family moon, it will be a unique experience! Every family is unique, and this is bound to be a time you will remember forever. This will not only be an experience that you will remember for the rest of your life, but your children will remember it as an extremely important and amazing time they had with their parents right after a beautiful wedding.
How to make the familymoon run smoothy:
Unfortunately, there is more potential for something to go wrong when you are on a familymoon than if you were just on a honeymoon with your newlywed. Things that you might think are great ideas when on a honeymoon may not be a good idea when there are kids involved. For example, a road trip may seem like a romantic and easy way to experience the destination you travel to, but couples should be careful about planning this when there are kids along for the ride. Eventually, everyone gets grumpy on a road trip. Whether you and your spouse get in an argument about directions or if the kids get overly antsy in the back, a road trip has the potential to turn into an awful experience.
Even though you are taking your kids on your honeymoon and turning it into a familymoon, that does not mean that you shouldn't have some romantic time just the two of you. You should try to schedule at least one night where you can leave the kids with a babysitter or alone while you and your newlywed enjoy a romantic dinner and date night. Even though this trip is about your whole family, it was the two of you that got married and you should remember that when you are celebrating!
Where to go on your Familymoon:
Deciding the location of your familymoon can be more stressful than it would have been to decide the location for your traditional honeymoon. Rather than aiming for a romantic and remote time, you will have to cater your destination and activity more towards being family friendly and fun for children. Understandably, there are some destinations that are more suitable for families than others.
1. A Beachy Destination
A great destination for a familymoon is anywhere on the beach. There is so much potential for fun in the sun when you take your familymoon on a beachy destination! Long beach days will be filed with swimming, sandcastles and maybe even a surfing lesson!
The whole family can enjoy a nice day at the beach swimming, tanning, relaxing or even snorkeling, and at the end of the day, you and your newlywed can slip away for a romantic dinner for two.
Our top recommendation would be Beaches in the Caribbean. These all-inclusive family resorts are in incredible destinations that will have plenty of activities for the family. Their sister-resorts, Sandals, are some of the best resorts for a honeymoon. So they know romance. Explore the best Sandals resorts for your honeymoon (adults only).
2. Somewhere Outdoorsy
Traveling somewhere with outdoor attractions on your familymoon is another great idea to make the experience enjoyable for everyone. You can spend your days hiking with your little ones and your nights experiencing a romantic dinner with a wonderful view of the nature surrounding you.
Familymooning somewhere with a natural attraction is a great way to keep the whole family happy on a familymoon. Whether or not you choose a destination somewhere in the mountains, on a beach, or near a rainforest, you are bound to find plenty of hikes and adventures to keep everyone busy.
Of course, when thinking about where to take your family on a trip, an obvious location possibility is always Disney. Kids absolutely love it and believe it or not, there is fun for the whole family. Despite any age, Disney will excite you and awake a sense of childlike joy in the whole family. You can enjoy the park by day and sneak out to have a beautiful, romantic dinner for two.
No matter where you choose to take your family on this amazing trip, you are bound to have a great time. You can always sneak away and find romantic time for you and your newlywed but there is so much possibility for fun and adventure when you are traveling with the whole family. If you are blending two families together or want to bring your already blended family on this trip of a lifetime, consider choosing a familymoon over a honeymoon for your special trip.
What is a familymoon?
A honeymoon in which the newlywed couple bring along their children.