Georgia is know for its elegant gardens, peach blossoms, and a history highlighted by the Martin Luther King Jr. National Park, the Gone with the Wind Museum, the mountains of northern Georgia, and the state's fabulous islands, such as Tybee Island and Jekyll Island, and Sea Island. The state is rich with golf courses, history, and many cultural attractions. A Georgia honeymoon is filled with beauty, history, and plenty of love.
About a Georgia Honeymoon
No Georgian visitor needs to look far for a romantic city.
Savannah, Georgia's oldest city, epitomized the old South with its tree-lined streets and carriage rides, followed by a mint julep – or two. It is known as one of the country's most romantic cities, with an important history. Enjoy a riverboat cruise or learn about Savannah's past by taking a trolley tour.
When in Augusta, visit The Chat Noir, a theater with its own bar that produces independent shows, scavenger hunts, and murder mystery theater, as well as the occasional burlesque evening. In the fall, come for Georgia's oldest Halloween party. For a true snuggle, couples can take a half-hour plane ride at sunset.
Atlanta, beyond its Gone with the Wind fame, has restaurants, museums, and entertainment galore. Visit the Georgia Aquarium, the U.S.' largest and most incredible aquarium.
Toccoa by the Blue Ridge Mountains is a small town with big outdoor attractions. Toccoa Falls is one of the country's highest waterfalls, higher than Niagara Falls, and there is a winery with live music and tastings.
St. Simons Island is off Georgia's coast, about an hour and a half from Savannah. The island is lauded for its fabulous beaches, great golf courses, wonderful dining, and more than 50 shops. The oceanfront park, Neptune, has a picnic area, a playground, a pool, and a casino. Couples can enjoy all watersports while staying at one of their delightful shorefront hotels. Travel and Leisure Magazine has called St. Simons America's Favorite Romantic Town as well as America's Favorite Beach Town.
For golfers, the Peach State has over 350 golf courses.
Best Hotels for Your Georgia Honeymoon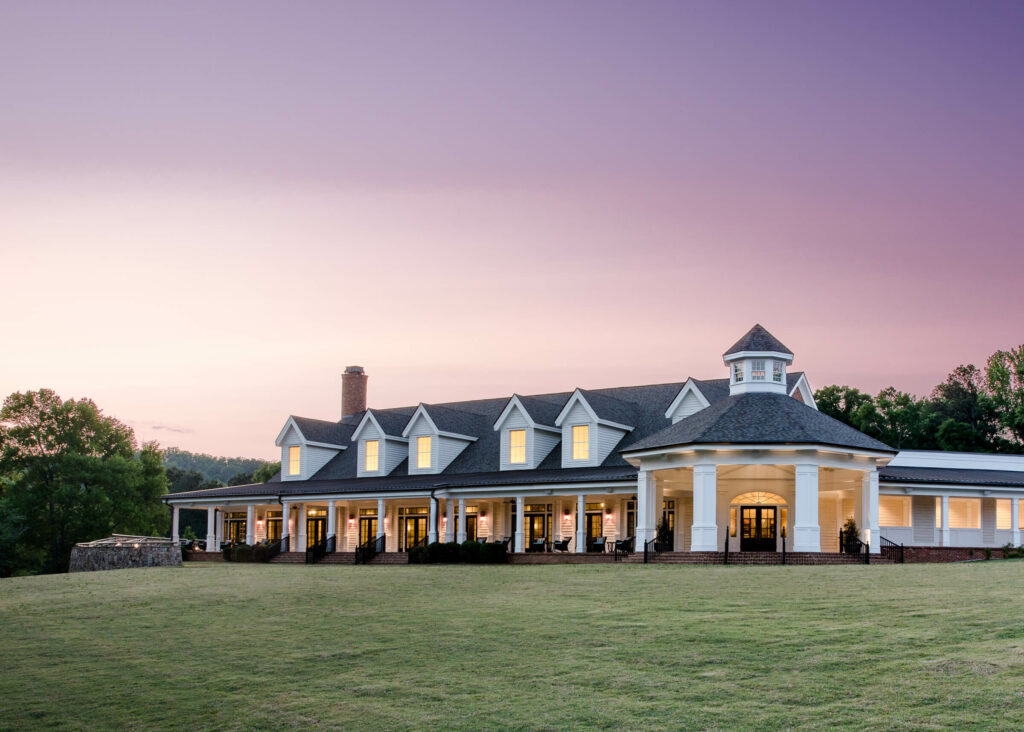 The Barnsley Resort, north of Atlanta and at the foot of the Blue Ridge Mountains is a romantic inn with even more romantic private cottages and perfect destination for your Georgia honeymoon. The resort is very much a replica of the country mansions within a British village. It is everyone's favorite, especially during the holidays, when the manor is adorned with special candle lights. Outdoor activities here include golf, shooting, and horseback riding – very English. The couples' massage at the spa may not be quite as Victorian. 
Their romantic hideaway cottage package includes breakfast for two, an a la carte dinner at one of the resort's restaurants, a bottle of wine upon arrival, and a $200 credit toward activities.
---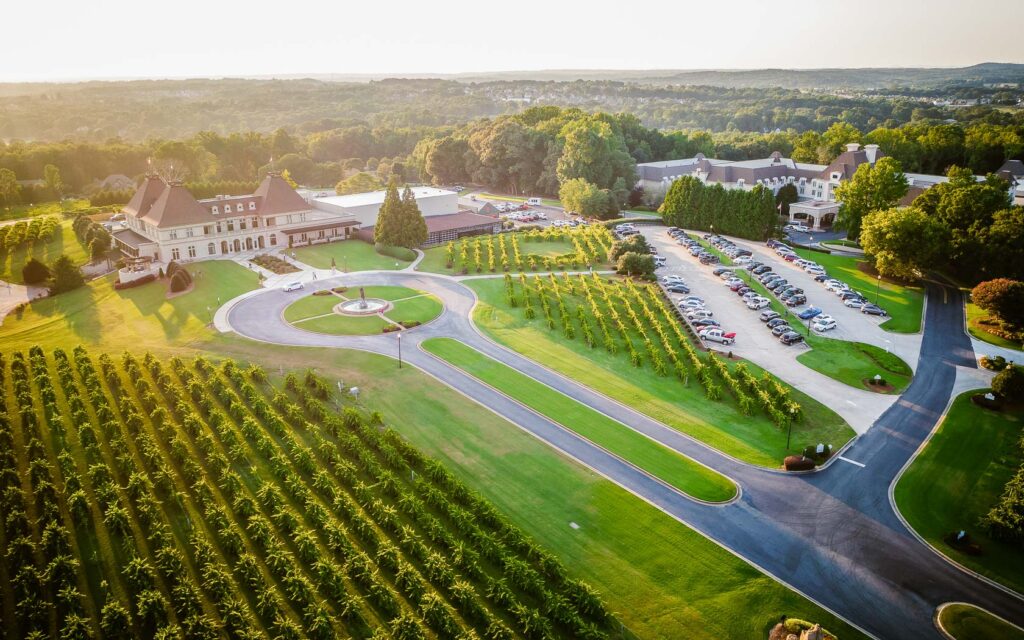 Chateau Elan, also by the Blue Ridge Mountains in Braselton, takes couples from an English country manor to the tranquility of a Provence chateau. Their incredible Spa suites include a two-person air jet tub and a waterfall shower. The Chateau itself is a large Georgia winery with more than 30 different types of wines and many wine-tasting events and tours including on Thanksgiving and Christmas Day.
For those still standing after all that wine, there are three nearby golf courses. Other activities include culinary workshops, tennis workshops, mixology classes, a cigar club with rare cigars and bourbons, a charcuterie board workshop (won't the in-laws be impressed), painting classes, tennis clinics, yoga and meditation classes. 
---
The Glenn Hotel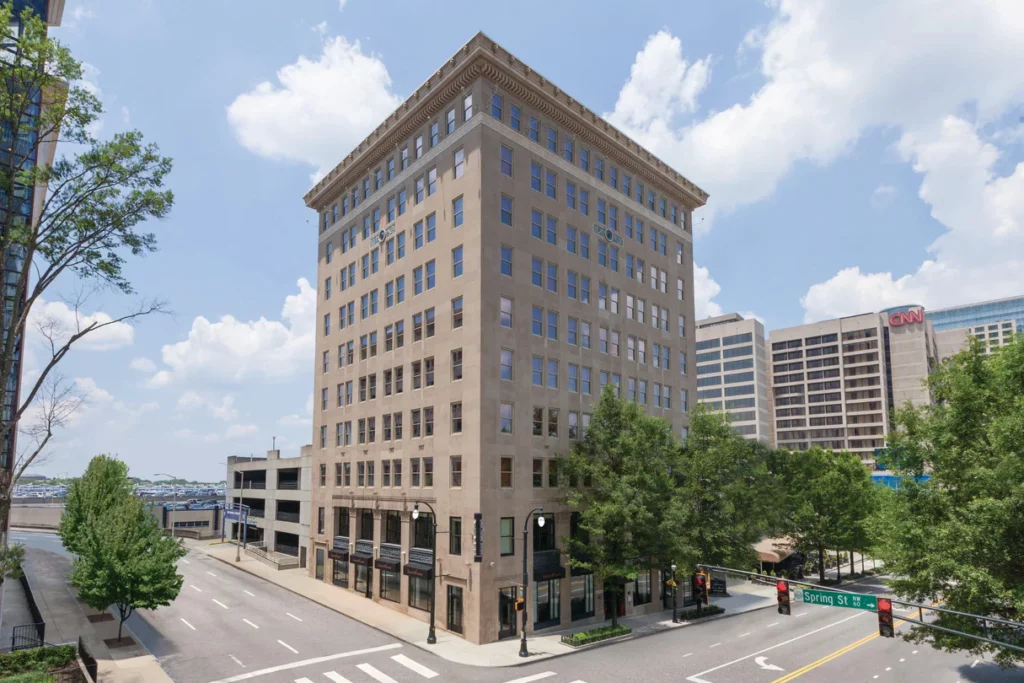 The Glenn Hotel in downtown Atlanta is a 1920 boutique hotel that offers southern hospitality at its finest with comfortable rooms. The All Access Package offers VIP perks to nearby events such as the State Farm Arena, making an activity-filled Georgia honeymoo.
The onsite restaurant has southern-style cuisine with a large wine selection, and the romantic SkyLounge is the hotel's rooftop bar and lounge with a view of Atlanta's fabulous skyline. Cuddle with your loved one while enjoying a cocktail under the stars.
---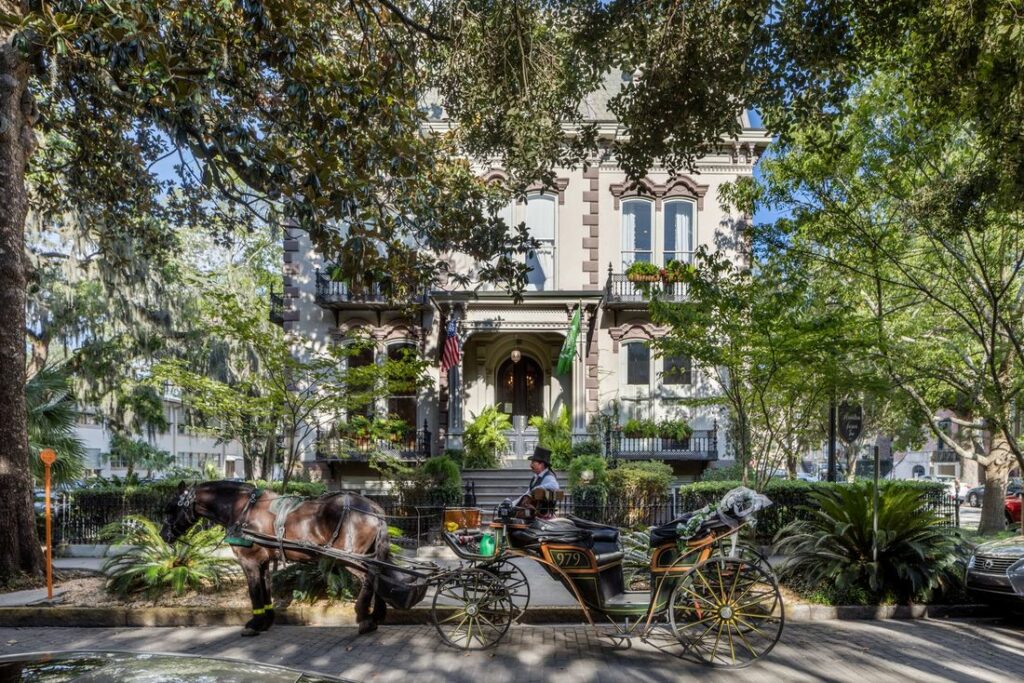 The Hamilton Turner Inn is located in Savannah's Historic District, which captures Southern history more than most place. The inn is a former private residence and provides a truly romantic and personalized experience, starting with a complimentary breakfast followed in the afternoon by appetizers with a glass of wine by the Parlor's fireplace. Southern charm at its finest.
​​The Inn's Elopement Package (Couples need to get married here) includes a two-night stay, a justice of the peace, a bouquet and boutonniere, a wedding cake, and champagne on ice with two keepsake champagne flutes.
The Food of the South Package includes two nights and three days of southern cuisine. The package includes a bottle of wine, the Savannah Squares Cookbook, and a walking tour that stops at seven local restaurants.  
---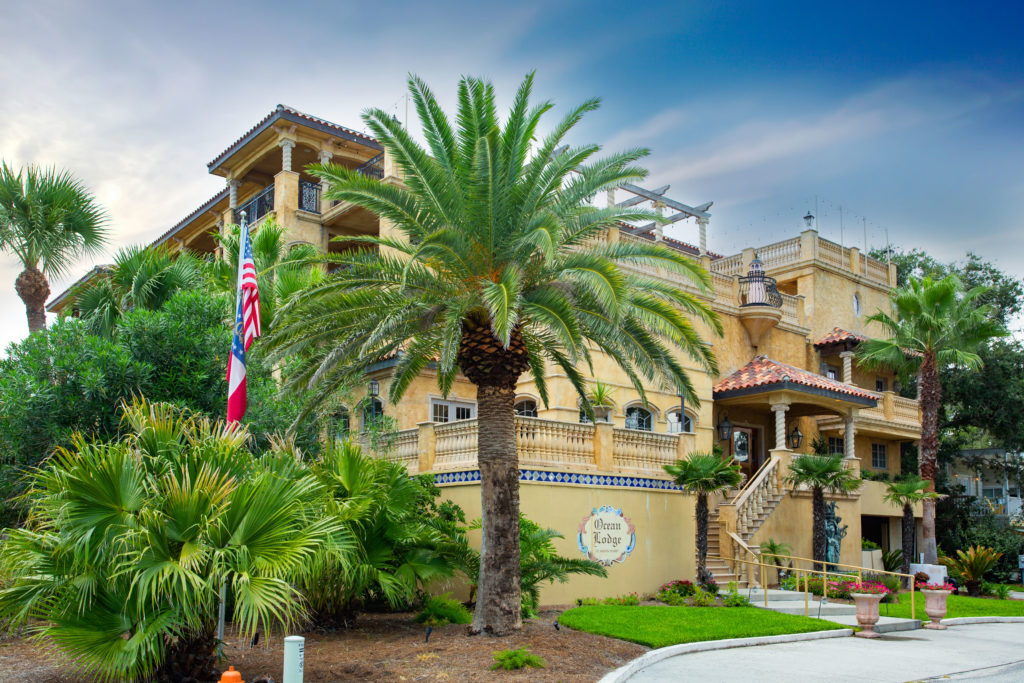 Ocean Lodge Resort on St. Simons Island is a gorgeous hotel built in a romantic Spanish-Mediterranean style, and each of the 15 rooms reflects the romance of an old-fashioned European villa while overlooking the island and the beaches.
The restaurant on the fifth floor rooftop terrace allows for a stunning view. After dinner, simply sit with a cocktail as the sun sets and the stars light up the sky. There is a reason this was named America's favorite beach town.
---
About Georgia
Georgia, located in the southeastern part of the country, is named after England's King George II. It has a beautiful Atlantic coastal area for watersports and the Appalachian trail for exploring nature. Before the Civil War, Georgia had more plantations than any other southern state. It was Georgia that Union General Sherman invaded, capturing Atlanta. A hundred years later, Martin Luther King, Jr. launched the nonviolent Civil Rights movement that was to change American culture forever.
One of the things that Georgia is most known for these days is its peanuts. The state harvests more than two billion pounds of these nuts annually. Peanut harvesting is celebrated in the town of Sylvester in October at the yearly Peanut Festival.
Georgia is also where the world gets its Coca Cola. Visitors can visit the World of Coca Cola and taste more than 100 different coke flavors. Visitors actually get to walk into the vault containing Coke's secret formula (no, they can't take a peek). This is a fun outing for Coca Cola fans.
Best Time to Visit Georgia
March through August are the warmer and most humid and also the most popular times for visiting Georgia's beaches. The ideal time is April, which also is the month with the highest accommodation rates.
The winter months bring lower temperatures and are perfect for booking a stay by the Blue Ridge mountains. Snow only happens rarely.
Crips spring and fall with its changing foliage is the favorite time for a Georgia visit, and the rates are also very favorable during this time. The fresh March air lends itself to hiking and outdoor touring.
Things To Do in Georgia
A Georgia honeymoon is full of beautiful activities. Here are some of our favorite things to do:
Does your sweetie have a sweet tooth? Surprise him or her with a three-hour tour tasting testing Savannah's sweet southern nibbles. The downtown tour spreads across six restaurants. While sampling the goodies, learn about Savannah's history and love of food.
These show the city of Savannah from a different angle. Cruise the Savannah River and take part in an hour and a half lunch cruise, dinner cruise, or romantic sunset cruises by moonlight. It will be the highlight of any Georgia honeymoon.
You're by the Blue Ridge Mountains by the Chattahoochee River and have a sudden yen for the Bavarian Alps. Not a problem when you are in the Village of Helen. This is an authentic piece of Bavaria, including cuisine, and genuine Octoberfests and Christmases with oom-pah music and lederhosen transposed to the middle of Georgia. It's pure bratwurst enchantment. It is also where adventure happens. Wander to Blood Mountain, the state's highest Appalachian trail, or visit nearby Anna Ruby Falls, two beautiful cascading falls.
For fun, take a tube down the Chattahoochee River and cool off on a hot summer day, or raise your adrenaline by zip lining over the river.
The tiny town of Helen also holds its celebrated hot air balloon race in May. Helen is the third-most visited place in Georgia.
Escape reality at the incredible 2,500-acre Callaway Resort & Gardens in Pine Mountain. The botanical garden is a palette of vibrant color everywhere you look. Birds are chirping and butterflies may land on your shoulder here. Each step along the trail offers exotic fragrances and stunning sights and a feast to the senses. The resort also offers pampering at its spa. Most popular is Christmas at Callaway, with a breathtaking light display featured in National Geographics.
For visitors, the resort offers a Bed and Breakfast package that includes overnight stay, breakfast, and admission to the Gardens. Its Romantic Getaway package includes accommodations, champagne, chocolate-covered strawberries, and admission to the Gardens.
Weather in Geogria
Georgia has a fairly temperate climate. It gets about 50 inches of rain each year and over 210 days of sunshine. The best months are April through May and October when the temperature remains between 70 t0 85 degrees.
July is the hottest month with temperatures in the 90s. The winter months can get around freezing, but rarely any lower.