Hawaii is one of the world's top honeymoon destinations. The islands' location and natural beauty provides a perfect location for intimate and relaxing honeymoons.
As the 50th U.S. state, Hawaii makes for an easy passport-free honeymoon for American couples. More than nine million people visit the Aloha State every year and tourism accounts for over 20% of Hawaii's economy. While some honeymooners may worry that the high rate of tourism detracts from Hawaii's exotic appeal, the Hawaiian islands are still a culturally immersive and relaxing destination for your honeymoon.
If you're looking for a Hawaii honeymoon itinerary, our recommendation is to let the experts at Hawaii Tours plan an incredible Hawaii honeymoon. Their honeymoon packages include at least seven nights stay at luxury beach-front resorts, flights to and from Hawaii, inter-island flights to the islands of your choice, shuttle transfers on all islands, meals each day, premium tours, and full-time local concierge service by phone or text.
This post may contain links from which we earn a commission. You can read our full affiliate disclosure here.
About Hawaii
There are six Hawaiian islands on which to honeymoon. Each island has its own unique lure and incredible tropical experiences to share. Below is our rankings for the best islands for a Hawaii honeymoon and an overview on each island.
The Best Hawaiian Island for Honeymoons
There are eight Hawaiian islands. Six of the islands are active tourist destinations fit for a tropical honeymoon. These islands are the Big Island, Kauai, Lanai, Molokai, Maui, and Oahu.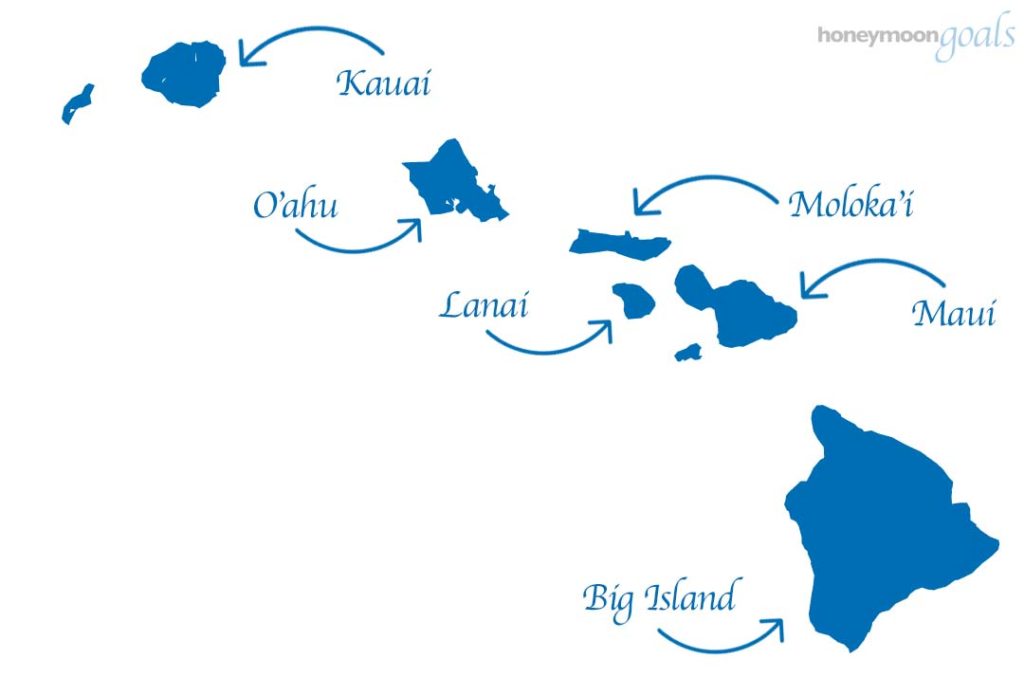 1. Lanai
Lanai is the smallest Hawaiian Island (of the six open to the public). A honeymoon in Lanai is perfect for those looking to escape the crowds. Only 50,000 people visit Lanai every year (less than 1% of all tourists visiting Hawaii). Known as Pineapple Island (due to its former island-wide pineapple plantation), the island is now mostly owned (97%) by the founder of Oracle, Larry Ellison. There are two Four Seasons resorts on the Island that make for incredible honeymoon destinations. The Four Seasons Lanai is our top recommended hotel in Hawaii.
2. Maui
Maui is the most popular honeymoon destination in Hawaii. And that comes as no surprise, as Maui has been voted "Best Island in the U.S." by Condé Nast Traveler readers for more than 20 years. As the second largest island, Maui has a large number of magnificent honeymoon hotels and resorts. And getting to your resort is painless, as Maui's Kahului Airport (OGG) offers many direct flights from all over the world. You may also fly into Honolulu International Airport (HNL) on Oahu and take a short, 30-minute flight to Maui. Among the fantastic resorts, Maui offers world-class activities and attractions such as their world-famous beaches, the sacred Iao Valley, whale-watching (during winter months), and magnificent sunrises and sunsets. 
3. Ohau
Oahu is called "The Gathering Place" and can be the perfect place for newlyweds to start their lives together. Getting to Oahu is extremely easy through one of the busiest airports in the world, the Honolulu International Airport (HNL). The south side of the island holds the bustling capital city of Honolulu, Hawaii's largest city. Within the city and on Waikiki beach, you can find a magical mix of tropical island life with modern day amenities. The north side of Oahu is home to some of the best surf spots in the world such as Banzai Pipeline. With this blend of beach life and city life, Oahu makes for a uniquely amazing honeymoon destination. 
Kauai is the least developed of the Hawaiian Island and is known as the Garden Isle. Kauai's untouched landscape makes a perfect honeymoon destination for nature lovers. Over 70% of Kauai is inaccessible by car, which makes activities like a helicopter tour the perfect honeymoon activity. The magnificent sights include the Manawaiopuna Falls, a 122-meter-tall waterfall reminiscent of Jurassic Park (and featured in the movie). Like all Hawaiian Islands, Kauai is a wonderful destination for water-based activities like paddle boarding, snorkeling, kiteboarding, and so much more. 
5. Big Island
The Big Island hosts two international airports, Kona (KOA) and Kilo (ITO). There are a number of incredible resorts to relax and indulge. Outside of the resorts, the Big Island's incredible landscape allows for exciting adventures, including chasing waterfalls in Hilo, exploring lava formations at Hawaii Volcanoes National Park, and finding incredible views at the Waipio Valley Lookout or the Pololu Valley Lookout. In addition, the Big Island is famous for its agriculture and the native Kono coffee will be sure to satisfy the coffee-loving couples. 
6. Molokai
Among all of the Hawaiian islands, Molokai is the least hospitable for honeymooners due to the lack of established hotels and resorts. While not an ideal place to honeymoon, Molokai is a beautiful island that is the birthplace of hula, home to the Kalaupapa National Historical Park, hosts the highest sea cliffs in the world, and is surrounded by the longest continuous fringing reef. 
Best Time to Visit Hawaii
The best time to honeymoon in Hawaii is typically April, May, September, or October. These months avoid the winter rainy season, the hot summer months, and the summer crowds.  
There are really only two seasons on Hawaii: the summer and the "winter." While the seasons are mild, Hawaii has a dry season extending through the summer (April to October) and a rainy season during the winter (November to March). Hurricanes are extremely rare, however hurricane season is from June until November.
The busy season extends from mid-December to mid-April, when much of the continetial United States are buried in snow. Airfare and hotels tend to be most expensive during this time.
Top Things to do in Hawaii
Active Volcanoes

Beaches

Hiking

Ziplining

Golf

Surfing

Whale Watching
Weather in Hawaii
The average summer temperature in Hawaii is 85° F (29° C), while the average daytime winter temperature is 78° F (25° C). Temperatures at night are usually about 10° F lower than the daytime.
Getting to Hawaii
Hawaii is "the most remote populated archipelago in the world." Getting to Hawaii can require some travel time, but luckily there are over a dozen airports to make flying easy.
The major Hawaiian airports are:
Oahu – Honolulu International Airport – Honolulu (HNL)

Maui – Kahului Airport – Kahului (OOG)

Big Island – Kona International Airport at Keahole – Kona (KOA)

Kauai – Lihue Airport – Lihue (LIH)

Big Island – Hilo International Airport – Hilo (ITO)
Approximate flying time to Hawaii from around the world:
Europe – 16 hours

Continental U.S. – 5 hours

Canada – 6 hours

New Zealand – 8.5 hours

Australia – 10 hours

China – 10 hours

Korea – 8 hours

Japan – 8 hours