If you are planning your honeymoon destination, consider the romance and charm of Hocking Hills State Park in Ohio. The park spans across over 2,000 acres and is a popular destination because of its natural beauty, exotic caves, waterfalls, horse riding, ziplining adventures, and superior hiking. Hocking Hills is an outdoor utopia with great campsites.
Instead of pitching a tent in the woods, however, visitors find the real romance lies in renting a cabin. Most of these cabins provide luxurious accommodations complete with a fire pit, hot tub, a deck for reveling in the outdoors, and fireplaces begging for some serious cuddling.
Whether you are looking for a secluded cabin, a rustic adventure, or both, Hocking Hills is the place to go on your honeymoon. Hocking Hills offers the best of nature – exciting trails, lush scenery, and authentic barbeques. The Logan Antique Mall in Logan is a great place to browse for antiques for your new home. The Urban Grille at the Hocking Hills Golf Club has a delectable menu that includes grilled steaks and shrimp entrees, paired with the best house wines. The 18-hole golf course is a local favorite.
Blue Valley Massage in Hocking Hills is proof that couples can enjoy the rustic life in a cabin and still revel in some special pampering. The spa offers several combo packages, including couples' massages, meditation sessions, and private yoga lessons in your cabin.
The Best Hocking Hills Romantic Cabins for Honeymoons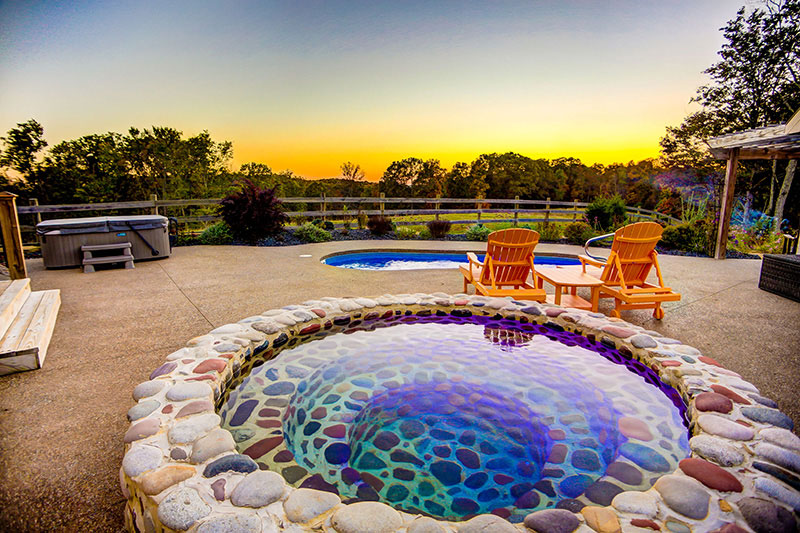 Cherry Ridge Retreat has six romantic cabins that promise total privacy with views of the forests, hills, or lake, conveniently located near the spectacular Old Man's Cave, and includes over five miles of private hiking trails. The most Instagram-worthy waterfall in the state, Cedar Falls, is a short ride away.
Cherry Ridge Retreat has won the TripAdvisor award for 11 years.
For the ultimate in romantic indulgence, guests can schedule an in-cabin-scented oil massage.
---

Inn and Spa at Cedar Falls is a bed and breakfast with its own secluded cabins that enjoy a view of the surrounding Hocking Hills State Park, caves, rock formations, and incredible waterfalls. Each cabin has its own fully equipped kitchen; some cabins have a romantic whirlpool tub for two. The Tree House Cabin, cozily situated up a tree, can be considered the Inn's most romantic and secluded cabin with its own deck and two-person whirlpool – up a tree, of course.
Guests can enjoy breakfast, lunch, and dinner at the Kindred Spirits restaurant where outdoor patio dining is available, weather permitting. The Spa at Cedar Falls is a part of the natural forest, cave, and waterfall environment that is Hocking Hills. At the spa, guests can choose from several soothing treatments with relaxing music and soft lighting. Pampering packages include couples' massages and a half-day spa day that includes scrubs, mud wraps, and massages.
---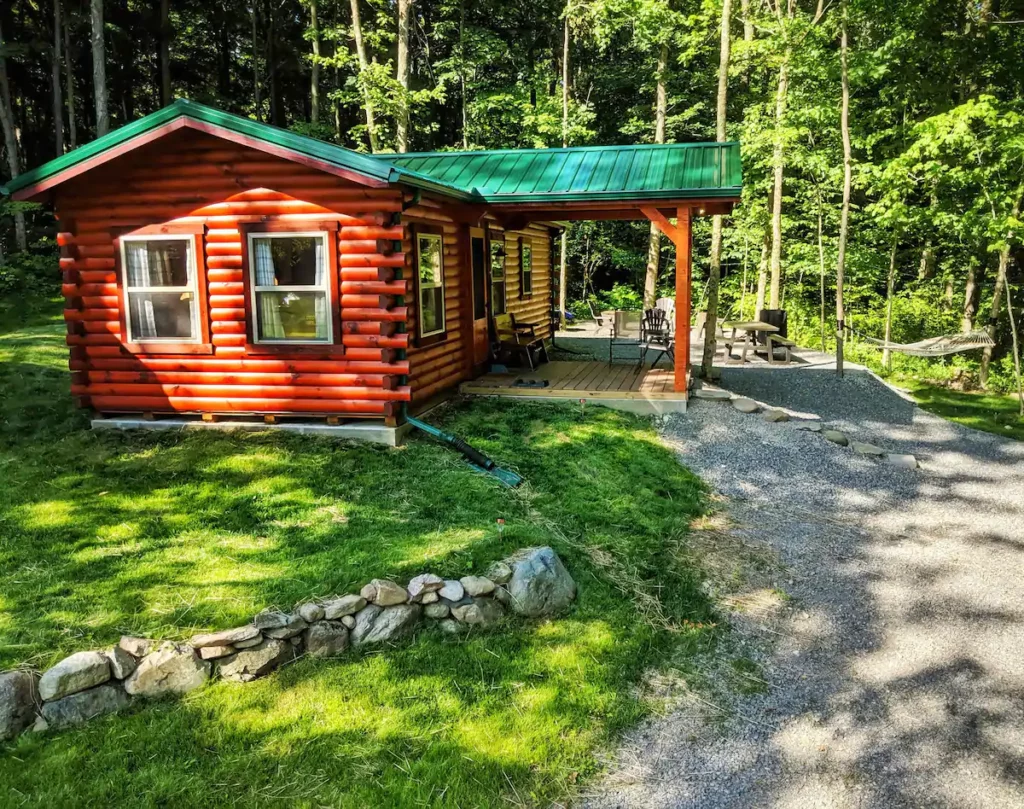 The Cabin at Maple View is a private Airbnb property off the main highway and located at the end of a secluded driveway surrounded by 80 acres of woods. The lovely cabin has a fully stocked kitchen, an indoor gym, and an outdoor fire pit. It also has a patio and an electric indoor fireplace.
There are three miles of trails through the scenic woods for guests to explore. Everything here is serene and peaceful, making it the perfect romantic getaway. Restaurants and shopping are 15 minutes from the cabin in Urbana.
---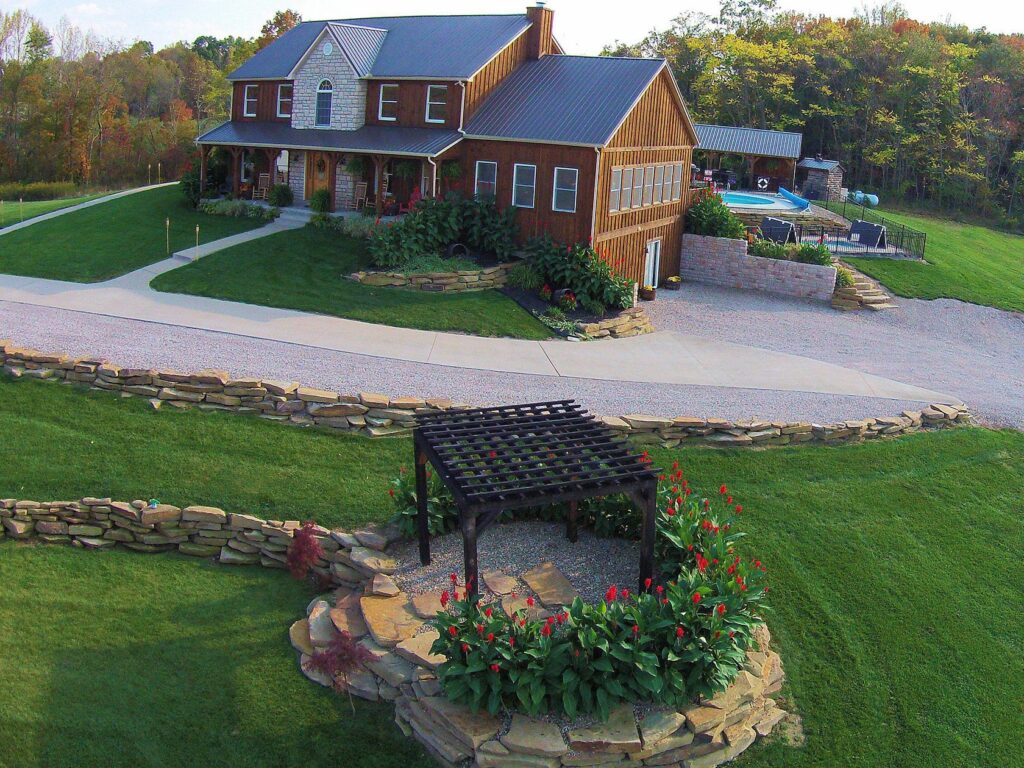 Bourbon Ridge Retreat consists of two cabins spread out over 200 acres. These may be the ultimate in Hocking Hills luxury.
The Bookers luxury cabin and the Woodford cabin can accommodate up to four people and are secluded with a fully equipped kitchen, fabulous, vaulted living room ceilings, and six-foot windows. The living room exudes coziness with its stone fireplace. Guests can also enjoy the two-tiered theater, a heated pool, and a hot tub. The entire cabin is amid a fabulous wilderness landscape across from a pond where guests can relax, fish, and simply enjoy the scenery.
If they care to step out of their cabin, guests can traverse a heart-pounding suspension bridge, revel in the solitude and serenity of the Hammock Garden or wander the trail to the designed picnic site.
---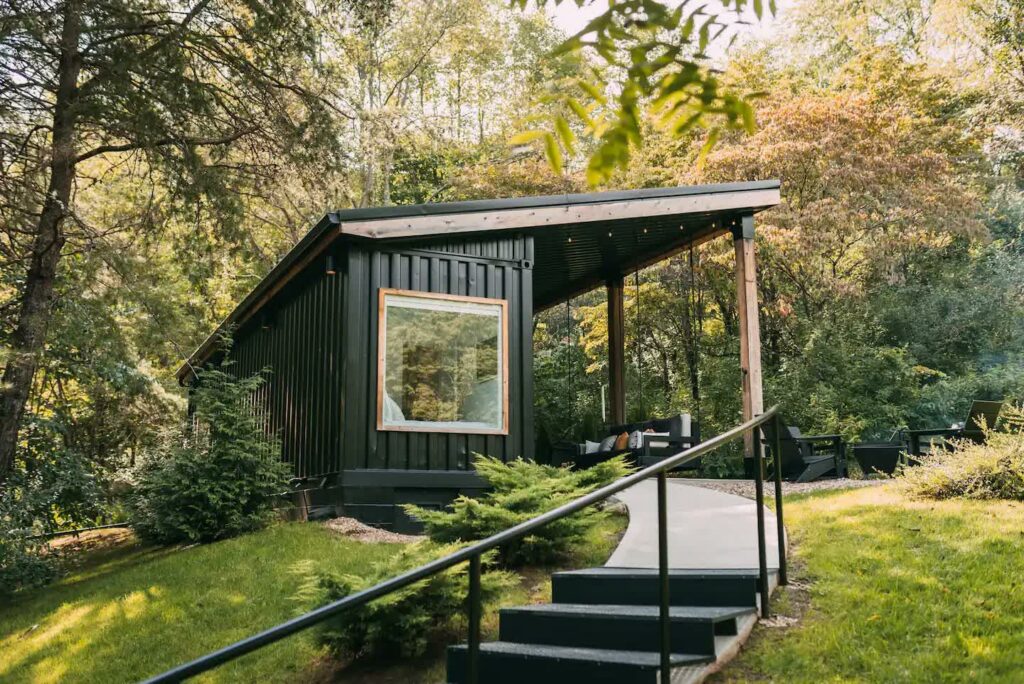 The Lily Pad Cabin is a small, cozy getaway on the edge of Eden's Pond, near craggy cliffs and Old Man's Cave. It has a fireplace, an outside hot tub for some cuddling amidst nature, and a grill for outdoor cooking, although there is a fully equipped kitchen inside the cabin.
---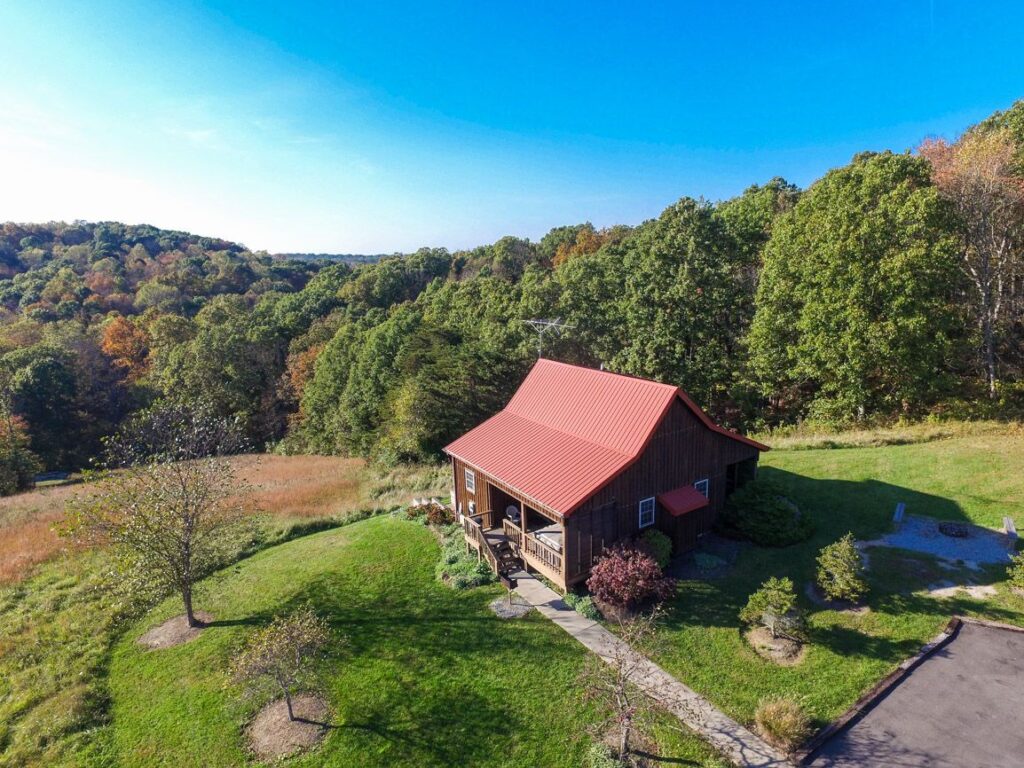 The lovely red-topped Deer Run Cabin is situated on a remote hilltop and enjoys a stunning view of its surrounding green mountainous landscape from the outdoor hot tub. There are two bedrooms and a full-sized kitchen, as well as a gas fireplace, outdoor grill, and fire pit. Guests have access to the pool at the Chalets Resort by Old Man's Cave as well as the resort's fishing pond. Cedar Falls, with its scenic trails and waterfalls, is nearby.
---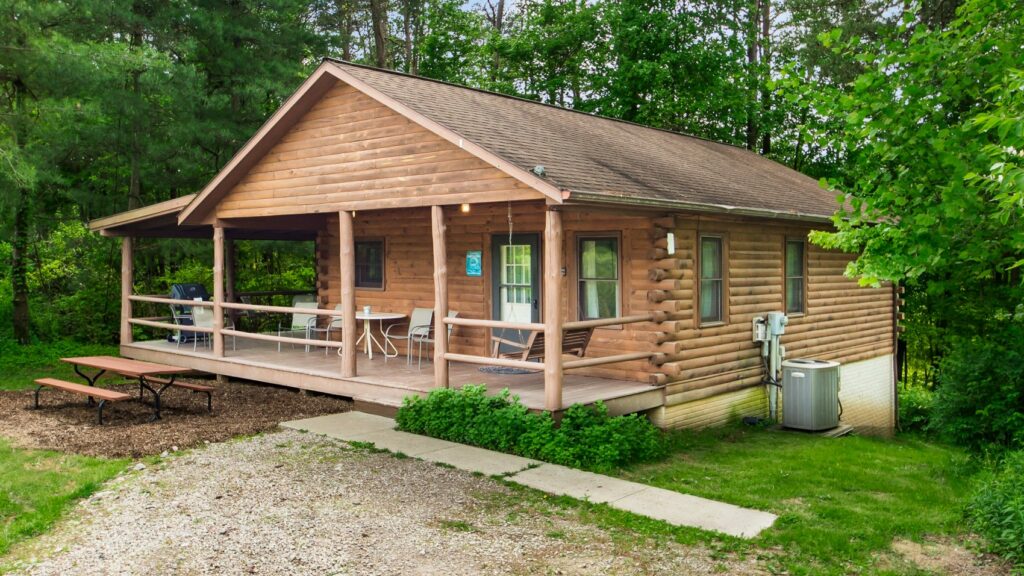 The Cedar Grove Oakwood property has eight different types of cabins and lodges on its 65-acre property – everything from snuggly couples' getaways to much larger accommodations – up to a family of 30 people. The cabins are far apart and offer optimum privacy. Cedar Grove Cabin's amenities make it the number-one-rated in the Hocking Hills region, which is located a mere half mile from Old Man's Cave State Park.
All cabins are pet-friendly and have a hot tub, kitchens, outdoor firepits and grills, and a fishing trail.
Whispering Pines Cabin is a one-bedroom private cabin nesting within the trees on the property, promising isolation and privacy. There is a rear deck with a hot tub, while the front deck has a swing for relaxing and enjoying the vista. The cabin has a fully equipped kitchen and a fireplace.
Perhaps what makes Cedar Grove cabins different from many Hocking Hills honeymoon accommodations is its event venue, the Haven, a favorite wedding venue that can accommodate up to 225 guests indoors and 280 guests outdoors amid nature at its finest. The cabins, all within walking distance, make ideal accommodations for family and other wedding guests. The couples can have privacy while hosting family for a weekend or a few days.
The Haven and its wedding planners can customize weddings to suit any dream. Packages vary from elopement weekends in a private cabin to a week-long festivity for 200 guests. A small wedding package for up to 30 guests includes the use of the Haven for half a day, with its indoor and outdoor space, dressing room, and interfaith or non-religious ceremonies. A trained wedding planner will work with the couple to arrange the reception, decorations, and shuttle service for guests. It's easy and couldn't happen in a more romantic and scenic setting.
---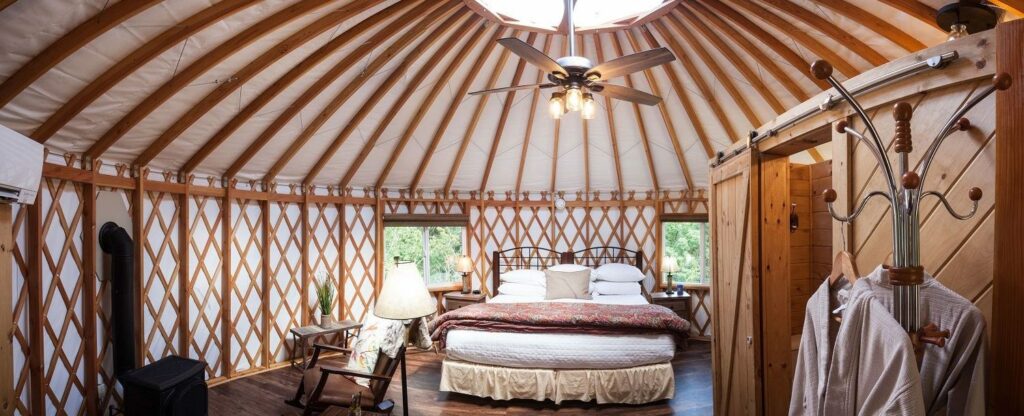 Yurts are a cabin-alternative getaway in Hocking Hills. For couples who enjoy the great outdoors but still want all the luxury of the great indoors, there is yurts glamping, and Hocking Hills, with its many hiking trails and outdoor beauty, is an ideal place for this. It brings outdoor lovers closer to the sounds and smells of their natural environment without sacrificing a hair dryer or functioning bathroom. Yurts are the perfect combination of camping and cabin, offering the best of both worlds.
Modern yurts at Hocking Hills are tents with a full bathroom, stove, refrigerator, and full-sized beds with a view of a star-filled sky. In addition, they come with heating and air conditioning. They do not have a television to allow guests the full outdoor experience.
The yurts at Inn and Spa at Cedar Falls offer glamping with all the amenities of the Inn and Spa, including their restaurant and spa.
---
The two Four Seasons Cabins consist of two cabins that were made for a romantic honeymoon haven. The Pink Dogwood Cabin and the Songbird Cabin are similar except for the location of the hot tub. The Songbird cabin's hot tub is beneath a deck, while the Pink Dogwood cabin is beneath the stars. Both have easy access to a fishing pond, an apple orchard, and a wedding gazebo.
The cabins have a fully-equipped kitchen, patio, grill, and a fireplace, but they lack Wi-Fi – this is to encourage people to actually speak to each other.
The cabins have several packages. Guests can opt for the Champagne and Roses Packages for a magical evening. The Personal Photography Package will capture the essence of Hocking Hills. No more dubious and blurred honeymoon photos. A professional photographer will create brilliant and perfect memory keepsakes. The package includes half an hour onsite or offsite.
The Traveling Chapel has performed thousands of Hocking Hills wedding and is available to travel to the Four Season to perform a ceremony. Their packages include:
Simple I Do and Pictures package includes a photo session, an officiant, and a personal wedding planner.
The Intimate Wedding package includes an officiant, a photo session, and a boutonniere and wedding bouquet.
The Honeymoon Package includes an officiant, wedding planner, photo session, and a two-night honeymoon in one of the two Four Season cabins.