Being surrounded by giraffes, elephants, lions, zebras, and cheetahs in Africa sounds like a dream come true. But it also sounds expensive. Getting a guide, secluded accommodations, and travel can add up. So, how much does an African safari cost? An African safari can cost between $200 and $1,600 per person per day. Read more on the breakdown of these costs below.
How Much Does an African Safari Cost on Average?
The cost of an African safari will vary depending on where it is, what type of accommodations you get, and what time of year you go.
The most budget-friendly, camping in a tent, will cost about $200 per person per day. The most luxurious African safari can cost up to $1,600 per person per day.
Your African safari cost includes all park admission fees, meals, camping equipment, drinking water, and transportation. They can be a short one-day adventure to a multi-week long excursion. You should account for tipping your guides during your journey. The standard tip is $10 to $20 per person per day.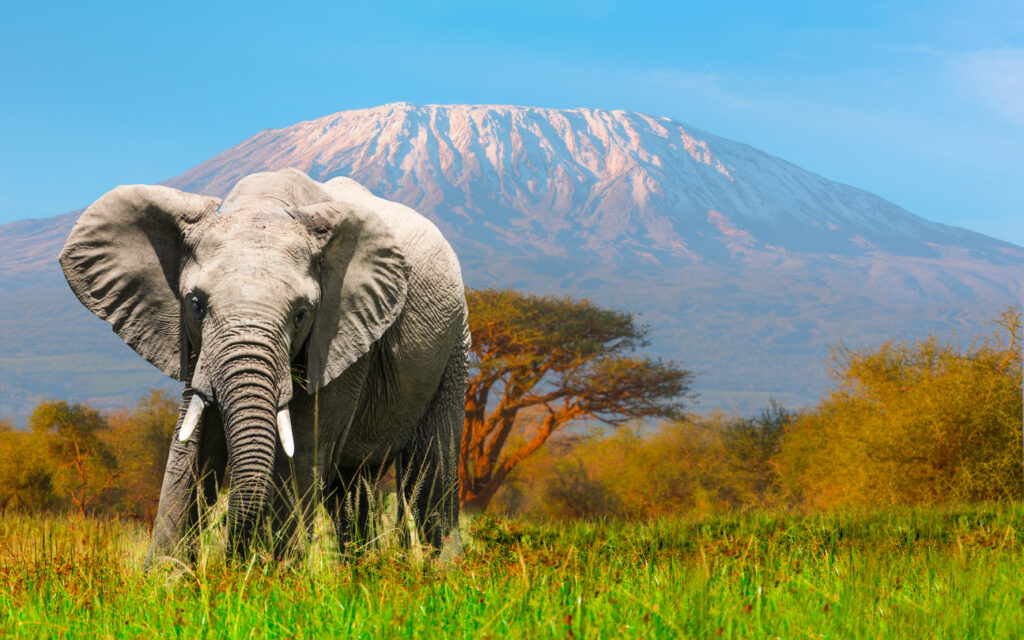 Things That Impact Your African Safari Cost
You can do many things to cut your African safari cost, while other things will bring the price up. I always tend to focus on what's important to me and splurge on those aspects. For instance, if you like staying in luxury accommodations, you can splurge on your stay and go during the off-season to save a little bit.
The Length of Your Safari
Obviously, the total cost of your safari will be more the longer your safari is. However, the daily cost is cheaper when you book multiple days under one guide. It's like buying in bulk at Sam's Club. You save money in the long run.
The Time of Year You Go
There is a high and low season for African Safaris. The high season is when school is out, and during the dry season. There will be more tourists and higher costs from June to September on most safaris.
The low season is during the rainy season, typically between March and May. The problem with going during the rainy season is animals don't tend to come out as much. The best time to go on an African safari is during the winter, between January and February.
Where Your Safari Is
The country and park you decide to do your safari in will sway the cost. Doing a safari that goes across multiple countries will cost more while staying in one park is less expensive. South Africa has some of the cheapest safari options because they have more self-drive options, and the parks are built better for these types of excursions.
The Level of Accommodation
You can stay in everything from a camping tent that you could buy at your local outdoor store to permanent yurts with furniture and modern technologies. There are even resort-like stays that you can book for your African safari with pools, villas, and bar and restaurant service.
Your Mode of Transportation
Driving yourself through one of the many parks and reserves is an option sometimes, but it's not the best option. Your best bet is to book a guided safari because the guides know where all the animals like to go. That way, you're more likely to see all the wildlife you want.
Less costly guided safaris are also typically in open-roof minivans that they cram people into. The nicer African safari tours use nice jeeps that are entirely open, giving you a chance to see everything wherever you sit.
How Many People Go On The Safari
The more people that come with you, the less your African safari will cost. Most accommodations will hold two people, and some will hold up to five. They will still charge per person for the safari. Even though, it will be less than if you go by yourself because you are sharing one accommodation.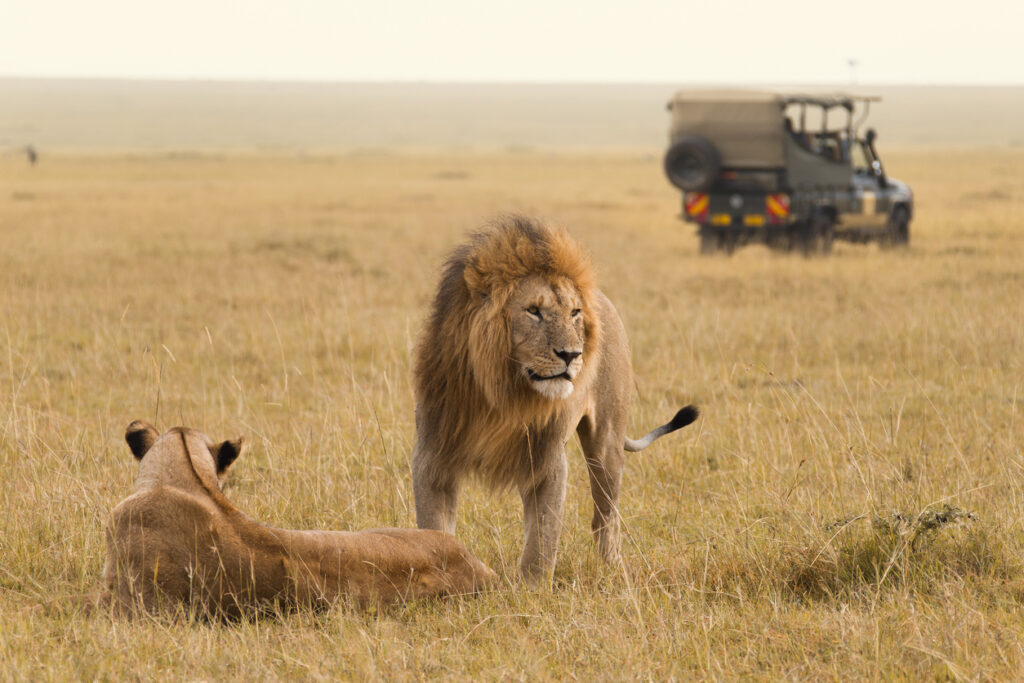 The Best African Safari Destinations
You can go on a safari in different areas of Africa. Each location has unique wildlife that they are known for. You should choose a particular destination depending on what kind of African safari experience you want. Some destinations are also more budget-friendly.
Kenya
Kenya is the original safari destination. It makes sense, with multiple large game reserves, the great migration, and a slew of cultural experiences to encounter. Some of the best reserves to visit in Kenya are:
Masai Mara National Reserve- The most popular park in Kenya.
Samburu Game Reserve- Has unique wildlife, like Beisa Oryx, Reticulated Giraffes, and Somali Ostrich.
Tsavo National Parks- The largest and most remote park in Kenya.
Amboseli National Park- You can see Mount Kilimajaro at this park.
Lake Nakuru National Park- Millions of flamingos and white rhinos live here.
There are many great lodges to stay at in and around these parks that will take you on a drive to see the wildlife every day. One that I recommend is Elephant Bedroom Camp. It gets its name because elephants frequent the grounds, making sure to say hello to all of the visitors. You may also see monkeys and Impalas from your luxury tent.
This camp has all of the comforts that you would see at any modern accommodation, including a pool, hot and cold water, electricity, and WIFI. You will get a daily drive through the bush in an open-air vehicle, a picnic lunch, cultural visits, and entertainment by Samburu warriors.
Uganda
If your dream is to see a gorilla or chimpanzee in the rainforest, then Uganda is the African safari destination for you. It's different than most other African safaris in the way that the safaris in Uganda are set in rainforests instead of desert land. You can even stop by some amazing waterfalls along your safari. Some parks to check out in Uganda are:
Murchison Falls National Park- Has various mammals, like giraffes, buffaloes, and crocodiles.
Bwindi Forest National Park- Has the largest population of endangered silverback gorillas.
Kibale Forest National Park- Has the highest diversity of primates in Africa.
Mgahinga National Park- A large park spanning three countries where endangered silverback gorillas live.
Queen Elizabeth National Park- One of two places you can find lions that climb trees.
To be fully immersed in the rainforests that gorillas and chimpanzees roam, stay at Bwindi Lodge. You may get the chance to spot some birds and chimpanzees swinging from the trees in the Bwindi forest right from your room. There's also a village nearby that has the award-winning Bwindi Bar.
Another advantage of staying at the Bwindi Lodge is you can trek into the forest to see the mountain gorillas and other wildlife instead of having to take a drive. They also have a waterfall trail for you to enjoy the landscape as well.
Botswana
Botswana is a lesser-known safari destination, so it will feel more exclusive at a smaller cost. Even though it has a variety of landscapes to view different types of wildlife. One of the most popular types of safaris you can do in Botswana is a boat safari, where you can see elephants and hippos. The best parks to see in Botswana are:
Okavango Delta- The most popular park in Botswana, famous for boat safaris on the wilding channels.
Chobe National Park- You can take a car to this park, making it more accessible. Elephants are a popular group here.
The Kalahari- You can find a black-maned lion here during the wet season.
Makgadikgadi Pans- Find unique African animals across glistening salt pans. 
Moremi Wildlife Reserve- One of the most remote and diverse wildlife areas of Botswana.
Staying at Abu Camp gets you up close and personal with elephants. Since the camp is next to a lagoon, there is a herd of elephants that call this camp home. There's even a chance to sleep in the elephant boma for the ultimate experience. You can also experience every type of safari you want, whether it's a game drive or a boat safari.
Abu Camp has super comfy accommodations with modern furnishings and all the luxuries you would see in any other hotel. There's a plunge pool to cool off during the day while you wait for your evening safari. Each private canvas tent overlooks the Delta for amazing views.
Tanzania
Tanzania is home to the well-known Serengeti, known for the safaris that explore the great herd. It is also the home to Mount Kilimanjaro, where the most adventurous can summit its peak. This place is basically the home of everything you think of when someone says "Africa." The most popular safari parks in Tanzania are:
Serengeti National Park- The world's most popular destination for a safari.
Ruaha National Park- The largest park in Tanzania with many elephants and giraffes.
Ngorongoro Crater Conservation Area- Home to the Ngorongoro Crater, where you can find the largest population of lions in the world.
Lake Manyara National Park- Home to a massive lake where you can spot animals looking for water during the dry season.
Mikumi National Park- Mostly flat grassland, making it easy to spot wildlife.
For the best views over the Serengeti day and night, Klein's Camp is a great place to stay for your safari. It is situated just on the border of the national park, so they are one of the only camps to offer open-air night drives. It is also in the perfect position to watch over the Serengeti from your room.
Klein's camp feels extremely exclusive because they have 10,000 hectares of privately leased land. You can go offroading, go any time of day, or follow a zebra trail. They will also take you on specialized photography tours and visit the Maasai village to see their unique culture.
South Africa
South Africa is where you want to go to save a few dollars. There is plenty of wildlife, but it has better infrastructure than most other safari destinations. That means there's more opportunity to do a self-guided tour, which saves you tons. There are also great guided tours too. The best reserves in South Africa are:
Kruger National Park- The most popular park in South Africa with the big five.
Madikwe Game Reserve- A malaria-free, affordable park with rare wild dogs.
Sabi Sands Game reserve- A private reserve bordering Kruger National Park.
Phinda Private Game Reserve- Famous for cheetah sightings.
Tswalu Kalahari Reserve- The largest private game reserve in South Africa.
If you want to stay in luxury on your South African safari, Loapi Tented Camp gives you the safari aesthetic. However, it comes complete with a butler, fully stocked kitchens, and an environmentally friendly plunge pool. Each of the six accommodations has plenty of space between each, giving you a secluded feel.
Each safari home has its own butler, a private chef to cook all your meals en-suite, a study with wifi, a full bar, and indoor/outdoor showers. You will also get your own safari vehicle with a private tour guide to take you out every evening. If you don't feel like taking a vehicle out, go horseback instead.