Want a taste of an authentic Mexican spirit? Then, try out Puerto Vallarta! The beaches of Puerto Vallarta are what make the city so unique, and they are framed by the majestic Sierra Madre range. It showcases the heart and soul of Mexican lifestyle, cuisine, and customs. But many are wondering, "Is Puerto Vallarta safe to travel to?"
You need not worry. Although the widespread belief that travel to Mexico is risky, the country is quite large and has many distinct locations. While visitors from other countries can feel comfortable in Puerto Vallarta, they should still take the same precautions as they would at home.
Keep reading to learn about Puerto Vallarta and how to travel safely in this tourist hotspot.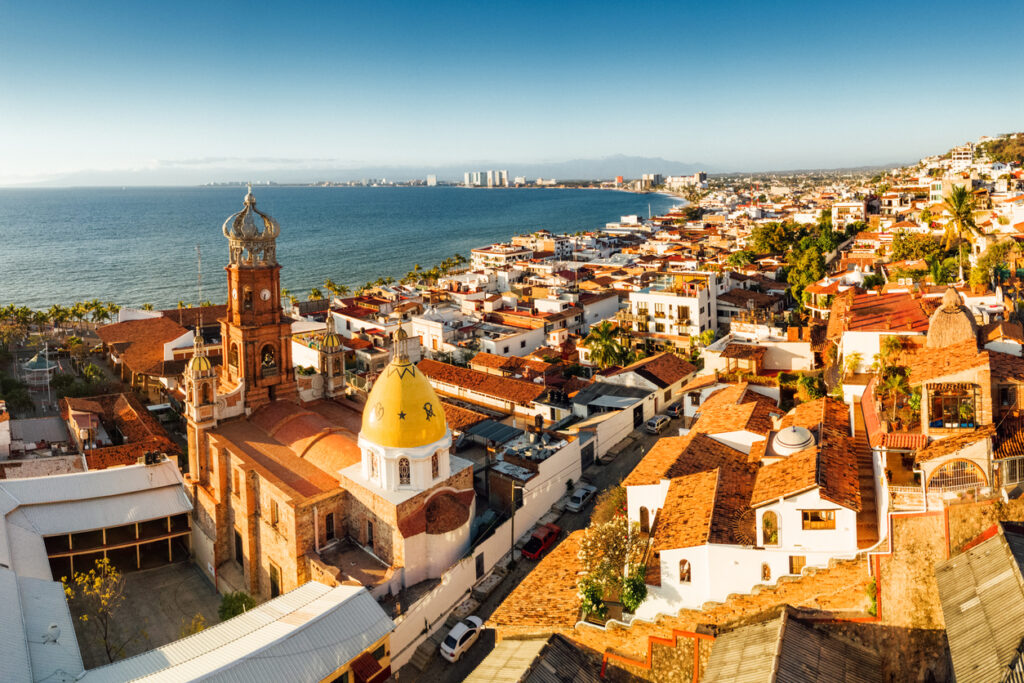 Why Visit Puerto Vallarta?
Puerto Vallarta is widely regarded as a tropical paradise in Mexico. It has strong cultural ties to Mexico and is famous for its delectable cuisine, beautiful beaches, and natural beauty. Because of its prime Pacific coast location in Jalisco, Mexico, this city is frequented by visitors worldwide.
According to Travel + Leisure, it is the friendliest city in the world. Puerto Vallarta stands out as a prime vacation spot in contrast to more cookie-cutter places like Cancun and Los Cabos. 
It all started as a sleepy fishing village on the Pacific coast of the Mexican state of Jalisco. Yet, it has become a significant tourist attraction throughout the years.
The place has evolved while still holding to Mexico's rich cultural roots. Locals and visitors enjoy dancing to live music at the town kiosk during celebrations honoring the Mary of Guadalupe.
You may view sculptures by well-known local and foreign artists while taking a stroll along El Malecon. Many art galleries dot the landscape, and exhibits and activities occur yearly.
Nature and art mix in the city's downtown, which is now part of Jalisco's list of culturally significant areas. Now more than ever, Puerto Vallarta is the best place to discover authentic Mexico.
Is Puerto Vallarta Safe To Visit?
Because of the violence and drug cartels reported in the media, many potential visitors to Puerto Vallarta question, "Is Puerto Vallarta Safe For Tourists?"
In general, it is safe to travel to Puerto Vallarta at this time; however, tourists should exercise caution and keep themselves informed as they would before visiting any foreign city.
Compared to other Mexican resort towns like Playa del Carmen and Cancun, Puerto Vallarta comes out on top regarding security. Puerto Vallarta's crime rate of 34 to 38 is significantly lower than other cities in Mexico and the United States.
Although home invasions and petty theft are common, tourists need not worry as long as they keep their valuables concealed.
Visitors can lessen their vulnerability to pickpocketing by following specific common-sense safety measures. For instance, visitors should take excursions with others. They should store their most valuable possessions in the hotel safe.
Also, there is a significant police presence in Puerto Vallarta, lowering the likelihood of becoming a victim of crime. Security in the city is continuously monitored by local law enforcement. In the event of a crime, police cars can often be seen patrolling the streets and at significant crossroads.
In addition, they drive around at night with their lights on to alert others to their presence. Locals and visitors feel safer when patrols are out and about, and criminals get the message.
Safest Neighborhoods in Puerto Vallarta
Puerto Vallarta's diverse culture is one of the city's primary selling points. It is home to many unique communities, each with its distinct character.
The Romantic Zone
It is one of the most frequented spots for individuals from all walks of life. Still, the LGBTQ community might feel especially welcome here. There are museums, boutique hotels, excellent dining options, and lively nightlife establishments.
The Marina Vallarta Neighborhood
As one of the safest neighborhoods in Puerto Vallarta, it attracts many tourists. Many people say it's like Acapulco or Cancun, but they're wrong.
One may find many high-end yachts and sailboats docked at the marina, and renting one of these vessels for a day or two is possible. Because of the significant number of foreign residents, foreign visitors generally feel at ease here.
Nuevo Vallarta
The area is another safe choice for vacationers in Nayarit, near Puerto Vallarta. There haven't been any reported crimes in Nuevo Vallarta for years, so it's a safe place for visitors to relax and take evening strolls. As a bonus, it's also one of the city's most tranquil areas, right up there with Marina Vallarta.
The Hotel Zone
There is a wide variety of all-inclusive resorts and a generally strong sense of security, so it is a popular vacation destination. Beautiful beaches and the neighboring Galleria Vallarta contribute to the area's fame. La Isla, the best mall in Puerto Vallarta, contains state-of-the-art movie theaters and international stores. There are many more shopping malls and condo complexes in the area.
Downtown Puerto Vallarta
This is also one of the safest places in all of Puerto Vallarta. Because of the abundance of dining options and sightseers, you will take advantage of all the action. Some of Puerto Vallarta's best-known sights, including the beach and the Municipal Market, are within easy walking distance of downtown.
Conchas Chinas
This is an excellent option if you're searching for a tranquil area that feels like a romantic retreat in Puerto Vallarta. Conchas Chinas, perched on a bend in the mountain, provides excellent views of the setting sun over Banderas Bay. If you time your trip well, you might even see some whales.
Conchas Chinas is steep and has few dining alternatives. But if you can bear to leave the stunning views behind, it might be worth it.
Weather in Puerto Vallarta
Does Puerto Vallarta have pleasant weather for tourists? The climate is yet another threat to tourists' security. In the event of a storm, cities in Mexico are considered to be in a high-risk zone. Lucky for us, Puerto Vallarta boasts the world's best weather in all 12 months of the year.
When a hurricane is threatening, it's unlikely to reach Puerto Vallarta because of the mountains that surround it on nearly all sides. In most cases, the Mexican mountains will lessen storms heading in the city's direction.
Winds and rain are redirected out to sea. Though storms are still common in Banderas Bay, they typically aren't severe enough to keep visitors away.
Rain is less likely, and the weather is generally comfortable in Puerto Vallarta during the summer. Various water sports can be enjoyed on the white sands of the beaches in the morning when the skies are clear.
Safety Tips When Traveling Puerto Vallarta
Keep to the major roads and avoid the less traveled areas, especially at night.
Some of Puerto Vallarta's most dangerous streets are inland from the shore; visitors should stay away from these areas, especially those unaccompanied by a local.
Avoid driving in locations you aren't familiar with if you've rented a car. If you want to know if there are any parts of the surrounding area you should avoid, it's wise to ask the resort's staff.
Try to schedule your trips during the daytime and stay on major thoroughfares. It is common knowledge that carjackings and nighttime ambushes on the roads are commonplace when cartels are involved. Don't drive late at night, either.
Take a taxi if you have to get somewhere late at night. Nonetheless, you should also keep an eye out for unmarked taxis.
Teaming up with other tourists is a good idea if you're traveling alone.
Consult with your travel agency or hotel concierge to stay abreast of any safety news and security updates.
Never keep all your cards in one place or carry a large amount of cash.
First-class bus companies have more stringent safety procedures. Therefore you should use them. Each passenger is screened at checkpoints along toll highways.
Beware of scams. Always be observant.
If you plan to visit a bar, drink responsibly and avoid accepting drinks from strangers.
Always follow your instincts; getting out of there is best if something seems off.
FAQs
Is Puerto Vallarta safe for LGBTQs?
Regarding the LGBTQ community, Puerto Vallarta is among the most accepting cities worldwide. According to the Global Travel Industry News, Puerto Vallarta is widely regarded as one of the friendliest and most polite cities in the world.
Is Puerto Vallarta safer than Cancun?
Tourists visiting either Puerto Vallarta or Cancun will be safe. Still, Cancun has seen an uptick in crime in recent years. Crime is mainly cartel-related, although it still impacts visitors.
The current crime rate in Cancun is roughly 60, making it far more dangerous than the nearby city of Puerto Vallarta. While Cancun is still a fantastic vacation spot, Puerto Vallarta is the better option for your safety.
Is Puerto Vallarta safe for women traveling by themselves?
Even if it's your first time visiting, Puerto Vallarta is a secure destination for women traveling alone. Puerto Vallarta is an excellent starting point if this is your first time leaving the country. It is still necessary to take the usual safety procedures.
What is the safest way to travel to Puerto Vallarta?
It is possible to fly directly to Puerto Vallarta and then take a taxi to your accommodation. It's also possible to arrange a car to pick you up from the airport by notifying the hotel of your flight the day before.
Is Puerto Vallarta's tap water safe to drink?
The city has a cutting-edge water purification system, so you may feel secure drinking the water straight from the tap. Unfortunately, some older structures may have outdated plumbing allowing dirt to leak. You should find out from the hotel if drinking water is okay.
What is the best time to visit Puerto Vallarta?
The greatest time to visit Puerto Vallarta is during the summer, April through June. The weather is pleasant, and there are many cheap places to stay. Nonetheless, the winter months of December to March are ideal if you want to go whale watching.
Is a trip to Puerto Vallarta a good idea?
There are several reasons why Puerto Vallarta is a favorite vacation spot. The price is low enough that tourists can afford to visit. Moreover, there are a ton of fantastic beaches here. Water sports and exceptional dining options are just two of many things to do here.
What is Puerto Vallarta's most common crime?
Being drunk in public is the most prevalent violation, whereas burglaries and car thefts are the most common significant crimes. Since police can immediately shut down traffic in either direction, carjackings are uncommon.
How long of a trip to Puerto Vallarta would you recommend?
Depending on your interests, a week in Puerto Vallarta is suitable for sightseeing and relaxation. This is the best time to visit Puerto Vallarta to see the city's highlights.
Bottom Line
So, is Puerto Vallarta safe to travel to? To sum up, the answer is yes. In general, Puerto Vallarta is a safe place to visit in Mexico.
Whether there has been an uptick in local crime in Puerto Vallarta or if there have been any recent natural catastrophes or travel warnings, staying abreast of the news will inform you. It is wise to consult the Mexican government's travel advisory website before booking a trip to Puerto Vallarta.
Whether you are traveling solo, with a partner, or just curious about one of the most inclusive communities for the LGBTQ worldwide, Puerto Vallarta has something for everyone. So, what are you waiting for? Plan your vacation right now!