Ladera Resort in Soufrière, St. Lucia, may be an incredible Caribbean luxury resort, but it is the splendor of the surroundings that has its guests enthralled. This is where unrivaled accommodations meet breathtaking vistas. The open-wall design of Ladera's 37 suites provides an unobstructed view of the luscious gardens, the magnificent Pitons, and the sea. The uniqueness of each suite having only three walls places guests amid nature instead of a mere room, which is why there are no televisions to interfere with all that Ladera offers.
All-inclusive packages are available, as is private butler service for certain suites.
The accommodations all come with private plunge pools and minibars. Because of its setting on top of a spectacular 1,100 feet cliff, Ladera Resort is not directly at Jalousie Beach, but there are shuttles available.
With its open design, Ladera Resort is a part of its own landscape – it can be difficult to discern where one starts and the other begins. Happy Hour at Ladera Resort is a true concept as guests gather at either the Dasheene Restaurant or the infinity pool to sip a cocktail and watch the sun set behind the 2,400 feet Pitons.
Ladera can be quite expensive, like other all-inclusive honeymoon packages. An alternative to Ladera in St. Lucia, is our top rates Sandals Grande St. Lucian, which offers an amazing all-inclusive and adult-only experience in St. Lucia as well.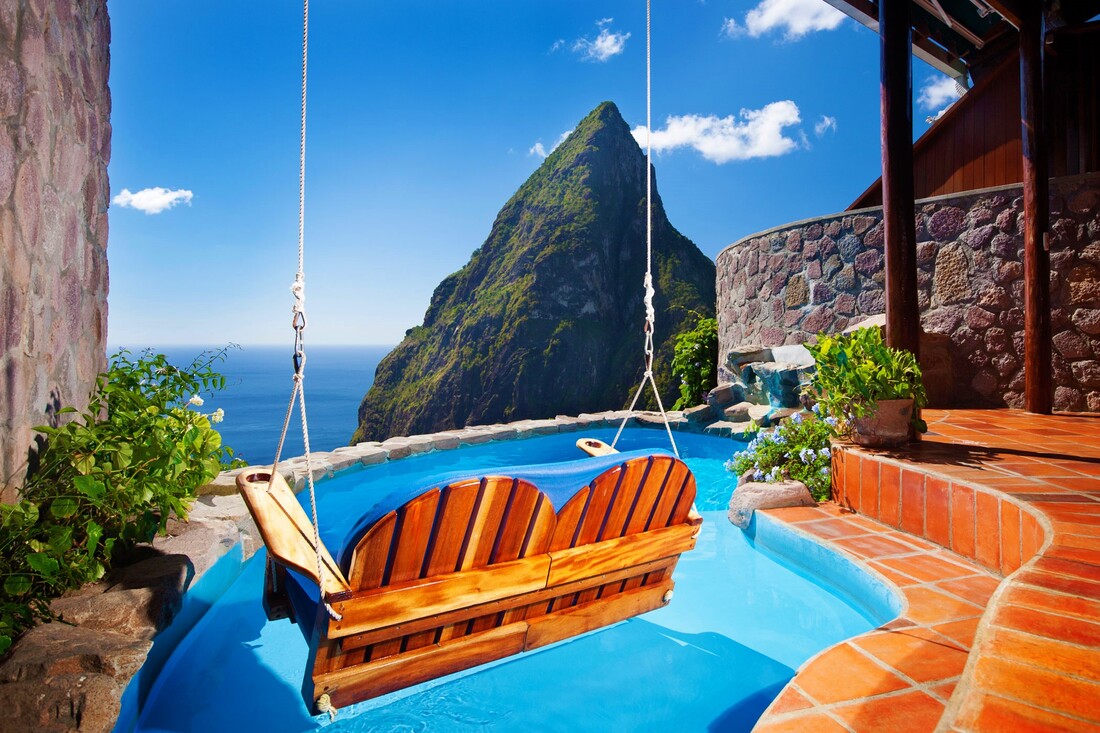 Visiting St. Lucia
Quite simply, St. Lucia is an island paradise. Where else can visitors find the grand and picture-perfect active volcanos such as the Pitons, lush rainforests, and the magnificence of the Caribbean Ocean? It is where couples come to celebrate their romance and families come for a once-in-a-lifetime getaway.
Visitors can seek adventure in ziplining, hiking up the Pitons, horseback riding, and sightseeing cruises. For quality relaxation, they relax on St. Lucia's wonderful beaches or in the healing hot sulfur springs and mud baths which have a positive effect on burns, joint pain, eczema, and arthritis.
Once guests have finished wallowing in the mud, they can take one of nature's own showers by standing beneath a spectacular 50 feet waterfall that cascades into a refreshing pool.
The best time to visit St. Lucia and the Ladera Resort is from December through April. The rate may be at its highest, but the weather tends to be perfect, unlike the rainy summer months.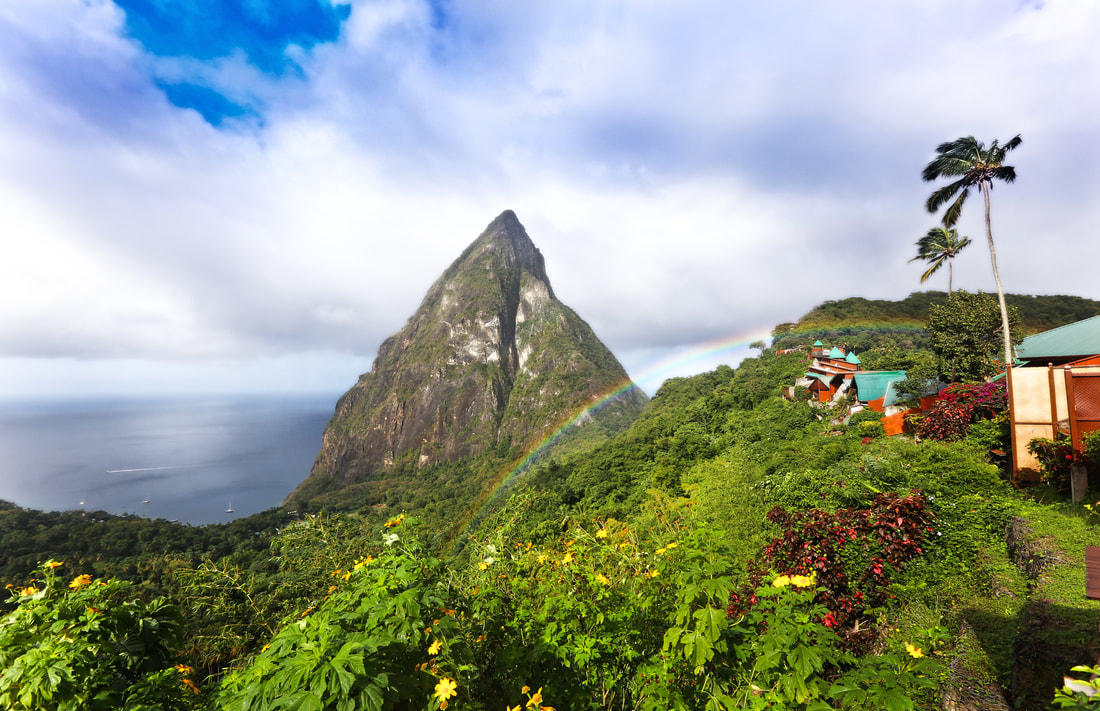 About Ladera Resort
Ladera has a unique history as a former cocoa plantation that has been transformed into a luxury resort. Its most enticing feature is its incredible cliffside view, which is enhanced by its westerly direction to view those inspiring sunsets.
It is an adults-only resort offering seclusion with an emphasis on romance and tranquility. The resort is not geared to meet the many needs of families with children. When not exploring St. Lucia, guests can lounge by the pool and enjoy a delicious cocktail and take in this fantastic Caribbean panorama.
The Ladera Resort has been voted the 2021 Readers' Choice Awards, the Top 40 Resorts in the Caribbean in 2022, and it is the sole Caribbean resort rated the world's best by Condé Nast Traveler.
Visitors to the Ladera Resort have the choice of two convenient airports. The Hewanorra International Airport at Vieux Fort is popular with international travelers. The George F. L. Charles Airport is located on the north side of St. Lucia and is mostly an inter-island airport. The resort is approximately 45 minutes from Hewanorra and over an hour from the George F. L. Charles Airport. Transfers to Ladera Resort from either airport are included in the price.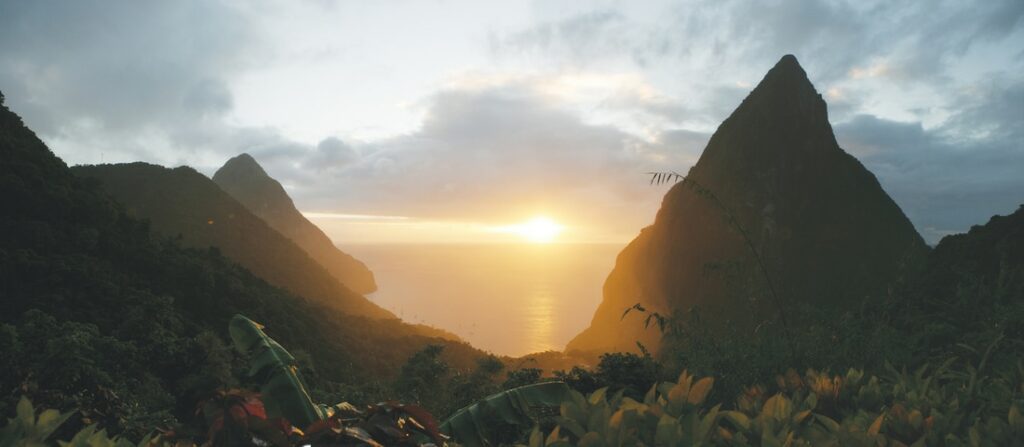 Accommodations
Every one of the 37 eco-friendly suites and rooms has an open-wall design to take maximum advantage of the stunning St. Lucian view.
Guests can enjoy the sheer indulgence of sipping their morning coffee by their private plunge pool with the majestic Pistons looming high in the background. Complimentary breakfast is available at the onsite restaurant, as are nonalcoholic beverages and the resort's signature cocktail.
Several of the suites, the Hilltop Dream Suite and the Heritage Suite, have 24-hour Butler Service. The Villa La Fleur has three floor-to-ceiling doors and a verandah for al fresco dining. Butler service is included. Every suite offers a beautiful design to match the view. Every moment at Ladera Resort is a feast for the eyes.
Dining at Ladera Resort
Ladera's restaurant, Dasheene, has local plantations that grow fresh farm-to-table produce, especially for the resort.
The chef delights the dinners with traditional dishes such as roast conch, plantain gratin with coconut rum sauce, sweet potato and coconut soup, and a Caribbean lamb salad. Every dinner is special as everyone enjoys a pre-dinner cocktail with music at the bar and a terrace view like no other.
The Wine Cellar has more than 2,000 bottles of the finest wines from South America, the US, and Europe with its own wine waiters.
Dasheene is open for breakfast, lunch, and dinner. Dress is casual, but bathing attire requires a cover-up. Dinner attire is elegant and dressy.
​Guests have a choice between several different dining packages. Breakfast is included with all suites accommodation. The "Half Board" dining package includes a three-course dinner, but not lunch or beverages. The "Full Board" package includes both a three-course lunch and dinner. The ultimate All-Inclusive plan includes a three-course lunch and dinner, non-alcoholic drinks, wine by the glass, beer, and house cocktails. There is an added charge for champagne.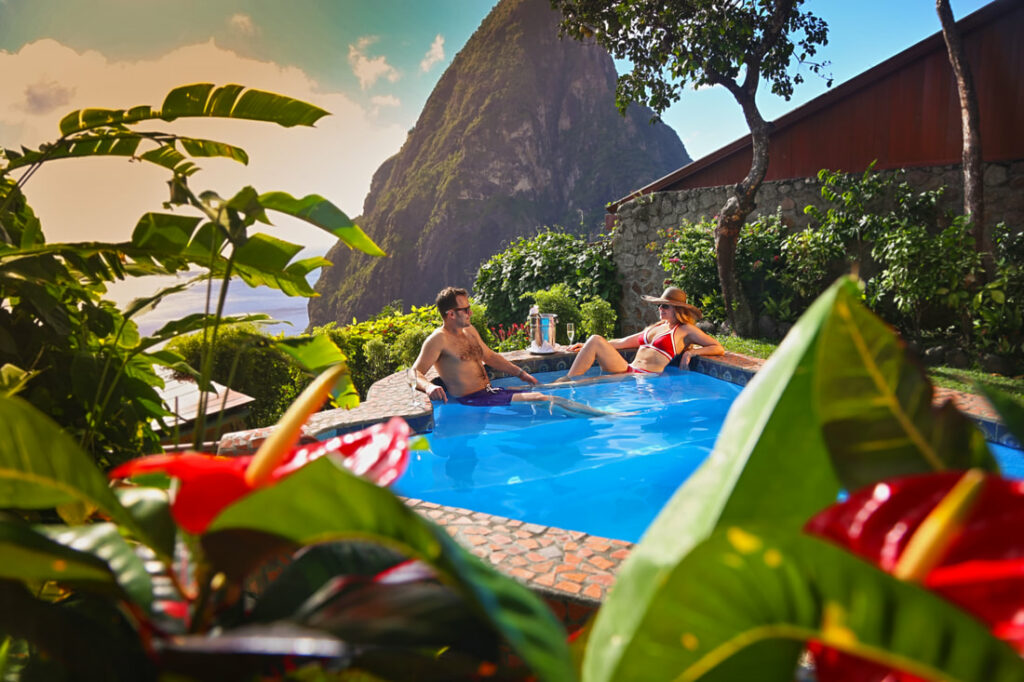 Spa at Ladera Resort
The Ladera Resort does have an onsite spa, but the favorite treatment takes place outside of the resort in the nearby Sulphur Springs and its sulphur mud. This is a special treatment by trained therapists who take the guests to Sulphur Spring (just five minutes from the resort) and help with a dip in the huge mud bath here. The minerals in the sulphur is highly therapeutic as dead skin is just scrubbed off, leaving the "bather" with nothing but smooth and highly hydrated skin. Keep a swimsuit handy.
Special Packages Available at Ladera Resort
The Beach Package:
This signature six-night, all-inclusive package at Ladera Resort and Cap Maison (another nearby luxury resort) includes:
Three nights at Cap Maison's Oceanview Villa Suite – which includes a private infinity pool.
Three nights at Ladera Resort's Heritage Suite with its heated pool and view of the Pitons and the Caribbean Sea.
All three daily meals are included at both resorts, as well as house wines and cocktails.
One-hour spa treatments at both resorts.
This package can be extended to eight or ten nights.
Christmas Escape:
Does Christmas have to include snow? Imagine the holidays, including New Year, at one of the most scenic places in the world. The Christmas Escape package includes a minimum of five or more nights through the holidays. Instead of getting chilled in the cold, get warm in a private heated pool. Breakfast, a special hike, yoga, and more are included. The available rooms for this package include the Petit Piton Suite, Gros Piton Suite, Rainbow Suite, Hilltop Dream Suite, and Heritage Suite.
Romance Package:
Ladera Resort is all about romance and was named one of Condé Nast Traveler's "16 Most Romantic Places to Stay in the World." It is Instagram-made for weddings and wedding proposals with the sea and the Pitons in the background. An affair to remember? Yes, for the rest of your life.
The Wedding Package includes six nights at either the Heritage Suites, Suite at Paradise, or the Villa at Paradise. In exchange, Ladera Resort will arrange a free wedding with a wedding planner, document fees, wedding officiant, and, if needed, a witness.
The wedding planner will arrange for a bouquet and boutonniere, wine, a two-tiered wedding cake, a wedding night turndown, and an in-room breakfast with mimosas,
For a proposal package, the resort can arrange for up to 100 online images that can be downloaded for friends and family.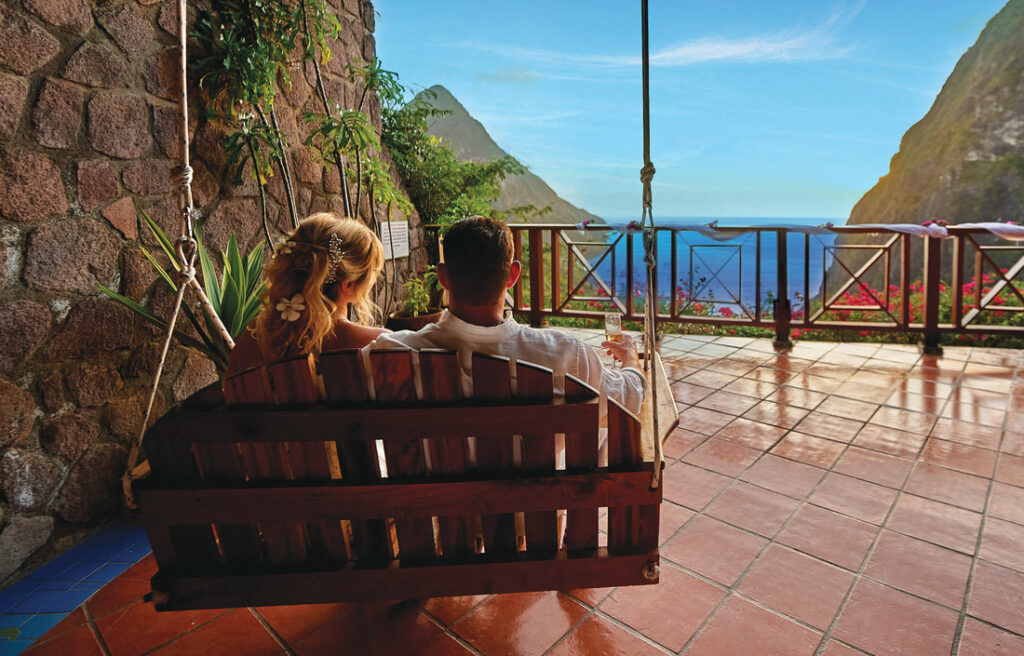 Things to do at Ladera Resort
Guests come here to experience the culture and uniqueness of this piece of paradise. Undoubtedly, the favorite trek is up the Piton trail.
A guide will escort guests around the wondrous gardens and surrounding nature trails. The wellness gardens aren't simply comprised of beautiful blooms. In a special tour, the head gardener will guide the resort's guests through the fruit orchards and spice gardens and discuss how the kitchen uses these daily.
Guests can enjoy the soothing effects of outdoor yoga and sunrise meditation. Mixology classes to create the perfect cocktail are also available, as are cooking classes with the chef.
​The Friday Fish Fry in the village of Gros Islet is very popular. It's a traditional street party, so guests will see plenty of food, drinks, and entertainment. The resort will arrange for the boat trip to Gros Islet.
Ladera Resort will take guests on snorkeling and sailing expeditions. On the return trip, sit back, sip champagne, and indulge in some delectable hors d'oeuvres. There are four, six, and eight-hour fishing tours, and the chef will be happy to prepare any catch of the day for you. Exciting whale-watching cruises and romantic sunset cruises with the majestic Pitons in the distance can also be arranged.