With its crystal turquoise water and a mile and a half of golden sand, Makena Beach in Maui is one of the largest and most popular beaches on the popular island. The beach is a part of Makena State Park just south of the Wailea resorts, upscale condos, and championship golf courses. To get to the beach, head south of Wailea, head southwest on Wailea Alanui Drive, and follow the signs.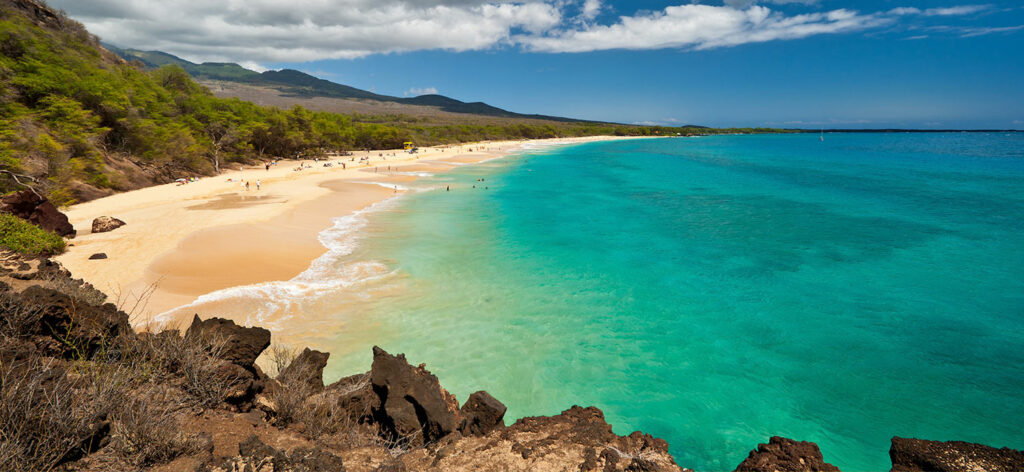 About Makena Beach
Makena Beach is nestled between two black lava hills rising to the surface, making it more peacefully secluded than beaches in Kaanapali and Lahaina. The two major Makena beaches, Big Beach and Little Beach, are separated by a path.
The beach is still underdeveloped and in a beautiful natural state. There are restroom facilities, picnic tables, and trash bins, but few other signs of civilization than a food truck. Makena Beach is the place to go when you want to leave the crowds behind.
Big Beach is 3,000 feet long and is situated by the dormant volcano cone, Pu'u Ola'i. The indigenous Hawaiians used to fish here, and fishermen still come around. Humpback whales can be seen between November and March as they escape the cold waters of Alaska to give birth. Visitors can grab a pair of binoculars and watch this wonderful spectacle as whale songs are heard from a great distance. For an even better view, visitors can take a whale watching tour from Makena Beach with a pickup service from the Wailea resorts. See the whales in action as they jump out of the water before preparing to give birth to a new generation of majestic mammals. It's a truly awe-inspiring sight.
Little Beach is just as stunning as Big Beach, with the slight difference being that Little Beach is clothing-optional – and most visitors opt for no clothing. The nude bathers comprise a tight community and are welcoming to anyone curious about the lifestyle. Little Beach cannot be spotted from the road, so privacy is assured. 
People visit these beaches for great watersports. They are the best place in Maui for body boarders and body surfers. Big Beach has larger waves, so consider Little Beach the place for your watersports before wandering to Big Beach, where visitors will find lifeguards. Still, swimmers should be careful of the strong undertow, and children should not be left unsupervised. There are no lifeguards on Little Beach.
For family fun at Big Beach, Maui Kayak Adventures offers kayak tours along the Makena coastline to Maui Turtle Town as everyone revels in the sights of Haleakala Summit, Molokini Crater, and the West Maui Mountains. More importantly, the tour is an opportunity for visitors to snorkel with the green Hawaiian Sea Turtles. Makena's White Rock Beach with its calm, shallow waters is home to several turtle nesting sites.
Makena State Park's One'uli Black Sand Beach is a haven for nature buffs. The black sand is the result of black lava from the volcano, which turns hard as a rock by the water. Black Sand Beach is not a relax-in-the-sand beach; however, it is a superb snorkeling beach due to the abundant marine life, including turtles. It is advisable to wear shoes while walking on the sand or the hard lava. Children especially are intrigued by the unusual sand.
Resorts by Makena Beach
All resorts are close to Wailea and approximately two to four miles for Makena State Park.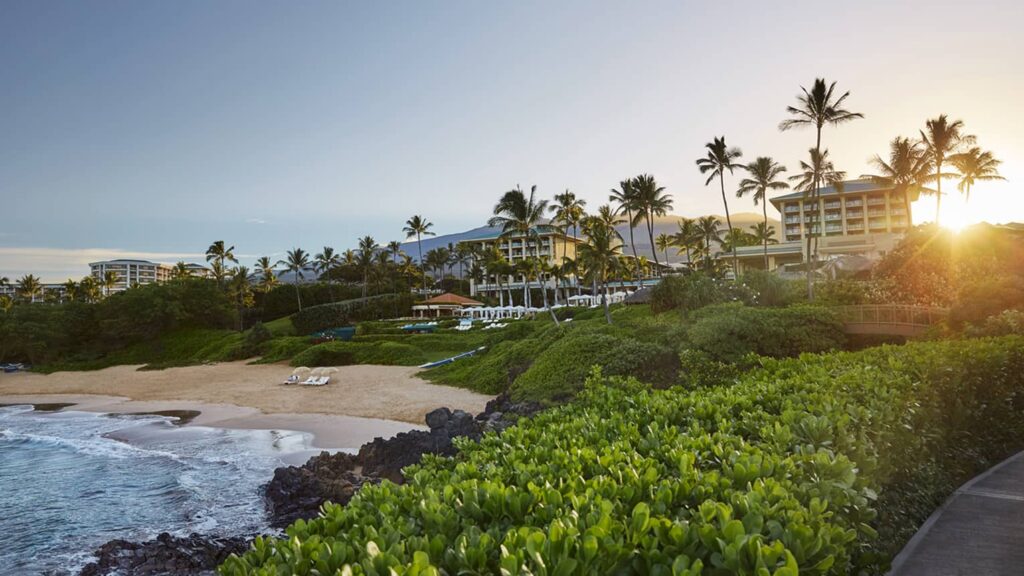 The Four Seasons at Maui Wailea offers luxury accommodations and is perfectly situated for exploring the island of Maui.
Accommodations
All luxurious suites have an ocean, garden, or mountain view. Guests can enhance their visit with a stay on the Club Floor, which includes an exclusive private lounge for breakfast, afternoon tea, or a cocktail in the evening while the sun sets. A dedicated concierge will see to each guest's comfort. All suites on the Club level have an ocean view. A few extra touches can add a lifetime of memories to one's getaway.
Dining
The Four Seasons at Maui offers indoor, poolside, and beach dining, and Christian Navarro, known as the wine therapist to the stars, will help with the best alcohol pairing. Chef Wolfgang Puck's Spago serves one-of-kind Hawaiian and California fusion, along with one of the island's most stunning views.
Spa Experience
The spa is available for soothing rejuvenating treatments. A huge favorite are the open-air hut massages by the ocean.
Activities
Guests can play golf and croquet as well as look forward to the nightly hula and torch-lighting entertainment on the beach.
Snorkeling and scuba diving are favorite watersports. Or guests can laze by the pool or in a cabana, where food and beverages will be served, and mini-spa treatments are available. The staff can arrange whale watching and other tours.
---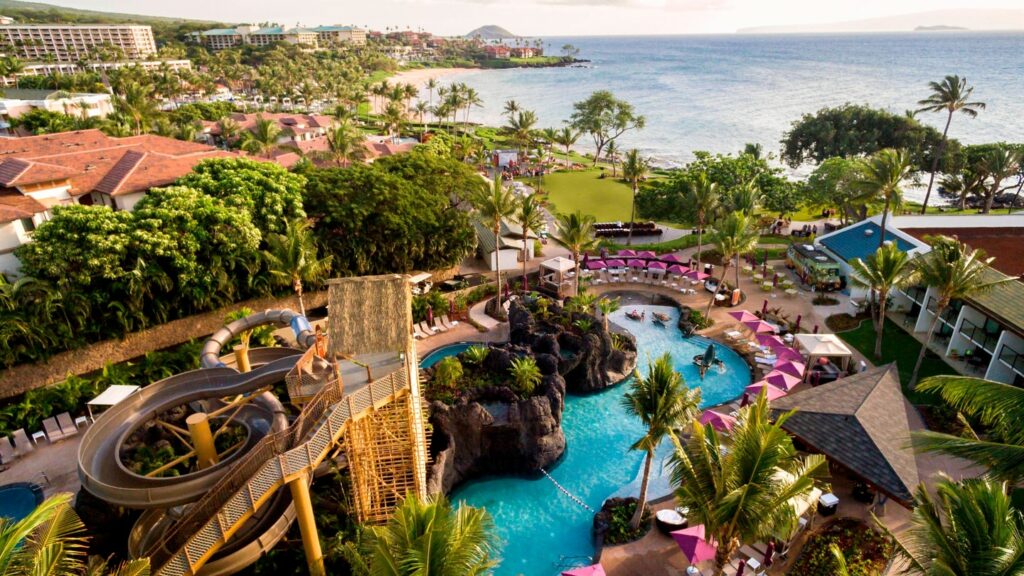 Wailea Beach Resort is just a few steps from the ocean and effortlessly combines luxury and comfort, all with exhilarating views of the Maui sunset. Guests can soothe themselves to sleep to the sound of waves crashing outside their suite. To enhance Maui's great outdoors, the resort has added sundecks to many of its ground-floor rooms, increasing both the indoor and outdoor living space.
Accommodations
All the rooms have a private balcony; the 62 ground-level rooms have additional outdoor lanai space. The rooms have either an ocean, garden, or mountain view.
Dining
Guests can take advantage of a large variety of dining options. The Humble Market Kitchin serves Hawaiian-style dishes with a view of the beach. There is KAPA Bar & Grill for casual dining and a view of the mountains. Or guests can visit the Whale's Tale for smoothies and special cocktails during the sunset.
The NALU pool bar serves tropical and frozen cocktails, and the Sunset Bar has cocktails from sunrise to sunset.
For a truly romantic touch, couples can enjoy a floating cabana by the beach while an attendant sees to every needed comfort.
Spa Experience
The Mandara Spa, which overlooks the ocean, offers massages and wraps. There are four couples' rooms, a steam room, and in-suite massages as also available.
Activities
The Maluhia Pool at the resort is adults-only with floating cabanas with an unobstructed view. The NALU Pool has floating cabanas for the entire family, as well as water slides and splash zones. Scuba lessons are available in a designated portion of the pool. There is a food truck nearby for kid-friendly meals and snacks.
The Wailea Beach Resort can arrange snorkeling and turtle-swimming tours. Equipment for paddleboarding, kayaking, and canoeing is available.
One of the most unforgettable experiences at the Wailea Beach Resort is its Te Au Moana Lu`au.
This traditional luau includes a genuine Hawaiian celebration, dances, and music. The music and dances bring to life centuries-old Polynesian stories passed down with each generation. Guests can feast, dance, and indulge in this experience that is unique to the resort.
---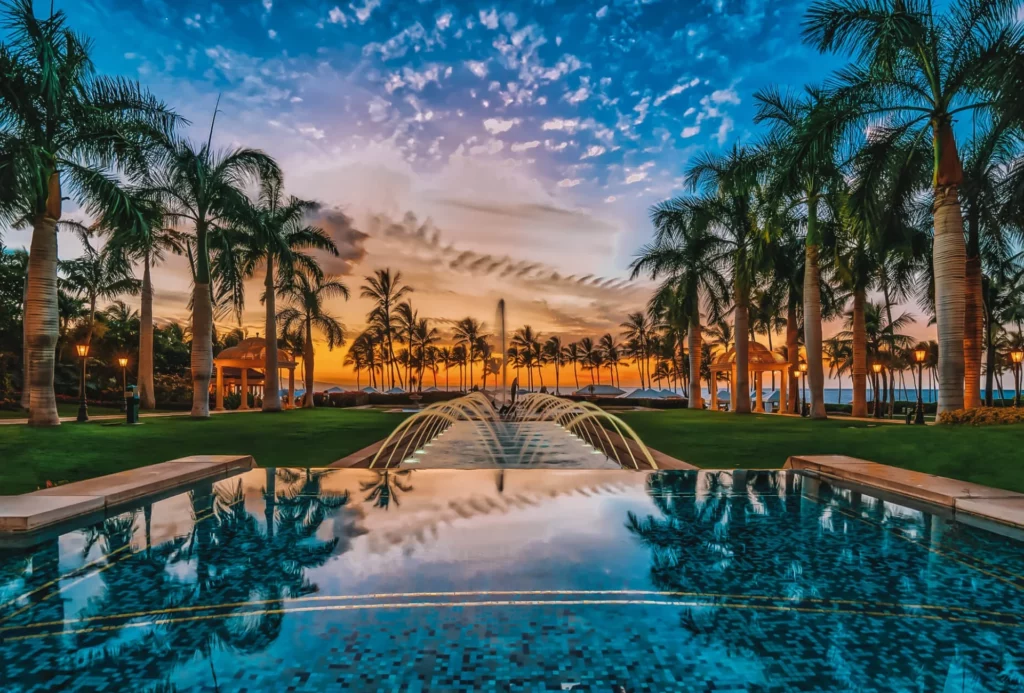 Grand Wailea is committed to protecting Hawaii's natural resources through water and energy-saving measures. Most of its food is locally grown, and by working with nature, the Grand Wailea is conserving its own natural environment, 40 acres of fabulous tropical greenery. It offers nine pools, tennis, and championship golf.
Accommodations
The Grand Wailea has three different types of accommodations. Rooms and suites have a private balcony with an ocean or garden view and can be upgraded to luxury suites.
The Hoʻolei Villas (all with an ocean and/or garden view) is located next to the resort and can sleep up to eight people – ideal for families. They have a separate living area and a large kitchen.
The Napua Rooms and Suites are special, elegant, enhanced rooms on the upper level of the resort. Guests of the Napua Rooms enjoy their own dedicated concierge and three meals a day in their personal private lounge, in addition to cocktails, hors d'oeuvres, and coffee throughout the day.
Dining
Humuhumunukunukuāpuaʻa offers traditional beachfront Hawaiian dishes, and guests don't even have to spell or pronounce it before enjoying a meal here. Aloha Trick Pony serves Hawaiian-style barbeque.
Wailea Surf Haus, the resort's beach bar, serves light meals and strong cocktails. The Grotto Bar is hidden in caves within the garden alongside a fabulous cascading waterfall, and a pool. They also serve light meals and cocktails.
The Grand Wailea's Lū'au consists of a traditional Hawaiian ceremony on the beach with music, dance, and authentic foods such as kālua pig and poke. Guests can also take hula lessons.
Activities
The Hotel Cafe used to be an ordinary coffee shop until it grew into a small but respected music venue visited by artists such as Billie Eilish, Adele, Lord Huron, Kate Perry, and others. The intimacy of the small setting adds to its popularity and charm.
The concierge will help arrange excursions such as golf games at the Wailea Golf Club, ziplining over Maui's waterfall, horseback riding, hiking through the rainforest, as well as fabulous diving and snorkeling tours along the scenic coastline.
---
More articles on Hawaii: