Oahu is one of Hawaii's four main islands and attracts over 3 million visitors annually, with good reason. It is a lush tropical island with some of the most incredible volcanic landscapes and a U.S. state, meaning Americans don't need a passport to visit. This makes an Oahu honeymoon one of the most desired destinations for newlyweds.
This Hawaiian island offers some of the most popular beaches, luxurious resorts, and unique experiences in the state. You can enjoy everything from a couples massage in the middle of a zen garden to a rigorous hike up an inactive volcano. There is something for every type of honeymooner to enjoy, whether you're a couple of adventure seekers or simply like to enjoy each other's company in a beautiful setting.
If you are planning an Oahu honeymoon or want to get an idea of what it would be like, this guide will go over everything you need to know. You will find your dream resort or hotel, things to do, when to go, and how to get to Oahu. All that will be left to do is say your I dos and pack your bags.  
Best Resorts for Your Oahu Honeymoon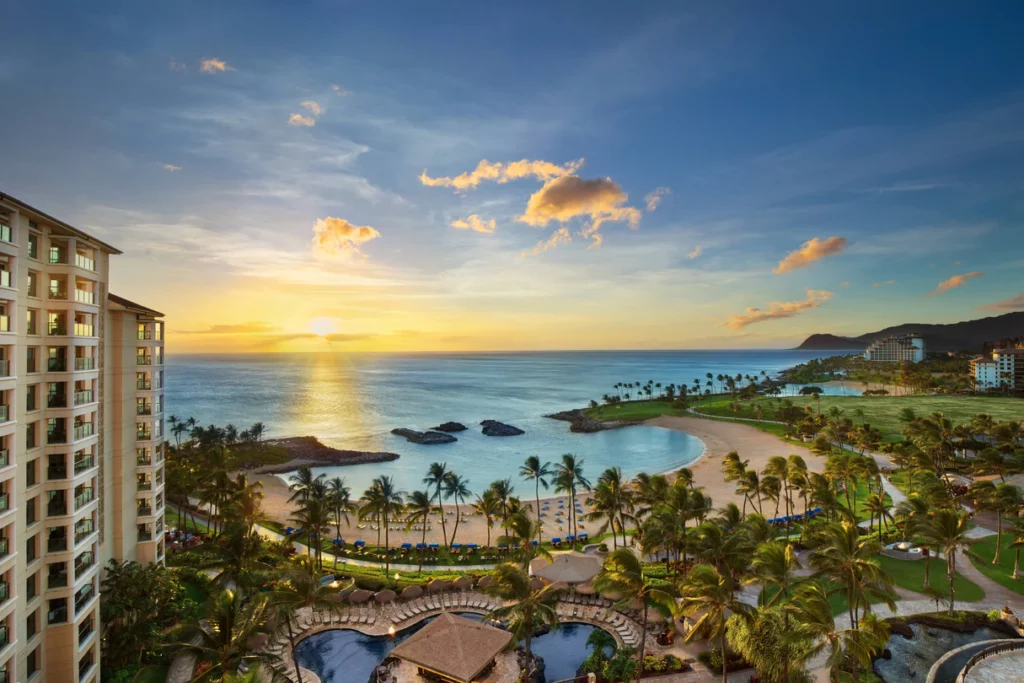 Situated on a private bay and only 30 minutes from Honolulu, Ko Olina Beach Club is in the perfect location to feel secluded but not too far from what's happening. You can choose from roomy villas with their own kitchens and multiple bedrooms. They also have guestrooms with separate seating areas with spectacular mountain or ocean views.
The resort is gated with three restaurants, plus a lūʻau every Tuesday, where they serve authentic Hawaiian cuisine and a traditional Polynesian show. You can enjoy four different pools at this resort and an assortment of amenities, like an 18-hole golf course and an oceanfront spa.
---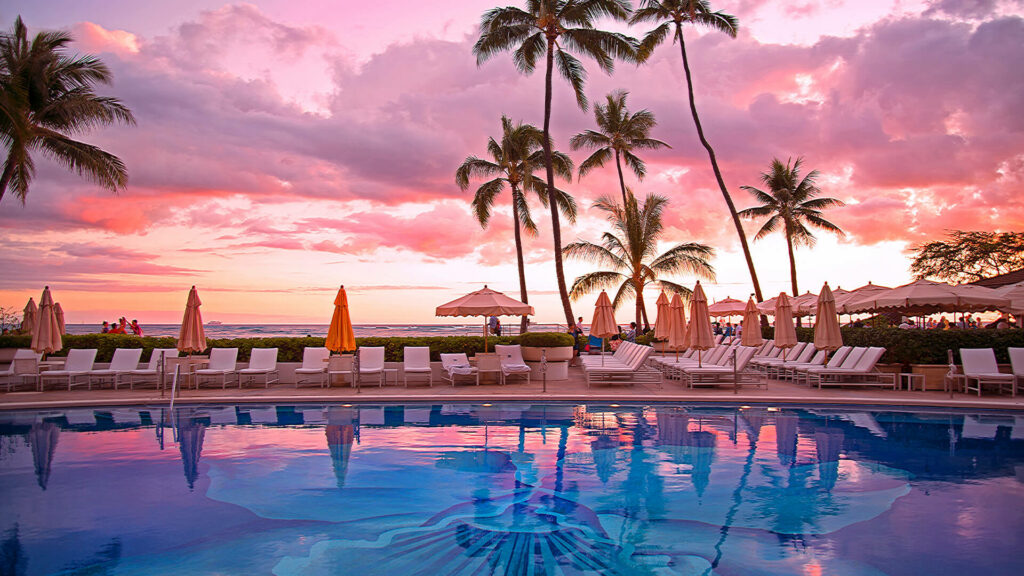 Halekulani is the most luxurious hotel on this list. It has been around for over 100 years, and the service they provide shows it. With programs like "for you, everything" and "the art of surfing," you won't have to plan anything during your stay. They also practice "the art of wellbeing," a program where they customize nature activities, meals, spa treatments, and cultural experiences for you.
If that isn't enough, their rooms and suites are sure to intrigue you. Most of their 453 rooms have ocean views and a serene contemporary design. Whether you choose a premier suite or a standard guestroom, you will feel immersed in luxury.
---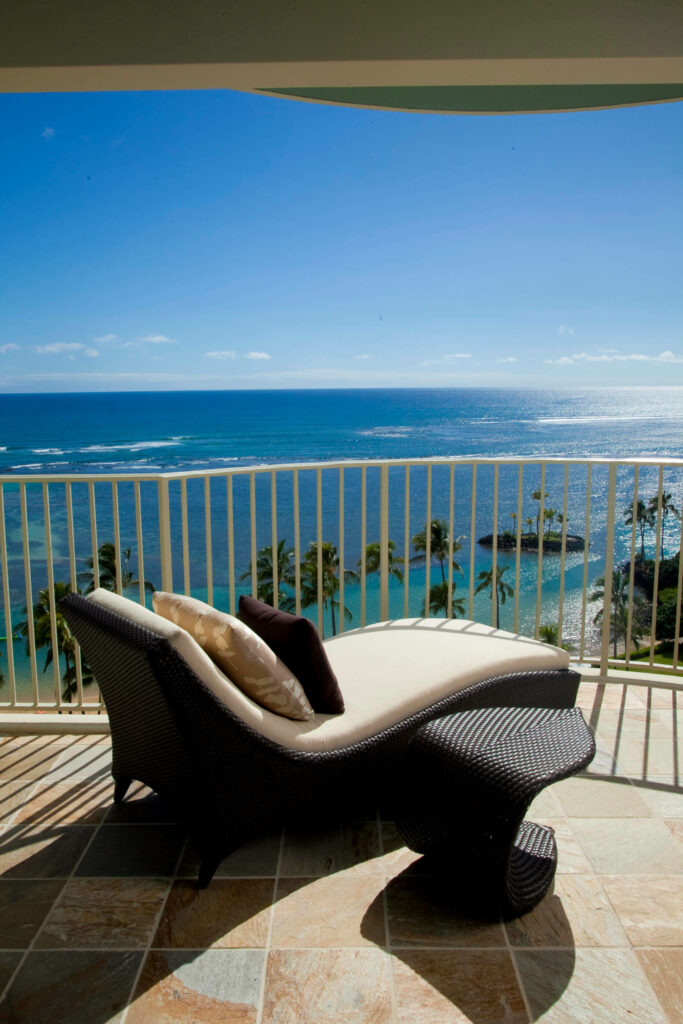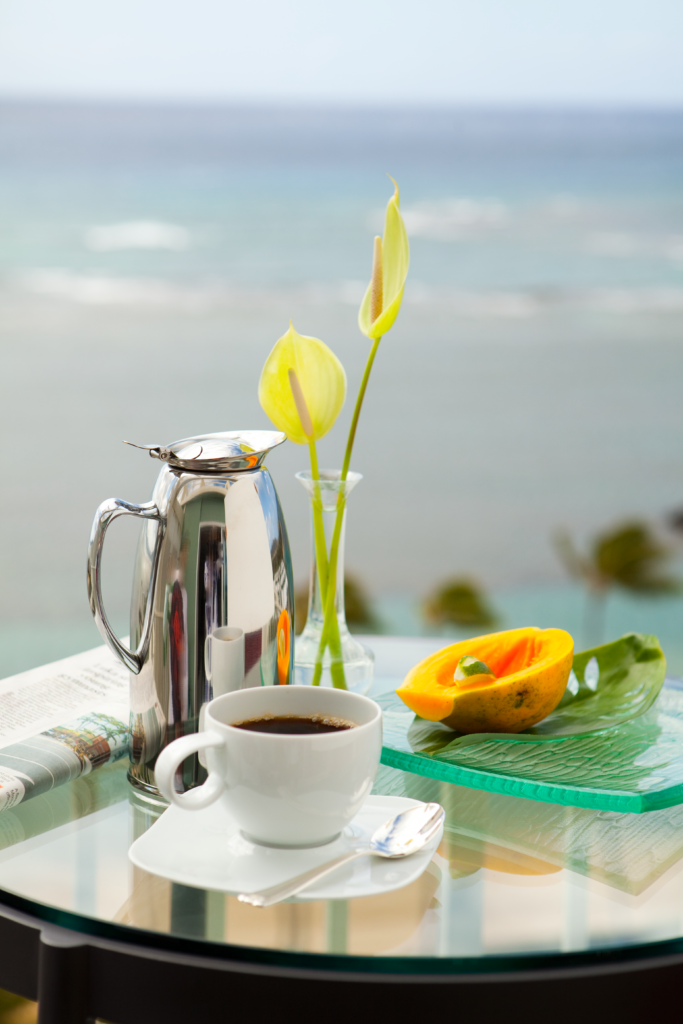 Kahala has so many amenities and activities that you will never have to leave the resort. You can experience everything from dolphin encounters to scuba diving here. They also provide in-room amenities upon request, like floral arrangements, champagne, and chocolate-covered desserts. If there is something that you do want to leave the resort for, they have a free shuttle.
All of the rooms at Kahala Hotel have awe-inspiring views with large balconies and glass sliding doors. The rooms are also extremely spacious, with a separate sitting area and an enormous bathroom featuring double sinks, a tub, and a separate shower.
---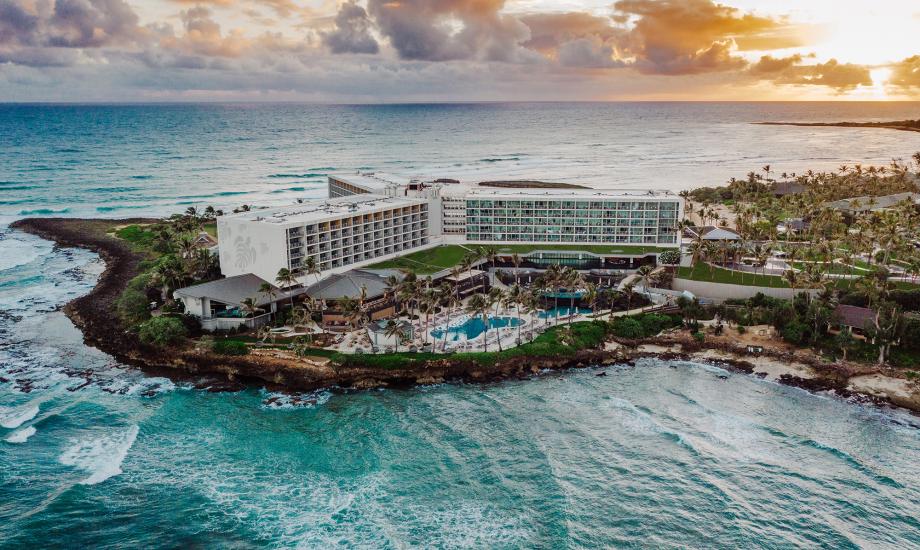 If you've watched the movie Forgetting Sarah Marshall, you may have heard of this resort before. Yes, it is the same resort. Turtle Bay is located along the North Shore, known for its fun surf and spectacular diving. You'll get a unique experience at Turtle Bay with activities you won't find anywhere else, like surfing with a dog and a multi-island helicopter tour.
This resort offers seven different restaurants, a weekly lūʻau, hiking trails, pickleball and tennis courts, and more. You can choose between secluded ocean bungalows, large suites, standard guest rooms, or villas with all the comforts of home.
---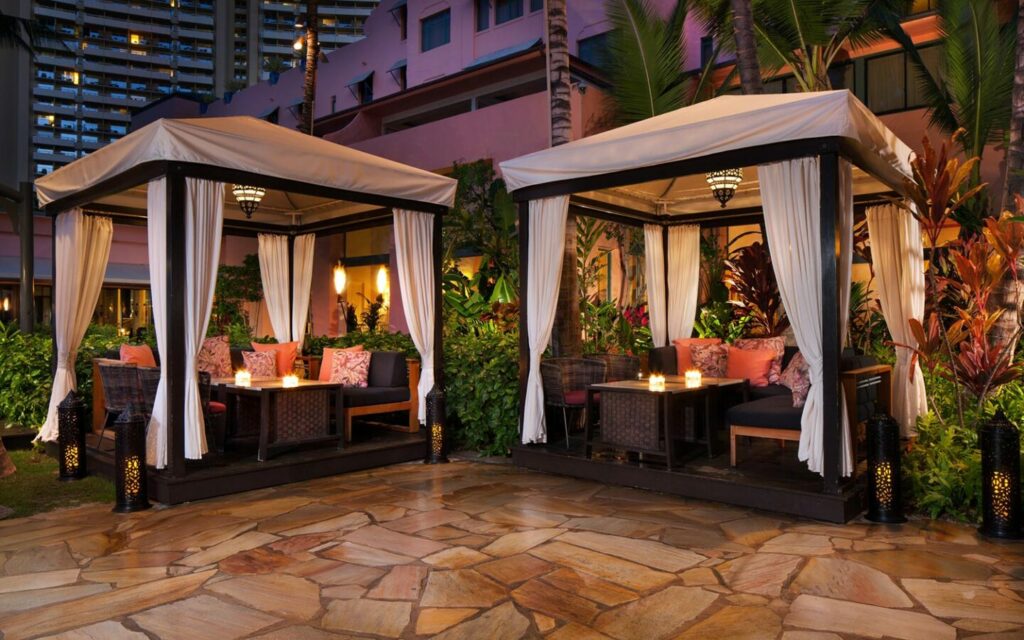 Also known as the Pink Palace, the Royal Hawaiian has all the island charm you expect in Oahu. You can choose from historic rooms that give you colorful, colonial vibes or more modern contemporary rooms in the tower. There is an option to add extra romantic amenities to your room, such as Hawaiian flowers, wine, desserts, and more.
You can experience the Hawaiian culture at the resort with a lūʻau twice a week, surf lessons, a Hawaiian history tour, and lei-making classes. Their spa is also remarkable, being located within its garden with a private outdoor setting. If you are looking for more of a beach experience, parasailing, catamaran cruises, snorkeling, and other activities are all available right from the resort.
About Oahu
Oahu is one of the smallest islands of Hawaii but the most visited island by tourists. Hawaii's capital, Honolulu, is on Oahu and is the most populated city in the state. You will also find the main campus of the University of Hawaii here.
This island has some of the most dramatic landscapes and remarkable history out of all the Hawaiian islands. To such a degree that Oahu has been home to many famous film productions, such as Pirates of the Caribbean, Jurassic Park, The Hunger Games, and much more. There have been so many movies and shows made here that you can actually take a tour through all of the filmed locations.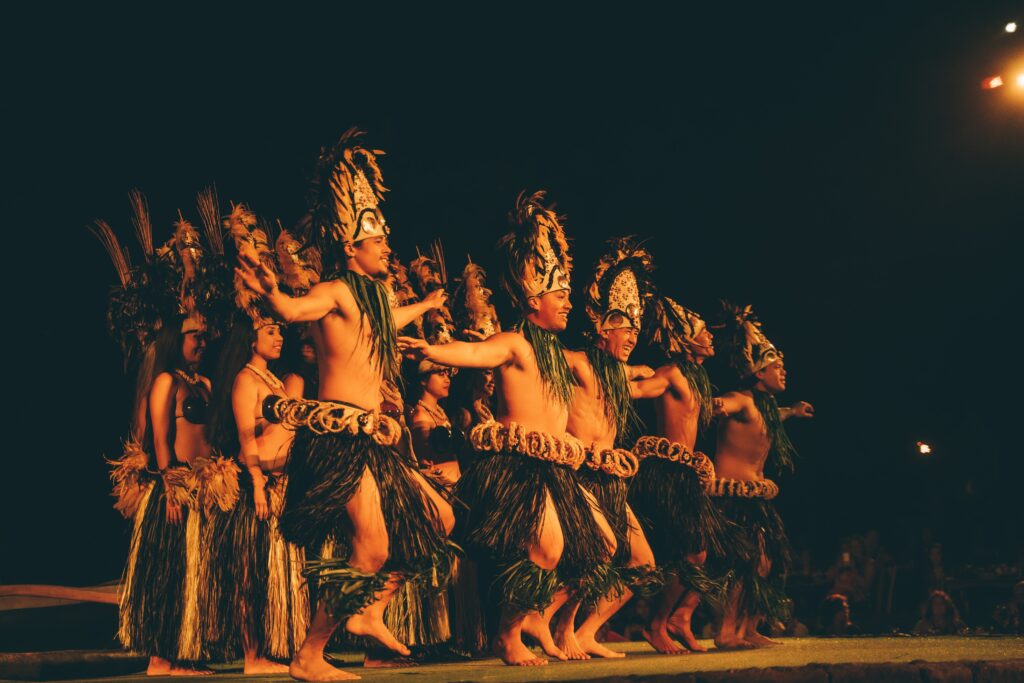 Like the other islands of Hawaii, Oahu is significantly persuaded by the Polynesian culture, as Tahitians were the first to colonize the islands around 500 AD. Polynesian-inspired lūʻaus are a popular cultural experience with traditional food like pork, pineapple, and poi (a mash made from taro root). You will also see Asian influence throughout the island with Buddhist temples, delicious sushi, and one of the first Chinatown districts in the U.S.
Top Things to do on Your Oahu Honeymoon
Oahu is full of so many exciting activities and history that you could spend a month here and still not have seen it all. From hiking to the top of a dormant volcano to visiting famous film locations, there is something for everyone. Make your trip as exhilarating or as relaxing as you would like.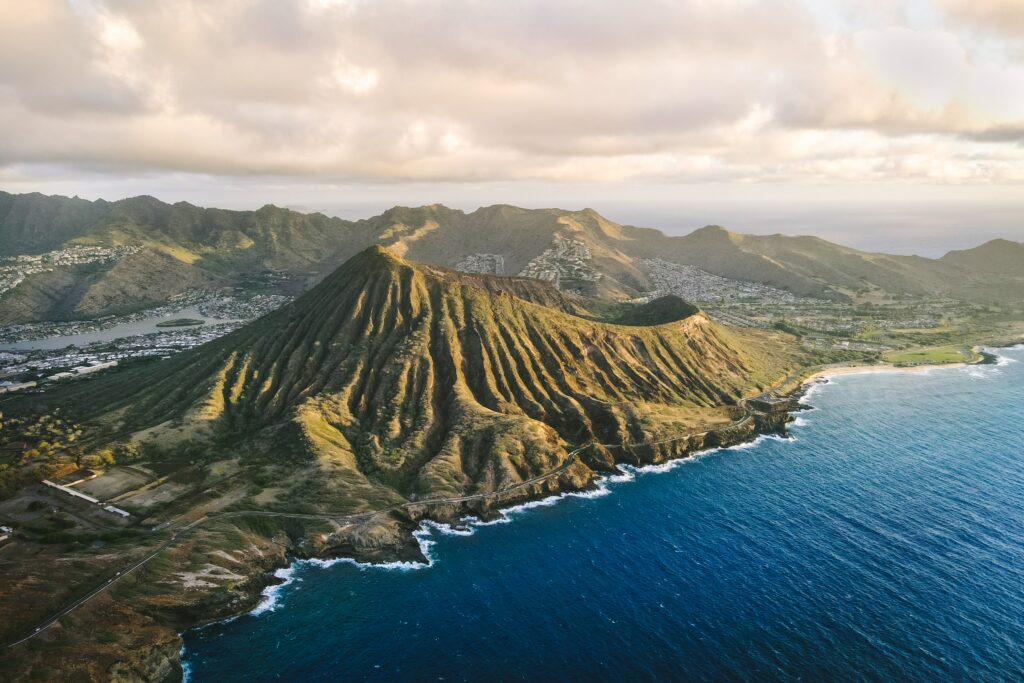 Hike Diamond Head
Visit Pearl Harbor National Memorial
Check out the Byodo-InTemple
Visit Waikiki Beach
Take a helicopter tour
Whale Watching
Surf on the North Shore
Dive into the culture at Bishop Museum
Check out the famous film location, Kualoa Ranch
Snorkel at Laniakea Beach to swim with sea turtles
Hike to Manoa Falls
Set sail at sunset on a catamaran
Feast at a traditional lūʻau
Kayak off the shores of Kailua Beach
Take a horseback ride along the beach
Average Cost of an Oahu Honeymoon
Hawaii is a destination you can visit on a budget or create a luxury-filled honeymoon. For a one-week honeymoon in Oahu, a couple can expect to pay between $3,000 and $6,500. The price will vary depending on how much luxury you choose on your honeymoon and how much you plan to spend on activities and tours.
Best Time for an Oahu Honeymoon
To avoid poor weather and massive crowds, the best times to visit Oahu are from early April to late May and from September to early October. Visiting at these times avoids the spring and summer crowds and the rainy season.
You will also find some of the best rates during these months due to the lower demand for tourism. Flights, hotels, and sometimes activities can be found at nearly half the cost of peak seasons, like the summer.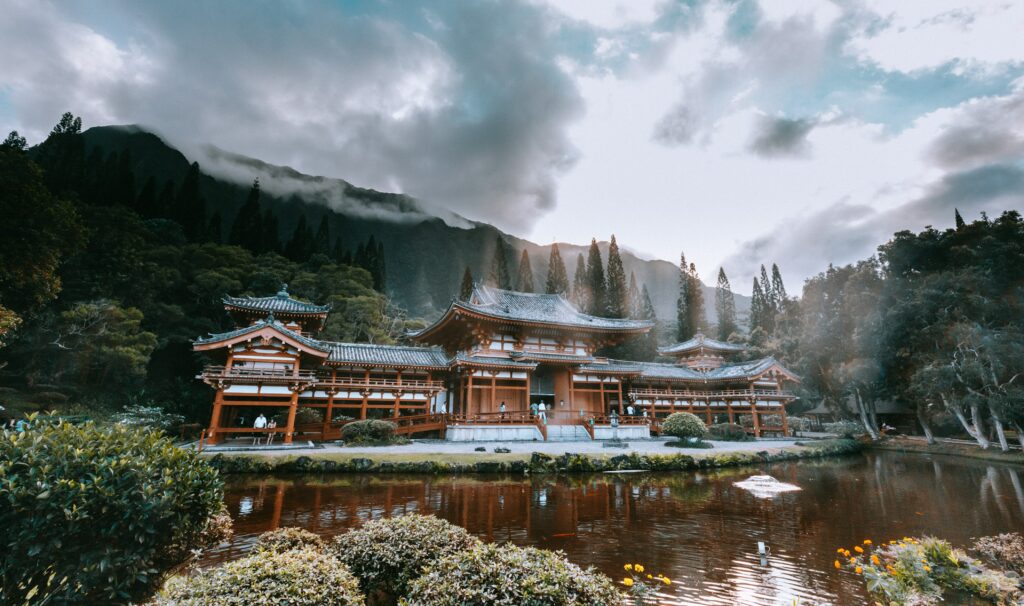 Weather in Oahu
Oahu tends to have warmer weather year around, but you should be cautious of the rainy season from November to March. The warmest months in Oahu are from June to October, with the highest average temperatures being 87° Fahrenheit and 76° at night. From November to May, temperatures can drop to 79° during the day and 68° at night.
Getting to Oahu
Oahu is a very accessible island with the largest international airport in the state, The Daniel K. Inouye International Airport (HNL). It may take some time to get there because it is essentially in the middle of the Pacific Ocean. However, you should be able to get there easily and with few or no layovers with over 20 airlines that fly into the airport.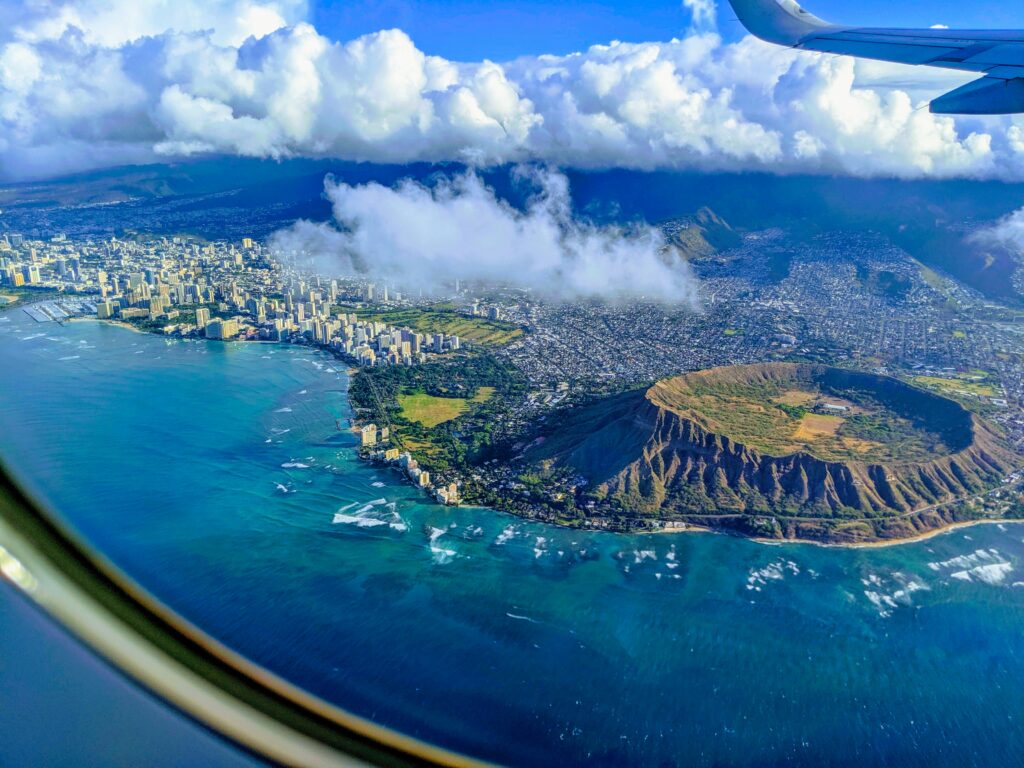 Oahu's Airports:
Daniel K. Inouye International Airport (HNL)
Kalaeloa Regional Airport (JRF)
Dillingham Airfield Public Airport (HDH)
Approximate Flying Times to Oahu:
New York: 11 hours
Los Angeles: 5 hours and 45 minutes
Canada: 7 hours
Europe: 15 hours and 40 minutes
Australia: 9 hours and 40 minutes
China: 10 hours and 40 minutes
South Africa: 23 hours
Japan: 8 hours and 30 minutes
India: 16 hours and 30 minutes