Jamaica has a great tropical climate that is perfect for a vacation getaway, with its dry season spanning from December through April. Ocho Rios, one of Jamaica's most popular resort towns, is where couples go to get pampered in luxury resorts and enjoy great food, and magical beaches.
The city may be best known for the scenes filmed there for the first Bond movie, Dr. No. Some of Ocho Rios' stunning sights include Dunn's River Falls and climbing Mystic Mountain.
Mystic Mountain is an unforgettable part of Ocho Rios' rainforest. Exploring up to 700 feet above sea level is the perfect way to release some adrenaline. Getting to the top provides hikers with the best view of Ocho Rios. Or zipline above the canopy for a special perspective, then stay awhile and visit the restaurant located here as well as the infinity pool.
Once visitors are down the mountain, they can swim with the dolphins in Dolphins Cove. Ocho Rios is filled with romantic possibilities.
Couples can elevate their getaway in Ocho Rios by staying in one of its adults-only, all-inclusive resorts. Guests pay once for all meals, premium drinks, and major activities and never need to worry about the cost of anything within the resorts. No tipping, no hassles. One payment takes care of it all. Below are some of Ocho Rios's finest luxury all-inclusive, adult-only resorts.
Sandals Royal Plantation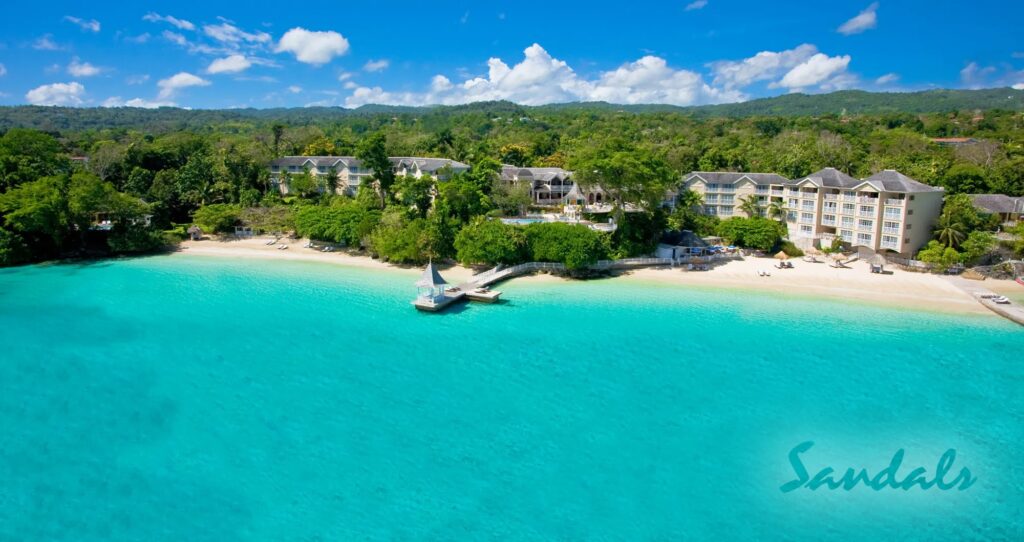 Sandals Royal Plantation offers the ultimate in luxury. This adult-only, all-inclusive, all-butler resort has 74 suites with a breathtaking garden or ocean view. This is where to enjoy the beginning of some pampering while a dedicated butler sees to your every need.
This gem of a resort has a country-club vibe with its manicured lawns, roving peacocks, elegant afternoon tea, and nearby golf that received a four-star rating from Golf Digest. Meals, premium liquor, and snacks are included.
While Sandals Royal Plantation has five excellent restaurants that include French dining and a British pub, guests also have access to 16 other restaurants in other, nearby Sandals resorts. That is a choice of 21 unlimited dining options. Of course, the 22nd option is a private, candlelit dinner anywhere in the resort.
The all-inclusive feature includes scuba diving certification and other watersports such as kayaking, snorkeling, and windsurfing. On land, guests can enjoy tennis, a pool, and a full-service fitness center. The resort's Red Lane Spa continues the pampering with a steam room and pool. Couple massages are available in private areas of the gardens. 
Sandals Royal Plantation will arrange tours to all the major local attractions, including the fabulous Dunn's River Falls. 
---
Sandals Ochi Rios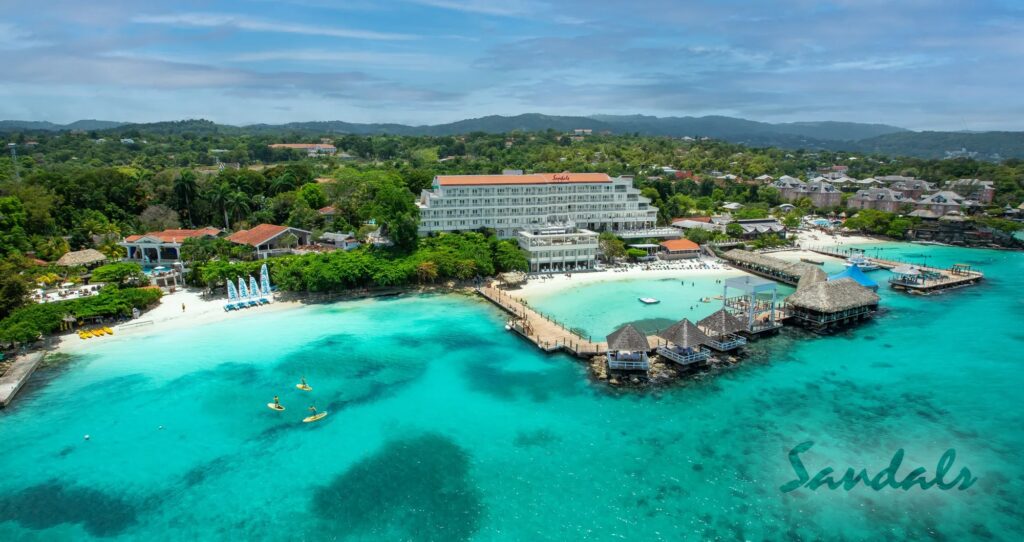 Sandals Ochi Rios is a 100-acre Garden of Eden by the Caribbean, with villas, suites, and rooms, including a Butler Village for total indulgence. The Ochi Beach Club includes entertainment and food – everything a couple looks for in a memorable getaway. For couples who are searching for their perfect Jamaica honeymoon destination, Sandals Ochi Rios has a special three-day package to "test the waters." They are certain the couple will return, and there is an over-the-water wedding chapel waiting for them. Afterward, they can opt for one of the private cabanas within the gardens or the beach that have comfortable beds and total privacy – the only interruption will be a private butler serving food and drinks.
The resort has 16 eateries. A fun touch is the Caribbeans' first 1920-style speakeasy called The Rabbit Hole. It requires a special password to enter and take advantage of the entertainment and special cocktails inside. Guests are safe as it hasn't been raided yet.
There are two spas in this large resort, each providing rejuvenating massages while the fitness center has complimentary tennis and physical training classes for those wishing to get in shape. A golf course is nearby, and watersports such as diving certification, snorkeling, sailing, and paddleboarding are unlimited.
In the evenings, Sandals Ocho Rios lights up with live entertainment and beach parties with fire dancers.
---
Couples Sans Souci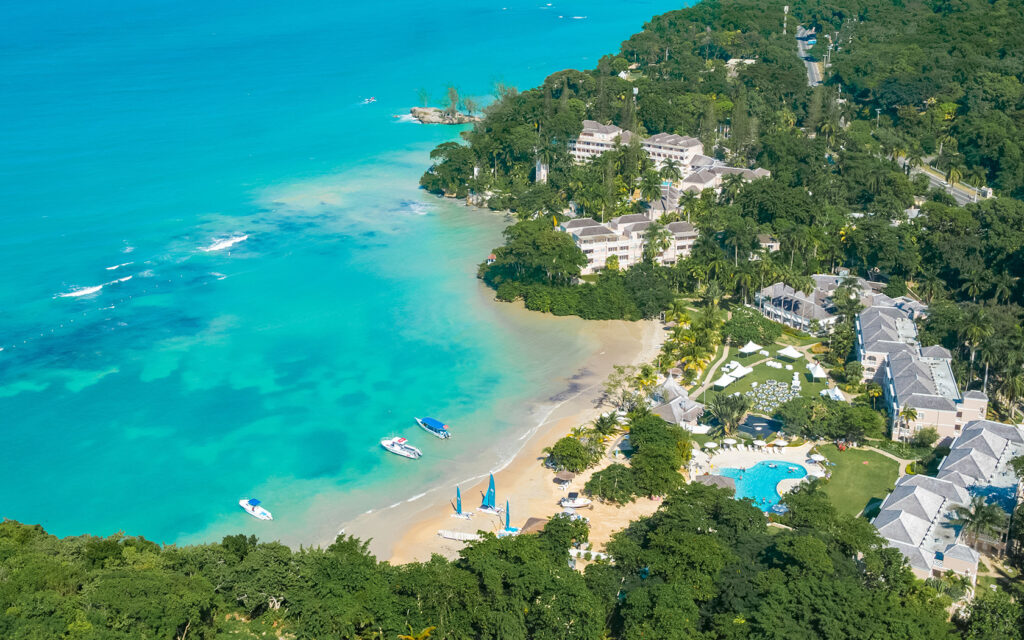 Couples Sans Souci is an elegant Ocho Rios resort near Dunn's River Falls with an abundance of dining options and activities.
The rooms, suites, and private villas face the ocean or garden with balconies and engulf guests in an oasis of pure tranquility where romance will bloom. The villa, with its outdoor Jacuzzi, stands on a cliff overlooking the ocean.
Guests of the resort enjoy unlimited premium liquor, a room mini-bar, and entertainment each night. During the day, there is golf, tennis, unlimited scuba diving, and other watersports.
Dining options include the elegant Palazzina and Casanova restaurants with indoor table service. For casual lunch and dinner on the beach, The Bella Vista Asian Restaurant has a light fare, and the juice and smoothies bar is open for lunch, as well. For a burger, guests can visit the Sunset Beach Grill. Of course, room service is available 24 hours a day.
Enjoy all-inclusive liquor at the Balloon Piano Bar. The Palazzina Bar is located on the terrace surrounded by the resort's vibrant garden. If getting up and getting a drink is too much effort while lulling at the beach, simply signal with a bar flag, and the bar will come to you. Drinks are also available at the pool bar.
Couples Sans Souci will arrange the perfect Jamaica destination wedding followed by an ideal Couples' honeymoon. You don't even have to leave the beach. A Couple's wedding planner will help with the most minute details to make that special day hassle-free, from the menu to the guest list to several ideal wedding sites within the resort, including the garden and gazebo, as well as right on the beach.
The Spa at Couples has been called the "Best Caribbean Spa" by Travel and Leisure Magazine. It specializes in massages and an assortment of healing treatments for the body and spirit. For couples, the spa offers side-by-side massages and treatments.
Couples Sans Souci also has a rejuvenating mineral pool, a gold course, tennis lessons, along with dance classes that have guests moving to the rhythm of salsa and reggae in true Caribbean spirit.
---
Jewel Paradise Cove Beach Resort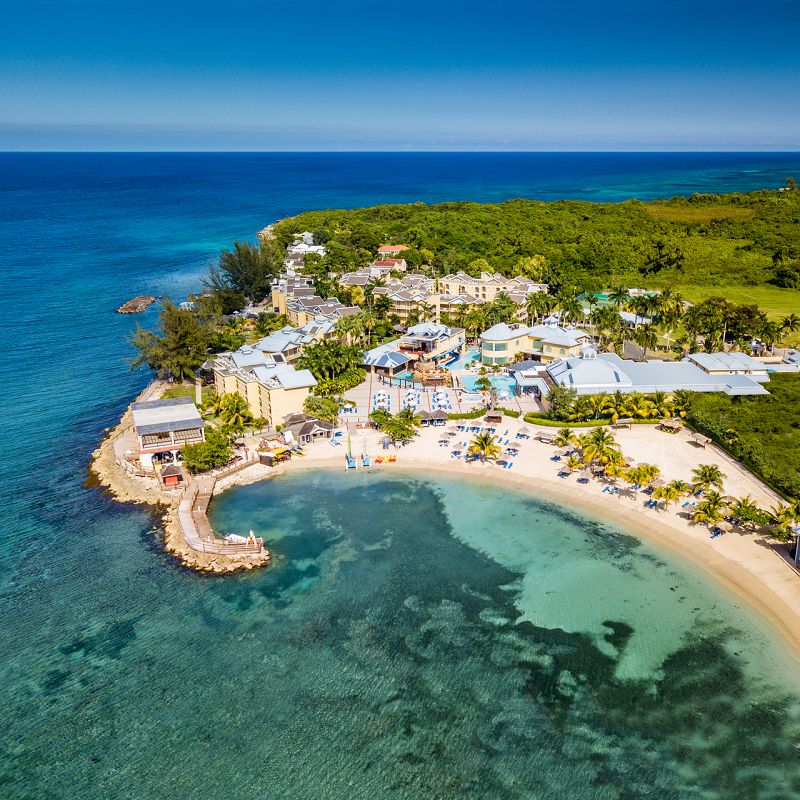 Jewel Paradise Cove resort is all-inclusive and adult-only with 225 luxury suites complete with private balconies or patios. Guests have a choice of seven restaurants and six bars, and everything is all-inclusive. The pool has live entertainment each evening. 
Guests can dine barefoot and in their bathing suits at the casual Aquamarina Beach Bar & Grill as well as Court Jesters located by the pool. The Sunken Treasure Swim-Up Bar. Breakfast, lunch, and dinner are available at the casual Coral Café, while the Jade Samurai has teppanyaki-style eating, where knives are used to entertain the guests. The Platinum Restaurant offers traditional Jamaican cuisine.
Moonstone, the resort's Italian eatery is more formal and elegant. Shoes are actually a requirement here.
The resort focuses on its Radiant Spa and the overall well-being of its guests. Treatments are designed to raise the spirit and the body. The therapists offer special packages, including couples massages.
Guests can enjoy a poolside "dive-in" movie while sipping wine or a cocktail. Or they can check out the Bling Lounge and dance the night away to live music.
---
Couples Resort Tower Isle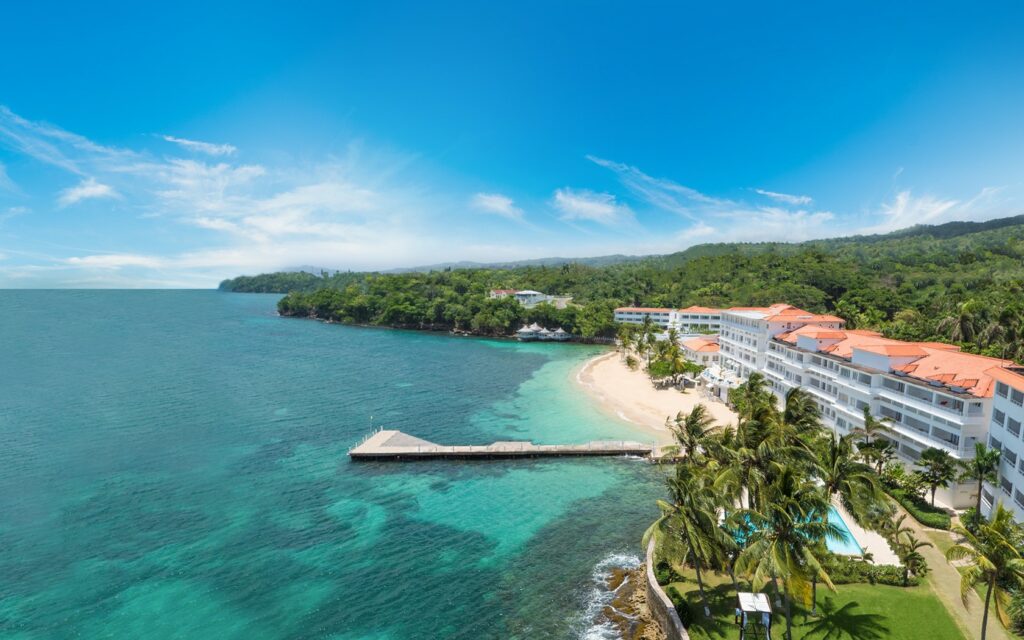 Couples Resort Tower Isle is a beachfront all-inclusive, adults-only resort guaranteeing total privacy. There are four pools and a Jacuzzi. The daring have their own spot for some au naturel indulgence. Rooms and suites, all with a patio or balcony, overlook the pool or the ocean. Some suites have Jacuzzi tubs, and all have a mini-fridge which is filled daily. The secluded and new Oasis Spa Villas, which requires a five-night stay, have a terrace and plunge pool with a spa itinerary each day.
There are several casual, veranda restaurants, with Eight River being an indoor, elegant dining facility with white tablecloths. A private, romantic three-course dinner under the stars and by candlelight can be arranged.
Monday evenings are for the Manager's Cocktail Party – lobster included. Guests can also enjoy some live music during live performances at the beach. Each Sunday, it is time to cuddle and watch a movie under the stars.
The resort has plenty to keep everyone busy. Dance classes can turn two left feet into Fred Astaire wannabes. A pro is available for tennis lessons, and there is a weekly clinic. Get in touch with your inner Zen with meditation classes.
Just a few yards offshore, Couples Resort Tower Isle has the best au naturel beach in Ocho Rios which hosts a nude pool bar and buffet.
Ocho Rios is such an ideal wedding destination as it can serve as a wedding and honeymoon all in one package. No hassles, just relaxation. The Couples Resort Tower Island can design a personal wedding package to suit any couple, from preparing the ideal Jamaican menu to arranging the music of your choice. The wedding can take place on the beach or in an event space and can accommodate more than 50 people. It's the perfect way to begin a life together.