I can't think of anything quite as dreamy as staying in an overwater villa with turquoise water under your feet at all times. Lucky for us dreamers, overwater villas have become a thing in the Caribbean, a short flight from home. Today, we will look at an overwater villa in Jamaica.
It only makes sense to put an overwater villa in Jamaica. They have some of the most beautiful beaches in the Caribbean, the clearest waters to dive into, and plenty to do on the island when you're not in the villa. There isn't a whole lot not to love about Jamaica.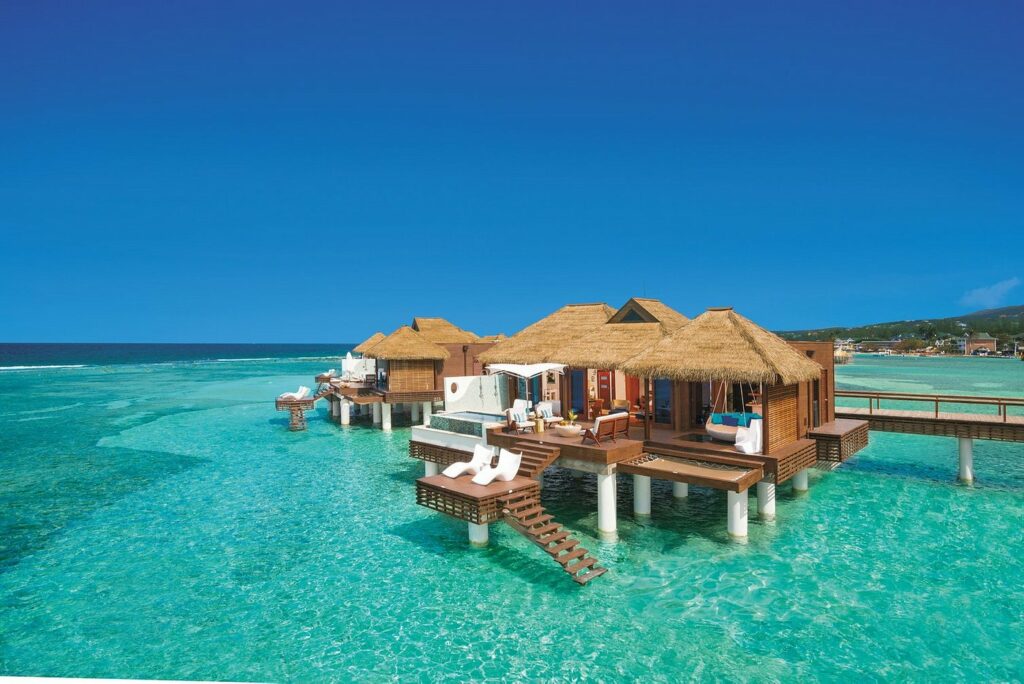 There are only two resorts in Jamaica that have overwater bungalows. They just so happen to be both Sandals resorts. These overwater bungalows give you all the same vibes that you get from the overwater villas in Jamaica, but at a fraction of the cost.
The Only 2 Resorts with Overwater Bungalows in Jamaica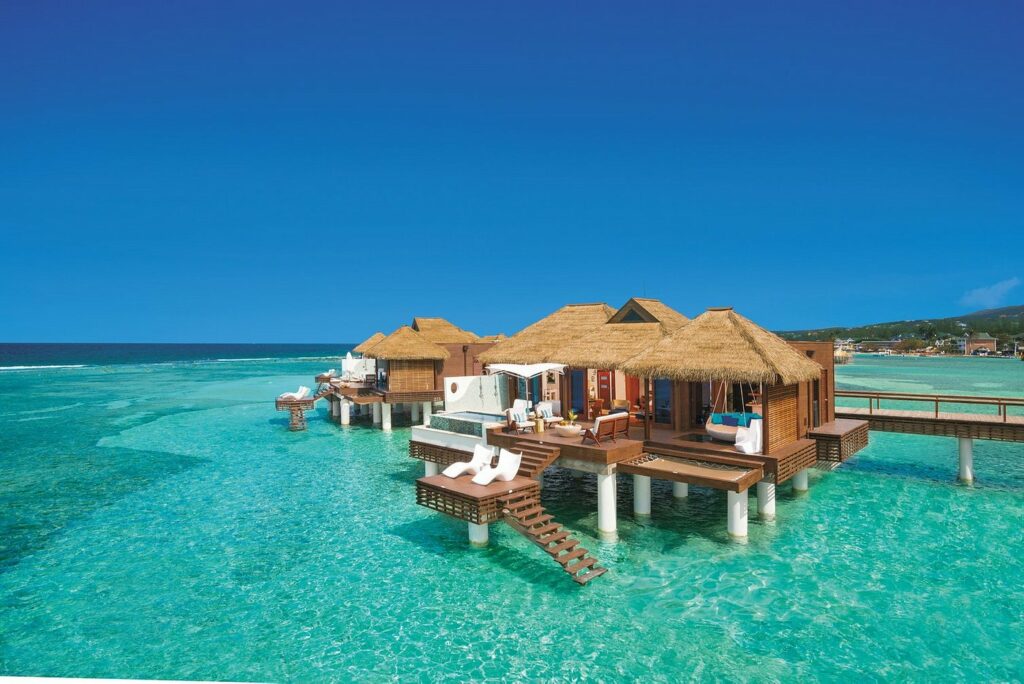 This is it if you are looking for something as close to the Maldives experience as possible without taking a long-haul flight. Jamaica's overwater villas are located on Sandal's private island off the shores of Montego Bay. 
There's nothing quite like it in the Caribbean. When you arrive, a private water taxi takes you straight to your villa, where your butler greets you with welcome drinks and a hot towel. Your butler will then start customizing your vacation to your specific desires, from choosing the types of pillows you want to making spa reservations. 
As you walk through your villa doors, you'll see glass floors, a full kitchen with a dining table, and a large bedroom with a seating area. The entire bedroom opens up to the villa deck, with an expansive ocean view. 
The bathroom has his and her vanities, a large rainfall shower, and a two-person soaking tub. The floor-to-ceiling windows in front of the tub open up to give you an indoor-outdoor feel. That way, if the weather isn't ideal, you can still enjoy the outdoors while soaking in warm water. 
Your deck is most likely where you will spend most of your vacation. It comes with a swinging day bed, an overwater hammock for two, a private plunge pool, two outdoor showers, a swimming deck, and lounge chairs. 
---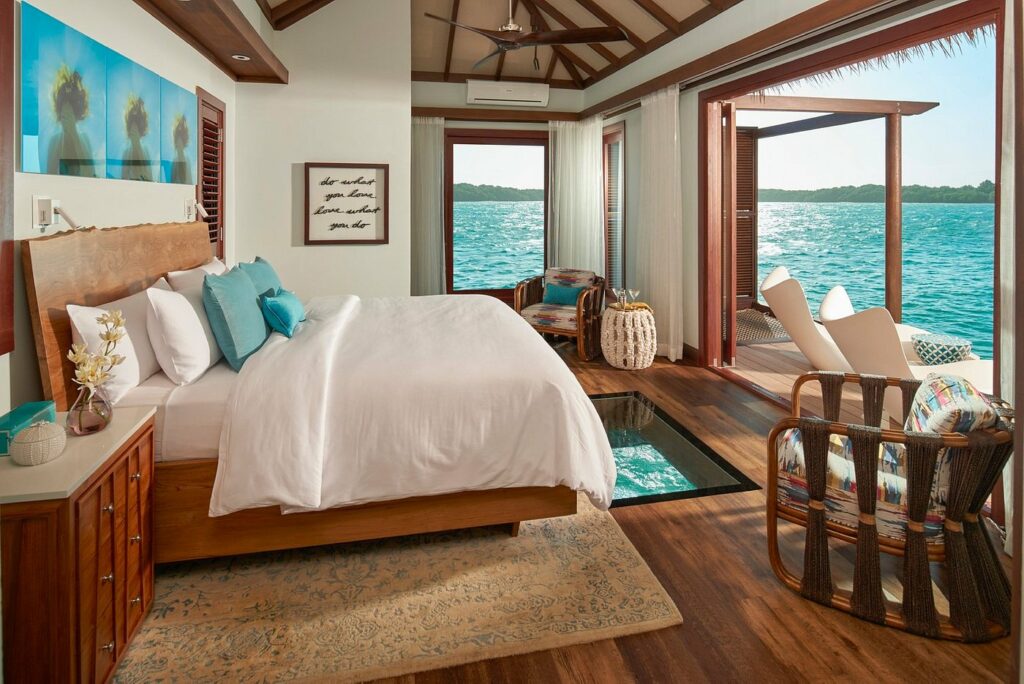 Sandals South Coast is located on the southern shoreline of Jamaica, a much more remote area. This resort took the overwater theme and rolled with it. You can find overwater bungalows, an overwater bar, an overwater chapel, and overwater cabanas.
You get all the same services and amenities as the overwater villas, except they are smaller. These overwater bungalows are right on the beach in front of the resort, which feels less secluded than a private island. However, you have easier access to a larger beach, multiple pools, and all of the other amenities at the resort.
What is Included in Overwater Villas in Jamaica?
Sandals resorts are known for their fantastic inclusions that go beyond what is expected at an all-inclusive resort. Their overwater villas in Jamaica take those inclusions a step further to give you an experience unlike anywhere else in the Caribbean.
Dining and Drinks
You can choose from 12 bars and restaurants at Sandals Royal Caribbean, one on the private island with the overwater villas. You can enjoy every type of cuisine during your stay, such as Caribbean, Thai, French, Italian, Indian, and English pub food.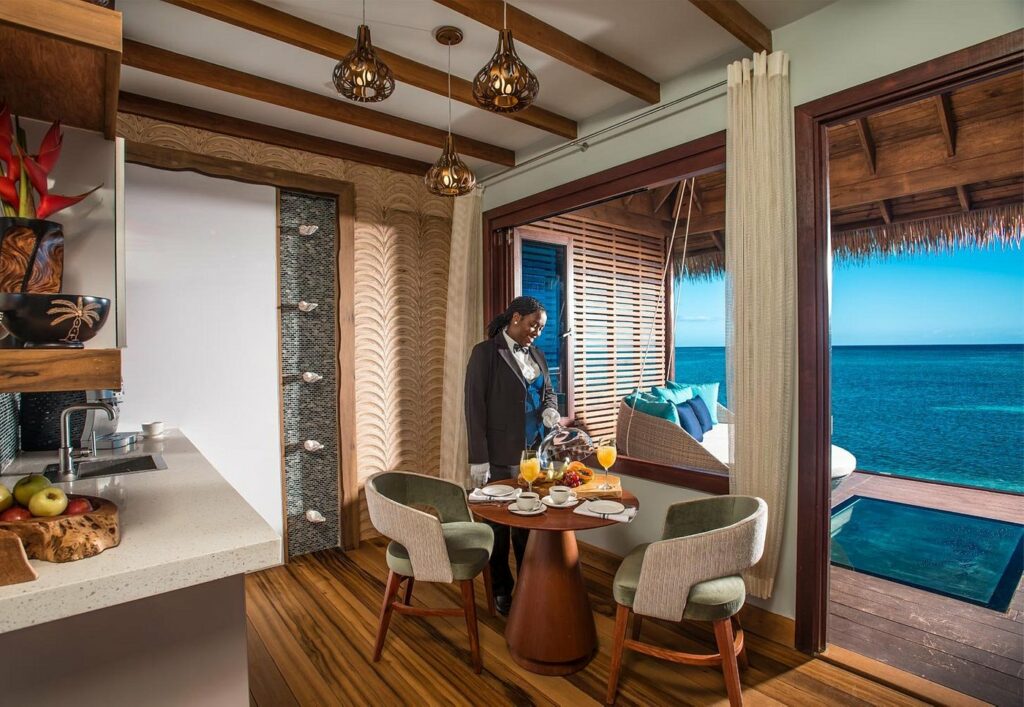 All of your drinks are included in your stay, even premium liquor. You'll actually find a fully stocked bar right inside your overwater villa. If you're celebrating a special occasion, you can request champagne to be brought to your room.
The overwater villas have a few bonuses when it comes to dining. You will be able to enjoy 24/7 room service, where they will serve you entire dining experiences right in your room. Get a continental breakfast delivered to your room, or enjoy dinner from your deck while watching the sunset.
Butler Service
Butler service only comes with certain room categories, and the overwater villa is one that comes with it. Each butler is trained by the Guild of Professional English Butlers, so you know you are getting top-tier service at Sandals.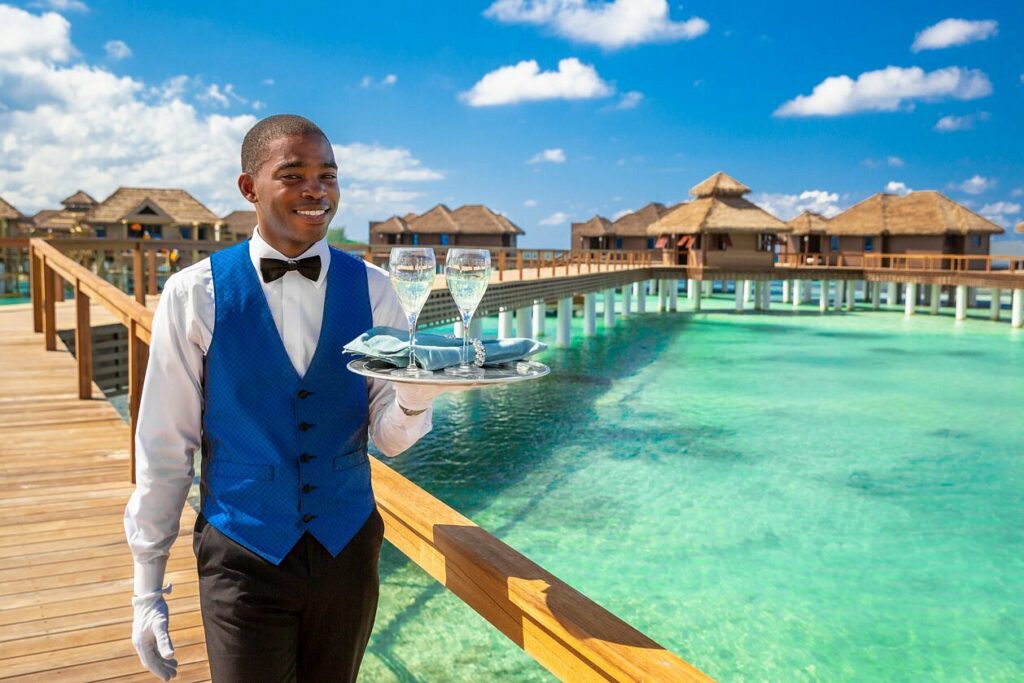 These butlers cater to your every need at every step of your vacation, front the time you arrive until you step off the property. A few of the unique services the butlers will do for you is unpack your luggage, book any reservations during your stay, provide romantic turndown service, and serve you poolside or beachside.
You will also be given a cell phone upon arrival to contact your butler at any time. Even though Sandals has a list of things that butlers can do, you can pretty much ask them for whatever, and they will do their best to accommodate you.
Entertainment and Activities
All Sandals Resorts include an abundance of things to do and see. Some unique activities are PADI-certified scuba diving trips, green fees at nearby golf courses, and live performances with talented entertainers.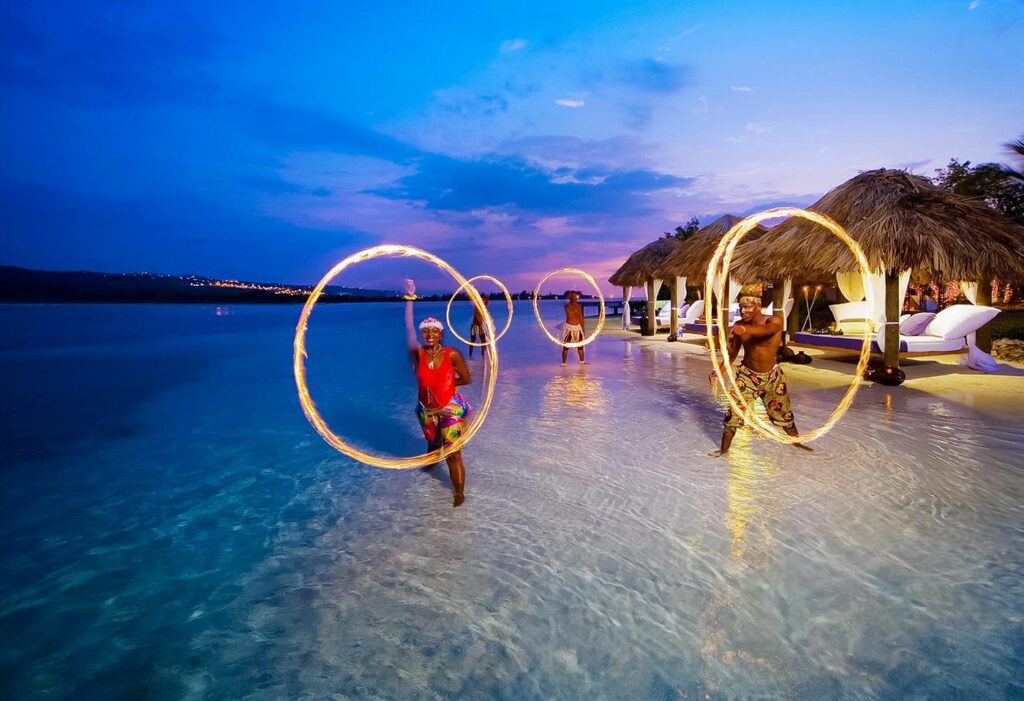 Your overwater villa comes with its own snorkeling gear for you to enjoy the nearby reef at any time. There are also kayaks, stand-up paddle boards, Hobie Cats, and aqua trikes. If you ask your butler, they may even deliver them to your room when you want to head out on the water.
The private island on which the overwater villas are located has its own beach and pool with Bali-inspired cabanas. It is also one of the only places in Jamaica where you will find a clothing-optional beach. Only guests are allowed to visit the island, so you don't have to worry about getting crowded.
VIP Arrival
This is one of the nicest perks included with your overwater villa in Jamaica. Instead of your stress-free vacation starting once you get to the resort, it starts as soon as you step off the plane. VIP arrival means that someone from Sandals is there to take care of everything as soon as they greet you at the gate.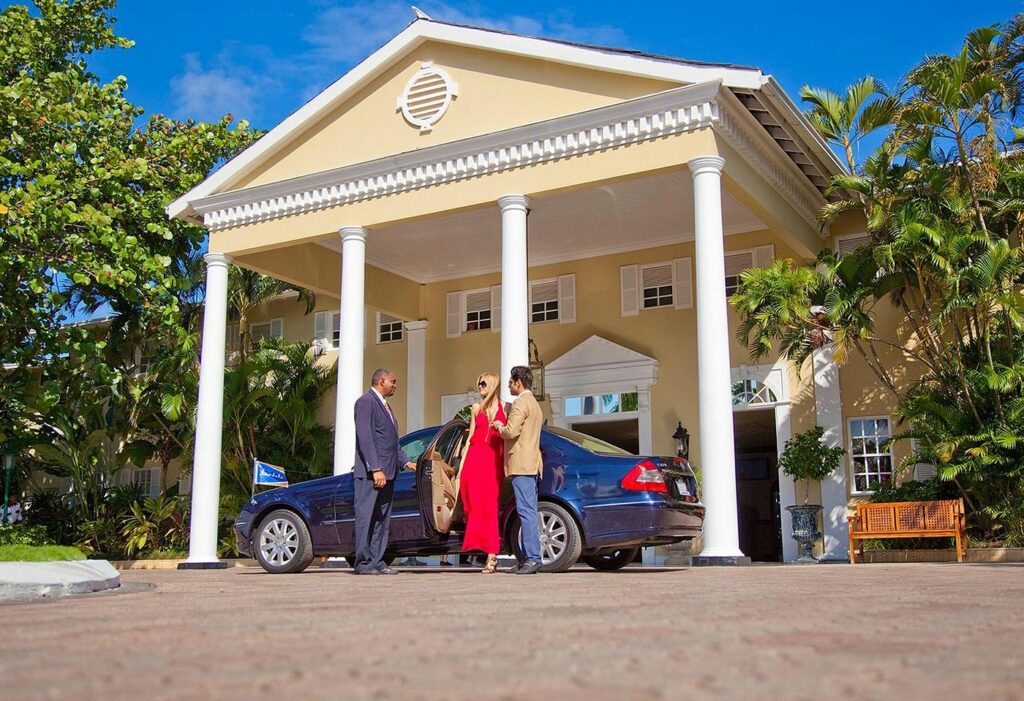 They are there to help you with customs and immigration, ensuring that you get through the tedious process as quickly and seamlessly as possible. Once you've breezed through that, they will help you with your bags and escort you to your private BMW transfer.
When you arrive at the resort, you will be taken to a luxury lounge to enjoy cocktails and snacks while everything is being taken care of for check-in. From there, you just have to hop on a short boat ride to land at your villa.
Overwater Villas vs. Overwater Bungalows
Sandals Royal Caribbean does offer overwater villas and overwater bungalows. There are also overwater bungalows at Sandals South Coast in Jamaica. So, what is the actual difference other than the price?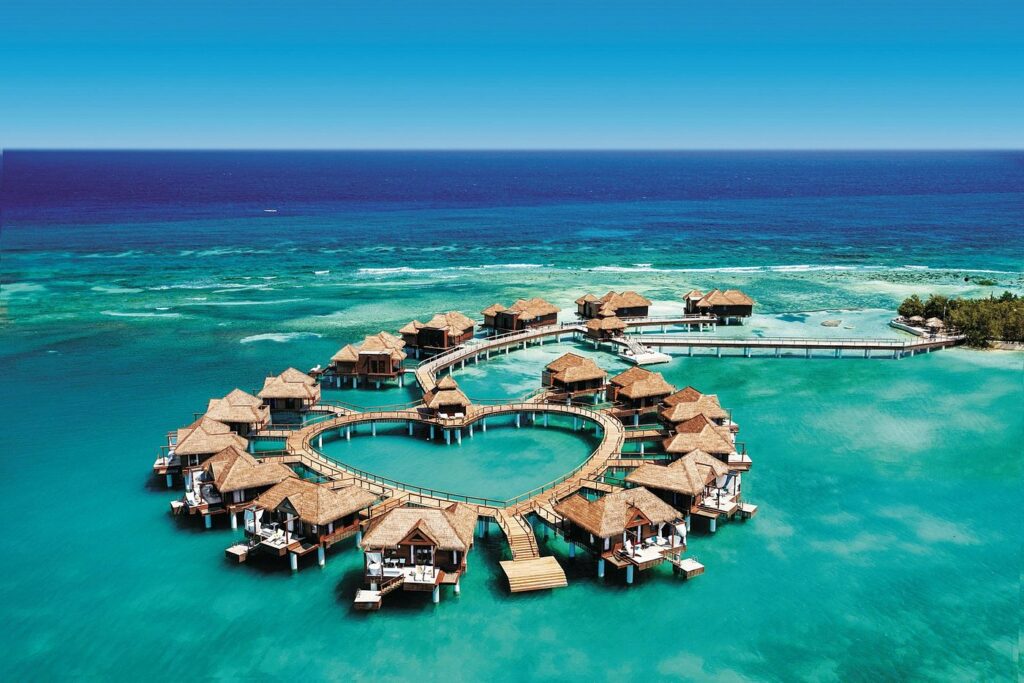 The main difference in the villas is their size. These accommodations are nearly double the size of the overwater bungalows. You will also find an extra outdoor shower, a shaded daybed, a private plunge pool, and a full kitchen in the villas that are not in the bungalows.
The bathroom in the bungalows does come with double sinks, but not double vanities. There is seating in the bungalows as well, but it is not nearly as spacious as in the villas. Overall, you will have much more room in the villas than in the bungalows.
How Much Does an Overwater Villa in Jamaica Cost?
The overwater villas in Jamaica start at $2,337 per person a night. That price can fluctuate depending on the time of year you are visiting and how long you stay. You will want to stay five nights or longer to get the best price possible. However, the price is significantly lower if you stay at least three nights.
Are Overwater Villas Worth It?
The overwater villas at Sandals Royal Caribbean are one of those once-in-a-lifetime vacations I would take for special occasions. I can't imagine splurging on one of these unless it is for my honeymoon, a significant anniversary, or something similar. Nothing is quite as romantic as feeling like you're on your own little island with your significant other.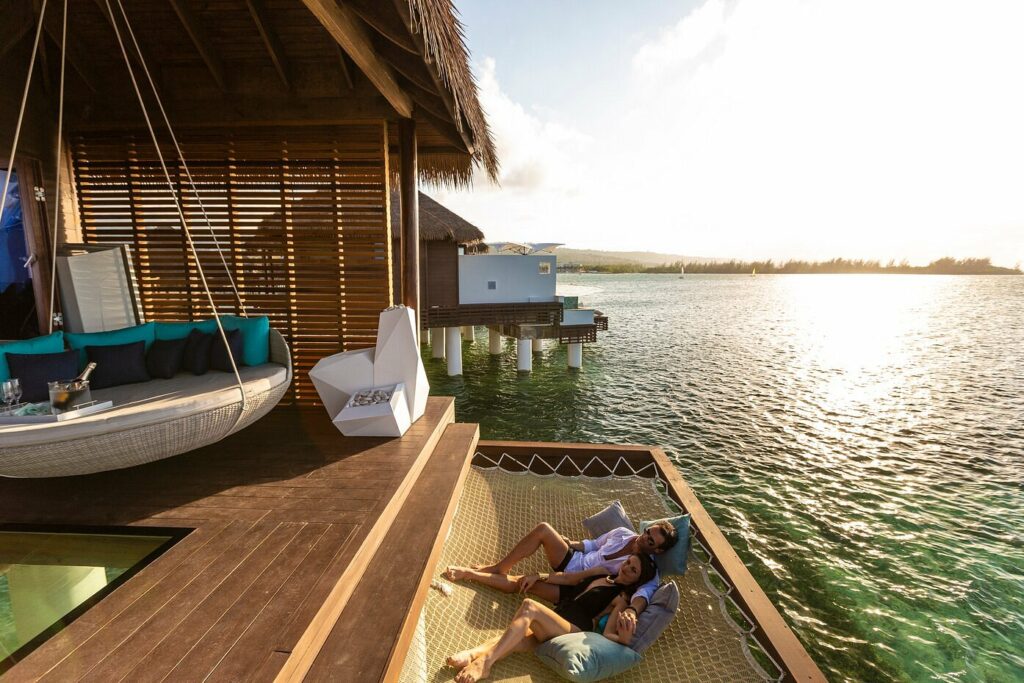 It would also be a great idea to stay at the overwater villas if you are doing a destination wedding at Sandals. They are large enough to have a few of your wedding guests come and hang out with you. There is no way you could comfortably host people in the overwater bungalows.
Overall, I think these overwater villas in Jamaica are totally worth it. There isn't one thing that would make these villas any more perfect. Maybe a water slide? Although, if you ask your butler for one, they may be able to arrange something for you.