The Poconos Mountains, made up of forested peaks, lakes, and valleys are located in Pennsylvania, United States. Though Pennsylvania may not be an obvious choice for your romantic honeymoon, Poconos, Pennsylvania offers a unique experience that you will remember for the rest of your lifetime.
Poconos is perfect for you as a couple if you love to experience new things and enjoy the outdoors. The Poconos mountains are in northeastern Pennsylvania, overlooking the Delaware River, close to Lake Wallenpaupack and Wyoming Valley.
This post may contain links from which we earn a commission. You can read our full affiliate disclosure here.
About Poconos
Poconos offers much to do for any couple, without having to hop on a long plane ride or struggle to get to your destination. Consider the Poconos mountains for a great, romantic, and unique honeymoon that you will talk about forever.
A Poconos honeymoon is perfect for active couples who are dying to explore the outdoors, not too far from home. The best way to get to Poconos is by car, so plan to either drive the whole way or fly to Lehigh Valley International Airport and rent a car. The drive is only 30miles or 40-45 minutes, but it is very beautiful. As you drive through the mountains you will feel as though you are driving in a completely different place.
The Poconos Mountains cover over 24,000 square miles, holding within its boundary beautiful valleys, lakes, forested peaks, and river beaches.
There are countless trails and lakes for you to hike and explore, if you choose to go in the summer.  Holding about 27 miles of the Appalachian Trail, there are countless trails for an avid hiker to experience.
Full of mountains, trails, and quaint mountain towns, there is endless possibility for a newly-wed couple to experience an adult-only time in this amazing place. There are countless mountain resorts to stay at that will give you a completely secluded feel. While on your retreat, you should be sure to utilize the beautiful spas that are available to you.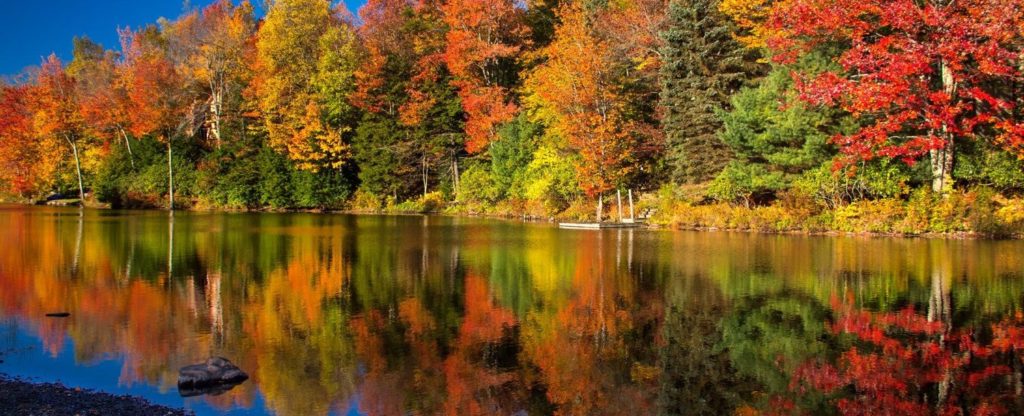 Best Time to Visit Poconos
You can visit The Poconos year round for your honeymoon, but if you tend to prefer summer, then you will instantly fall in love. There are thousands of different hiking trails that will lead you to a beautiful peak, a stunning waterfall, or a peaceful meadow.
Holding about 27 miles of the Appalachian trail, there are countless trails for an avid hiker to experience. Averaging around 70F in summer months, it is the perfect temperature to get outside and get active.
If you choose to go to the Poconos in the winter, just know that your experience will be very different. Winter in Poconos doesn't offer quite as many hiking trails and lake activities, but instead it offers ice fishing or skiing. If you're heading to Poconos in the winer for a romantic getaway, know that that is exactly what you will get. With the quaint mountain towns covered in snow, you'll feel like you're right in the middle of a ski town movie set. The most romantic way to spend a winter Poconos honeymoon is to stay in a remote resort or rental where you can enjoy complete seclusion. For relaxation you can head to the spa to get some great treatment, then hit the hot tub to enjoy the cool, mountain air. If you are a skiing couple, take your Poconos honeymoon to the slopes and enjoy the snowfall on the mountain!
The best time to visit Poconos completely depends on what you are looking for as a newly-wed couple. A cozy, hot-chocolate and massage filled week in the mountains is perfect in the winter time, and an adventurous hiking excursion is perfect for the summer. Poconos has something to offer for any couple!
Nestled in the mountains, Poconos feels like a far away destination. The fact that it is so accessible is nothing but a positive thing. Here in Poconos, you will be welcomed by the locals and learn what is so magical about this location. For decades, Poconos has attracted nature lovers, skiers, vacationing families, and honeymooners to its unique pocket of Pennsylvania. No matter what you are expecting on this trip, you will find it on your Poconos honeymoon.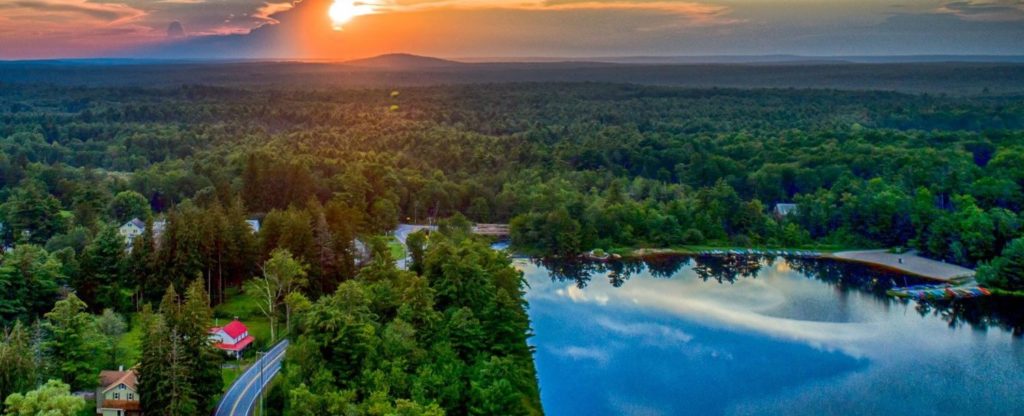 Top Things to do in Poconos
As we said, the activities to do in Poconos change depending on the season you choose to take your honeymoon. Let's start with what to do in the summer. There are huge wooded forests, mountains and rivers, offering countless adventures to make your Poconos honeymoon a great trip. There are plenty of ways to utilize the water in Poconos including kayaking, canoeing, rafting or even tubing.
The Delaware river offers white caps for white water rafting, for those adrenaline seeking couples. If you are looking for something a little less intense and more relaxed, try horseback riding. There are so many trails you can have a guided ride through. There are several ranches and farms in the area that offer this kind of outdoor activity, allowing you to explore the region without sweating too much.
For couples that love to hike, camp or backpack, a summer Poconos summer will be great for you! There are amazing hiking trails that will show you amazing waterfalls and amazing camping areas that make you feel especially close to nature.
If hiking and camping aren't your thing and you want a cooler honeymoon destination, a winter Poconos honeymoon is perfect for you! If you are an active couple, the mountain boasts fresh powder and a variety of trails for different skill levels, allowing you to learn to ski, or show off your expertise!
If you aren't looking to have a grueling ski week and you want to relax (it's your honeymoon, duh!) you and your newly-wed can enjoy romantic ice skating in the mountains or try snowshoeing through some of the trails that Poconos has to offer. After a long day skiing (or relaxing) you may want to hit the spa to get some world-class treatment. Perhaps a candlelit couples massage in a mountain cabin will be just what you need to unwind.
After dark in either season offers fun, too! After a long day of hiking, skiing, or relaxing, you can go to the Mohegan Sun Pocono. The Mohegan Sun is waiting for you with endless entertainment including live music, comedy shows, horse racing, and shopping. Grab a romantic dinner in town and then head to the Mohegan Sun for some adult-fun! Maybe you desire more culture than you have experienced so far, but that's okay! The Poconos offers that too.
At the F.M. Kirby Center for the Performing Arts, you can catch an amazing play, musical, or comedy sketch while sitting in a beautiful building with captivating architecture and an amazing aesthetic. After the play, you can head to town to hit a brewery! Experience amazing and locally made beer at the Susquehanna Brewing Company that has been around for six generations. No matter what kind of honeymoon you are looking for, Poconos is the perfect destination.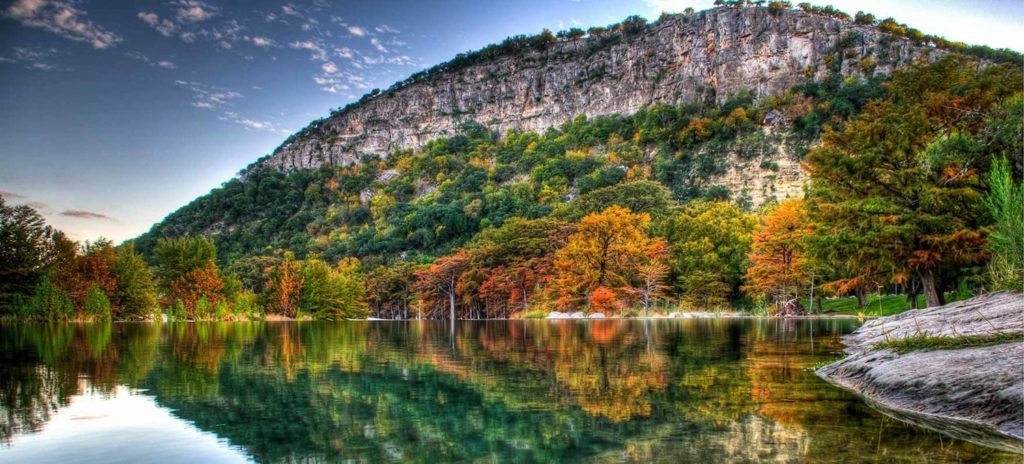 Weather in Poconos
The Poconos Mountains have pretty cool temperatures year round, only getting up to about 70F in the summer. July is usually the hottest month, averaging around 70F. The coldest month is February, where the temperatures average around 25F.
February is also when the Poconos gets most of its precipitation. The annual precipitation is around 44inches, making it great for skiing in those winter months. During the summer months, averaging around 70F is perfect for outdoor activities like hiking, biking, exploring trails or spending time on the river or in a lake.