Romania may not be a classical honeymoon destination such as France, Maldives, or the Caribbean – but this doesn't mean it's not worth considering. In fact, that is what makes Romania so intriguing for newlyweds who want to explore the land of Dracula.
In fact, Romania is so much more than the vampire legends – it is about picturesque mountain villages, medieval castles, unique architecture in the 'Brâncovenesc' (Wallachian Renaissance) style, friendly people, and delicious organic food. With an incredible natural diversity going from 2,500m high mountains to the Black Sea's golden braces or the famous Danube Delta biosphere, Romania has a rich offering for love birds.
And the best part? A luxurious, all-inclusive 7-day holiday to experience the best of Romania will be cheaper than a budget holiday in a very popular honeymoon destination. So for all honeymooners looking for a different destination and a trip to remember, this article is for you.
Best Hotels and Resorts for a Honeymoon in Romania
Here's a selection of luxurious hotels and boutique accommodations in Romania that are preferred destinations for newlyweds and couples.
Atra Doftana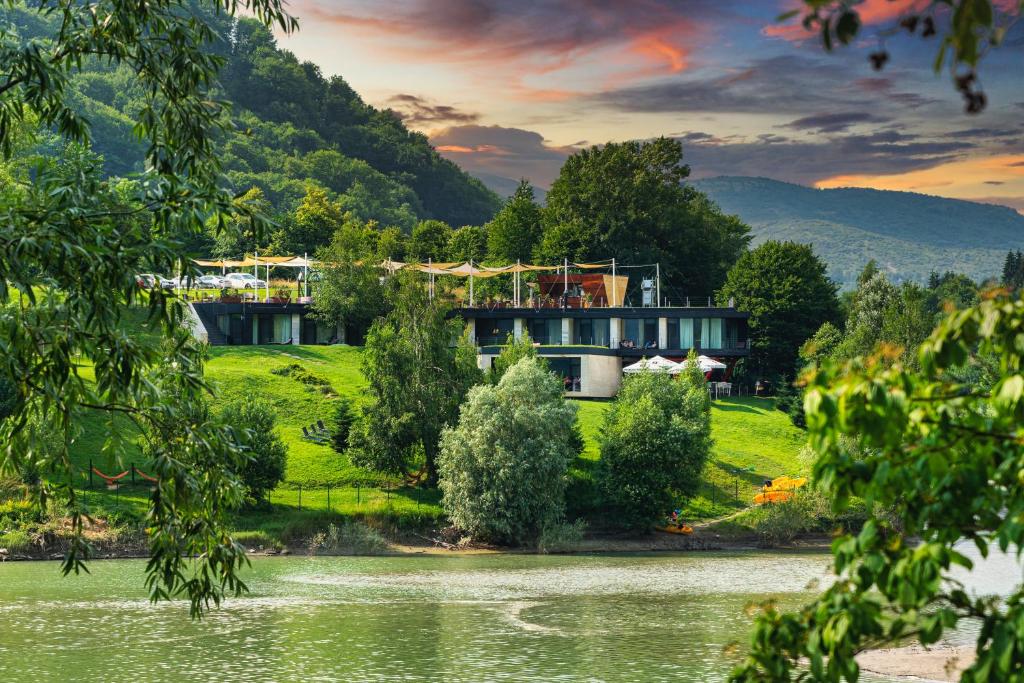 The Atra Doftana resort is situated on the shores of Lake Paltinu Doftana, Prahova, and is famous for its unique architecture with an avant-garde yet minimalist design. Some of the resort's attractions include the Teșila Lake view, cosy rooms, dry sauna, and fitness area, as well as the many activities the love birds can indulge in – sky lantern launching, camp firing, hiking, mountain biking, and kayaking. This is an ideal place for both adventurers and peace seekers.
---
Green Village Resort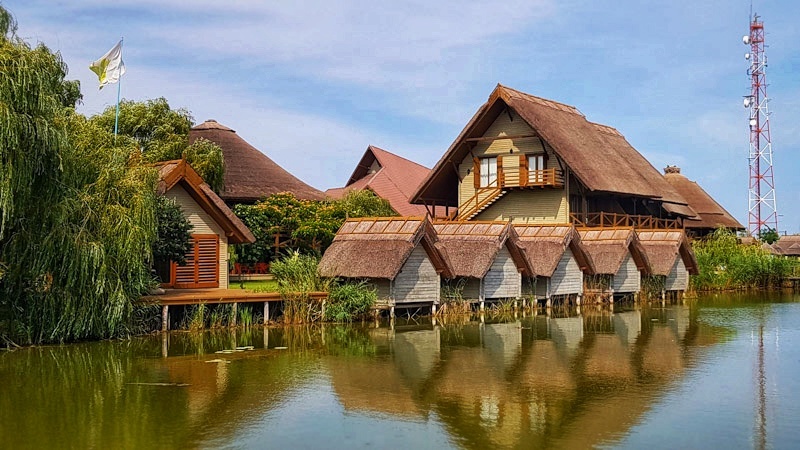 Green Village Resort is located in the Danube Delta which is unique for its vegetation home to over 160 species of birds, picturesque canals, incredible sunsets and delicious fish cuisine.
This resort is perfectly integrated into nature, surrounded by greenness and providing an idyllic view of the Delta. Among the facilities offered are three restaurants, three lake bars with drinks for all tastes, and its own garden and farm.
---
Amfiteatrul Transilvania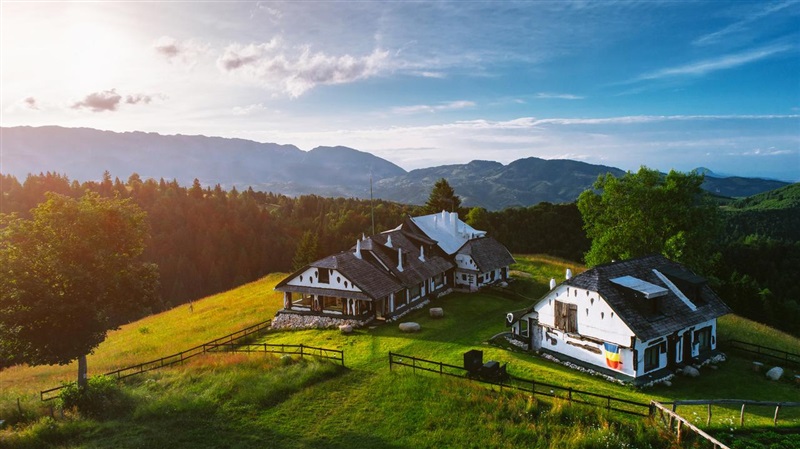 This eco-friendly resort in the village of Moieciu, close to the popular tourist city of Brasov has emerged as a popular destination particularly among couples. It promises a unique experience in the heart of Transylvania's mountains.
This is ideal for newlyweds who want to reconnect with nature far from the hustle and bustle of busy city life. The sceneries are jaw-dropping, the fresh air relaxing and the lure of the mountains and many hiking trails too strong to avoid.
---
Raven's Nest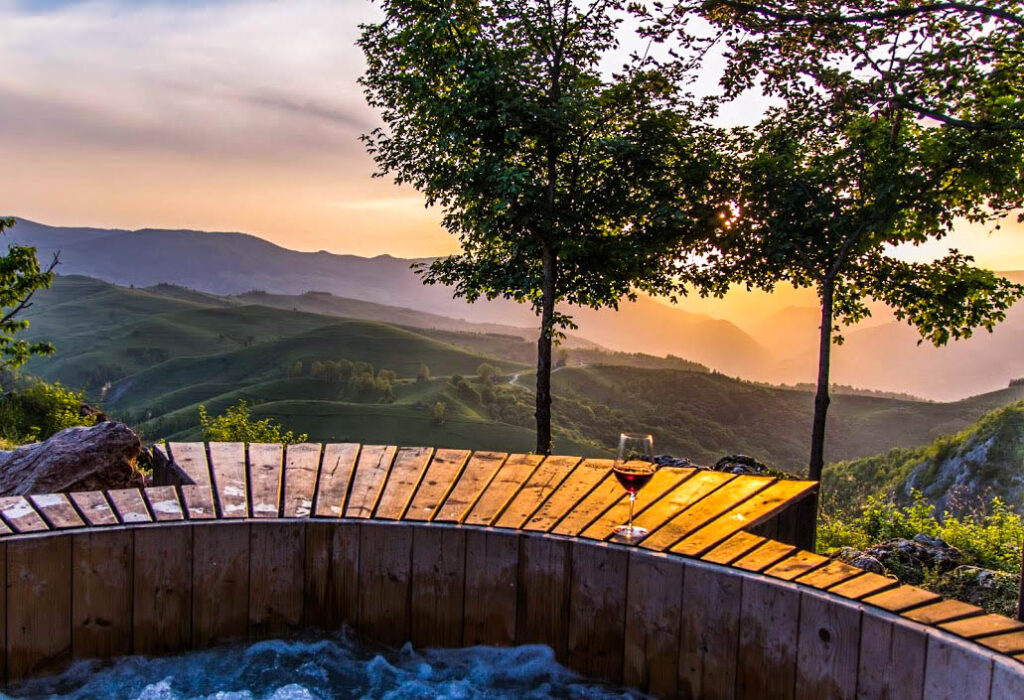 Think of this resort as a hidden pearl (or nest?) in the middle of nature. It's located in the village of Sălciua, close to Cluj-Napoca which is Transylvania's unofficial capital. The complex is made up of traditional rural houses with museum-like decorations where you will live like people used to 70 years ago or more.
It also includes the Gourmet Gothic Restaurant which offers homemade delicacies and cocktails, an impeccable customer service and hypnotising views of the area. Also, it boasts an outdoor spa area with a jacuzzi and sauna where newlyweds can unwind. This is rural eco-luxury at its best.
---
Zabola Estate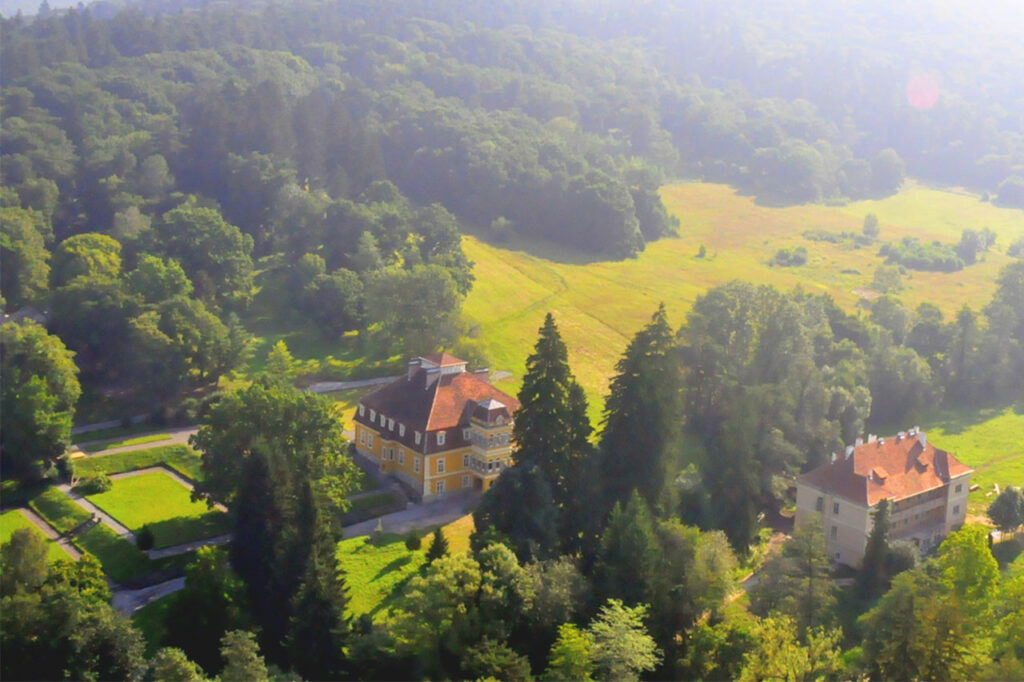 Zabola Estate is another resort in Transylvania with a vast property comprising a conservation area in the Carpathian Mountains with hundreds of tree species, lakes, and seven historical buildings.
The main guesthouse belonged to a local nobleman and is beautifully decorated to take guests back to romantic and blissful times. The estate is a popular location for weddings and newlyweds in Romania, or couples looking to have a good time together. So it may be a great destination for you too!
What is Romanian culture like?
Many things. Firstly, Romania has an incredible natural diversity which is unique in Europe. Besides hiking, adventure sports or relaxing by the beach, many parts of the Carpathian Mountains are untouched and home to many wild animals, including the largest population of brown bears. That's why Romania is known as Europe's last wilderness reserve and is a favourite destination for wildlife enthusiasts.
The cultural treasures of Romania includes UNESCO World Heritage Sites such as the Saxxon villages with fortified churches in Transylvania, the Painted Churches of Moldavia, the Wooden Churches of Maramureș, Roșia Montană landscapes and the Dacian Fortresses in Orăștie Mountains. These sites will tell you the most important stories in Romanian history and culture.
Another reason for honeymooners to travel to Romania are the charming, mediaeval cities of Sibiu, Sighișoara, and Brașov. Colourful houses, lots of back alleys to get lost in, the old-restored contrast and the many high-end restaurants and hipster cafes and bars will keep newlyweds busy exploring.
Now let's talk about food: Romanian cuisine is a mix of Balkan, Turkish and Western European influences so there are plenty of dishes to try: sarmale (stuffed cabbage rolls), beef tripe soup, polenta with shepherd's cheese or papanasi (fried dough topped with fresh cheese and fruit jam). Couples will also be surprised, again, by Romanian wines which are lesser known than those from France or Italy, but rival them in quality and taste.
And finally, Romanian people are welcoming and happy to show travelers the best of their country. And since family is an important part of our culture, and weddings are big, stylish events where everyone is invited – newlyweds on honeymoon usually get special treatment!
Top Things to do in Romania
Couples who choose to spend their honeymoon in Romania will be spoiled with choices and there are many more things to do in Romania. One of the most popular things tourists like to experience is to re-live medieval times by visiting cities like Brașov, Sibiu, and Sighișoara and the tourist attractions these offers. And we can't talk about Romania without mentioning the country's #1 tourist attraction: Bran Castle, also known as Dracula Castle. Close to Brasov, this menacing fortress is a 'must' on your list, and with the right tourist guide you'll find out if there's any truth to all the Dracula legends.
Nature-loving honeymooners can also go on a hiking trip in the Carpathian Mountains. 'Europe's last wilderness reserve' offers a range of outdoor activities, from hiking and wildlife watching to mountaineering and camping. Some natural attractions and trails worth considering: a hiking trip up to Mount Tâmpa in Brasov, the 7 Stairs Canyon, conquering the mighty Fagaras Mountains (tallest in Romania at 2,500m+ altitudes), or Turda Gorges close to Cluj-Napoca. Zarnesti Gorges are a favorite for rock climbers, and so is Moldoveanu Peak, the highest in Romania at 2,544m.
Finally, when done with relaxing or hiking adventures, couples can enjoy the posh nightlife scene in Bucharest, known for its diversity of bars, clubs, and wild parties that go until morning. People from around the world meet on Lipscani Street in Bucharest's Old Town to go clubbing because Romanians really know how to party and do so in style. Bars in Bucharest are a mix of glam and authenticity that most tourists will enjoy – as long as they're dressed adequately! Otherwise, you won't fit in, and some clubs may not even let you in!
Best Time to Visit Romania
The best time to visit Romania is between May – October because the weather during these months is pleasant, with lots of sunshine. The Transylvanian countryside is best admired during Spring and Summer. Autumn also makes for an excellent opportunity to visit Romania's castles and go hiking as the yellow tree crowns and a multitude of colors in the woodlands will make sightseeing even more enjoyable and romantic.
Getting to Romania
Traveling to Romania is easy and convenient thanks to the numerous airports throughout the country. The main one is Otopeni in Bucharest which has the best connections. But Cluj-Napoca, Sibiu and Timisoara also have airports served by low-cost carriers such as Wizz Air and Ryan Air which will make it easier for newlyweds to plan their trip and avoid complicated logistics.