In this article, we will cover everything you need to know about planning a trip to Sandals Curacao, one of the best Sandals resorts for your honeymoon. This brand-new adult-only and all-inclusive resort in Curacao will be a great fit for couples looking for a luxurious, romantic, and relaxing honeymoon in the Caribbean.
About Sandals Curacao
Planning your honeymoon, vow renewal, or even your destination wedding just got a whole lot easier. Sandal's newest island resort is nestled right on the Spanish Water Bay, nestled right on the beautiful island of Curacao.
Watch our quick 1 minute overview of Sandals Curacao here:
As the 16th Sandals resort, Sandals Curacao is on the beautiful island of Curacao in the Caribbean region. The warm tropical weather year round makes it a beautiful getaway destination for newlyweds to get away. From spas and swimming with dolphins to boat trips and beautiful restaurants, this resort is perfect for couples of all ages.
There's something for everyone at the beautiful, sparkling new Sandals Curacao. You can learn about the history of the area, dine at gourmet restaurants, and spend time at the beautiful and luxurious resort. Just a 3 hour flight from Miami, Sandals Curacao is the perfect getaway for a top of the line experience that caters to every individual.
Once you book your Sandals experience, you have the all inclusive aspects of the hotel and resort. Each island is different, offering different experiences. The new destination at Curacao has different exploration options for everyone, giving the options of historic scenes to visit, beautiful culture to experience, as well as aquatic adventures. It's perfect for the avid diver or someone who's just learning how to dive!
Visiting Sandals in Curacao is the perfect option for honeymooners, soon-to-be engaged folks, and people who are getting married or renewing their vows. The resort is optimized for couples to relax, unwind, and enjoy without the disruption of children. All inclusive packages give you so many options for different experiences, making it easy to stay busy and occupied.
For those who don't love the beach, there are multiple options for poolside lounging, including a dual-leveled infinity pool and a pool that is shaped like a heart. People who love beaches will find the enamoring beaches to be pristine and made for comfort, even featuring some beach-front spa treatment rooms and food options.
There's also the option of a floating restaurant, a brand new dining concept at Sandals resorts, as well as 3 new beach-side food trucks. To compliment all of the worldly food you're going to be trying, Sandals Royal Curacao has 9 unique bars which you can grab a drink at.
If you're wondering about transportation, there are certain room packages that give you access to the complimentary Mini Coopers that open up a whole new world of site seeing. If you're interested in golfing, you're also granted access to an 18-hole golf course neighboring the resort.
If you don't believe there's something for everyone, there's even something for a bride-to-be! Featuring 3 beachfront wedding venues, a bride-to-be can plan her destination wedding and honeymoon all at once.
With the luxury of Sandals Resorts, everyone is happy. There is an activity on your itinerary for everyone and booking your stay is as simple and easy as ever, providing you with some of the best prices for the most bang for your buck.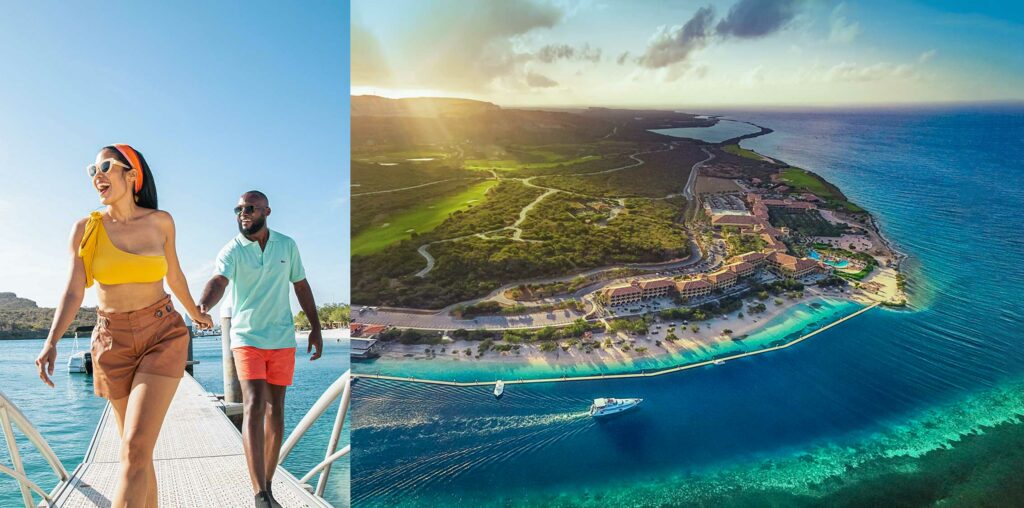 What's Included at Sandals Curacao
When making your trip, it's important to know what activities are available for you while you are on your vacation. The experience of Sandals Curacao is different from any other resort, giving you Dutch inspired architecture to appreciate alongside the beauty of the resort.
During your stay, here are a few of the things that you might want to take the time to do:
Five-Star Dining: Included in all Sandals resort, there is 5 star dining carefully curated to include palates from all walks of the world. There are at least 16 unique restaurant experiences at each of the Sandals resorts, giving you options for all of the nights you choose to dine out. Along with your dining options, you have unlimited access to all of the premium liquor you can drink and premium house wines.
Scuba Diving in Curacao: In Curacao, the beautiful waters are full of wonderful things to discover. In this included scuba diving experience, you can have the chance to look around at all of the wonderful submerged sites. You have the luxury of having trained experts handling every aspect of the technical side so that you can just enjoy the waters.
Caribbean Spa Experience: This unique spa experience is included only at Sandals resorts. The spa experience is catered to you, whether it be on the beach or in your room, there is a massage and spa treatment option for everyone. Put your body first and experience the Red Lane Spa while visiting Sandals Curacao.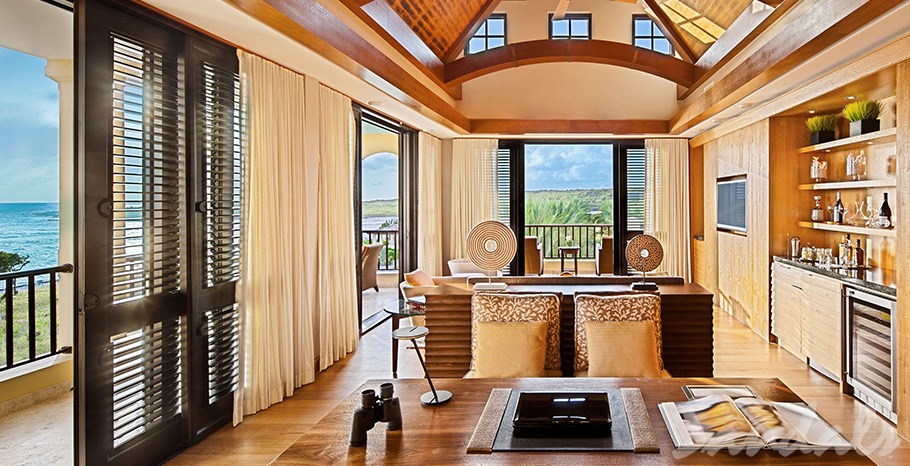 Activities at Sandals Curacao
At the new Sandals Royal Curacao, the options are endless when it comes to activities. There truly is something to make everyone happy. From the older couple to the newlyweds, there are so many options to please each person.
Here are some of the activities that you can participate in while visiting Sandals Royal Curacao:
Hiking and Biking: Love the outdoors? Take a look around the island by foot instead of vehicle and take a hike or a bike ride. Pick up a beautifully curated picnic basket and take your significant other on a beautiful picnic on the island.
Pools and Hot Tubs: If you love to go swimming or just relaxing in water, there are beautifully curated pools. If you aren't an ocean water person, take a soak in one of the many pools on the property. If you are looking for a more luxury option, try one of the butler bungalows, including butler service and the Tranquility Soaking Tubs.
Swimming with Dolphins: This is a can't miss experience for any tropical resort. Swimming with dolphins is a fun experience for anyone, especially if it's your first time. Bring along your significant other so that you can both look at the wonders that are dolphins. While you're doing this, you can even enjoy a sea lion show. The Dolphin Academy is located about 20 minutes from the main resort.
FAQ
Where is Sandals Royal Plantation?
Sandals Curacao is located right on the small island of the Dutch Caribbean Curacao. It is located within the Santa Barbara area and is a fairly large property at around 44 acres of land.
How much does it cost to stay at Sandals Royal Plantation?
The cheapest rates start at around $341 per night, per person. This is for the introductory level "Luxury".
The most expensive rates start at around $538 per night, per person. This price is for the highest level, "Butler". 
These prices are all inclusive for all of the things that are included in the Sandals Resort, but as you pay more, you get more access to exclusive offers.

What airport do you fly into for Sandals Royal Plantation
The airport that you are going to be flying into is Curacao's airport, also known as the Hato International Airport. It is fairly close to the hotel, however you will need to uber or take a rental car as it is not within walking distance of Sandals Royal Curacao.
How far is Sandals Royal Plantation from the airport?
The nearest airport to Sandals Curacao is the Hato International and it is about 16 miles away, meaning it would take about 40 minutes by car to get to the airport, and 40 minutes to get to the resort from the airport.
How many rooms are at Sandals Royal Plantation?
Within the 44 acres, there are 351 rooms and within the 351 rooms, there are 24 suites. This is typical of Sandal Resorts.
How old is Sandals Royal Plantation?
Sandals Curacao has yet to open, making it brand new. It is scheduled for opening in April of 2022 and bookings have started now. If you want to book, Sandals is offering savings of up to $1,000 for people who book their stay within the next couple of months. 

The hotel will book out fairly quickly due to it being an extremely new resort and a new experience for all.

Is Sandals Royal Plantation for couples only?
Like all of the Sandals resorts, Sandals Royal Curacao is a couples only resort. Not that we don't love your children, they can be disruptive to the romantic aura that is Sandals' goal. If you are looking for a family friendly option, you can choose a Beaches All-Inclusive resort for a family vacation!
What to pack for Sandals Royal Plantation
In Sandals Curacao, the resort is optimized for romantic couples getaways. You should pack anything that makes you feel comfortable around your significant other and anything that makes you feel like yourself. Bring plenty of bathing suits for your aquatic adventures and some athleisure to make sure you are prepared for hiking and golf alike. 

You pack the essentials, as Sandals will worry about everything else. If you do happen to forget, there are shops all around the island in the cultural epicenters.

When does Sandals Curacao open?
Sandals Curacao opens on April 14, 2022.