Singapore is a small island nation in Asia. Here, you will find everything you could want to turn your Singapore honeymoon into a lifetime of blissful memories. It has unspoiled beaches, an active nightlife, sophisticated culture, and high-end shopping and accommodations. When you arrive in Singapore, you have arrived in paradise. End your day with a candlelit dinner by the beach. Taking a post-dessert stroll in the sand doesn't get any more romantic.
Singapore is all about pomp and grandeur. With its striking displays of sight and sounds, the city is destined to make your honeymoon dreams come true.
The varied architecture, the magnificent gardens, and the incredible cuisine are all intended to awaken your senses. For the most romantic Singapore honeymoon, take advantage of the following activities:
Not every place in Singapore is meant for relaxation, but a stroll along the Changi Boardwalk is sheer serenity. For two kilometers, enjoy a vista of the coastline and sea. Check out the islands that are offshore, and the incoming boats and ferries. You'll get to see some marine life as well as some interesting flora. The best time for this hand-in-hand walk is at sunset. At the end of your walk, head to the Changi Sailing Club for a tasty dinner.
This popular park has spectacular landscaping and a peaceful lake. It's the ideal place for a professional photographer to take some honeymoon snaps that will provide you with the best memories.
Gardens by the Bay is a stunning mixture of a natural green garden turned into a manmade work of art. The so-called supertrees are artificial structures that are a marvel of design. Don't miss a visit to this inner-city bit of greenery.
This post may contain links from which we earn a commission. You can read our full affiliate disclosure here.
1
The St. Regis Singapore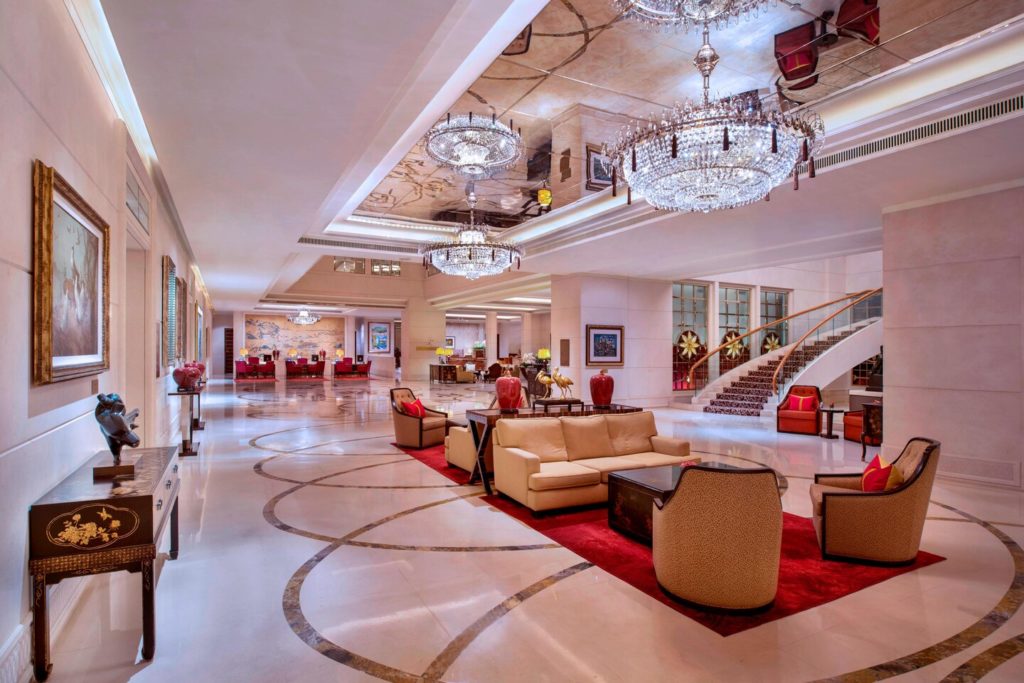 Quintessential Luxury, A Picturesque View
The St. Regis Singapore, located at the crossroads of the embassy district, the UNESCO World Heritage Site – Singapore Botanic Gardens and Orchard's prime shopping district, is an eminent place where luxury resides. Engage in local culture and fascinating exhibits with a Singapore Art Museum art tour, or explore the local area and see all that Orchard Road has to offer.
The hotel houses one of Asia's finest private art collections, a gleaming landmark of exquisite ambiance. Take in the private art collections of the hotel's visual delights, enjoy the pleasures of the exclusive Remède Spa and experience excellent service from the staff when you wine at the Astor Bar or dine at Les Saveurs, LaBrezza, or Yan Ting Brasserie.
In the Hotel's 299 luxuriously appointed rooms and suites, where each crystal chandelier, original piece of art, or lush designer fabric is meticulously chosen, admire elegance. At any time, day or night, the St. Regis Butler Service is available. Let Singapore's St. Regis be your home away from home.
Average Price Range: $285 to $431
All Inclusive: No
Adults Only: No
Villas Available: No
Distance to Airport: 25 minutes
Number of Rooms: 299
About Singapore
Beautiful Singapore is a small country comprising of one large island and many smaller ones for an overall area of a mere 725.7 square kilometers. It is located off the Malay Peninsula in Southeast Asia, bordering both the Indian Ocean and the South China Sea. Technically, it is one of the only three remaining city-states in the world. The highest point in Singapore is a 545-foot hill called Bukit Timah. The Straight of Singapore, at ocean level, is the lowest point. While surrounded by water, Singapore has no genuine rivers or lakes.
Despite its small size, Singapore has one of the most active ports in the world. It also has the number two population density in the world. More than five million people occupy a relatively minute space. It is a blend of many cultures, a vibrant mixture of English, Malay, Indian, Chinese, and Arab cultures. This unique combination makes for an abundance of festivals and culinary opportunities to enjoy on your Singapore honeymoon. 
The city has an excellent public transportation system; however, for exploring Singapore, nothing beats a stroll through the city's lush greenery. A visit downtown will introduce you to the spice shops from India and the fortune-tellers from China, as well as the exquisite silk that can be found in the Arab section. 
Singapore is all about shopping. Wander down Orchard Road and find yourself in retail bliss. Thousands of shops beckon, while hundreds of restaurants provide the sustenance to keep you going. Oriole Coffee offers a delectable cup of coffee. For some cuisine that includes Mexican, Italian, and Turkish selections, stop by the Wild Honey restaurant. ION Orchard is one of the city's most awe-inspiring malls, from its futuristic architecture to its luxury offerings. Check out the Grand Whiskey Collection, which features some of the world's rarest whiskeys. Here, shopping is life.
Just of Orchard Road, tired shoppers will find an oasis amid the turmoil. Istana Park is one of Singapore's most beautiful and lush green parks, replete with tall trees and colorful, bright flora. Check out the Butterfly trail and the relaxing pond. 
If you enjoy shopping but also insist on a bargain, Singapore has a few hidden gems that most tourists overlook. 
IMM on 2 Jurong East Street 21 is a major outlet with 90 stores that offer up to 80 percent off brand names such as Coach or Michael Kors. This is where you will get your shopping money's worth.
Changi City Point located at 5 Changi Business Park Central 1 has sporting goods, with brands such as Nike and Adidas at a huge discount. 
While on your Singapore honeymoon, you will find that a small country such as Singapore has huge deals to offer.
Best Time to Visit Singapore
Winter and spring, or the months of November through June, is a most popular time to visit Singapore. So much is happening. The music festival Zoukout livens up the month of December. The Chinese New Year in February is always filled with colorful excitement. And don't miss the Dragon Boat Festival in June. The place to watch the boat races is Marina Bay. Rice dumplings are eaten everywhere during the race, so join in. 
Singapore is somewhat less crowded from July through October. It's the tail end of the famous Great Singapore Sale. This six-week event surpasses even Singapore's love of retail therapy. People from around the world come here for the incredible bargains. Most of the stores in Singapore participate, even those selling high-end designer clothing from Orchard Street. This is the only sale of its kind in the world. 
Patriotism hits Singapore on August 9th as everyone celebrates National Day, the country's founding day. Join in the music and dancing and watch the parade and fireworks. 
Visit a Hindu temple between late October and the beginning of November, when the Hindu community celebrates the victory of good over evil. Don't miss a stroll through Little India for the Festival of Lights. 
Christmas is beautifully lit up for the season, especially Orchard Road. The most popular place to celebrate is Saint Andrew's Cathedral. 
Top Things to do in Singapore
Lion City Bike Tour of Singapore 
This unusual bike tour hits the secrets of the backstreets of Singapore. It's a close-up way of learning about the city's history. Most of Singapore will be covered during this tour, from the Singapore River to the hidden, out-of-the-way nooks in Chinatown and Little India. For more information, call 65-98536285. 
Hip and trendy have arrived in Singapore via Haji Lane. It's all about the essence of cool, from hot boutiques and the latest cafes, restaurants and, bars. 
Stroll passed the graffiti art on the door and visit the Juice Clinic for some green juice and rainbow cheesecake. How cool is that?
The Pita Bakery bakes its pita bread fresh daily according to its 700-year-old recipe. It's perfection topped with hummus and baba ghanoush.
The Ah Sam Cold Drink Stall serves one-of-a-kind cocktails with the hippest of foods, such as a ngoh hiang platter or some char kway teow. You won't have to pronounce them, just enjoy them.
Visit Windowsill Pies for some unique pies, such as pecan and rum with the best crust. 
At Selfie Coffee, they serve you a cup of your favorite brew with your picture in the foam. Why not?
The Singapura Club is a hip bar with some interesting drinks. Definitely worth a visit. Moving along to the Mad Sailors, a classic English Pub with fabulous fish and chips. 
Blu Jaz Café is for trendy jazz lovers. They have some cool underground parties you wouldn't want to miss.
Over two thousand animals welcome you to the Singapore Zoo. The favorites are the orangutans, who will happily participate in a selfie shot. 
The River Safari is adjacent to the zoo. Travel up a river on a boat and see manatees, piranhas, monkeys, and many other beloved riverbank inhabitants. Pandas are a special favorite. The boat ride is short, but it does replicate a ride through a tropical rainforest. 
This is a genuine reproduction of a majestic Sun dynasty garden. It's the place to visit when you want to relax. There are ponds and rivers, as well as a pagoda and Bonsai trees that whisper serenity. The Chinese Garden is an especially great place to visit – and perhaps less tranquil than usual – during the Chinese New Year.  
Sentosa Island is off the mainland and offers visitors an abundance of fun. The fun begins as you travel to Sentosa Island via cable car. An exciting variation of the usual cable car ride is the sunset ride from Singapore Harbor, which includes a meal for you to enjoy as you soar high above the sea. Once you have arrived:
Enjoy Sentosa's three wonderful beaches.

Visit Universal Studios Singapore, a theme park with movie-themed rides.

Stop by the S.E.A. Aquarium, which is home to more than 100,000 marine animals.
Weather in Singapore
There are technically two seasons in Singapore – hot and rainy. The heat remains constant throughout most of the year between 80 and 90 degrees. There is rainfall most months, especially from November through January. On top of that, add a high level of humidity and frequent lightning storms. People who live in Singapore know to take shelter when they hear the sound of thunder.
While March through August is considered the "dry" season, it can still experience daily downpours. November through January can bring an average of 11 inches of rain each month. This can cause flash flooding in the low-lying areas, such as Orchard Street. Fortunately, the flooding usually recedes within an hour.