Northern California is America's wine country, with both Napa Valley and Sonoma County beckoning. They are located near each other, and both offer amazing wine tasting opportunities. However, they are very different from each other. Which one has the ingredients for your dream vacation? Both regions are reachable through the Sonoma County Airport or the San Francisco International Airport.
Napa Valley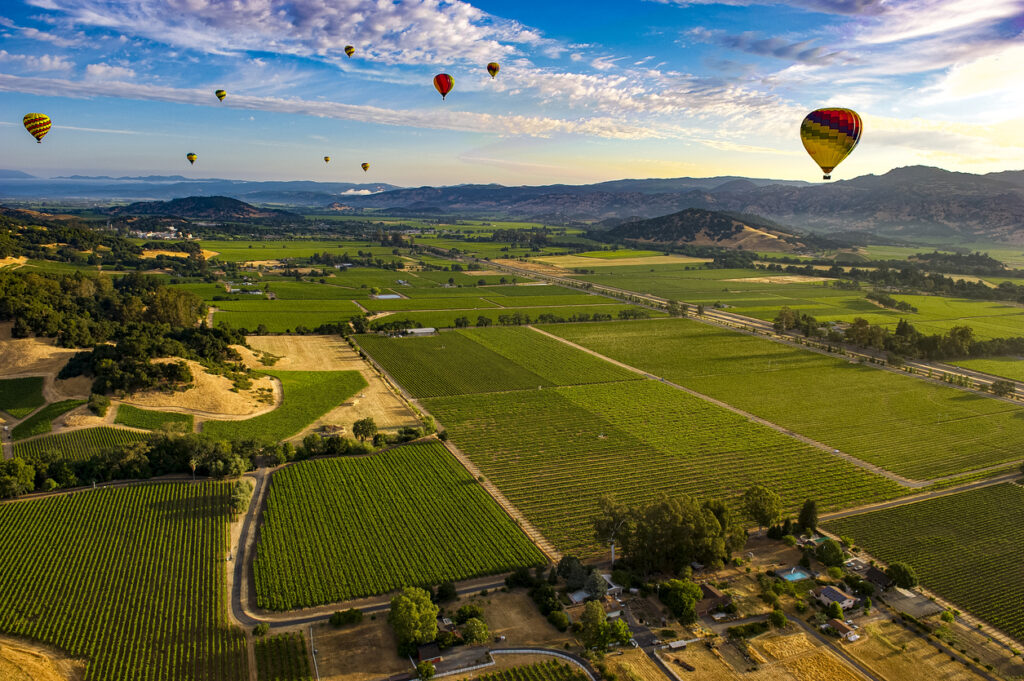 Napa is California's official scenic wine region, known especially for its wonderful cabernet sauvignon rivaling any French wine. Amidst its amazing scenery just fifty miles outside of San Francisco, Napa has unique shopping, great dining, outstanding culture, and luxury accommodations. It's very much like being in France without leaving the country. Especially beloved is a ride on the Napa Valley Wine Train.
The major city in Napa Valley in Yountville. Here, the dining is extraordinary – this is where visitors find the world-famous Michelin-starred French Laundry and deluxe wine resorts.
Sonoma County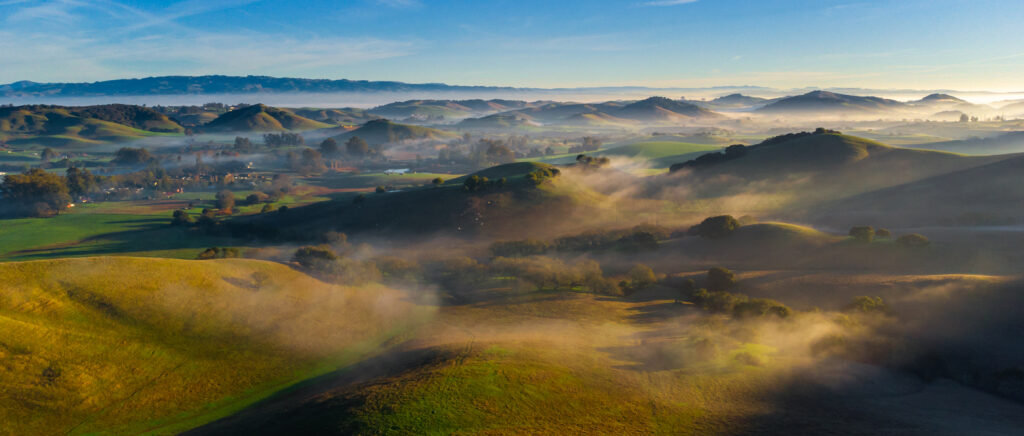 Sonoma County is more laid back than Napa Valley. It has a fabulous landscape and a wine area double the size of Napa Valley. Here, a wide variety of grapes are grown for chardonnay, pinot noir, cabernet sauvignon, and zinfandel. Sonoma County prides itself in its 400 different wineries.
The county is filled with hidden inns and a few luxury resorts to accommodate all visitors who enjoy outdoor activities such as ziplining and tours of the vineyards. As a change from fine wine, Sonoma offers breweries and cocktails at Hanson of Sonoma, named the 2020 Distillery of the Year. Their special vodka, made from local organic grapes, has been referred to by Oprah Magazine as "practically health food."
Sonoma County is a nature lover's paradise, with forests, the Sonoma Coast State Park with its marvelous hiking trails, and a picturesque Pacific coastline creating an almost overwhelmingly beautiful vista wherever one looks.
Napa Valley's Most Fabulous Vineyards
Napa Valley isn't only about the fabulous selection of great wines. The wineries themselves are sheer wonders.
Chateau Montelena
Chateau Montelena in Calistoga is famed for winning the 1976 "Judgment of Paris" and putting French wines in their place. The Chateau produces some of the best wines in the US.
Louis M. Martini Winery in St. Helena
Louis M Martini is committed to the fines Cabernet Sauvignon in Napa Valley. The underground cellar offers a special culinary experience with expert wine pairings.
There are daily outdoor (weather permitting) wine tastings in private cabanas paired with delicious meals, which can turn into a wonderful romantic experience. Visitors can also arrange a wine and cheese affair in the park.
Domaine Carneros in Napa
Domaine Carneros is known for its fabulous pinot noirs with a French chateau background. This winery is all about elegance, with table service overlooking the beautiful valley. The vineyard is the 2018 Pinot Noir Best of Class winner, the 2021 San Francisco Chronicle Wine Competition winner, and the Napa Valley Life Magazine Best of Napa Valley 2021 winner.
Sonoma County Most Fabulous Vineyards
Francis Ford Coppola Winery in Geyserville
The Francis Coppola Winery is one of the rare family-friendly vineyards in Sonoma County. It has won awards for "Best Winery To Take Visitors To," "Best Bocce Ball," and "Best Outdoor Dining."
The onsite restaurant pairs wine with some of Coppola's favorite Italian recipes. There are two swimming pools with loungers and four bocce courts, a movie theater, and plenty of Coppola memorabilia, such as the owner's Oscars and Don Corleone's desk from the Godfather movie.
The Jordan Winery in Healdsburg includes a three-hour tour of this incredibly scenic vineyard with its French chateau and an unsurpassed dining and drinking experience. The tour culminates in the cellar, where guests can enjoy hors d'oeuvres with special chardonnay and cabernet sauvignon pairing.
Considered one of the best wineries in Sonoma County, Jordan has won the 2019 Sunset Travel Award, the 2021 Tripadvisor's Choice Award, the American Airlines Celebrated Living Magazine award in 2017 and 2018, and USA Today 2019's Top 10 Best Winery Tours in America.
The chef will arrange special sit-down dinners and special event dinners within the chateau's fabulous setting.
The large estate has become a self-sustaining farm, growing its own food and raising its own chickens and cows nearby.
Matanzas Creek Winery in Santa Rosa
The Matanzas Creek Winery is located in the scenic Bennet Valley and is known for its chardonnay and pinot noir. Guests can partake in a variety of wine tastings.
The Comparative Tasting takes place daily and allows guests to sample five of the vineyard's exceptional wines.
The Matanzas Creek Collectors Tasting explores six different wines, three reds, and three whites.
The Picnic taste tasting takes place in a special picnic area where guests can enjoy the wines of their choice and revel in the surrounding view. Or they can enjoy a bocce ball picnic with bocce ball and wine.
Matanzas Creek is famed for its Lavender Garden. The lavender is cut and used in the estate's luxurious bath and body products, such as lavender body butter, lavender essential oil, soothing spray mist, massage oil, and shower and soap products. The potpourri gift pack will fill any home with a tantalizing fragrance.
Things To Do in Napa Valley
Napa Valley By Rail
Enjoy the sparkling sights of Napa Valley with a ride on the glamorous Napa Valley Train while enjoying some marvelous dining. This is a shorter, elegant version of the Orient Express.
Ride in an old-fashioned Pullman car and have a three-hour lunch or a two-hour dinner. This takes traveling back to a different era when style mattered. The dining car offers gourmet meals followed by luscious desserts. Then, riders can relax and take in the stunning vista from the lounge car. The dinner ride offers a fabulous sunset.
For some Napa-fun, ride the Murder Mystery Train. Hercules Poirot won't be there, but the train becomes a stage for intrigue, costumed actors, love gone wrong, and murder, which the riders must solve. Rumor has it that murder pairs well with a full-bodied pinot noir.
Downtown Napa
Napa Valley does offer more than wine. Downtown Napa has a thriving art scene, gourmet dining, and vital nightlife.
The lounges are lined up on First Street, with JaM Cellars serving up live music with its drinks.
Napa Art Walk exhibits local sculptures and interactive art. The pieces of art can be enjoyed or purchased. While examining the artwork, visitors should see the marvelous art-deco Uptown Theater.
Balloon Rides
Napa Valley Balloon Rides will create memories for a lifetime. Spend a few hours soaring above wine country during the morning hours and marvel at the valley's most fabulous sights.
Dr. Wilkinson's Resort
After suffering through various wine tastings and incredible balloon flights, visitors may need to recover at Dr. Wilkinson's Backyard Resort. Relax in one of the backyard hammocks or stay overnight. Indulge in one of their mud baths or geothermal pools or enjoy a soothing wellness massage.
The French Laundry
The 3-star Michelin Guide The French Laundry in Yountville is one of the most renowned restaurants in the country and beyond. Its life began literally as a French steam laundry in the 19th century before becoming one of the most famous and exclusive restaurants anywhere. It has earned its many awards and has been a member of the Relais & Chateaux, Relais Gourmands, and Traditions & Qualité, which is dedicated to the highest culinary standards.
Every aspect of the guests' experiences is calculated, from the walk through the exquisite garden to the open courtyard lined with Japanese maples to the seating and flawless presentation of one of the world's most delectable dishes. The experience is not inexpensive, but it is a once-in-a-lifetime treat.
Things To Do In Sonoma County
Visit Sebastopol
A visit to the town of Sebastopol is a mini-experience of the entire Sonoma County.
Enjoy the restaurants with fresh seafood and the unique street art. The Florence Avenue Trash Art has some stunning sculptures decorating the city's front lawns, and they are indeed created from recyclables.
The Barlow in Sebastopol is a culinary and art center. There is plenty of wine tasting, several award-winning restaurants, two art galleries, and shops. It's a small city inside a large warehouse.
While in Sebastopol, visit the West County Museum, which chronicles historical changes in Sonoma County, from films shot in Sonoma to local artifacts.
Bodega Bay
Sonoma County is associated with great wine, but Bodega Bay by the coast is also an ideal place to watch the annual gray whale migration. They travel south in December and January to breed, then the entire crew heads back north in May, mothers with their babies in tow.
Luxury Resorts in Napa and Sonoma
Silverado Resort and Spa in Napa Valley offers several special packages within a luxury environment. The Unlimited Tennis Package includes tennis every morning and winery tours every afternoon. Silverado has been named one of the top 14 best tennis resort destinations in the world for four years. The package includes 20 percent off tennis clinics.
The Unlimited Golfer's Package includes savings on accommodations and green fees, one round of golf game per evening, and unlimited practice. A bottle of Cabernet Sauvignon is included in the package.
The Romance Package includes accommodations, an in-room bottle of wine, chocolate-covered strawberries, and butler service.
The Couples Escape Package includes body treatments at the Silverado's spa and romantic, fireside room service with butler service.
Fairmont Sonoma Mission Inn & Spa in Sonoma is the ultimate luxury resort in Sonoma County. Suites come with a private terrace and jacuzzi, and guests have access to the Sonoma Golf Club. The spa, for which the inn is famous, has five thermal mineral pools, a Roman bathhouse with a soaking pool, an aromatherapy steam room, and a sauna. The spa treatments are available to the inn's guests as well as to day visitors.
Dinners at the Fairmont Sonoma Mission Inn consist of a four-course dinner with paired wine.
Guests can enjoy daily wine Sonoma wine tasting, board games, and guided hikes.