St. Martin is one of the most unique of the stunning Caribbean islands. It has the usual Caribbean gems – stunning beaches, azure waters, and exciting nightlife. What it also has is two separate cultures. St. Martin, one single island, is ruled by two separate sovereign countries, the Netherlands and France. There are no borders and crossing from one zone to the other is easy. The French side offers exquisite shopping and dining (don't bother looking for a McDonald's here) with an elegant, somewhat dressy style. Imagine enjoying a fresh croissant on a Paris sidewalk. This is also where to find the best beaches. 
The Dutch side – they like to spell it St. Maarten – is somewhat livelier and more cosmopolitan with its exclusive resorts, clubs, bars, and casinos. Parents may want to be aware that beaches in St. Martin mandate clothing, many of St. Maarten's beaches are clothing optional.
The charm of visiting St. Martin is that it offers two vacations for the price of one
All-inclusive resorts are great for travelers who want a stress-free getaway and just enjoy an abundance of relaxation. All amenities are included and unlimited, so guests can have meals and drinks at their leisure without considering the expense. Most activities are also included. The trip is paid for when it is booked, and most times, it includes a cheaper airfare than would otherwise be available. This amounts to all-inclusive savings.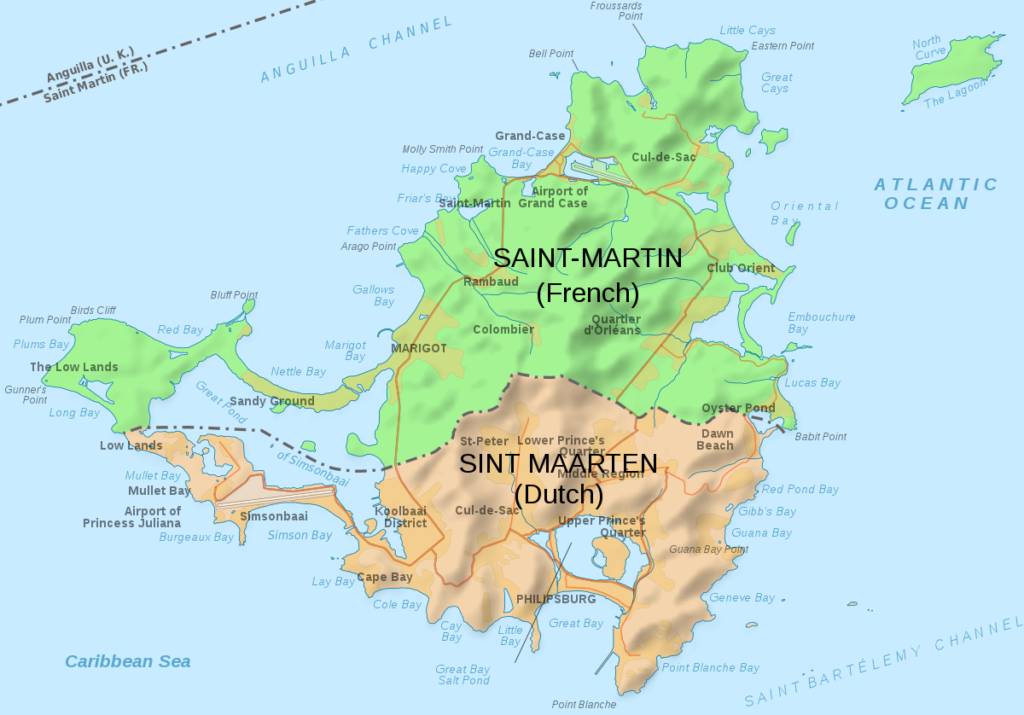 Best All-Inclusive Resorts in St. Martin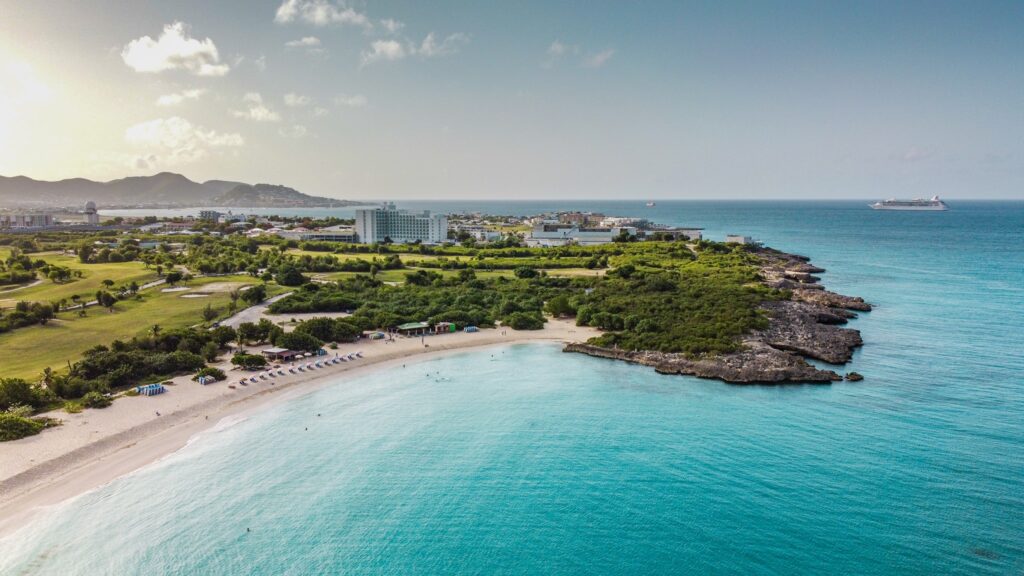 This 420-resort by Maho Bay Beach on the Dutch side is an ideal getaway for singles, couples, and families. There are five all-inclusive restaurants and five bars from which to choose. The mini-bars in the rooms are replenished daily, or guests can enjoy a drink at the swim-up pool bar.
The resort's spacious rooms have either a pool or ocean view.
All-inclusive dining and drinking includes an all-day buffet by the beach, several other fine eateries, and friendly pubs. The Point Restaurant is made for Italian dining enthusiasts and lovers of the perfect sunset. The Latitude Bar offers drinks and 50 slot machines for gamers.
The adult entertainment has something for everyone, from trivia challenger, dance classes, poolside bingo, parties at the beach and pool, and a music program with live entertainment featuring comedians and karaoke.
Special Kids and Teen Clubs are meant to entertain and supervise the younger set in daily and nightly fun activities. The 4,000 square-foot Beach House is for kids between the ages of 3 and 12. It features an aqua park, slides, a pool, and a playground. Twenty-four-hour babysitting services are available.
The Teen Zone is filled with electronic games, a pool table, foosball, and board games.
The tour desk will help guests find the best off-property activities, cruises, and tours. Perennial favorites are the one-hour guided jet ski tours, a catamaran sail, as well as the rainforest adventure tour.
The Sonesta's Wellbeing Package includes a 25-minute neck massage, a health drink, spa samples, a discount on all spa treatments, yoga and Pilates classes, a room upgrade, and a daily room service delivery of the health drink of the day.
Couples can choose from the resort's different romantic wedding packages to create their dream wedding in stunning surroundings.
---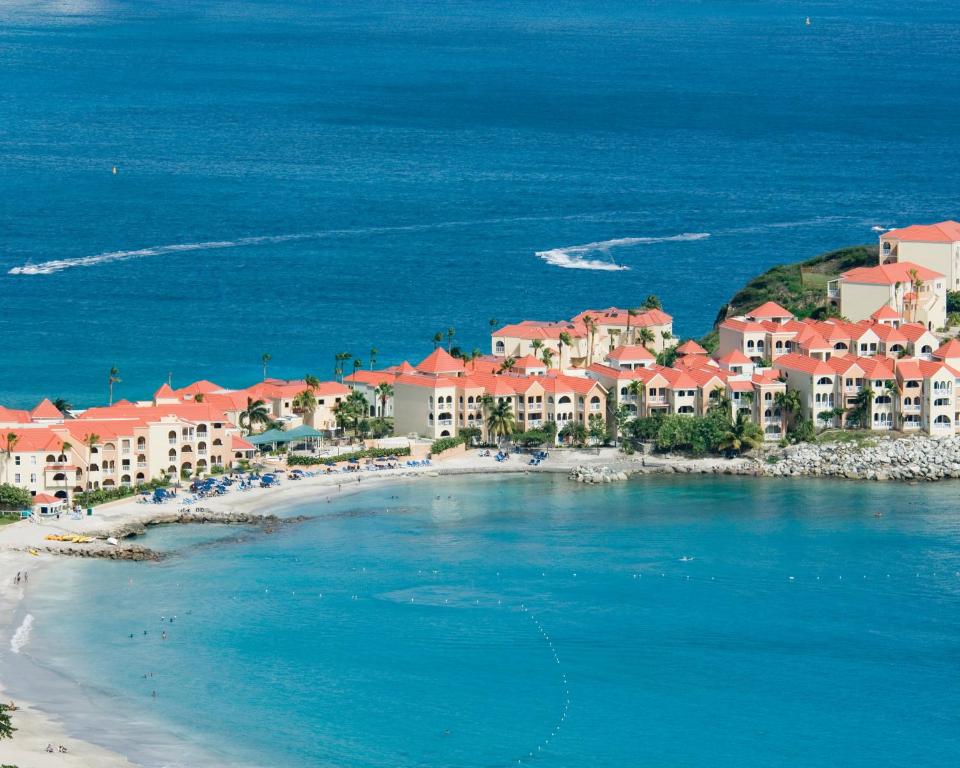 The Divi Resort is on the St. Maarten side of the island. They offer an all-inclusive dining and drinking plan, with children under five eating free. Non-motorized water sports are included. The stunning rooms and suites have a breathtaking ocean view.
A special honeymoon package includes spa indulges for two or three hours.
A wedding planner can arrange the perfect beach wedding package which includes a ceremony, wedding cake, photographer, bouquet, and boutonniere, as well as a room upgrade, daily breakfast for two, and a couple's massage. Onsite shops offer souvenirs, clothing, and jewelry while the grocery mart carries daily necessities.
The resort's Aqua Mania offers daily cruises, scuba diving, snorkeling, and other great watersport activities. Guests can simply relax during a sunset or dinner cruise.
---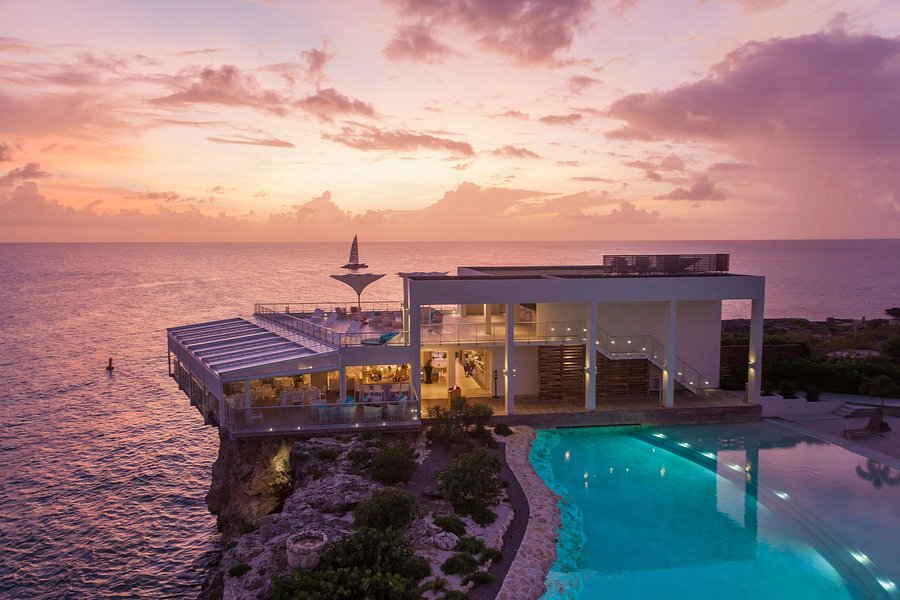 The adult-only resort in the Dutch zone of St. Maarten has 130 suites that are fashioned in an elegant contemporary Caribbean style overlooking Maho Bay. Some top-level suites come with a personal butler, who will keep the room's fridge filled with new wine each day.
All eating and alcoholic beverages at the resort's eight restaurants are included in the price. The resort is thriving with activities, such as movie nights, live entertainment, bingo, pool, karaoke, and aerobics. Watersports abound, and there is a golf course less than two miles from the resort.
The onsite Casino Royale is the largest gaming facility on the island, with 21,000 feet of slots, gaming tables, and a special high-roller section. Membership to the Players Club brings rebates, bonuses, comps for food, and free slot plays. There are extravagant Las Vegas-style shows every Saturday evening.
Included in the all-inclusive package are the fitness center classes in yoga and aquacise to help guest maintain their wellbeing.
With all it has to offer, a stay at the Sonesta Ocean Point adds up to a getaway at St. Maarten's most sophisticated resort. Guests of the Sonesta Ocean Point Resort have free and absolute access to the nearby Sonesta Maho Beach Resort.
---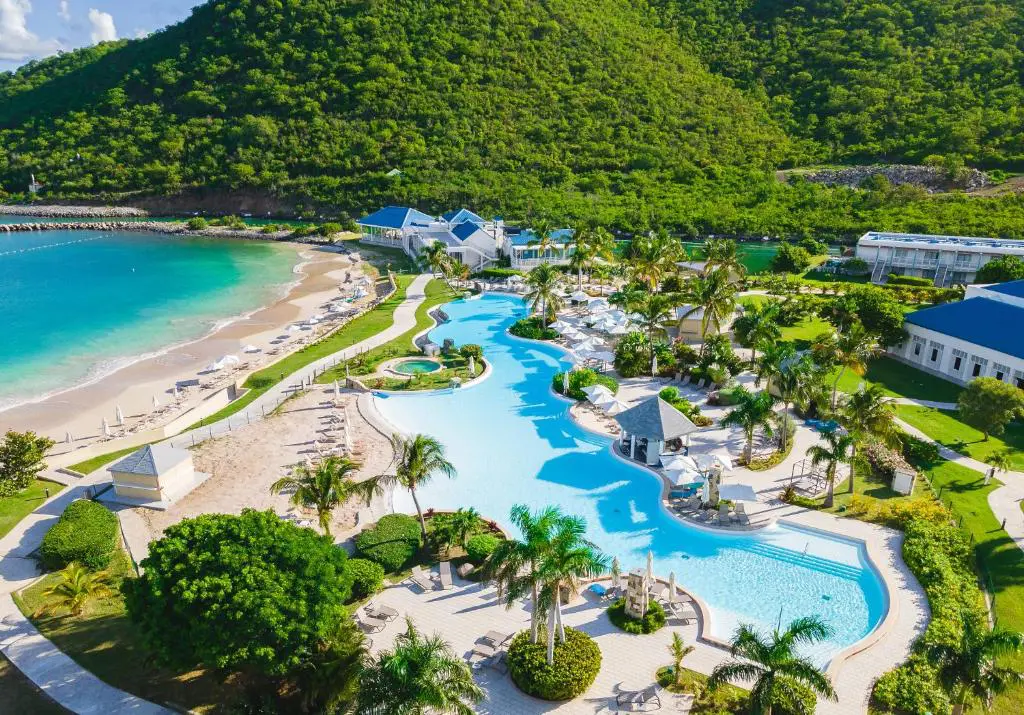 Secrets St. Martin Resort & Spa, on the island's French side, is the ultimate luxury all-inclusive travel destination. French elegance blends seamlessly with a casual Caribbean style.
Secrets' 258 suites feature either an ocean or mountain view with private terraces or balconies, a soaking tub, 24-hour room service, and a mini-bar that is refreshed daily. Members of the Preferred Club enjoy upgraded accommodations. access to their own special lounge, and enhanced concierge services, as well as continental breakfast each day and hot and cold hors d'oeuvres every afternoon.
The resort has six gourmet beachfront dining options and five swim-up bars. Unlimited Luxury privileges include all premium wines and liquors.
The Unlimited Luxury option involves an evening at other nearby resorts for an "evening out" of dining and drinking. For couples looking for romance, the option includes a private dinner at any special area within the resort.
Secrets goes all out for romance. Couples can upgrade their stay with a couples' massage, a mimosa breakfast served in bed, and a welcome gift. Those opting for the resort's Pop the
Question package will receive help with a stunning picturesque backdrop for this enormous once-in-a-lifetime occasion, including a special message written in the sand, a bottle of wine, a bouquet of roses, and a "Just Engaged" door sign. The resort will arrange for five engagement pictures to be included.
---
St. Martin – The Two-in-One Getaway
St. Martin is surrounded by the most beautiful beaches that offer the best in sailing, snorkeling, diving, kayaking and other watersports. Visitors invariably enjoy the day cruises for fun and romance. Sunset cruises with a visit to a lively bar in St. Maarten are always popular.
Even more popular is the duty-free shopping on the island. Philipsburg, on the Dutch side, has plenty of luxury goods on display (think electronics, gold, and diamonds), especially on Front Street. The city's motto, "shop till you drop," is taken seriously. Any money saved while shopping can be used inside Front Street's Coliseum Princess Casino.
Philipsburg's French counterpart, Marigot, takes a more laid-back approach. "Relax. The shops will remain open. Have a café au lait." Either way, St. Martin is a bargain hunter's nirvana.
St. Martin can be the vacation of a lifetime and staying at an all-inclusive resort can set it apart from an ordinary getaway. The all-inclusive resorts bring a level of elegance, luxury, and attention rarely found in other hotels. That's what guests come to expect and enjoy.
Why Visit an All-Inclusive in St. Martin?
Life doesn't get much easier. All-Inclusive resorts specialize in catering to their guests and offering rare luxury, such as a 24-hour butler along with their high-end accommodations. Need your shoes shined? Your breakfast served in bed? It's a done deal.
All-Inclusive resorts are hassle-free; guests just show up and have their butler arrange transportation from the airport and unpack their bags. These resorts may offer special romance packages for couples, safety for single travelers who do not need to wander through a strange city looking for a place to eat and have fun, and fun for families, since the resorts usually include safe and supervised kids' clubs that allow the parents some alone-time while the kids have fun.
Can there be a downside to all this luxury and bliss? With all that these resorts offer, most guests don't bother to venture far out. Why would they? Everything they want and more is at their immediate disposal. They may, however, be missing out on some interesting local culture and that gem of a hole-in-a-wall eatery with the best food in town without that incentive to leave the resort.
Perhaps an excellent way for adventurous travelers in need of some spoiling would be to explore the sights and terrain for one week, then recover at an all-inclusive resort the next. It promises the best of two travel worlds.
.