If your wedding is an unparalleled event, your honeymoon should be a once-in-a-lifetime adventure. And nothing says thrills and surging adrenaline like a Tanzania honeymoon. Whether you want to relax, confront a lion, or indulge in some world-class pampering, Tanzania will make it happen.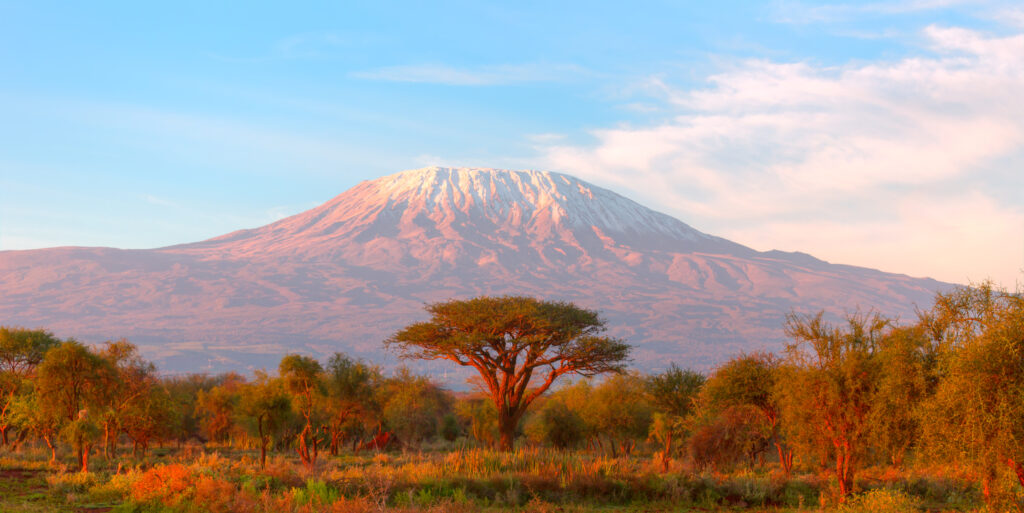 About Tanzania
Tanzania, located in East Africa, has incredible national parks, some of the world's most stunning landscapes, secluded beaches, and luxury accommodations. It is the ideal beginning for your new life together.
Here, visitors experience nature at its more alluring. Whether you are floating in a hot air balloon, having a picnic in the wilderness while watching the elephants, or relaxing in a luxury treehouse, visitors to Tanzania will be treated to new adventures every day.
The Great Migration in Tanzania is one of life's most unforgettable sights. This is when millions of wildebeests, gazelles, and others roar through the Serengeti. A camp in Tanzania can provide you with the best and close-up view of this unrivaled sight and provide memories and photos for a lifetime.
It's not all lions, giraffes, and tigers. At over 19,000 feet, Tanzania's Mount Kilimanjaro is Africa's highest mountain. It takes approximately seven days to climb to the snow-capped top, starting at the bottom with a temperature of around 80 degrees and reaching the top, where it is below freezing at 20 degrees. Bring a blanket and snuggle close under the stars and enjoy the sunsets and sunrises together. And take plenty of pictures
Best Hotels and Resorts for a Tanzanian Honeymoon
Fruit and Spice Wellness Resort
Fruit and Spice Wellness Resort by Mchangamle Beach, 75 kilometers from Zanzibar International Airport, is situated between a natural park and the sea – the best of two worlds. In addition to luxurious rooms and suites, the resort has private villas with a pool and butler service for special pampering.
Couples can enjoy a beach vacation with a whirlpool tub by the beach, palm trees, and gazebos (three are private and for the exclusive use of couples staying in one of the villas). Watersports include snorkeling, boating, or swimming with dolphins. The beach bar serves specialty cocktails and snacks, and guests can party under the stars several nights a week. Or they can relax in the Jungle Spa and receive treatments surrounded by great scenery, a waterfall, and an infinity pool. Of course, the resort with arrange for exciting jungle excursions.
---
The Z Hotel
The Z Hotel is located 37 miles from the Zanzibar International Airport by the white sands of the Indian Ocean. It offers absolute relaxation and an abundance of watersports such as diving classes, snorkeling, and fishing. Rooms and suites have both a garden and beach view. There are two secluded and private cottages where the only sound is the lapping of the Indian Ocean at the door.
Guests can enjoy morning and evening open-air yoga sessions, plus outdoor meditation by the ocean during sunset.
The in-house restaurant, Sexy Fish, serves Tanzanian-style seafood – crab curry and lobster tempura – al fresco; The Cinnamon Bar and rooftop lounge serve casual meals while guests overlook the ocean. There is live music several evenings a week. This is where romance blooms naturally.
---
Zanzi Resort
Zanzi Resort is by the Indian Ocean and a half hour from the airport. There are 13 cozy clifftop villas and bungalows with patios; some even have their own pool. The entire resort spans 15 acres of tropical lushness.
The restaurant has an all-day breakfast menu, seafood for lunch, and three-course dinners. There are frequent barbeques, or couples can be served by candlelight at the end of the jetty leading into the water. Of course, dinner can also be served on the beach.
The gardens are a wonderful place to stroll hand in hand. The open-air massages high upon a cliff can be the ultimate in pampering, and the Japanese hot stone ganban'yoku can cleanse body and soul.
---
The Highlands
The Highlands in northern Tanzania offers a true Tanzanian adventure. Located within the Ngorongoro region, this wilderness camp offers a true safari experience with most of the comforts of home. Accommodation consists of eight tented suites with king-sized beds, en-suite bathrooms, hot showers, and stove. There is even a honeymoon tent with a hot tub.
The camp is remote, and guests will see lions, giraffes, and elephants roaming the area. Or they can visit and speak to the nearby Maasai tribe about their culture. Experienced guides will take guests out on game drives in the morning or in the afternoon. A drive to the Empakaai Crater and a hike around the lake with its congregation of pink flamingos can also be arranged.
At the end of the day, couples can enjoy a glass of wine and a three-course dinner. Meals are served out in the bush, on the camp's deck, or in the dining room.
---
Serengeti Under Canvas
Serengeti Under Canvas is a glamorous Serengeti mobile camp that moved several times a year with the Great Wilderness Migration, providing guests with the ultimate view of wildebeests. Nine tents provide a first-rate glamping experience, including butler service.
Guests wake up to a cappuccino and end the evening around a campfire and dine, drink, and share stories by starlight with lions roaring in the distance – or not-so-great distance.
Serengeti Under Canvas will help newlyweds celebrate their new blissful state with 50 percent savings for one of the partners.
Game rides will introduce guests to big cats, rhinos, elephants, and buffalo. Herds of them. For a great view, the camp arranges hot air balloon flights with unbelievable sights all the way to Lake Victoria. They will also arrange day trips to Lake Victoria.
---
Culture in Tanzania
Diversity is a major topic these days, and Tanzania has been far ahead of the curve. One hundred and twenty ethnic groups, each with its own traditions, music, and customs, live together in peace and harmony. In the fifth century, Arabic traders established trading colonies. These were subsequently joined by the Portuguese. European missionaries began arriving in the 19th century. This included the famed Dr. Livingstone, eager to report on the horrors of the slave trade. After that, many Germans created their own settlements as the British and German vied for control of the country. Tanzania finally achieved independence in 1961. At that time, Swahili and English became the country's official languages.
This vast infiltration of different groups has created wonderful special cuisines. The Arabs introduced spices to the region, for which Tanzania is now well-known, especially its Indian delicacies. Much of Tanzanian cooking contains coconut, plantains, and beans in many different and delicious forms, but it is the spices that rule the kitchens. In Tanzania, Indian dishes are very popular with locals and visitors.
For one of Tanzania's most romantic dinners, visit Emerson Spice Rooftop Restaurant in Zanzibar. They serve an exotic five-course Swahili dinner every evening at 7:00 pm, with each course highlighting a distinct local flavor or spice, such as grilled mango with cardamom.
Top Things to Do in Tanzania
The Tanzanite Experience
Tanzanite is one of the rarest gems in the world and can only be mined in Tanzania. The original outlet is located Arusha at the Blue Plaza and is the "only tanzanite museum in the world," where it provides the history of this mythic stone. Here, each gem is certified and can be purchased at a low rate. This brilliant blue stone makes an excellent investment and is a bargain to purchase from its direct source.
The Crater is one of several craters in Arusha National Park in northern Tanzania surrounded by wildlife and rainforest. Visitors should be prepared for elephants, buffaloes, and monkeys.
There are several viewpoints by the Crater's southern rim and two by the northern rim. Views from the Crater include Mount Kilimanjaro. Visitors can drive or hike to the viewpoints and/or the Crater floor, which offers a closer look at the wildlife.
These hot springs are located between Arusha and Moshi.
The drive to the springs itself is a lovely journey lined with fields of flowers or sugarcane fields.
Mawenzi Adventure Tours will pick guests up in Moshi for the picturesque hour-and-a-half trip. Visitors can dip in the comfortably hot water and simply revel at the scenery. Pack a bathing suit and make a splash. Packages and a romantic dinner by candlelight are available, with options to celebrate any occasion – like a honeymoon. Visitors can camp in the hot spring and be picked up the following morning. The hot spring will likely be deserted, so campers can ditch the bathing suit.
Average Cost of a One-Week Trip to Tanzania
A honeymoon budget can go reasonably far in Tanzania. The average expense a day for meals, taxi rides, and other incidentals is $87. When dining out, the basic expected tip is between 5 and 15 percent. The average hotel stay is $88 per night, but those would not be luxury resorts or camps. For a couple, the average cost of a week's stay would be around $1,219. Keep in mind these are middling, average prices.
Best Time to Visit Tanzania
Tanzania is all about Serengeti's Great Migration, which spans across the entire year. The summer months of July through September bring the most visitors to witness massive herds of wildebeest and zebras soaring across the plains to avoid capture by predators.
Life calms down a bit between November and March when there are chances of rain showers. There are still migrating herds, now with their young newborns. By April and May, Tanzania can expect heavy rains.
Weather In Tanzania
Tanzania's dry season, June to October, has low humidity and it can get cool on morning safari drives, so a warm jacket is recommended, especially in the northern regions. Afternoons see comfortable temperatures between 68 and 86 degrees accompanied by clear skies.
The wet season spans from November to May, and the afternoon temperatures will settle around the normal 86 degrees, but it gets colder at higher altitudes.