Tulum is home to various beaches, from crowded stretches of sand near Mayan ruins to calm coves ideal for taking a dip. There's also fantastic cave and cavern diving, fun cenotes, and various lodgings and restaurants to fit every budget. Dreaming of visiting this place? Tulum's all-inclusive resorts will allow you to enjoy all resort facilities while you experience all Tulum has to offer.
When you stay at one of Tulum's all-inclusive resorts, you can relax and enjoy your vacation without worrying about the cost on the last day. Read on to learn about the best all-inclusive resorts in Tulum.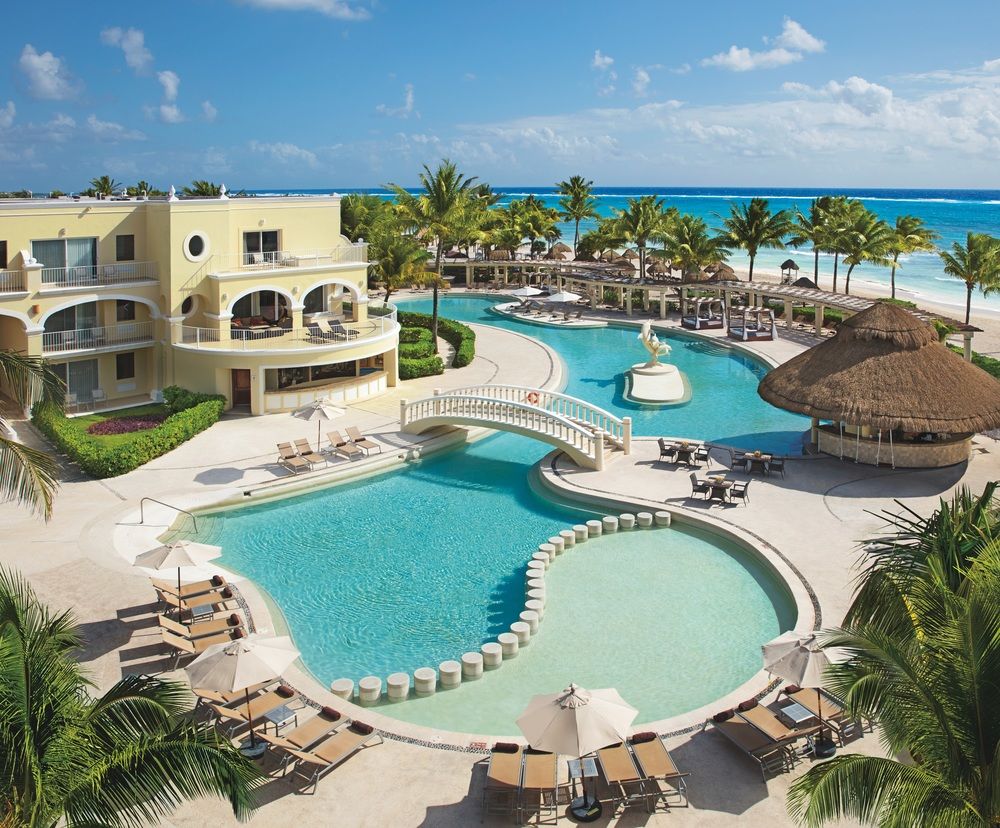 Kore Tulum, catering exclusively to adults, is regarded as one of the top all-inclusive resorts in Tulum for couples, solo travelers, and families wishing to experience relaxation.
Since the resort has rooms that look out onto the garden and the ocean, no room has an unappealing vantage point. Each suite has a king-sized bed, comfortable mattress, and premium linens. In addition, there are bikes to use if you want to look around.
A romantic infinity pool overlooking the sea is also available for couples. The sauna is part of the full-service spa. Moreover, the resort provides Temazcal, a traditional spiritual healing practice, for larger parties.
Also, there is a cigar shop where you may get genuine Cuban cigars. To further facilitate relaxation, the hotel features a library and game room. At the same time, the business center and fitness facility are available to the hotel's more active visitors.
You may get a farm-to-table breakfast à la carte at Nirvana restaurant, where you can also watch the chefs prepare your food. Diners at the Shangri-La will experience an array of international flavors. Guests lounging by the infinity pool have access to the pool bar, which serves drinks and light fare, and the inside La Galleria, which serves coffee and cocktails.
When you stay at Kore, you may choose from a variety of romance packages, one of which includes a private dinner by the seaside. Kore Tulum's relaxed and passionate ambiance makes it an ideal resort for stressed-out couples.
---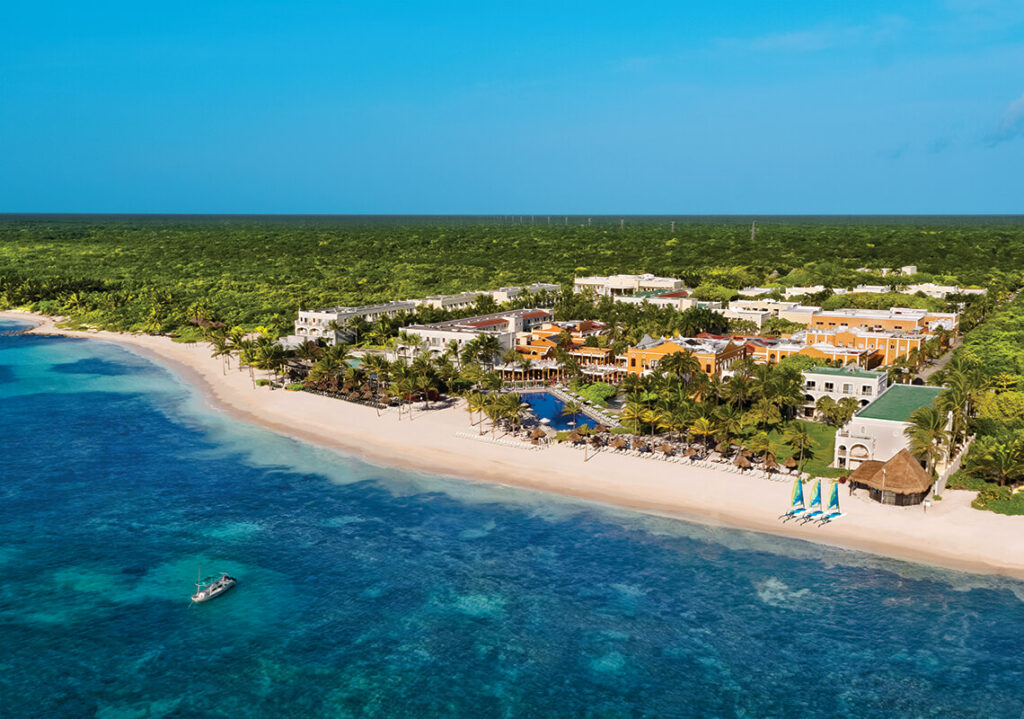 Dreams Tulum Resort & Spa, with its two-mile stretch of beach and surrounding jungle, is a top pick for families looking for an all-inclusive vacation in Tulum.
The suites and rooms at this award-winning resort have whirlpool spas and direct beach access, and the rooms overlook the ocean.
Dreams Tulum Hotel & Spa guests can choose from various dining and drinking options. There is a café, six a la carte restaurants, and a buffet.
Bordeaux serves fine French cuisine, while the nearby Coco Café is perfect for a quick bite and a cup of gourmet coffee. Gourmet Italian dining is available at Portofino, while innovative Pan-Asian dishes may be found at Himitsu.
Activities at the resort range from tennis clinics to beach volleyball games and water polo matches to beachside movies to themed banquets. The resort also has a bustling water park with two large buckets and several water slides.
In addition to the deep-sea fishing, cooking classes, and Spanish lessons, guests have various options. The resort features a vast pool network where guests may cool down and a dedicated splash park for children. Moreover, the resort's fully-equipped gym is accessible daily.
They also run an Explorer's Club with supervised activities for younger guests. Moreover, the underwater caverns of Sistema Dos Ojos are located about eight miles from Dreams Tulum Resort. There are also Mayan ruins and the Xel-Ha Natural Aquapark nearby.
The resort's multi-cabin spa, which has services like the ancient Temazcal steam bath, complements the resort's high-end hospitality.
---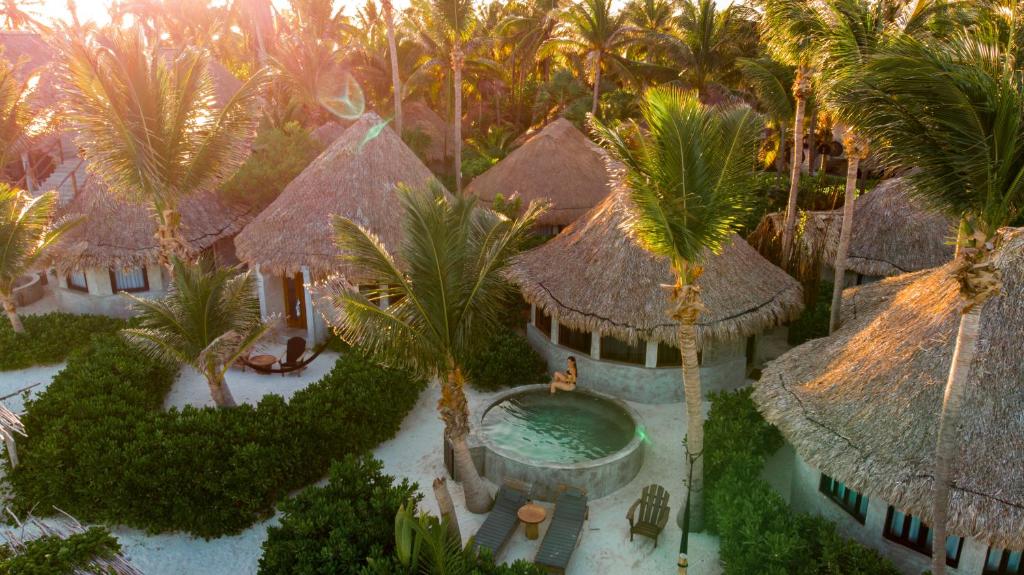 Maya Tulum, one of Tulum's all-inclusive resorts, offers guests a haven of peace and quiet in the heart of Tulum.
The resort features 49 deluxe rooms, some even covered in thatch. They include villas, beachfront cabanas, and ocean View Cabanas. The private bungalows were built to exploit the sun, breeze, and coastal noises.
The resort's indoor-outdoor design allows guests to make the most of the surrounding natural beauty and modern amenities to fully immerse themselves in the outdoor-centric lifestyle, perfect for extended stays and individualized service.
The resort's spa features several rejuvenating services based on ancient Mayan traditions, such as Mayan honey massages, traditional Mayan clay massages, aromatherapy, hot stone therapy, facials, body treats, electrical muscle stimulation, and exfoliations.
Kind and knowledgeable instructors offer classes twice daily in one of two well-appointed yoga halls. Hatha Yoga, Vinyasa Yoga, Iyengar Yoga, and Stand-Up Paddleboard Yoga are some yoga sessions and retreats available.
Moreover, there's a meditation labyrinth and a yoga studio on the beach, with a Temazcal sweat house for actual Mayan rituals.
The beachside restaurant at Maya Tulum Resort has cold marble floors, white limestone walls, and big windows with breathtaking views of the Caribbean Sea and its vibrant turquoise water. The kitchen is set up to provide a one-of-a-kind dining experience with the finest seasonal ingredients.
Fresh juices, Americano coffee, and a selection of house teas are available, as well as a complete bar and a wide range of vegetarian, vegan, and meat-based entrees for breakfast, lunch, and dinner.
---
Grand Sirenis's sumptuous and exquisite atmosphere and modern Aztec style will make you and your family feel at home. Unsurprisingly, this resort ranks among Tulum's finest all-inclusive resorts.
There are two hotels, and the beach stretches more than two miles. In addition to the 946 suites, there are 11 bars, a coffee shop, a disco, a theater, a spa, a mini grocery, shops, a laundry, a medical center, and a pool. It's all taken care of for resort guests here.
There are a lot of nice touches in the rooms as well. Visitors can use luxury bathrooms, flat-screen TVs, iron, and sitting places. In addition, there is a television, minibar, coffee maker, ceiling fan, microwave, WiFi, desk, hair dryer, bathrobe, slippers, whirlpool tub, tub, and hairdryer.
The hotel's amenities are sure to be appreciated by anyone staying there. In addition, the staff is highly welcoming and knowledgeable in both languages to answer visitors' inquiries. Travelers staying at the hotel will be in for a treat when they get out and about to learn more about the local Mayan culture and history.
---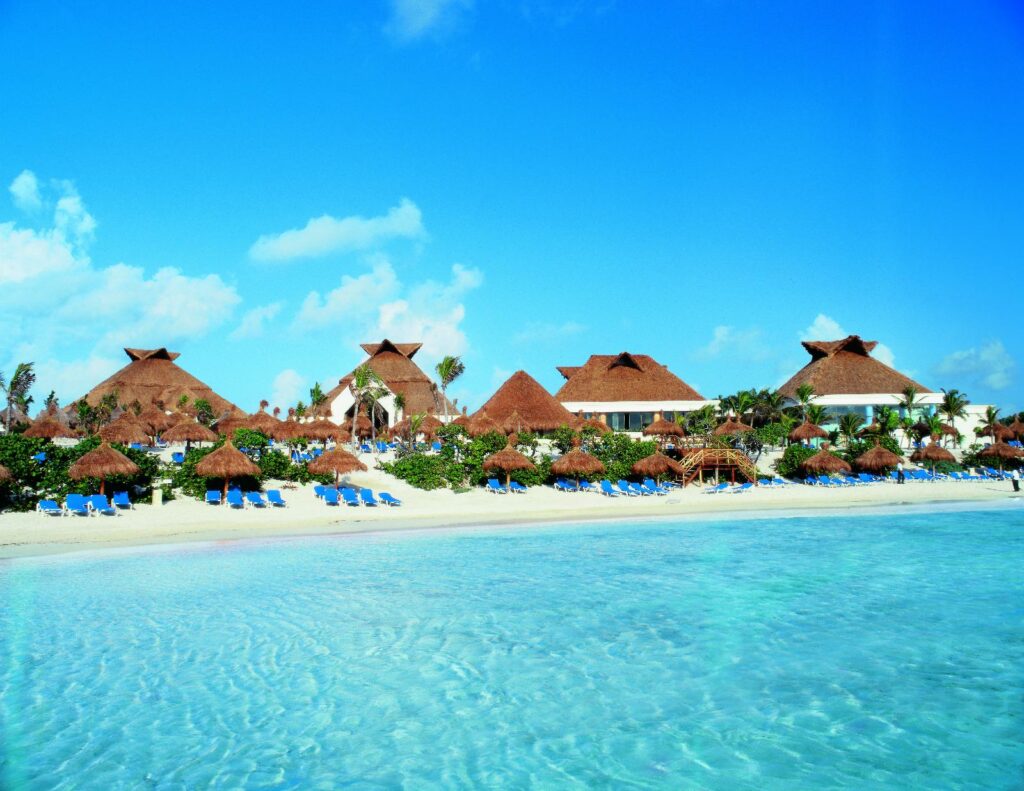 An authentic Caribbean experience can be had at this five-star resort near the water. Bahia Principe is the perfect destination for vacationers who like to wake up to the sound of breaking waves and the fragrance of sea air.
This all-inclusive resort in Tulum is perfect for those searching for peace and quiet. There is a canopy bed, a hydromassage tub, and a pillow menu to choose from in each of the rooms. Visitors of this five-star resort can use a wide range of facilities and services and the tranquility of the surrounding residential mansions and golf course.
There are a total of 758 guestrooms at the resort, as well as three swimming pools, seven restaurants, and nine bars. Other amenities include free WiFi, a spa, a children's water park, and direct beach access.
Guests who plan to travel with children can take advantage of several childcare and entertainment options. The resort also has a Teen's Club for those between 11 and 16 and a Mini-Club for kids aged 4 to 11.
To relax and rejuvenate, guests can spend the day in the spa at the resort. Seven restaurants, nine bars, and lounges are on-site for dining and drinking pleasure. Those looking for authentic Brazilian grilled meats at the tableside should visit Gran Tortuga Restaurant.
If you're looking for a place to eat, the buffet at the Riviera Restaurant is a great place to go but bear in mind that it's a more formal setting.
In addition, those eager for uninterrupted action can visit the resort's casino and play exciting table games. Furthermore, the river and lake-themed pools are great for a refreshing swim.
---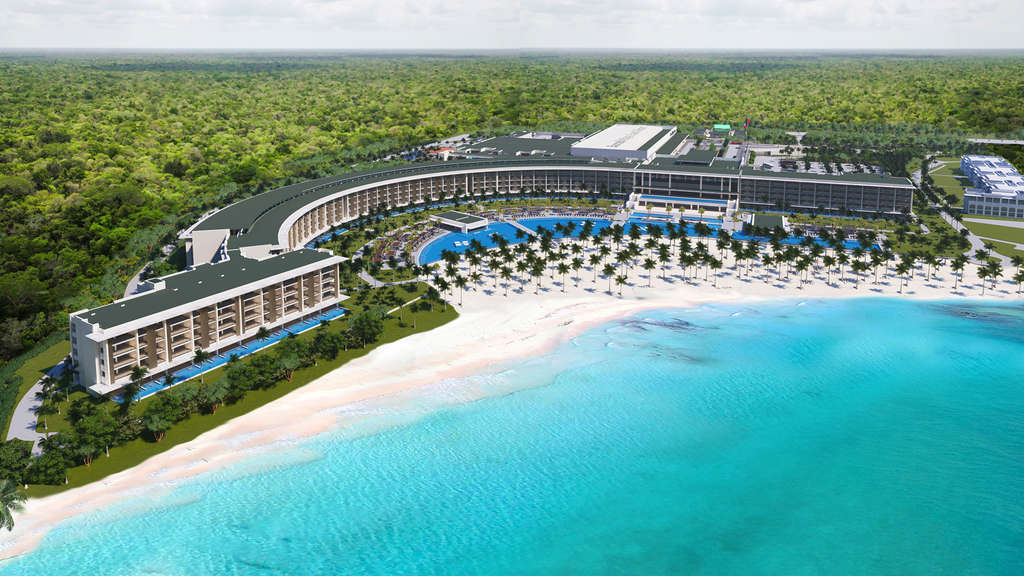 Barcelo Maya Riviera is where you'll find the luxurious experience you're searching for. This property is twenty minutes north of Tulum, and one of Mexico's finest.
It has a sophisticated atmosphere and offers first-rate service, making it one of Tulum's most prestigious all-inclusive resorts. Elegant decor and top-notch service can be found at every turn here.
All the Barcelo Maya Beach hotel rooms feature flat-screen televisions, complimentary wireless internet access, and air conditioning, creating a modern take on the classic Caribbean resort. Suites provide guests with ocean views and upscale conveniences, while family rooms may accommodate the entire family.
Barcy Water Park is a splash area with a water slide and a children's pool; seven swimming pools are on the premises. In Pirate's Island Water Park, the whole family can splash around for a price.
There are a variety of sports facilities, as well as a fitness facility, at this resort hotel. Everyone can have fun on the 18-hole mini-golf course, professional soccer field, basketball court, and tennis courts.
This resort hotel also offers various water sports and activities, including pool aerobics, kayaking, water polo, and more. There's a kids' club at the Barcelo Maya Beach hotel for youngsters aged 4 to 12, with a bowling alley, a nightclub with live music, and more.
This resort is excellent since it provides all-inclusive services for its guests. A total of sixteen eateries and bars are available to guests. You can choose from various dining options, from buffets to gourmet restaurants serving dishes worldwide.
---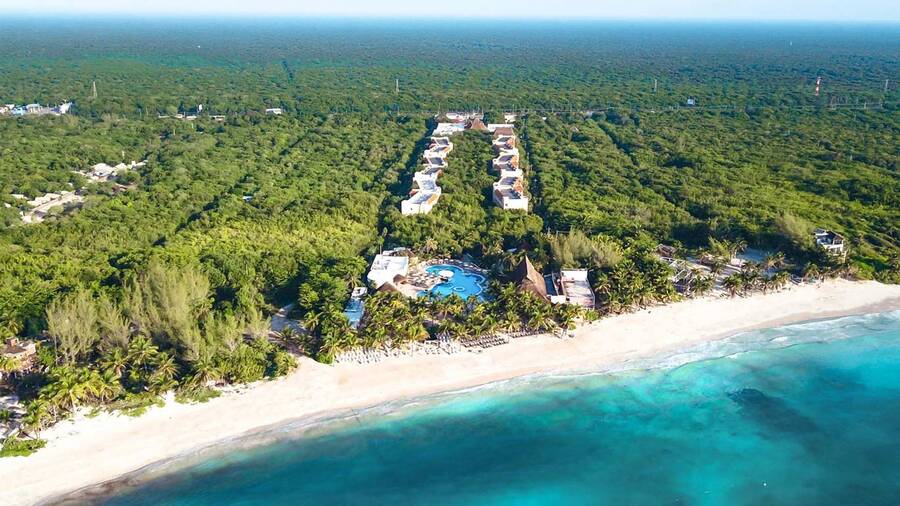 Xpu-Ha, one of the most stunning beaches in the Caribbean, is home to the Catalonia Royal Tulum, an adults-only resort. This one-of-a-kind setting will take your breath away, what with its tropical rainforest and mangrove forest surroundings, cenotes, and the glittering sea on each side.
This hotel is a more sedate option than some of the other all-inclusive resorts along the Riviera Maya. Instead, it's perfect for seniors and young couples seeking peace and quiet. Unsurprisingly, this all-inclusive resort is among the best in Tulum, Mexico, for those needing a quiet place to unwind.
It's peaceful here because there isn't much going on in the area, and that's a big draw for many tourists. You can reach the resort from Cancun International Airport in 70 minutes, from the heart of Playa del Carmen in 30, and from Tulum in the north in just over an hour. As a result, visitors who wish to sightsee will require some form of conveyance.
Indulge in the beautiful views and relax in your cozy robe and slippers on your private balcony or terrace that looks out over the garden or the ocean from each room.
The Catalonia Royal makes the most of its location in the Mayan Rainforest. Amid the resort's natural, luxuriant foliage, you feel at one with the world. The resort also has a pool where you may relax in the Caribbean heat.
Alegria Spa offers a wide range of treatments, including in-room massages, for unwinding. Beach volleyball, snorkeling, and kayaking are some other activities that can be arranged. The resort features nighttime entertainment, a beauty salon, and a fully-equipped fitness center.
---
Final Thoughts
Tulum is a wonderland where you may spend your days exploring Mayan ruins, kayaking through mysterious mangroves, and swimming in underground caves known as cenotes. Tulum is a friendly place for everyone, whether you're a beach bum searching for the perfect quiet spot or an adventure seeker looking to decompress after a day in the jungle.
If you want to relax in one of the most stunning locations on Earth, consider booking a stay at an all-inclusive resort in Tulum.