The Virgin Islands are a group of islands that are rich in colorful marine life. They have warm turquoise waters and multicultural heritage. Many young couples feel that these islands are the most beautiful in the Caribbean, which is why they plan a Virgin Islands wedding.
The Virgin Islands are home to more than 40 species of coral and 500 species of fish. If you love exploring, check out the coral reefs or shipwrecks off the island.
The major islands here are St. Thomas, St. John, and St. Croix. You'll find many hotels and resorts here and they will handle your wedding planning and coordination activities so you can have a relaxed vacation.
Why Get Married in the Virgin Islands
The Virgin Islands have something for all types of couples. Whether you're in love with the convenient location, easy paperwork, or attractive venues, it's the perfect place for a destination wedding.
Many couples plan to have a Virgin Islands wedding because of the beautiful climate and breathtakingly gorgeous sceneries. Plus, there are beautiful resorts, hotels, and villas.
And let's not forget the food and rum of the place. You'll find a wide variety of exotic cuisines here. Pair them with the island-made rum that's famous all over the world, and you've got yourself the perfect vacation.
Average Cost of a Destination Wedding in the Virgin Islands
The costs can vary depending on which island you choose. For example, St. John's can be more expensive than St. Thomas.
You can tie the knot in St. Thomas for under $600. For this amount, you can get a licensed officiant and a beach wedding.
If you want to have up to 20 guests, your wedding costs can go up to $2400. There are many wedding planners in the Virgin Islands and they have wedding packages you can buy and customize.
Many resorts and hotels also come with their own wedding planning teams that can help you have your dream wedding at an exotic location.
The Best Virgin Islands Wedding Venues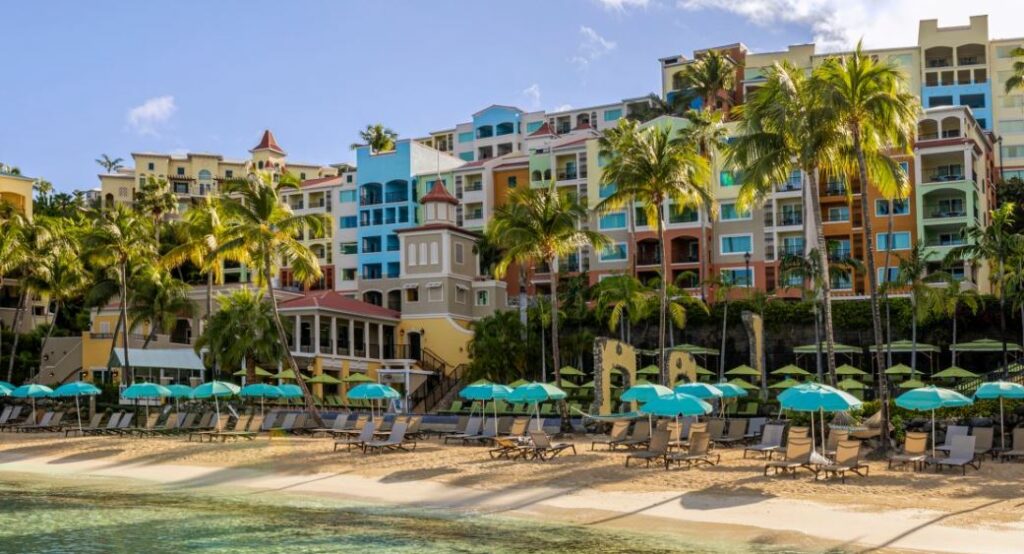 Marriott's Frenchman's Cove sits on beautiful hills facing the turquoise waters of the sea. It's on St. Thomas Island and is right next to the Frenchman's Reef.
This hotel gives the vibe of an old and calm village with a secluded intimate beach, offering stunning views of the beautiful bay. The architecture of the hotel reflects a British and Danish influence among tropical landscapes.
The hotel has rooms along with two- and three-bedroom villas for complete privacy. The villas have their own kitchens and living areas with patios and balconies.
Frenchman's Cove has many event spaces with A/V and wireless facilities so you can run a slideshow of your beautiful moments together.
Leave the Virgin Island wedding planning to the hotel staff and relax in the infinity pool. Visit the fitness center to continue your workout regimen. Dine at any of their gourmet restaurants or spend time at their poolside restaurant.
When it's evening time, head over to the Sunset Cove Bar and Grille which offers casual open-air dining with specialty drinks and light dishes. Taste their frozen cocktails during Happy Hour as you enjoy the perfect romantic setting with your loved one.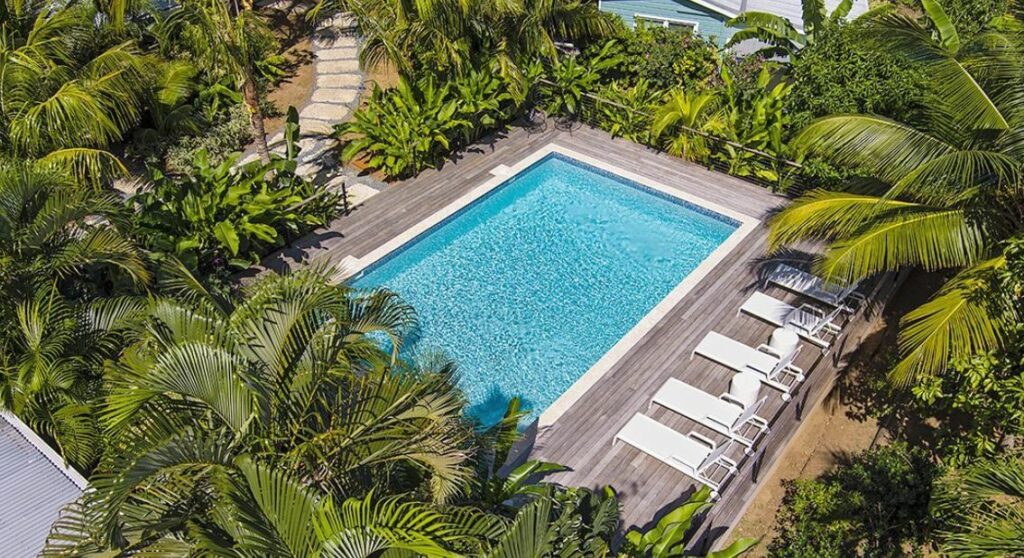 The Hideaway is an estate and a farm with 8 beachside cottages and 2 beachfront villas. It is ideal for mid-sized weddings and blends lush Caribbean greenery with azure blue waterfronts. The place offers a barefoot luxury ambiance that's difficult to find anywhere else.
It includes a 2-acre farm that follows regenerative and organic farming practices. The farm contains more than 50 varieties of plants including vegetables, fruits, and herbs.
You can take a guided or unguided walk through the farm to learn more about sustainable agriculture practices and local plant species on the island.
The Hideaway has an event planning team that will create a dream wedding just the way you want it. There are plenty of Instagram-worthy locations at this venue and you can have your Virgin Islands wedding where you want it.
Make sure you enjoy their continental meals when you stay there. They feature tropical fruits grown on their farm in their breakfasts and freshly harvested greens, herbs, and other plant-based ingredients in the dinners.
The full estate accommodates up to 36 people and the partial estate accommodates up to 24 people. They also have eight cottages that can accommodate up to 6 people each.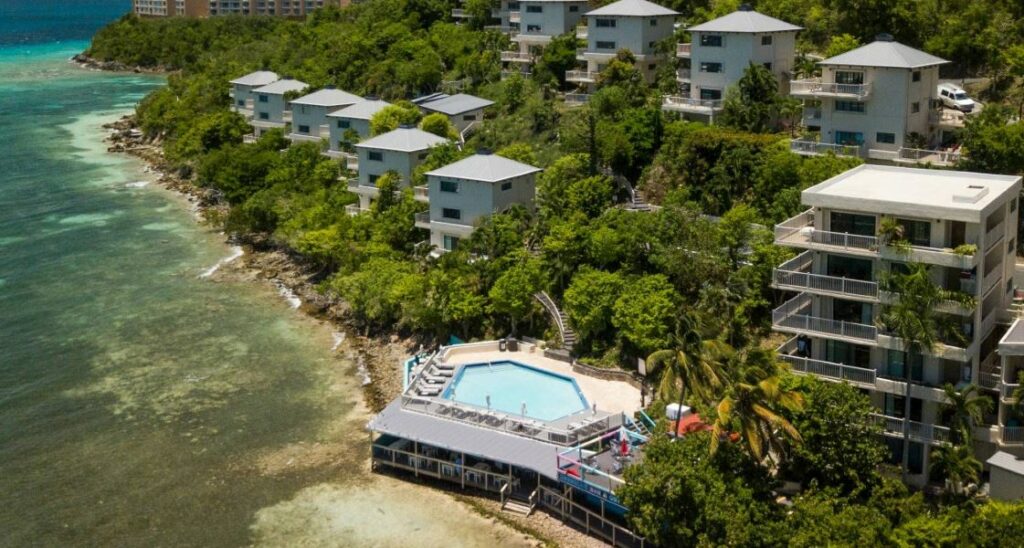 Enjoy extraordinary views of St. Thomas at Point Pleasant Resort. The resort has three pools where you can go for a swim with your loved one.
Visit any of their two restaurants for a quick bite or a proper meal and create an unforgettable Virgin Islands wedding experience.
The resort is spread across an area of 15 acres on a hillside preserve. It overlooks the Caribbean Sea and Water Bay. It's near Coral World, Coki Point Beach, Red Hook town, and Cyril King Airport.
Go on a trek on the hills and explore the nature trail. There's a Lobby Shop inside the resort where you can buy snacks, drinks, and personal care items.
There is a range of activities for you to try with your partner. You can go on island boat hopping tours, snorkeling, fishing, or sailing charters. There are endless beach hopping possibilities along with options to visit local and national parks.
It is located opposite Coral World, an ocean park that offers a fun experience with marine life. It's an amazing place for you and your guests, especially if you have children at your wedding party.
The wedding planning committee of the resort can create the perfect itinerary for you and your guests so make sure you discuss all your options.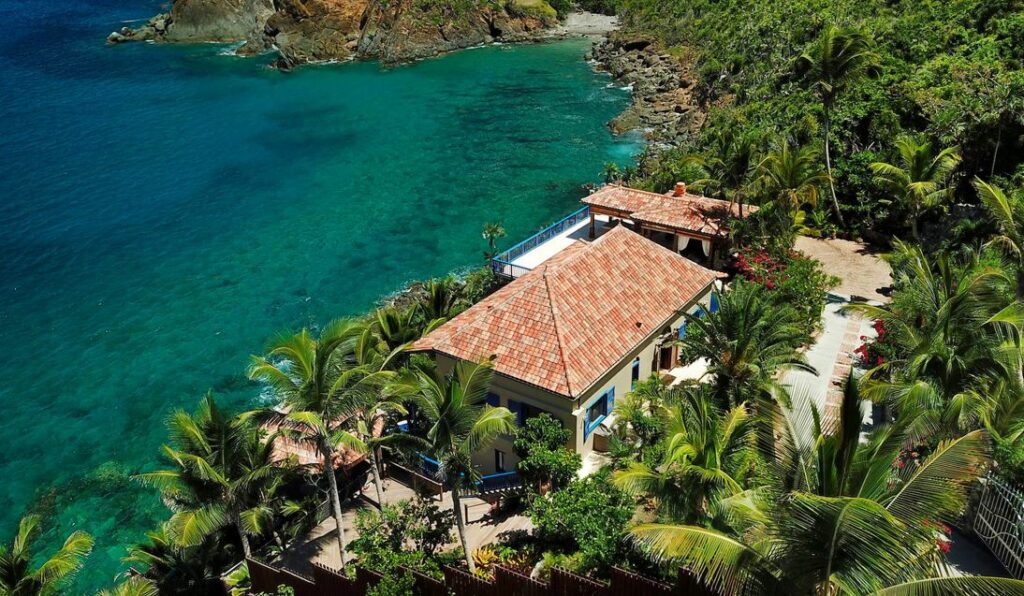 Villa Norbu is a destination wedding venue in the Peterborg peninsula. It's a beautiful oasis that offers 180o panoramic views of the ocean. Enjoy the sceneries of rocky cliffs shining with sea salt.
The villa is about 15 minutes away from the premier shopping district of St. Thomas.
The place is made using sustainable hardwood and native stone. It creates an intimate boutique experience for its guests. You'll find three unique wedding venues here to create dreamy scenery for you and your loved one.
It's a family-owned business that offers experienced wedding planners to handle all wedding-related events. While the villa is available for weddings and other events all through the year, it doesn't provide accommodation so you'll have to find a nearby hotel or resort.
When it comes to food, you can request the chef at Norbu for specific flavors for your wedding menu. For example, you can ask them to blend Caribbean and continental flavors for a unique fusion. Whether you want fresh seafood or premium steak, there's nothing the 800 square feet Norbu kitchen cannot prepare.
The place is like a photographer's dream. Apart from the dramatic sea views, it also offers rocky cliffs, beautiful beaches, tropical gardens, lined-up palms, and other scenic locations. And the whole place is lined with beautiful flowering trees and plants including hibiscus and bougainvillea.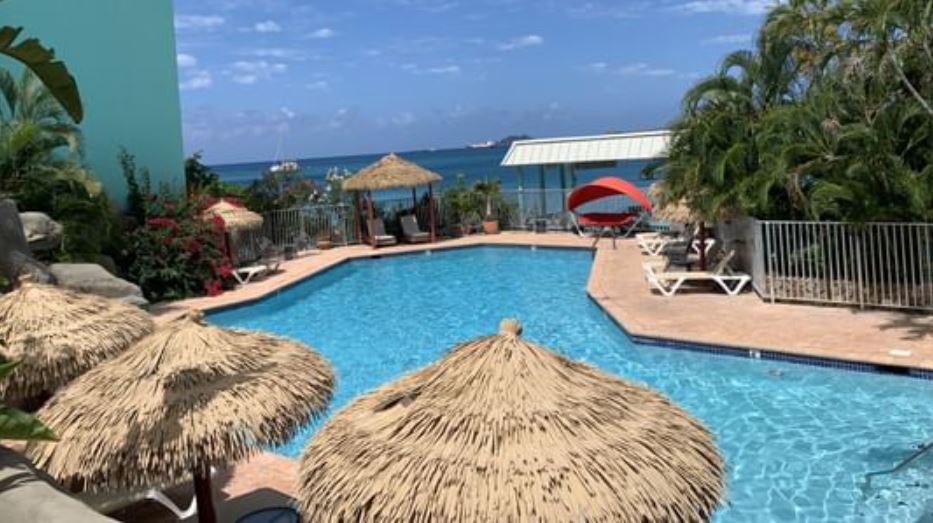 Start preparing for your Virgin Islands wedding with a bright and breezy décor that offers a relaxing atmosphere.
Explore this laid-back beachfront place right in front of Lindbergh Bay and walk on the white sandy beaches with your loved one. There are many attractions just a few minutes away from the resort.
Emerald Beach offers all beachfront rooms, which means no matter what kind of accommodation you book here, you'll enjoy beautiful views. The resort sits among lush gardens and has all modern amenities.
What's your idea of a perfect destination wedding? Whether you want to sip on your favorite cocktail at the oceanfront or go paddling in a kayak, you can create just the right kind of romantic vacation here.
Try authentic island cuisine at the signature restaurant of the hotel. The place offers concierge services for local transportation, tours, and activities such as arranging an intimate and private dinner for two.
The resort offers a dedicated wedding planning team for destination weddings so you can have a relaxed Caribbean-style reception while they plan everything. They work according to your specifications and budget.
Virgin Islands Wedding Legal Requirements
Can you legally marry in the Virgin Islands
Yes, you can legally marry in the Virgin Islands.
Start by filling out the marriage application form. It's available on the website of the Superior Court. Once you submit it, there is an eight-day waiting period for authorization. At the end of eight days, make sure you call the court and confirm the authorization.
Once the papers are authorized, you can arrive at the Virgin Islands.
Marrying in the Virgin Islands is especially easy for people from the United States since they don't even need a passport to come here.
Can you elope in the Virgin Islands
It's possible to elope in the Virgin Islands and tie the knot here. Just the two of you – it's the perfect wedding. You don't have to plan an elaborate event. And you don't have to spend money on extra accommodation. It's within your budget, and it's a private and special event for both of you.
And there are several resorts and hotels that will help you out with your elopement. Whether you want a civil ceremony or a symbolic one, you can plan the perfect Virgin Islands wedding with the help of your hotel or resort.
Required Legal Documents & Fees
You'll need a marriage license for your Virgin Islands wedding. Fill out a marriage license application with your full name, age, nationality, social security number, names of parents, and previous marital status.
If your marital status is divorced or windowed, you'll need to show the divorce or death certificates of your previous partner(s).
The cost of the marriage license application is $100. When you acquire the license, it will cost another $100. The ceremony with the judge will cost $400. The ceremony will take place inside the court and you need to wear business casual attire inside the court.
Virgin Islands Wedding Planning Tips
How to get there
By air
There are two main airports here: Henry Rohlsen Airport and Cyril King Airport. Both airports offer connecting and direct flights from major cities in the United States. The major airline carriers here are Delta Airlines, American Airlines, US Airways, Continental Airlines, and United Airlines.
By sea
The Virgin Islands are well-connected through waterways and many cruise ships make a stop here. There are also many yachts here. And if you're traveling from another Caribbean island, you can simply take a ferry.
Virgin Islands weather
The place has tropical Caribbean weather that stays warm all through the year. While winters are cooler, they are very mild. December to March are winter months and the temperature in these months can drop to 23oC.
On the other hand, July and August are peak summer months and the temperature can go as high as 33oC. There are no or very few rain showers between January and April. Rains usually fall between the months of May and December. Of these, the months with maximum rain are September to November.
The days here are largely sunny and the sea waters stay warm so you can always take a dip in the ocean, no matter which month it is.
Best Time of Year to Get Married in the Virgin Islands
The Virgin Islands have pleasant tropical weather, so you can read your vows here any time you want. However, since April to June receive the minimum rainfall and stay largely dry, these months are ideal for a Virgin Islands wedding.
You can also decide to marry here in the winter season but it's the touristy season and if you don't want to visit in the busy months, winter can be a bad idea.
Make sure you avoid September, October, and November because there are possibilities of a hurricane.
Looking for some other locations? Check out these Caribbean destination wedding resorts.