Winter does not always have to be gloomy and boring. It can actually be quite magical, with the northern lights, igloos, and snow-covered trees. Having your honeymoon during the winter months may be just the getaway you need to escape your winter blues. For a honeymoon that feels otherworldly, check out these winter honeymoon international destinations.
Best Winter Honeymoon International Destinations
Whether you want to immerse yourself in all of the winter magic or escape to warmer weather, there is a winter honeymoon international destination for you. You can experience igloos, hot springs, northern lights, beaches, waterfalls, or floral fields. Whichever you choose, your winter honeymoon will be perfect at one of these ten destinations.
Finland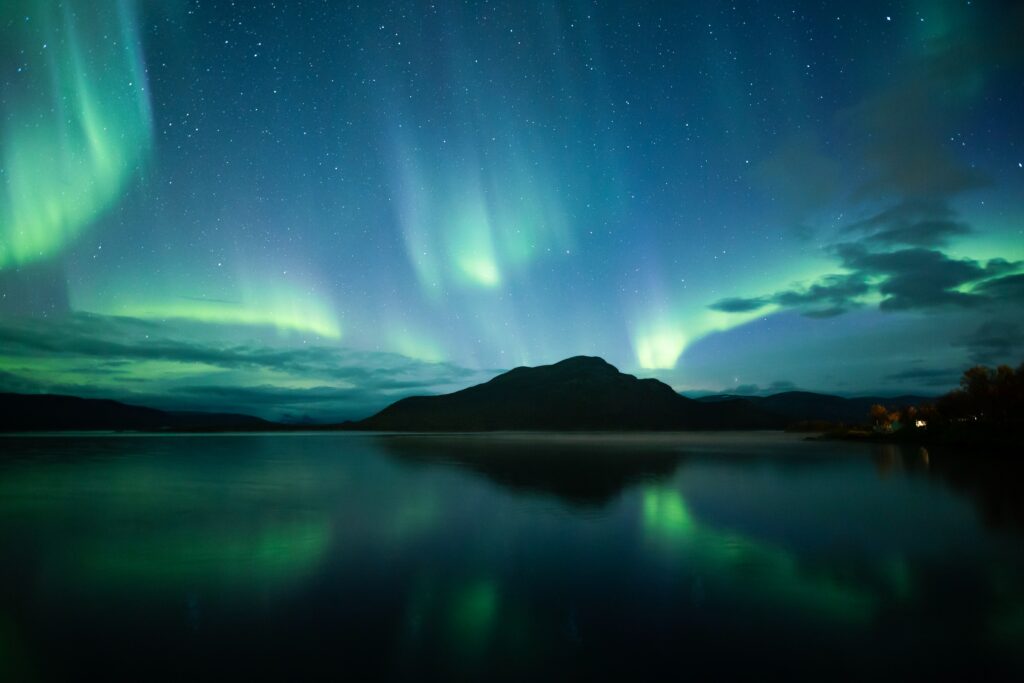 Finland screams everything that's magical about winter, from heaps of sparkling snow to warm wood cabins to the northern lights. It is also about as close as you can get to the actual Santa Clause. Finland's most northern region, Lapland, is the best place to visit to experience all of these things.
Personally, I find the most romantic thing about a trip to Finland to be the northern lights. They are only visible to the naked eye during the winter season because that is when the skies are finally dark enough. Lapland itself is actually situated in the "Aurora Zone," where the northern lights are the most intense.
When you're done taking in all of the beautiful scenery around you for the day, you can stay in a real-life igloo at Arctic Snow Hotel. They even have an ice chapel on-site in case you decide to tie the knot there. If staying in a room of ice doesn't sound enjoyable to you, try out a glass igloo at Kakslauttanen Arctic Resort, where you can stargaze from your warm bed.
Iceland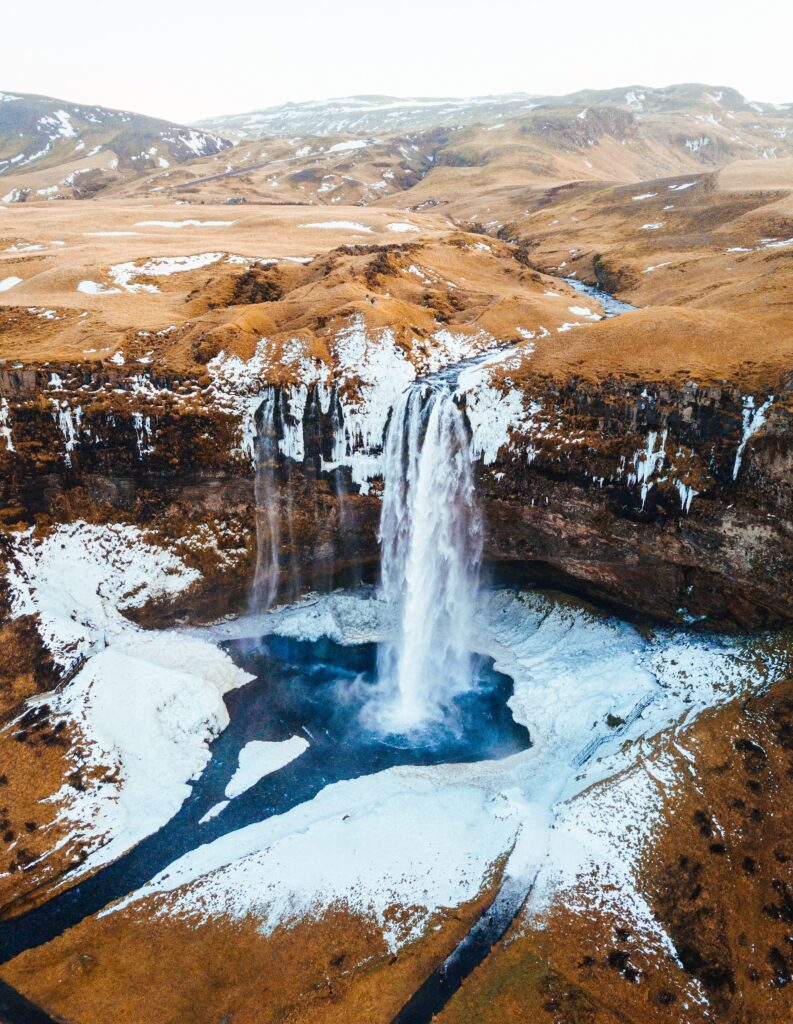 Winter is a great time to visit Iceland, with low crowds and snowy landscapes that will give you a whole new perspective. The days are super short in Iceland during the winter, giving you a constant sunset feel until it becomes dark. Iceland is also home to the largest glaciers in Europe, and the best geothermal hot springs in the world, giving it its nickname "The land of fire and ice."
Hiking through Iceland's glaciers is one of its star attractions. In fact, the winter is the only time that you can walk through an ice cave formed from flowing water during the summer. One of the best glaciers to visit in Iceland is Snæfellsjökull. It's close to Reykjavik, and you can also see some black-sand beaches along the journey.
Once you are done with all that ice, plunge into a rejuvenating hot spring to warm up and wind down. Some of the best hot springs to visit are Blue Lagoon, Sky Lagoon, and Fontana Geothermal Baths. If you stay at Fontana long enough, you may get a glimpse of the northern lights as well.
Switzerland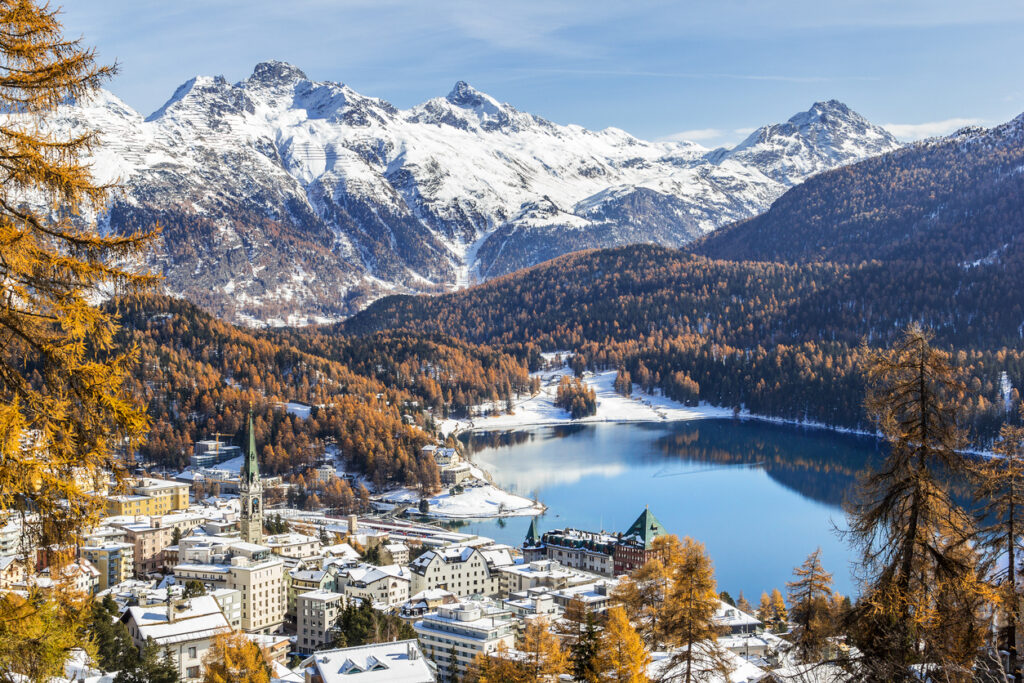 Switzerland is one of those winter destinations that will have you feeling like you just popped into Who-ville. With snowy peaks that seem almost too perfect and a plethora of winter activities, this country will have you swooning over winter. It is also one of the most luxurious countries you can visit for your winter honeymoon. 
Zermatt is the best place to stay while visiting Switzerland. It is the last town on the road into the mountains, set at the bottom of the picturesque Matterhorn peak. You can ski, snowshoe, snowmobile, and so much more in this small village. Each resort feels like a cozy cabin that will feel like home.
Another unique town to visit in Switzerland is Davos, the highest village in the Alps. It is home to the glacier express, a scenic train ride, and the road to Matterhorn. It's really known for its excellent cross-country ski locations, like Jakobshorn, Parsenn, and Rinerhorn. For a city experience known for its Christmas market, Lucerne is another great place for a winter honeymoon.
Banff, Canada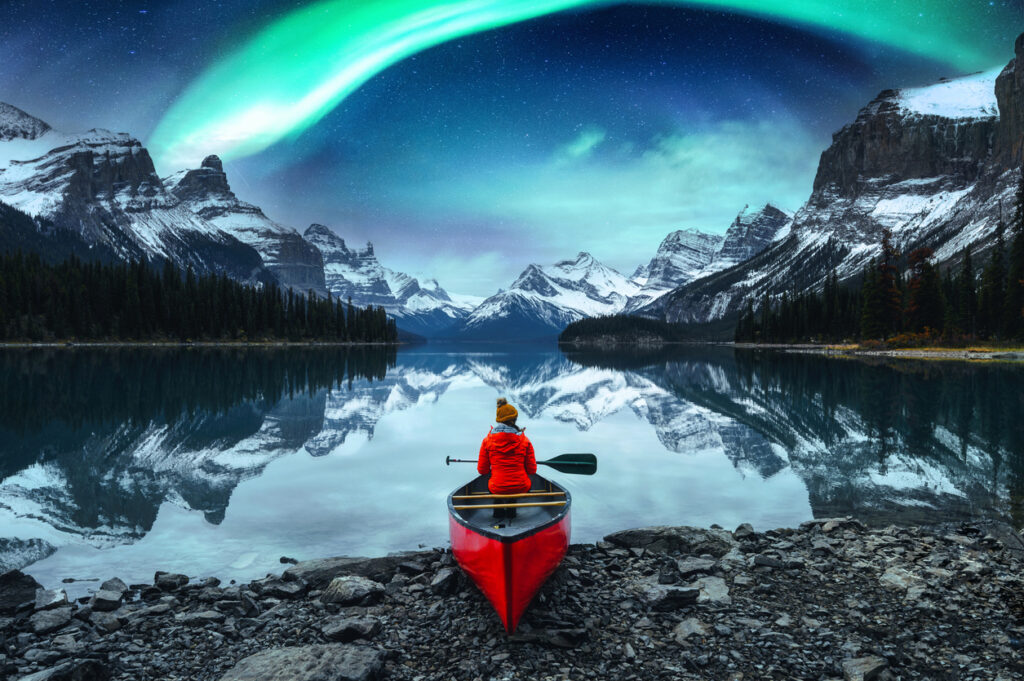 Banff Canada isn't too far from home, but far enough that you'll feel like you're in another world. It is located just out of Calgary and is near two of Canada's most beautiful national parks, Banff National Park and Jasper National Park. The town is surrounded by some of the most beautiful Canadian Rockies, making this town feel tiny in comparison.
Of course, there are typical winter sports in Banff, like skiing, snowboarding, and snowshoeing. However, there are many unique wintery activities you can do too! Dog sledding, ice skating on Lake Louise, photographing winter wildlife, and even viewing the northern lights are all things you can do in the area.
When you want to relax for a day, Banff has its very own hot springs. During your visit to the Banff Upper Hot Springs, you can also visit the Cave and Basin Historic Site to learn a little bit about their history. Banff also has a gondola that will take you to the top of the snowy peaks to get a bird's eye view of the area.
Japan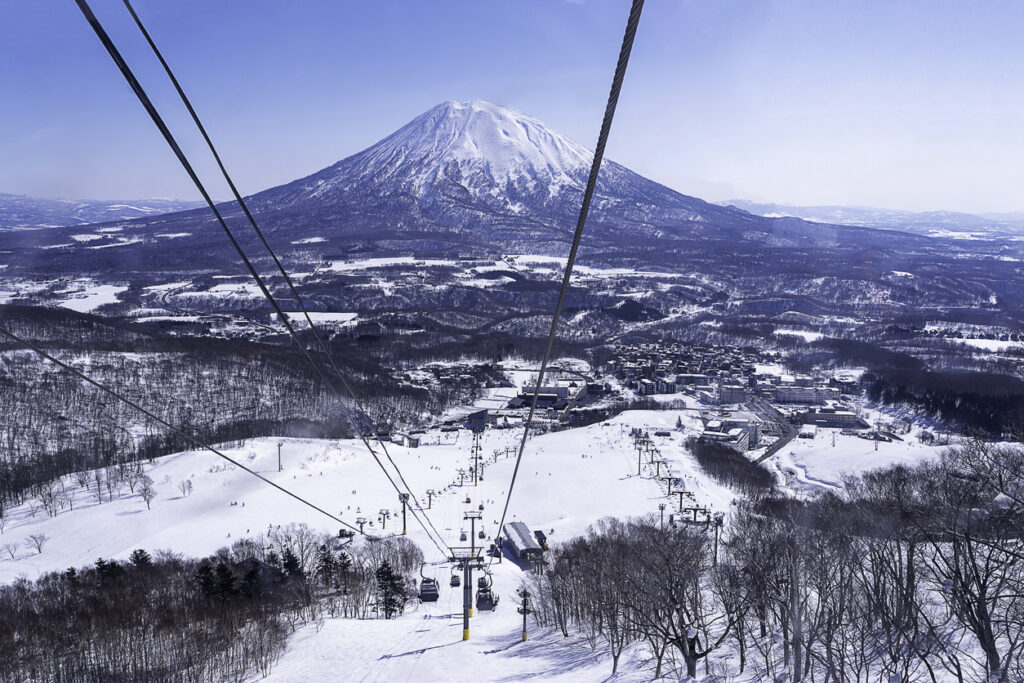 Japan was originally never a place that I would have considered a winter honeymoon international destination, but it actually makes sense. It's full of historic hot springs, has some of the best ski resorts, and there are a ton of light-based festivals that look even more magical during the winter. 
One of the best ski resorts to visit in Japan is Zao Onsen. The mountainside is covered in the perfect trees for ice and snow to cake onto. This creates what they like to call "snow monsters" because it's basically mounds of weirdly chapped snow once the trees are covered. At night, the resort puts on a light show against the weird snow-covered trees.
Japan also has many different cultural festivals, but some of the most romantic are the ones that involve some sort of light. A few noteworthy ones are Kamakura Festival, Nabana no Sato Illumination, and Kobe Illuminarie. For some winter soaking in historic hot springs, check out Ginzan Onsen. It is arguably the best northern village to visit for hot springs.
Norway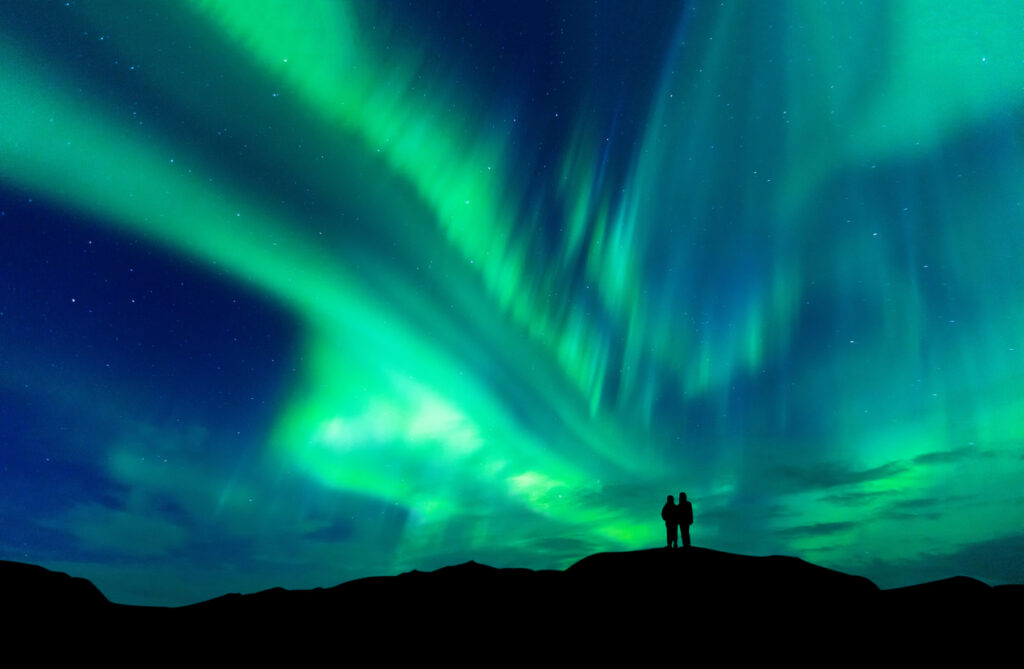 Norway is a very similar experience to Finland, except it's a little less Christmas-focused and more romantic. This is primarily due to most of the country being reasonably secluded. You can stay in many different coastal towns that only have a population of around 200 people. It's easy to feel like the only two people in the world when there aren't many others around.
One of the main attractions in Norway is staying in an ice hotel. Check out Sorrisniva Igloo Hotel, Tromsø Ice Domes, or Hunderfossen Snow Hotel. This is a great opportunity to cuddle up with your loved one and keep each other warm. When you want to heat things up a bit, rent a private sauna for the two of you at SALT. This is an art project in Norway, where you can jump into the fjord and then warm up in the saunas.
You can also see the Northern Lights from Norway's most northern islands. The Lofoten islands are known for this and their giant mountains, shooting out of the sea. There are tons of adventures you can go on throughout these remote islands, like sailing, kayaking, and fishing. When you aren't looking up at the skies, the best views are from the water.
The Caribbean Islands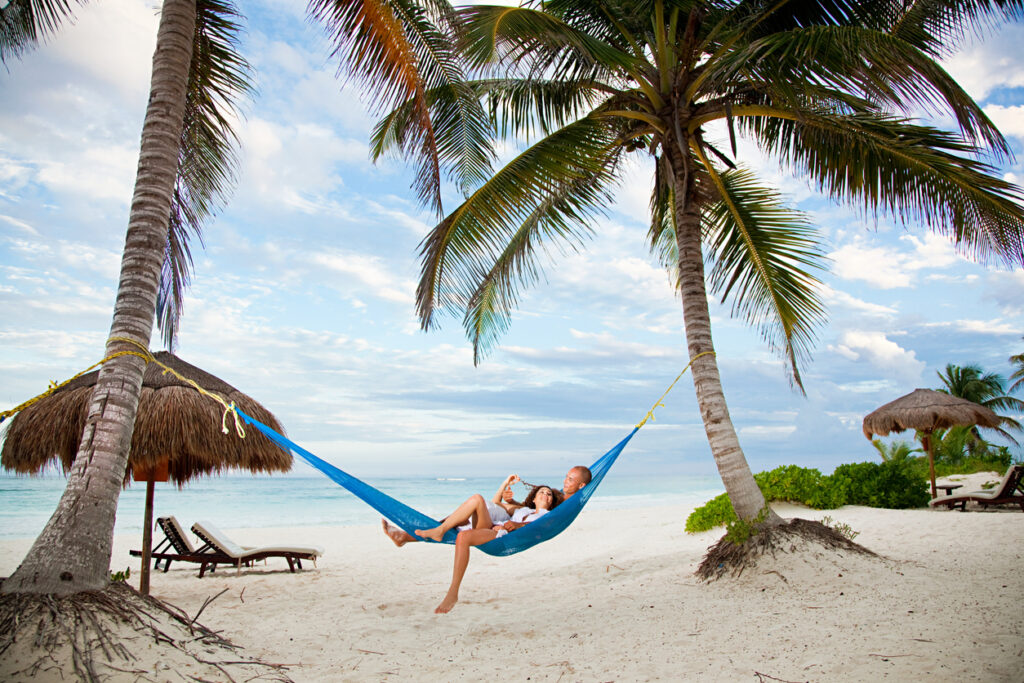 For those of you wanting to escape winter for your honeymoon, the Caribbean is one of the best places to go. Some of the most romantic islands are located in the Caribbean, and it's a short flight from the U.S. There's nothing quite like the Caribbean in the states, especially for a winter honeymoon. 
The islands stay a mild summer temperature year-round, so you can hang out by the pool with your partner while sipping a piña colada. They are known for their laidback vibes and exceptional services that are provided. Get a couples massage while listening to the sea, or take a romantic dinner cruise. The possibilities are endless for a romantic Caribbean honeymoon.
One of the best parts about a Caribbean honeymoon is the islands are known for their all-inclusive resorts. Sandals, Iberostar, and Secrets are a few adults-only all-inclusive resorts that I recommend. Having your honeymoon at an all-inclusive resort allows you to enjoy your getaway without worrying about anything but your significant other.
Peru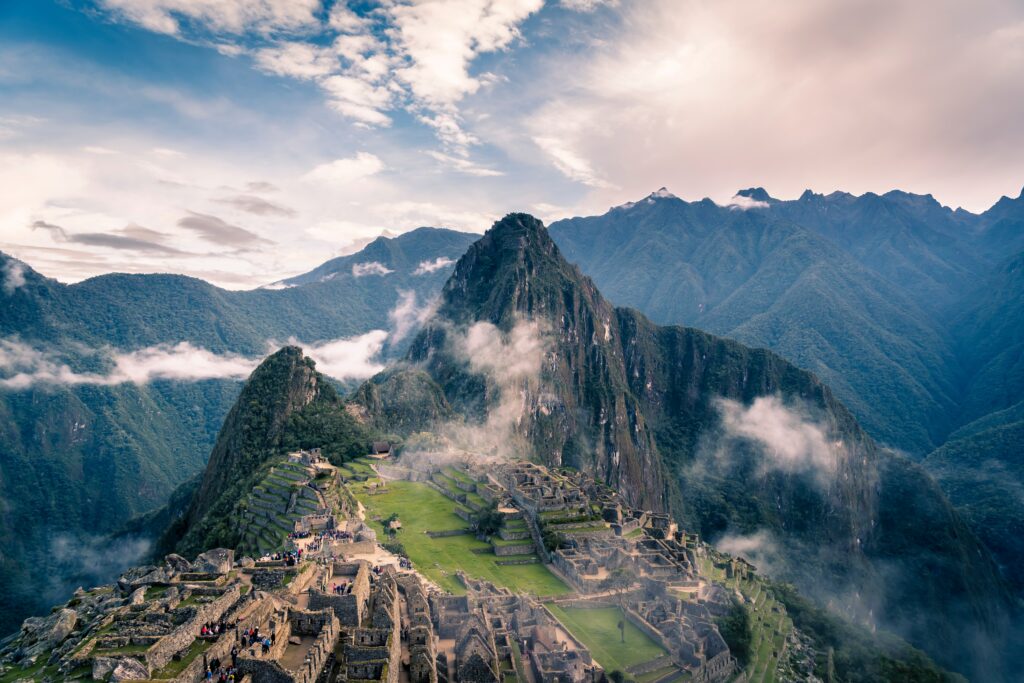 When it's winter in the U.S., it is summer in the southern hemisphere. Peru is a wonderful budget-friendly winter honeymoon international destination if you're looking for a dose of summer. It is also filled with some of the world's most beautiful landscapes and historical sites.
Adventurous couples will have a heyday in Peru, with destinations like Rainbow Mountain, Machu Picchu, and Sacred Valley. Spend days hiking in the backcountry and sleeping in a tent under the stars, or stay in a cliffside pod that overlooks the valley. The famous Amazon River also runs through Peru, where you can take a romantic cruise with dinner and privacy.
Cusco is a great city to visit for those couples looking for rich history. It's the original home of an ancient Incan civilization, made of cobbled streets, and has a huge Plaza de Armas. Sacred Valley has some rare and romantic accommodations that you can stay in, like villas that overlook the valley's unique landscape. Lima is another famous city if you want to try some fantastic cuisine.
New Zealand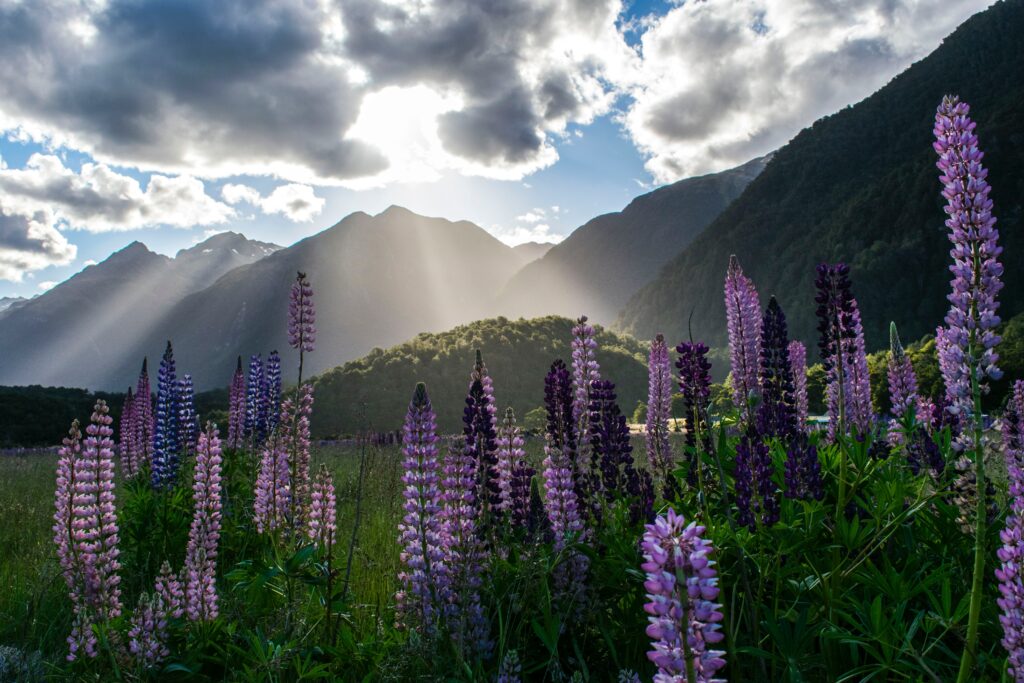 New Zealand kind of reminds me of Iceland with its unique landscapes, sense of adventure, and unique culture. However, it's in the southern hemisphere. You can have a thrilling winter honeymoon without having cold weather. One of the biggest advantages of New Zealand is it's a relatively small island. You can visit the beaches, mountains, and a city in one day.
Agriculture is one of New Zealand's leading revenue makers, so the food in this country is impressive. Everything is always fresh and made with local ingredients. New Zealand has been becoming popular for its unique wines that change flavors based on the soil the grapes are grown in. There's nothing quite like relaxing with a glass of wine and delicious food with your loved one.
New Zealand has something for you whether you're an outdoorsy, sports-loving, or city-exploring couple. One of the most popular things to do in New Zealand is backpacking in the wilderness for days on end. It makes sense with beautiful mountains, glacial lakes, massive fields of flowers, and the occasional friendly sheep. It is also the best place to watch a game of rugby.
Indonesia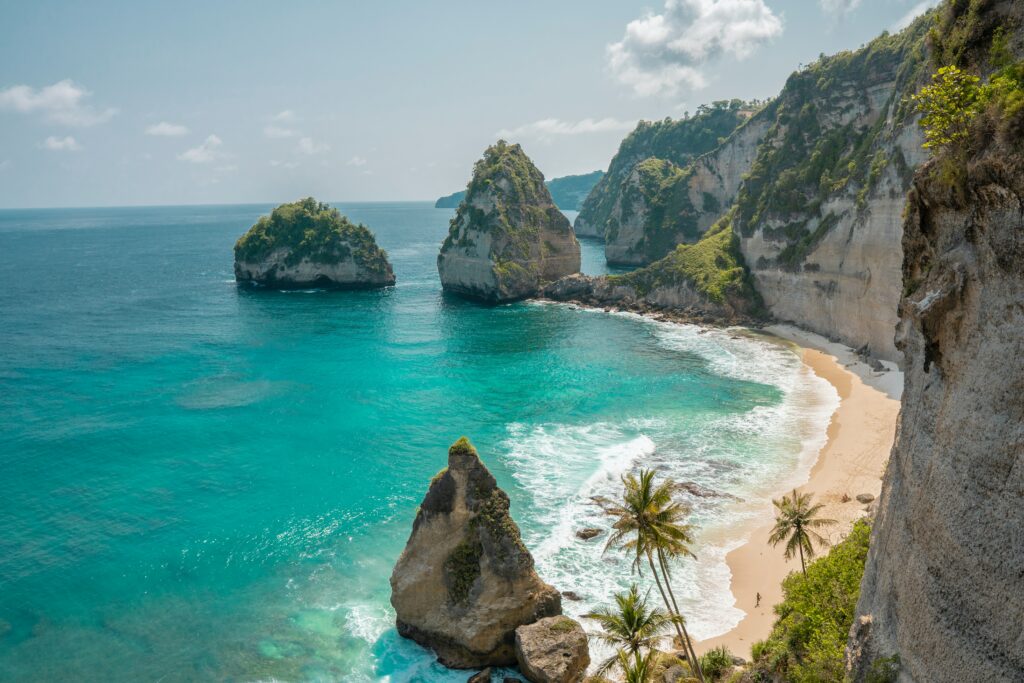 Indonesia is a country in the Pacific that has over 17,000 islands. A few that you may have heard of before are Bali, Java, and Nusa Penida. They are all known for their unique culture, the immersion of everyday life into nature, and being some of the most budget-friendly places to visit. The most expensive cost of this trip will most likely be your airfare.
Indonesia perfectly lines up with the equator, meaning the weather here is about the same warm temperature year-round. This gives you an excellent chance to escape the winter weather and see an International destination that is very different from home. You can visit temples, swim with wildlife far different from our own, and eat as much fantastic food as you can for a minimal cost.
Bali is always the island that I recommend for honeymooners first. It is basically built to be romantic, with charming villas with private pools and Hindu-inspired activities that help you connect on a different level. Java is home to fantastic volcanos, and Nusa Penida has some incredible coastal landscapes.