Saint Lucia is popular for its stunning beaches, raw nature, colorful wildlife, and delicious West Indies cuisine. This Caribbean paradise has a typical sun-soaked beauty that draws young couples who want to have a Saint Lucia wedding.
The island provides some of the best snorkeling spots where you can witness amazing corals, sea urchins, colorful parrotfish, and even endangered sea turtles.
And if you're looking for a surreal experience, head out to Pitons, the pointy peaks that are rich with rainforests. You can also behold the beauty of these peaks as you sail around the island.
About Destination Weddings in Saint Lucia
Why Get Married in Saint Lucia
If you want a destination wedding, Saint Lucia can be a great option. It has pristine beaches, turquoise blue waters, lush rainforests, stunning mountain peaks, scrumptious cuisines, and so much more.
The island is also home to cacao trees, which means you can indulge yourself in sweet cocoa goodness and go on a chocolate tour.
Plus, there are many resorts here that will take care of all aspects of your Saint Lucia wedding so you don't have to worry about the preparations. Just visit the island and unwind and relax as the resort staff handles everything for you.
Average Cost of a Destination Wedding in Saint Lucia
Depending on your needs, you can marry within a few hundred dollars or have a grand celebration worth tens of thousands of dollars.
If you want a small ceremony with just the two of you on a beach location with the basics (a small cake, a bouquet and a boutonniere, and an officiant), it will cost less than $500.
However, if you want a big ceremony with over 100 guests and a big reception and cocktail hour, the prices can go up to $25,000.
And in some cases, wedding costs can be zero. For example, if you book your stay at Sandals for a minimum of three days, they will offer a free wedding package to you.
The Best Saint Lucia Wedding Venues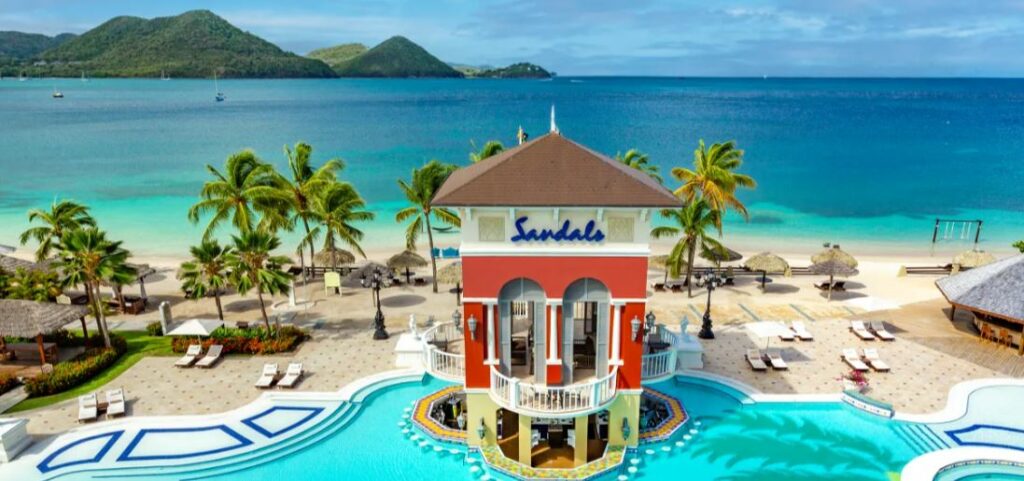 While all Sandals resorts have amazing guest reviews, Grande St. Lucian has the maximum number of "excellent" and "very good" ratings.
It has 12 restaurants and 7 bars, including swim-up bars. It's an all-inclusive resort, which means you get unlimited dining and drinks.
Walk on its mile-long beach and enjoy the views of volcanic mountains. This resort is on its own peninsula, which makes it unique and beautiful.
Grande St Lucian sits on Rodney Bay, which has calm and tranquil waters, so you can go for a dip even if you don't know how to swim.
Behold the grandeur of their three-story lobby that offers spectacular ocean views. There are five pools, including a zero-entry one.
Head over to their golf course for a round and then come back for a couple of drinks at the beach as you lay down on a hammock with your loved one.
After the Saint Lucia wedding, stay for a couple more days for your honeymoon. Experience true luxury at an over-the-water bungalow-style villa. It comes with butler service so you don't have to leave your room for anything.
Or you can get a Beachfront Grande suite that comes with butler services and a private pool.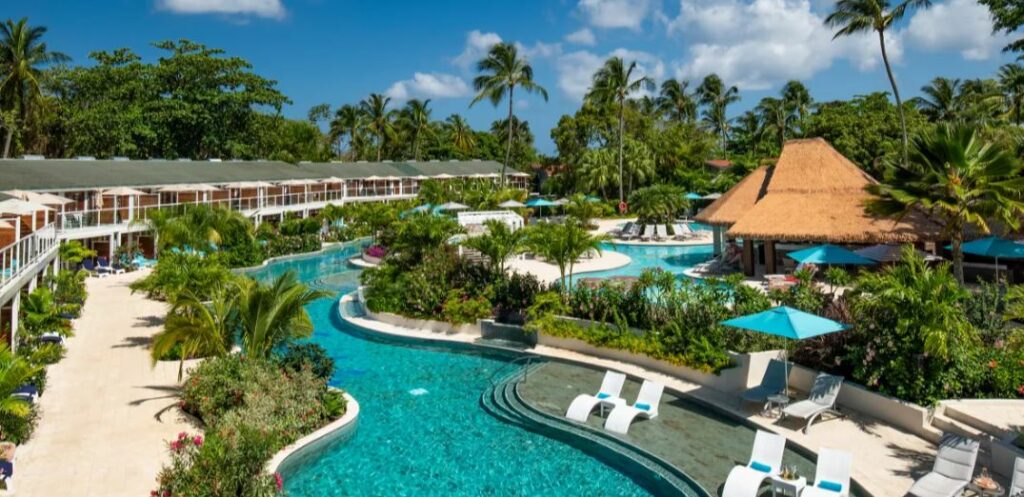 Hide away from the world and create your own magical land in this adults-only retreat. With its unique lush green gardens, it's popular as the Garden of Eden.
With six world-class restaurants and seven concept bars, you'll never run out of new places to try different cuisine.
Let the resort staff handle every aspect of your Saint Lucia wedding while you visit one of their two golf courses and play a round.
There are three Sandals resorts in Saint Lucia and it's not easy to select one. If you want the best of all the worlds, participate in their Stay at 1, Play at 3 exchange program. With this program, you can book a room at any of the three resorts but can access the facilities at all three.
This means you can access the pools, golf courses, restaurants, bars, and other facilities of all three resorts. Plus, there are unlimited options for wedding venues.
When you stay here for three nights or more, you get a free wedding package. It's a premium package that includes a personal wedding planning team, a gift registry, a wedding website, and a lot more.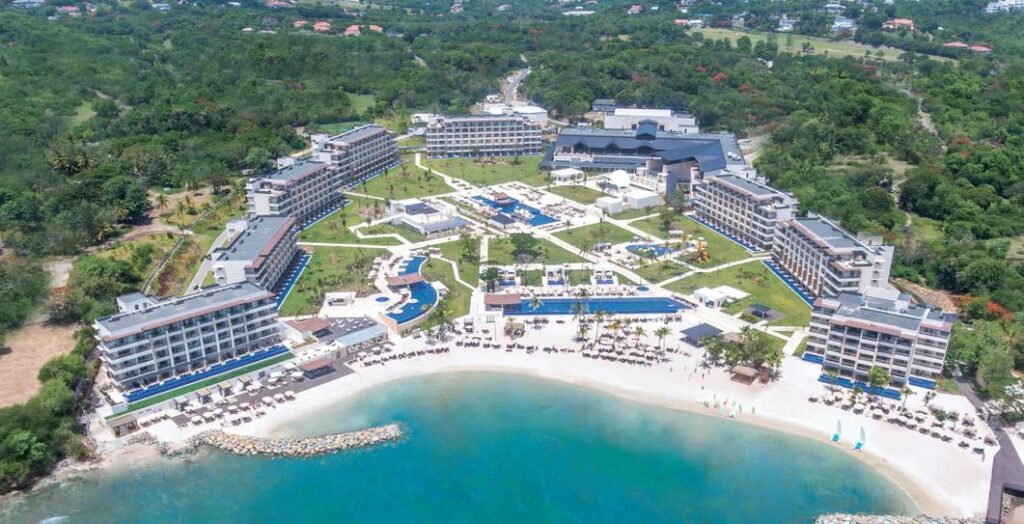 Experience beautiful ocean vistas, endless adventures, and pure bliss at this family-friendly resort. It's just a few minutes away from Rodney Bay so you can go shopping to your heart's content.
After a long day of shopping and fun, retire to the in-house spa for a couple's massage before your Saint Lucia wedding day.
If you plan to celebrate with friends and family, this resort will be an amazing choice. There are several family activities and special adventures for children.
The resort has 289 suites, making it ideal for a grand celebration. There are 8 restaurants and 7 bars, and you can have a bite or a sip wherever your heart desires.
Go for a swim in one of their pools or enjoy with your guests next to the splash pool and playground. If you're a fitness freak, walk to their fully-equipped fitness center for a workout. The resort also has kids and teen clubs to keep the little ones busy.
Play exciting water sports and enjoy day and night entertainment shows at the resort. Leave your wedding worries to the resort's wedding planning committee which will take care of everything from planning to execution.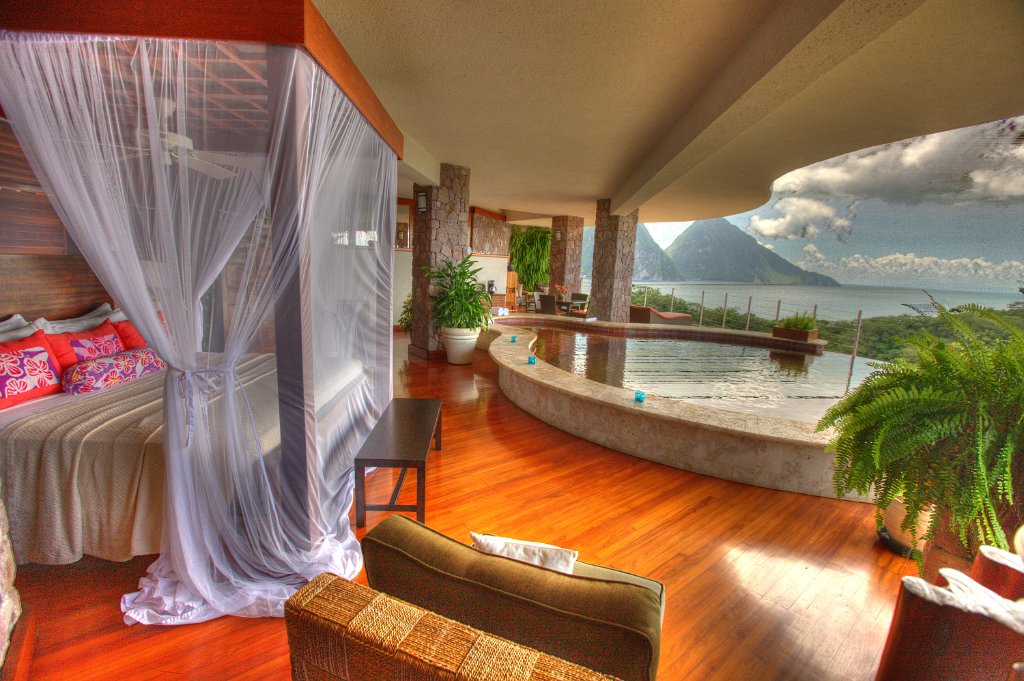 This resort covers over 600 acres of beautiful beachfront and reflects organic architecture with amazing views.
With appealing rugged stone columns and an infinity pool, this resort combines the old-school charm of the colonial era with the modernism of contemporary minimalism.
Behold the play of kaleidoscopic colors spread across the property. Enjoy the scenic views on the Celestial Terrace which is perfect for star-gazing and sunset cocktails.
Whether you want to exercise your muscles at the fitness center or relax in the spa, you'll find all the modern facilities in the resort.
It sits near its sister resort, Anse Chastanet, which has two soft sandy beaches, watersports, and an art gallery. You can access the facilities in Anse Chastanet by visiting it on foot or by resort shuttle.
The resort offers amazing venues for a Saint Lucia wedding. You get personalized recommendations from certified wedding planners. And since they plan only one wedding per day, you get all the focus of the wedding coordination team.
The coordinator will also arrange for marriage documents so you don't have to worry about anything.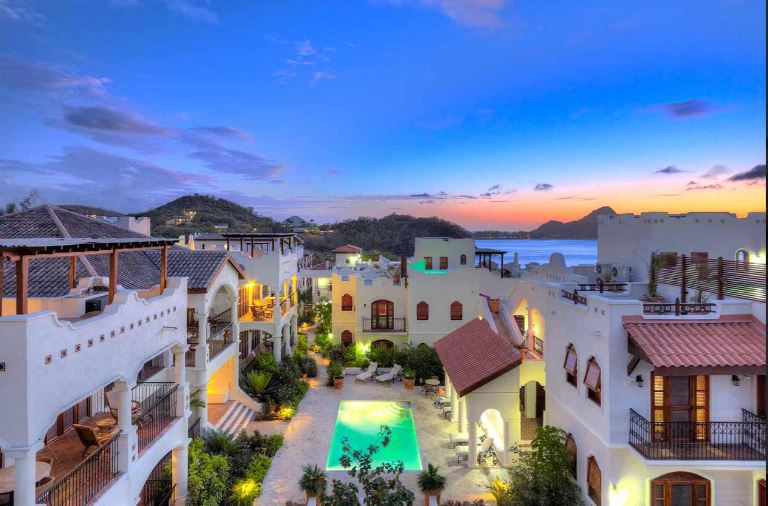 This boutique hotel offers a secluded beach, so you can spend time with each other, without a worry in the world.
If you're the adventurous type, go for water sports and flex your muscles at the fitness center. And afterward, let your muscles relax and heal at the in-house spa.
If you're a fan of golf, play a couple of rounds at the country club just a few minutes from the hotel.
When the sun sets, it's time for evening entertainment to keep the young hearts on their toes. Have a blast with dance and music. And if you're a wine aficionado, make sure to walk into their wine cellar for a tasting.
The hotel has rooms, villas, and suites, and you can book the right accommodation according to your needs. If you're coming with a small group of friends and family, you might want a villa or a suite.
Use their concierge services to personalize your stay and sit back and relax as they plan everything for you. You can also book an online concierge to get in touch with them before arriving here.
The hotel offers many wedding packages and you can customize them according to your needs.
Saint Lucia Wedding Legal Requirements
Can you legally marry in Saint Lucia
Yes, you can have a civil or a symbolic wedding in Saint Lucia. A symbolic wedding holds no legal value in Saint Lucia or your home country. To have a symbolic Saint Lucia wedding, you'll need to marry in your home country first.
For a civil wedding here, you'll need some documents and paperwork. Once you're married here, it will be recognized back in your home country as well.
Most wedding planners and resorts or hotels will help you out with the paperwork and other guidance for a civil ceremony.
Can you elope in Saint Lucia
Saint Lucia provides beautiful opportunities for elopement. You and your loved one can leave all the worries in the world and come here to join hands in holy matrimony.
There are all types of resorts and hotels here. From adults-only resorts for elopements and honeymoons to family-friendly resorts for bigger events.
However, if you're planning your wedding on a budget, an elopement would be more economical. Also, it's more romantic as you two spend time with each other, completely undisturbed.
Required Legal Documents & Fees
These are the documents you'll need:
Passports of the bride and groom
Birth certificates of the bride and groom
Divorce or death certificates of previous spouses (if applicable)
If any of these documents is not in English, you'll need to get them translated by a certified translator.
You need to arrive here at least two days before your Saint Lucia wedding. However, you can apply for a same-day license, and for that, you'll have to arrive at least 24 hours before your wedding day.
Saint Lucia Wedding Planning Tips
How to get there
Saint Lucia has two airports – Hewanorra International Airport (UVF) and George Charles Airport (SLU). Florida and Miami are just 3-4 hours away from St. Lucia, which means you can even plan a short wedding trip.
US Airways flights fly from Charlotte and Philadelphia every week and Delta offers daily flights directly from Atlanta. If you're coming from Toronto, you can take Air Canada or WestJet.
Want to come via waterways? Take a ferry as it's more economical than coming via air. You can also bring your car by ferry to avoid renting the car on the island.
Saint Lucia Weather
Saint Lucia has tropical weather that stays warm throughout the year. The winter season lasts from January to March and it's cool in the evenings. Winters are dry, which makes them ideal for weddings.
The months from June to November receive northeast trade winds and there might be rain showers. The lowest and highest temperatures on this island are 23oC and 32oC, making winters more pleasant than summers.
Inland areas of the island receive more rainfall than the coastal areas. Even in the rainy season, the island receives plenty of sunshine and the weather stays pleasant.
Best Time of Year to Get Married in Saint Lucia
If you want an outdoor wedding (beachfront or garden), it's best to avoid the rainy season. The months of January to March receive minimum rainfall and might be good months for a Saint Lucia wedding.
However, if you want an indoor venue, you can save some money by getting cheaper tickets during the rainy season. Keep in mind that the island is more beautiful in winter as the sun is plenty and the evenings are cool.
April can also be a good month as it doesn't get much rainfall and you might get discounted tickets.
Looking for other destinations? Check out some venues for a Dominican Republic wedding.